Table of Contents
Do you use or plan to use expensive hardware for route planning?
If yes, then wait!
We're living in the cloud era.
According to Statista, the public cloud service market is expected to reach around $362 billion in 2022.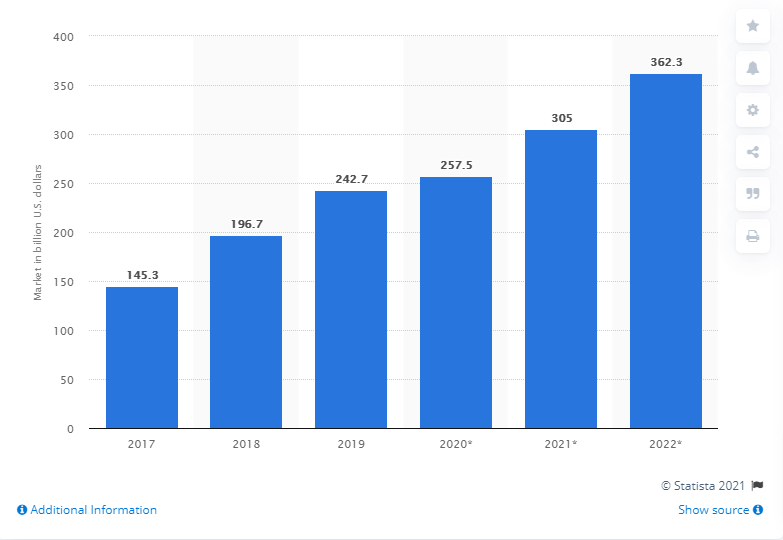 With the evolution of cloud computing (think Google Drive or Dropbox), most businesses are leaving legacy route planning software (like MapPoint) behind. They are now leveraging the benefits of SaaS… software as a service.
The logistics industry is no exception.
In fact, GPS devices have also seen better days. This is because it is not able to match the standards and capabilities of route optimization software on your mobile phone.
They're old technology.
Then why would you make hefty investments in hardware equipment?
You might be wondering how new-age route optimization software is pushing GPS devices out?
And, what kind of capabilities some SaaS route planner providers have as standard?
How can they solve the vehicle route problem and traveling salesman problem?
How do these differ from ordinary map route planner?
Well… all these questions we answer in this article. But, first, let's understand why you should not worry about switching to a new software and how a route planner can transform your field service operations.
Adopting Route Planning Software Is A Piece Of Cake
Do you still plan routes with pen and paper or excel?
If that's the case, then yes, switching over to route mapping software will be a big change.
Learn the top 5 reasons your business needs to go paperless.
The benefits of using a route planner are obvious. It guarantees that all the routes you give your drivers are the most efficient routes possible. Your fleet won't need as much time or gas to visit all your customers, which allows you to save a bunch of money.
Your drivers will show up on-time more often, too. That'll make your customers happier.
So, what's stopping you from adopting a multi-stop route planner right away?
Maybe you're worried about the hassle of switching over to new software… well, don't worry. It's not as difficult as you think.
The change is relatively easy to make. You can transition at your own pace. If you want, you can start small by testing out the software on a couple drivers before you introduce it to everyone. Or you can change everything immediately if that's what you'd prefer. It's up to you.
It helps that most route planner app providers have dedicated training staff that will walk you through every step of the transition.
Also, it's not like you need to buy new hardware. To access a cloud-based road trip planner with multiple stops, all your drivers need are the smartphones they already own.
Want To See For Yourself How Route4Me Can Boost Your Profits?
Whether you want to slash the time it takes you to plan routes for your drivers, increase the number of stops they can make, or keep your customers satisfied knowing that your drivers show up on time… Route4Me helps you achieve that!
The Benefits Of Route Planning Software
Using a route planner with multiple stops makes your drivers more efficient. They'll be able to visit more customers every day, so you can expand your business and increase your income without the expense of hiring new employees.
Let's take a quick look at some of the important features of an advanced route planner to help you get more clarity.
Dynamic Route Optimization  
It helps plan well-optimized routes with accurate turn-by-turn directions from one place to another. The software factors in multiple constraints such as weather, traffic, sunrise and sunset times, one-ways, left turns, avoidance zones, time-windows, and more while planning routes.
Learn how a route planner app can help you plan a route with multiple stops in just 30 seconds or plan the fastest route to work for your delivery drivers.
Territory Mapping
It doesn't make any sense to send your drivers back and forth across your entire service area. Instead, you should divide your service area up into different territories and assign a driver to each territory.
A territory mapping feature allows you to do exactly that. Your drivers will be more productive when their stops are closer together.
Learn how to create a successful sales territory plan that will improve your bottom line.
GPS Tracking
The best route planners come with built-in GPS tracking. With GPS tracking, you can see where your drivers are, what your drivers are doing, and how fast they're going in real-time. Whenever you want, you can check in on a driver and confirm that they're sticking to their route and staying on schedule.
And when your drivers know they're being watched, they're less likely to slack off in the first place. That's why vehicle tracking makes your drivers much more productive.
Learn five things you cannot do if you do not have GPS tracking software.
Geofencing
Geofencing involves drawing custom borders over a real-world map. Then, you can set it up so that certain actions are triggered when your driver crosses through one of those borders.
For example, geofencing can be used to automatically send customers a text message when your driver is about to arrive. They'll appreciate the notice.
Read how geofencing can help automate delivery logs.
Reporting and Analytics
This feature helps you to keep track of fuel costs and all kinds of other information.
Distance (Planned vs. Actual)
Stops (Planned vs. Visited)
Time (Planned vs. Actual)
Routes per Day
Average Time On Site vs. Allocated Service Time
Stops per Day (Planned vs. Visited)
Notes per Day
Customer Alerting and Notifications
It helps let customers know thru SMS/email whenever their package is nearby or out for delivery.
For example, you can notify customers the day before a route with the approximate arrival time of a driver with up to 5-minute accuracy.
Or, when drivers begin approaching certain customers, you may want to notify them when the driver is within 5 miles, 5 minutes, or 5 kilometers of their location.
You can even configure and send an automatic SMS text message and e-mail with a tracking URL, so your customer can see where your driver is as the driver approaches.
If you subcontract work to other drivers, the tracking and notification works with their routes and devices too. That means your customers are always in the loop, and your customer service team won't be distracted by low-value activities.
Customer Portal
The best route planners like Route4Me come with a customer portal that allows customers to check their delivery statuses on their own.
Your customers can log into Route4Me using a tracking number or their Account ID to monitor the status of their inbound visit.
The customer portal shows them as much (or as little) information as you want to reveal to them about the visit. You can show them estimated arrival times, driver identity, custom fields, and much more.
eSignature
This feature helps customers sign for deliveries directly on your driver's smartphone. You'll never lose a confirmation again.
Now, let's get to understand why you need SaaS route planning software.
The Benefits of SaaS Route Planning Software
#1 Pay per Usage Pricing Model
Cloud-based routing software is unlike traditional or hosted route planning software. It comes with a pay-per-usage model.
Which often doesn't have any long-term contract bindings. You simply pay per month (or worse…) per driver.
In this model, it's the vendor who hosts the route planner app and not you.
They are responsible for the development, upgrades of the tool, maintenance, and data security.
You just need to pay a specific standard fee for using the software; that's it!
No infrastructure investment, expensive setup fees, or dedicated resource costs.
It's entirely the provider's responsibility to make sure the route planner multi-stop works for you and your drivers.
#2 SaaS is Scalable
Most legacy software is not scalable. They might also require vehicles to have specialized equipment and a command center to work.
They come at a fixed price, whether you have 5 drivers or 500.
Also, their fee can be outrageously high, which a small business might not be able to afford.
On the flip side, a SaaS route planner with multiple stops is easily scalable. If your business grows, you just need to upgrade your monthly plan to access more features.
So, you can always upgrade or downgrade a plan based on your needs.
In this way, you will have a better idea of what your costs could be… great for helping you do accurate budgeting. This differs from IT expenses to manage upgrades and address issues for owned instances.
There is also no need to hire any additional resources or invest in equipment.
No need to worry about outgrowing your system. You can focus more on growing your business and less time on micromanaging it.
#3 Easy Accessibility
Usually, you can only access legacy route planners from the computer where it's installed. This is one of the biggest problems with it.
But, a cloud-based delivery route planner nullifies this problem as it is not machine-dependent. You can access it anywhere and anytime… from any mobile or desktop device. You just need a stable internet connection.
That way, your drivers can see route details on their own smartphones. There's no need to go through any paper map printouts or expensive GPS devices.
Imagine how smooth your route planning process would be?
#4 Plan and Monitor from One Device
This is one of the biggest benefits of a cloud-based routing program. You don't need to install multiple devices in every vehicle to perform the following:
GPS tracking
GPS navigation
Two-way radio or apps
Handheld customer signature capture devices
Radios
So, you can cut down on hefty hardware expenses and rather invest in growing your business.
#5 More Efficient than GPS Devices
A GPS is a signal-dependent device and often doesn't work in areas surrounded by high-rise buildings. This increases the probability of your drivers getting lost on the road.
Moreover, GPS devices require non-stop care. These devices also have the following drawbacks:
Requires manual uploads of routes every day.
Is expensive if you require real-time tracking.
There's zero flexibility in the planning process.
You need to update in regular intervals to get the latest maps.
Really expensive if you need to connect to your route planning computer.
Expenses and hassles that don't come with SaaS vehicle route planning software.
It also gets updated automatically. You shouldn't have to invest a single penny in setting it up, as everything is on the cloud. Moreover, your provider itself takes care of the maintenance.
#6 Speeds up Vehicle Route Planning
A cloud-based route optimizer is already installed and configured over the web. No need to do this yourself.
This differs from legacy route planning software.
It thus comes with a ready-to-use mode. So, you can immediately get started with planning your routes. This also reduces the number of issues that could get in the way of actually using the software!
#7 Integration Capabilities
Ideally, SaaS solutions come with integration features with other software solutions. You don't need to buy other software to integrate with other applications. This differs from legacy delivery software.
For example, a good cloud-based route planning software comes with a data import feature. You can import your customer addresses from Google Drive, Dropbox, or other SaaS apps. In fact, you can do so directly to your multiple-stops route planner.
Other Benefits of a SaaS Route Planner
Those benefits mentioned above are the greatest of the SaaS route planners. Yet, such software is also beneficial in several other ways:
It's easy to use and learn.
You can test the software before you buy it.
It automatically backs up your data.
It improves the management of your talented employees.
Corporate standards are more easily ensured.
It reduces fraud.
There are no compatibility issues.
Final Words about SaaS Route Planning Software
SaaS route planning software has a lot to offer. If used properly, it can help you save time and money on route planning. It can also reduce unnecessary human resources.
Furthermore, eliminating incompatibility and maintenance problems focuses your business on growing and greater productivity.
Moreover, the "total cost of ownership" (TCO) is always transparent to you. The possibility of any hidden or unplanned cost is zero (at least with some providers).
According to a recent report, the global SaaS market will amount to $60.36 billion by 2023.
So, when the entire world is moving to SaaS, why would you stay behind?
However, not every SaaS route creator will be the right fit for you. You need to weigh them on several critical parameters to make the right decision.
So, when do you plan to go for a SaaS route planning software?
Want To See For Yourself How Route4Me Can Boost Your Profits?
Whether you want to slash the time it takes you to plan routes for your drivers, increase the number of stops they can make, or keep your customers satisfied knowing that your drivers show up on time… Route4Me helps you achieve that!