Table of Contents
Route optimization is the process of determining the most efficient way to visit a set of stops. Route optimization in logistics is more complicated than figuring out the shortest route from Point A to Point B. Many factors, including traffic, construction, and weather, must be considered to save as much time and fuel as possible.
Can I Manually Plan Routes?
Indeed you can plan routes manually, provided you have several hours to spare each day. But, even then it is almost impossible to predict what the road conditions will be like, what the weather will be like in the next two hours, or whether there will be parking available at the destination.
Just think about it, if you have a team of 20 drivers who make at least 50 stops each day, how do you manually assign route details to each driver without wasting time, effort, and fuel and without having your drivers wander around the same neighborhood making stops?
Also, how can you ensure balanced workload distribution so that no driver is overworked or underworked?
Even professional mathematicians will need hours to work on this. This brings us to our next question.
Can Google Maps Optimize My Route?
You can plot a route on Google Maps, but you will just receive free driving directions and not really route optimization.
Not sure what the difference is?
Say you put three stops on Google Maps: A, B, and C. Even if B comes before A while going towards C, Google Maps will show you the way in the order that you have entered, i.e. A, B, and C. This not only means more fuel consumption but also a waste of time and effort.
Also, Google Maps doesn't factor in things like the wait time at each stop or where drivers should stop first to save time and fuel expenses. In simple terms, Google Maps can plan routes, but cannot optimize them.
Furthermore, you cannot use Google Maps route planner for deliveries with an unlimited number of destinations either. It doesn't allow you to plot more than 10 stops at a time.
Check if Google Maps Route Planner is right for your delivery business.
We thus come to the most important question of this article.
Why Is Route Optimization Important?
Route optimization helps improve fuel efficiency and driver productivity, reduce transportation time, and improve customer retention. Needless to say, all of this is important to make your business thrive.
For example, faster delivery at a lower cost is becoming the norm. According to a survey,  96% of shoppers stated that fast delivery meant same-day delivery to them. 
As per another report, US e-commerce saw 44% year-on-year growth last year, which is the highest in the last two decades.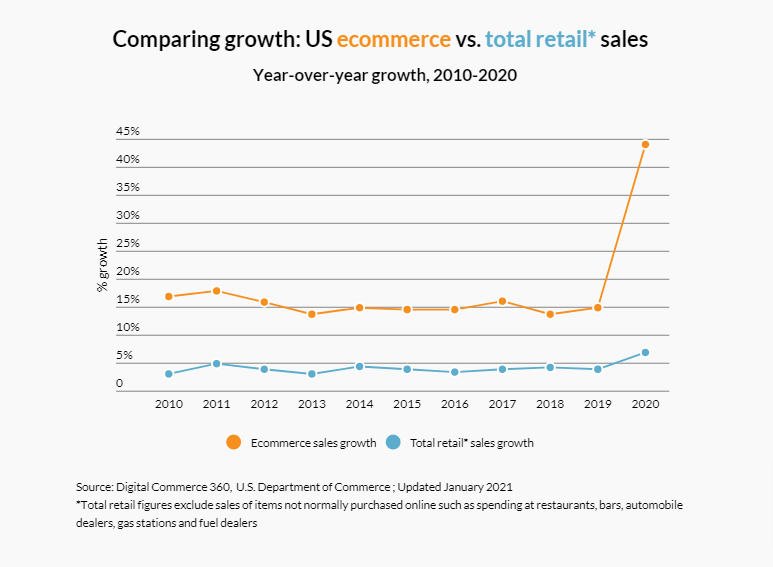 With so many people turning online to shop because of the pandemic, how do you expect to keep up and deliver all the parcels faster, while reducing costs?
And, if you can't keep up with customer expectations, you'll lose out to your competition.
Similarly, for other field service businesses, you need to be on top of your game to stay in business. You can't keep your customers waiting to receive service. 
To learn more, read our article on the importance of route optimization.
But, how do you achieve route optimization? You must use technology, such as route optimization software.
What Is Route Optimization Software?
A route optimization software is a tool or app that uses advanced technology to calculate, plan, and find the best paths to reach a certain number of destinations.
Multiple stop route planner apps not only allow you to plot an unlimited number of stops but also shows you the best route that is the shortest and fastest. Hence, the apps help you save fuel as well as time.
The best route optimization software uses the latest technology, such as machine learning and artificial intelligence, to find the best route to multiple destinations.
It goes beyond just giving driving directions from one place to another. It takes into account important factors, such as:
Road conditions

Traffic conditions

Weather conditions

Parking

One-way streets

Sunrise and sunset times

Time-windows
It shows a route with an unlimited number of stops that is the most ideal as per your requirements.
Below are links to some of our articles about route optimization software and how a route planner app can help streamline your field operations management, reduce costs, and improve profitability.
How Can You Find the Best Route Optimization Software?
Now that you know what route optimization is, how it works, and why it is important for your logistics business, you must find a good quality one. The best route planner will not only be a route planner for multiple stops but will also offer other benefits, such as:
Providing accurate turn-by-turn directions
Letting you plot multiple routes
Letting you access analytics to see how much fuel your drivers used in a certain period of time, how much time was spent idle while delivering orders, and how much distance your drivers have traveled.
Allowing your drivers to collect digital proof of delivery
Allowing your customers to track their order statuses on their own
The above are only a few of the numerous benefits offered by a quality route planner app. Indeed, you have to invest but the money you spend on the app will be well worth it.
However, not every map route planner would be a right fit for you. Here are nine questions that you must ask your route optimization software provider to make sure you don't end up choosing the wrong one.
The Route Planning Process
Route planning and scheduling is so complicated that you shouldn't attempt to do it by hand. That will take hours, and you'll likely end up making mistakes that delay your field employees. Your customers won't like that!
Instead of taking the manual approach, you should use routing optimization software. Such software is able to produce optimized routes in 30 seconds or less, and it gives your field employees everything they need to arrive on time consistently.
With routing optimization software, the route planning process consists of these six steps:
Define route parameters
Plan routes
Dispatch routes
Monitor routing activity
Audit routing activity
Improve planned routes
Below, we'll go over each of these steps in more detail.
Define Route Parameters
Before you plan your route, there may be constraints specific to your business that you need to enter into the system.
For example, you may need to limit each field employee to a certain amount of driving hours for regulatory reasons, or there may be a crime-prone part of town that you want to avoid.
Routing optimization software allows you to just plug in these constraints and forget about them. It will adjust your routes according to your needs for you.
Want To See For Yourself How Route4Me Can Boost Your Profits?
Whether you want to slash the time it takes you to plan routes for your drivers, increase the number of stops they can make, or keep your customers satisfied knowing that your drivers show up on time… Route4Me helps you achieve that!
Plan Routes
After you've set your constraints, you just need to enter the addresses you'd like to visit to plan your route with routing software. Then, your route will be ready in less time than it takes to tie your shoes.
You can use the extra time you would have spent planning your route manually to focus on other areas of your business, such as client relations or sales and marketing.
Dispatch Routes
The best delivery optimization software has an online app that your field employees can download on their personal mobile devices. This enables you to share a route with a field employee even when they're not in the office.
The route optimization software you choose should also be cloud-based. That way, any adjustment you make to a route will be automatically reflected in your field employee's mobile app. You won't need to bother them with a phone call to communicate a change of plans.
Monitor Routing Activity
GPS tracking is another feature to look for in your delivery route optimization software.
The biggest challenge of managing field employees is that they're mostly unsupervised. Are they obeying the rules of the road and sticking to their routes? Or are they driving dangerously and taking unapproved breaks while they're on the clock?
Tracking software reveals the answers to these questions. It allows you to see where your field employees are and how fast they're going in real-time. You can make sure they're doing exactly what you're paying them to do.
Audit Routing Activity
Routing optimization software with GPS tracking also helps you understand your business better. It keeps track of many different stats, including:
Number of clients served per day, week, month, quarter, year, etc.
Average vehicle speed
Average length of client visit
Mileage per vehicle
You can use this data to make more informed business decisions.
So, what are some of the ways you can leverage routing optimization software to improve your business? Do you have any questions about this article? Feel free to let us know in the comments section below.
Finally, answering these three questions correctly will confirm that you understand route optimization:
What is route optimization?
What are the six steps that make up the route planning process?
What are some of the benefits of using route optimization software?
Want To See For Yourself How Route4Me Can Boost Your Profits?
Whether you want to slash the time it takes you to plan routes for your drivers, increase the number of stops they can make, or keep your customers satisfied knowing that your drivers show up on time… Route4Me helps you achieve that!