Table of Contents
Covid-19 has changed our lives in more ways than one.
For example, online shopping is no longer a choice. With strict standard operating procedures (SOPs) in place that mandate face masks and physical distancing, combined with the fear of the disease, people have resigned to shopping online.
Also, Covid-19 has given rise to contactless delivery. Learn how to implement no-contact delivery for your business.
Clearly, customers still want their products, but they want them without having to come in contact with delivery drivers.
This has led to a growth in click and collect shopping. In fact, according to reports, around 66% of US retailers offered click and collect at the end of 2019, which increased to 76% right after Covid-19 struck.
Even though it is not a new concept, more eCommerce companies have been forced to adopt this trend. If you have not done so yet, read on to learn everything you need to know about click and collect.
We discuss what click and collect is, how it works, the click and collect advantages, the challenges of click and collect, and how you can successfully set it up for your eCommerce or delivery business.
What Is Click and Collect?
Click and collect, also commonly known as buy online, pick up in-store (BOPIS), is a package delivery method that allows online shoppers to pick up their orders from predetermined locations instead of getting them delivered to their homes or offices.
The pickup locations can be stores, post boxes, or lockers that are specially built for this purpose.
How Does the Click and Collect Model Work?
The click and collect model is pretty simple.
You have an eCommerce website whereby people can place their orders and pay for their items. If they choose to pick up the items in store, you can either give them a choice of locations or you can provide them with the location for pickup.
You just need to provide the order confirmation as well as the expected pickup date and time. The customers can then pick up their orders from the agreed location. Usually, the customer might be required to carry proof of payment to collect the order.
It is the same process in which food deliveries with curbside pickup work.
When you place an order, it is communicated to the restaurant and, if you choose pickup as your preferred delivery method, you can pick up your food from the restaurant by showing proof of payment.
Read our most-read definitive guide on curbside pickup. Many of our readers loved it and you will too.
Want To See For Yourself How Route4Me Can Boost Your Profits?
Whether you want to slash the time it takes you to plan routes for your drivers, increase the number of stops they can make, or keep your customers satisfied knowing that your drivers show up on time… Route4Me helps you achieve that!
How Is Click and Collect Different from Hyperlocal Delivery?
On the one hand, hyperlocal delivery is when retailers direct their local stores to deliver orders placed by customers online. It differs from normal deliveries made through the last-mile because it is more convenient and offers faster delivery to customers.
When orders that are available in local stores are shipped from there, it takes far less time to reach the customers. It reduces your delivery costs as well.
On the other hand, click and collect is when customers pick up their orders from the stores themselves. Hence, it is, again, convenient and flexible.
When customers choose the click and collect in-store option, you do not have to arrange for delivery, however short the distance might be, which takes away the inconvenience of last-mile delivery.
And, customers do not have to wait for their orders at their homes or pay for the delivery, however nominal the charge might be.
You can even avoid failed first-time door opens in last-mile delivery and customers have the flexibility to pick up their orders whenever they deem most suitable.
The Benefits of Click and Collect for Shoppers
By opting for BOPIS, the customers can enjoy several benefits. These include the following:
Flexibility
The flexibility offered by click and collect is unparalleled. Just compare waiting for your order to arrive at your delivery location with having the option to pick up your order at your own convenience.
Low Cost
Another benefit for the customers is that it is cost-effective. They can save on the delivery cost by choosing to pick up their orders themselves.
The delivery cost will be nil or minimal if a customer chooses the curbside pickup option.
Zero Contact Delivery
Last but not the least, people can now avoid coming in contact with others by choosing BOPIS since it is the best implementation of contactless delivery.
It is no wonder that click and collect saw over 500% growth during the pandemic, according to new research from eCommerce platform provider Kibo Commerce.
The Benefits of Click and Collect Model for Retailers
Here are some of the benefits you can reap when you implement the click and collect model in your business.
Save on Costs
You can save on delivery costs by offering pickups at various locations.
You might have to invest money to set up pickup locations, but it is a one-time investment rather than the recurring costs of fuel, driver hiring expenses, and so on.
Strengthen Customer Relationships
Another benefit for you is that you can enhance relationships with your customers while motivating them to purchase again when they visit in-store to pick up their orders.
Optimize Middle-Mile Delivery
You can also optimize middle-mile delivery with click and collect since you are already delivering store replenishments, so why not use the same transportation to deliver items for in-store fulfillment of orders?
Here's a quick guide on middle-mile delivery.
Other Benefits
Some other benefits are:
You can monetize the current retail footprint by fulfilling online orders
You can launch instantly, using available resources
It offers better visibility into the chain of custody and fulfillment flow
The Challenges of Click and Collect
Arranging Convenient Pickup Locations
The biggest challenge you can face with this model is setting up click and collect.
Firstly, you have to arrange for pickup locations that are convenient and close to your customers.
If you are a retailer who does not have a store close to where many orders are coming from, you have to either tie-up with a local store or set up lockers or post boxes for pickups.
Backend Setup
Setting up the website and the app with proper back-end processes to keep track of the inventory at the pickup locations is difficult.
And, if there is low inventory at the store, you must arrange to deliver the orders within the stipulated time to the location.
Offering a Seamless Customer Experience
Arranging for a smooth, seamless pickup experience for the customers at the pickup point is also a challenge.
You need to ensure that the customers do not need to wait for their orders to be ready and, even if they have to wait, the wait should definitely not be longer. Keeping them waiting for more than five minutes can annoy them.
So, you need to optimize your store operations, including congestion management, ensuring quick turnaround times for pickup customers, while making sure that walk-in customers and retail delivery are accommodated as well.
Other Challenges
There are other challenges as well, such as sending the customers to the right store and keeping the store employees informed when customers arrive.
You would not want your customers to call employees as it will make the entire efficiency of the fulfillment model redundant.
Long story short, your challenge is the fulfillment of click and collect orders in a way that is more cost-effective and convenient than delivering the packages to the customers.
How to Set up Click and Collect
Here is a quick setup process for BOPIS.
Arrange Locations
The first thing you must do to set up click and collect is arranging for locations.
Update Website and App
Once you have the locations, make a list and update your app or website accordingly.
The customers who choose this delivery option must also be able to choose their preferred pickup location.
But, be careful how you offer this option. There should be a way for customers to see their closest delivery locations.
If you have pickup locations in many places, you can have your customers enter their addresses to show the closest pickup points.
Alternatively, if you have only just started out with a few locations, just show those options and let your customers decide.
Ultimately, you just have to make sure the customer experience is as flawless as possible since that is the only thing that will differentiate you from your competitors.
After all, they are also likely offering click and collect, seeing how it is becoming crucial for attracting and retaining customers.
How Can Route4Me Help with Click and Collect?
Route4Me offers a curbside pickup app that seamlessly integrates with any eCommerce store.
Once integrated, you can receive, process, and complete thousands of food pickups, grocery pickups, BOPIS pickups, or any other curbside pickup or in-store pickup orders for multiple pickup locations using only your smartphone.
Below is a quick rundown of the features of the app you can use to offer a seamless click and collect in 2021.
Multiple Pickup Stores Management
You can offer your customers curbside pickup services from multiple locations.
You can integrate the curbside pickup app with your eCommerce store and sync all pickup locations into the app. This will allow you to see your curbside pickup or in-store pickup orders placed for pickup in each of your stores and manage them all from the one curbside pickup app.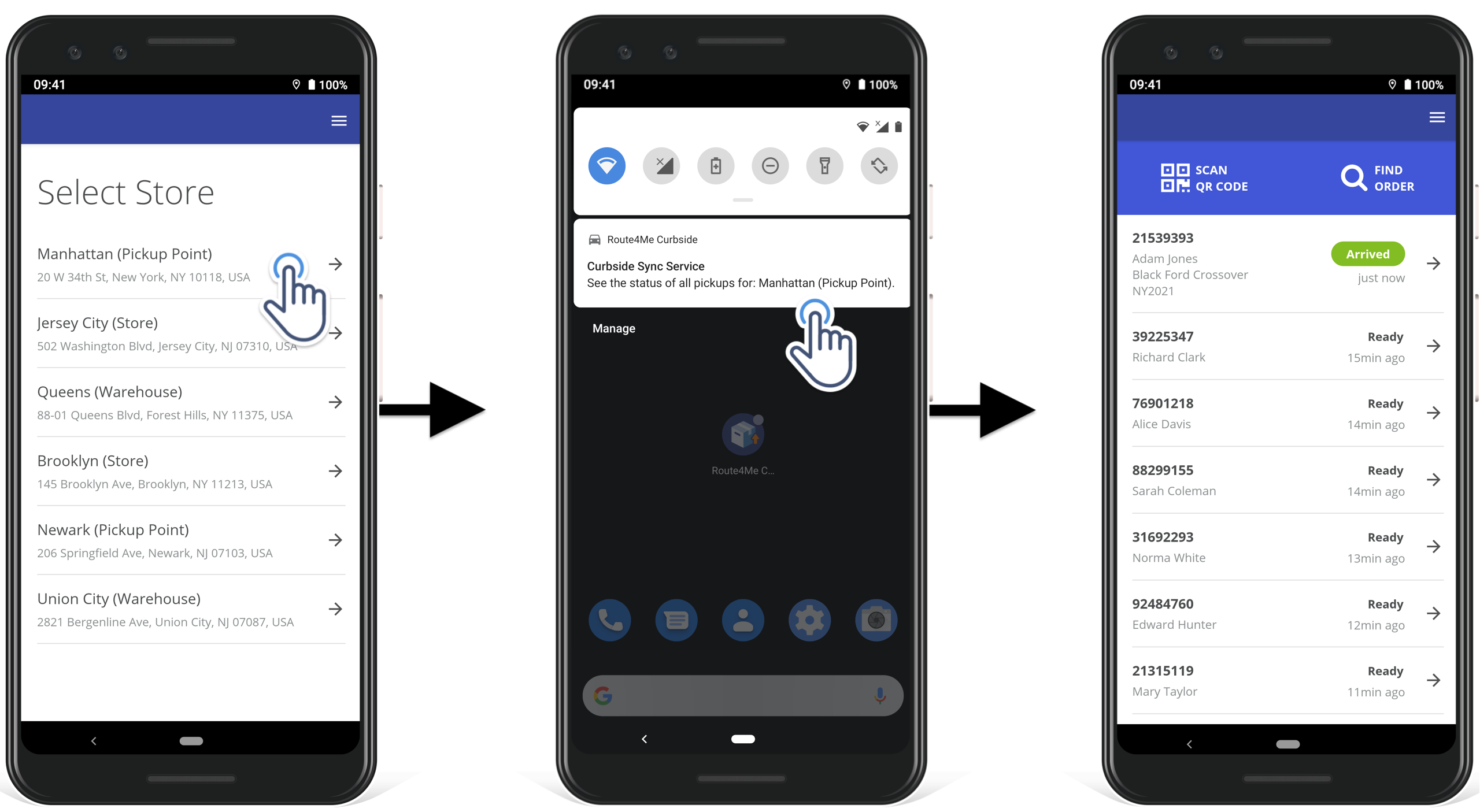 Curbside Pickup Order Management
Whenever a new BOPIS order is placed, you'll instantly be notified through the app. This will help you ensure you never miss customer pickups and can prepare customer orders before they arrive.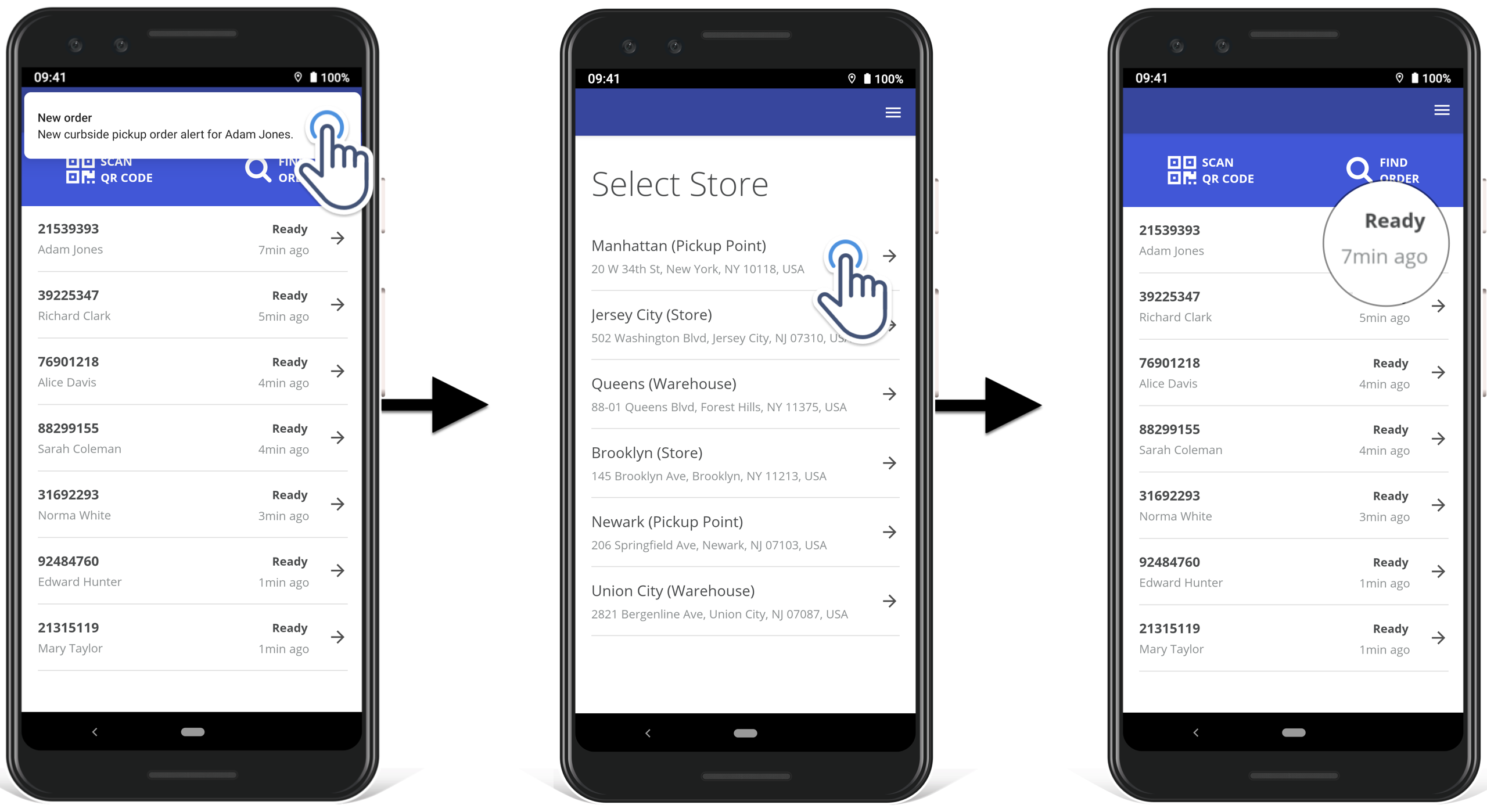 Pickup Statuses
Dynamic curbside pickup order statuses let you know:
When an order was placed for in-store pickup or curbside pickup
When a customer will arrive for the pickup order – the time changes dynamically
When the customer has arrived at your location for the pickup
For how long the customer has been waiting to pick up the order
When the pickup has been completed
Furthermore, the order details of your pickups can contain security codes, customer notes, and more useful information.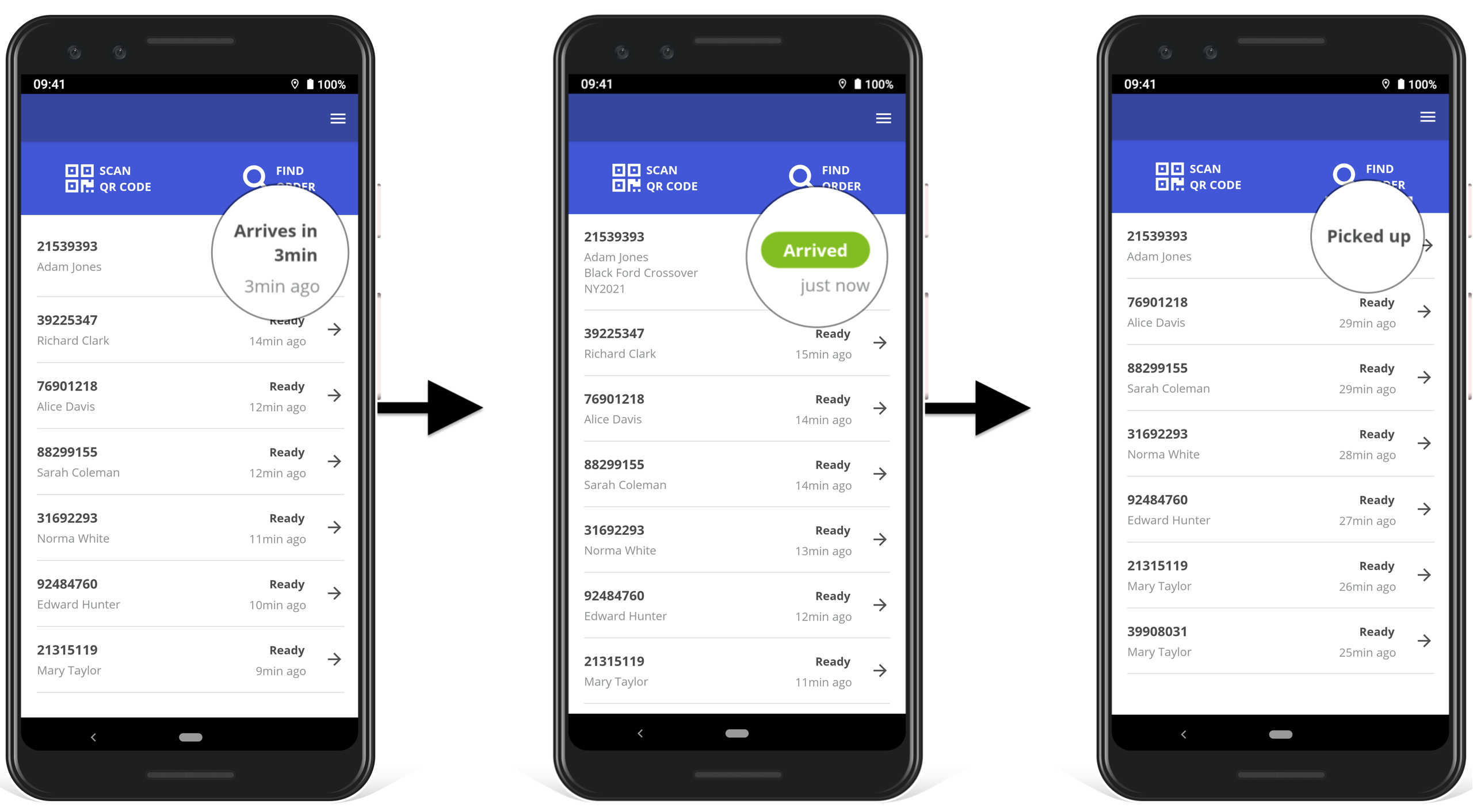 QR Code and Pickup Confirmation
To quickly and securely match the customers to their orders, customers can show their QR codes for their pickups. You can scan the QR codes and the app will automatically match the codes to the right orders.
The curbside pickup app order confirmation will also help you save time on order matching and make sure that you always give the right order to the right customer.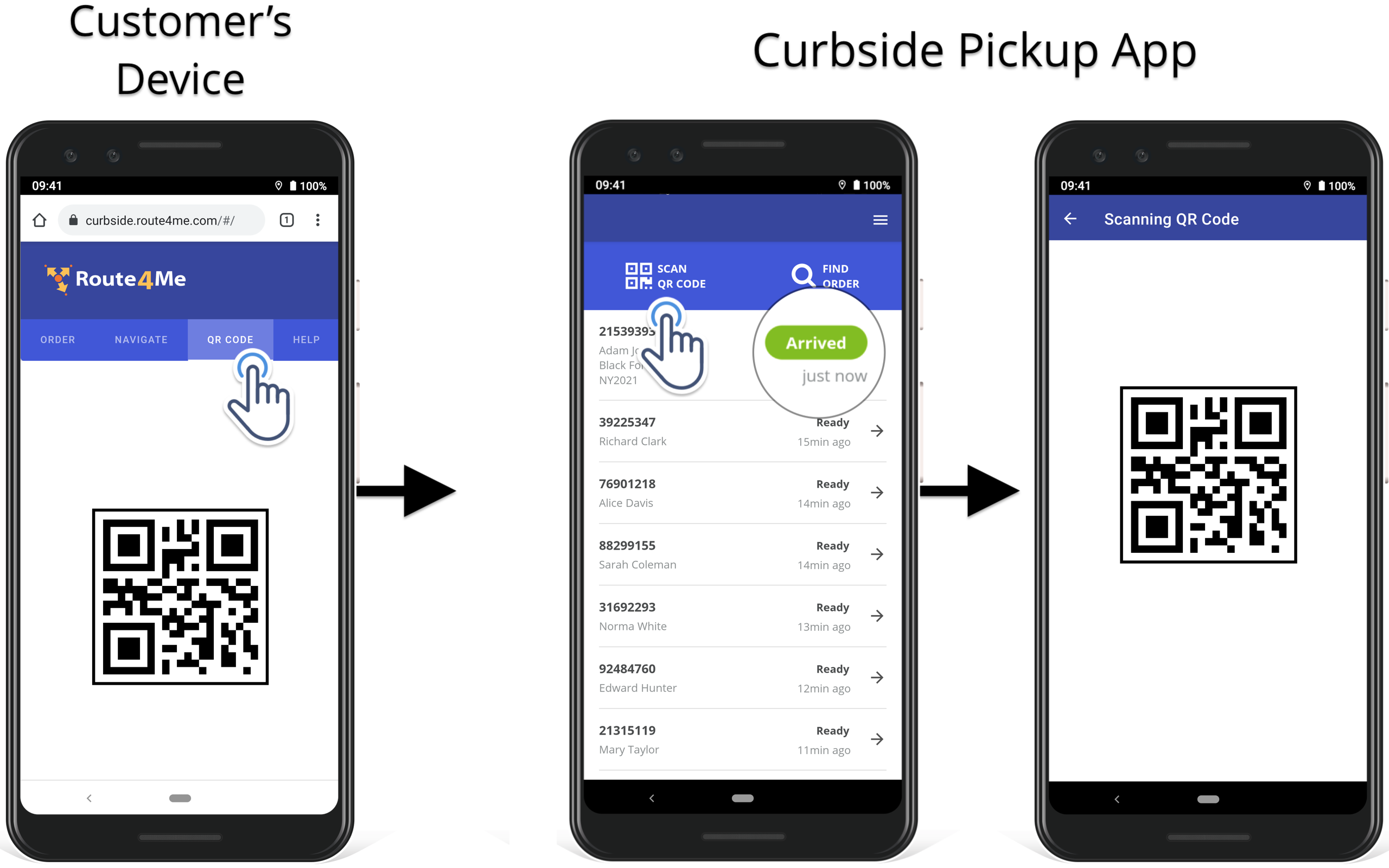 Customer Tracking Portal
To help you save money and your team's time on customer support, Route4Me offers a dedicated customer portal for click and collect and in-store pickup. The Curbside Pickup Tracking Page allows customers to do the following:
Check their curbside pickup and BOPIS order status, order details, estimated order total, security code, and more.
See the location of the pickup points on a map.
Check the pickup points' working hours.
See the estimated driving times and distances from their current locations to the pickup locations.
Navigate from their current locations to the pickup points, using Google Maps.
Open a secure curbside order pickup QR code that will help you match the customers to the right orders.
Provide vehicle details so that it's easier for you to find them when they arrive at the pickup spots.
Read our curbside pickup app FAQ to find some of the most commonly asked questions about Route4Me's curbside pickup app.
Final Words about Click and Collect Delivery Model
Your ultimate goal is customer convenience. Hence, you have to stay on top of things when it comes to enhancing your customer experience.
Click and collect model is one thing that customers are demanding of online shopping now. It is, thus, imperative that you implement it too or fall behind your competitors who do offer it.
Want To See For Yourself How Route4Me Can Boost Your Profits?
Whether you want to slash the time it takes you to plan routes for your drivers, increase the number of stops they can make, or keep your customers satisfied knowing that your drivers show up on time… Route4Me helps you achieve that!