Most road accidents are unintentional. They are generally the result of a momentary lack of awareness, tired drivers, or careless people being behind the wheels.
To combat such issues, driving schools teach most of the important road safety tips. But, they might miss out on some general road safety tips that are equally crucial, especially for field service business reps and delivery drivers.
Such drivers need extra training because their actions have consequences for their own lives and others' and they are responsible for the reputation of their employers.
The onus is more on the company than the person driving the vehicle. Hence, if you run a field service business, make sure your drivers or field reps are aware of these five road safety tips that driving schools don't usually teach.
#1 Knowing the Route is Important
You will often see cars making a sudden turn or slowing down abruptly at a cross-section. This happens when the driver doesn't know which road to take and needs to make a quick decision.
When driving at high speed on highways, such behavior can cause car pile-ups. After all, it just takes one vehicle and one driver's mistake to cause accidents that harm many. So, as an important road safety tip, ensure that your drivers know where they are going.
Your drivers could use the Google Maps route planner, but that's really only ideal when traveling from Point A to Point B. Thus, it's a big NO-NO if your drivers have to make multiple stops and you have to plan routes for multiple drivers.
Instead, invest in a good route optimization software, for example, Route4Me, which automates and simplifies route planning.
Route4Me's multi-stop route planner helps you plan routes while factoring in multiple constraints that could affect your field service reps' routes.
These factors include weather conditions, traffic, left turns, sunrise and sunset times, one-ways, and avoidance zones.
Route4Me helps plan the fastest and shortest routes with driving directions for delivery drivers and know where they're going.
They will not get stuck on the road and become frustrated due to poor routes. Instead, they'll always make on-time delivery or show up for appointments on time, every time.
Want To See For Yourself How Route4Me Can Boost Your Profits?
Whether you want to slash the time it takes you to plan routes for your drivers, increase the number of stops they can make, or keep your customers satisfied knowing that your drivers show up on time… Route4Me helps you achieve that!
#2 Speed Limits are There for a Reason
Did you know that a 5% increase in speed can increase the risk of fatal crashes by around 20%?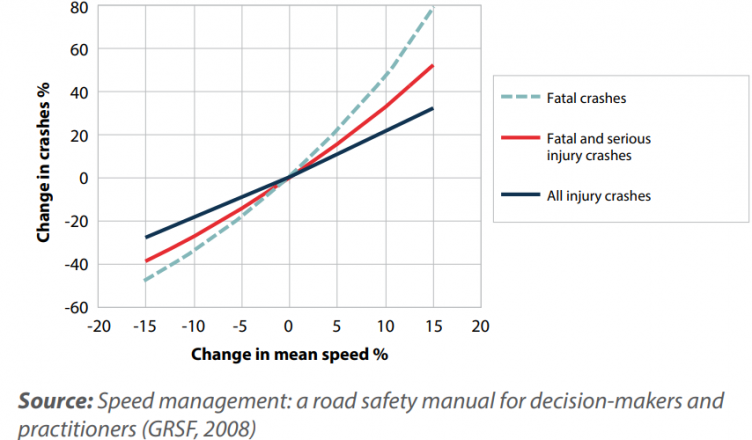 It might be easy to ignore the speed limits while hurrying to deliver items, but it can prove dangerous.
Make sure all your drivers follow this important road safety tip. They should never exceed the speed limits in a bid to get to their destination faster.
It is your responsibility too to ensure one driver is not overburdened with too many jobs and thus needs to rush on the roads.
You can use Route4Me's map route planner to assign a balanced workload and plan the fastest routes to work.
Also, Route4Me comes with a speed alert feature that automatically notifies you or your dispatchers whenever a driver speeds.
#3 Stop and Rest When Tired or Sleepy
No driving school should have to teach this because it's one of the basic road safety tips that should be obvious to everyone.
However, according to studies, approximately 328,000 crashes occur annually because of drowsy driving. Many of these crashes result in fatalities and lasting injuries.

[Source: AAA Foundation for Traffic Safety]
Hence, make sure your drivers are well-rested and wide awake, whenever they're behind the wheel.
Again, this too is as much your responsibility as your drivers. You must ensure that the drivers get enough time off to rest between shifts.
Also, allow them short break times when they're driving long distances so that they don't fall asleep behind the wheels. To assist with this, Route4Me comes with a "Driver Breaks" feature that helps reduce driver fatigue by providing sufficient scheduled breaks during the journey.
With the Driver Break feature, you just need to insert adjustable break stops into the already planned routes with the touch of a button.
Route4Me will then automatically choose the most optimal location and stop sequence for the insertion as well as recalculate the route's time and distance accordingly.
You can even insert breaks after a specific amount of time on the road, after servicing a certain number of customers, or the defined elapsed time of the route. And, you can predefine the duration of each break and choose from multiple insertion options.
To learn more about this feature, read our article on how to reduce driver fatigue and improve productivity.
#4 Regular Vehicle Maintenance is a Necessity, Not an Option
This is one of the most important road safety tips for drivers. Regular servicing and maintenance of vehicles are not just important to extend the lifetime of the vehicle but are also crucial for road safety.
During regular servicing, the mechanic will inform you if there are any problems with your vehicle. Seemingly small issues, such as uneven tire pressure, brake pads not working properly, or the engine overheating, can cause hazards on the road.
With regular maintenance and servicing, your drivers will be safer. So, don't forget to tell your delivery drivers that they must inform you as soon as they see something is wrong with their vehicles.
#5 Patience Is a Virtue, Road Rage Is Not
Aggressive driving and road rage are two of the major causes of fatal accidents each year.
Apart from causing accidents, road rage or road violence by any of your drivers will not really add to your field service business's brand value. So, include this road safety tip in your driver's training manual.
It is also best to train your drivers on how to handle road rage if they encounter a violent driver on the road. Here are some tips:
Keep an eye out for aggressive drivers on the road and avoid crossing their path. If possible, stop for a while, let them pass, and then continue with the route. This enables to stay as far away as possible from aggressive drivers.
If your driver gets involved in an incident of road rage, ask to remain calm and keep a distance from the violent driver.
The above two road safety tips can potentially save your drivers' lives as well as boost your field service business's reputation.
Wrapping Up about Road Safety Tips
The list of road safety tips given here is not exhaustive. Nevertheless, these are the most important ones apart from the ones taught in driving schools. Make sure all your drivers follow these tips to ensure optimum safety on the road.
You can also implement an intelligent driver training solution that tracks each field employee's driving behavior, then personalizes and assigns training lessons accordingly, monitors their progress, and confirms that they're learning what they need to learn.
Want To See For Yourself How Route4Me Can Boost Your Profits?
Whether you want to slash the time it takes you to plan routes for your drivers, increase the number of stops they can make, or keep your customers satisfied knowing that your drivers show up on time… Route4Me helps you achieve that!