Dispatching a handful of daily deliveries is not hard. But you need delivery scheduling software if you start getting a lot of orders. Because that's when delivery operations management gets complicated.
Routes planned using pen and paper or spreadsheets will be erroneous, and tools like Google Maps or Waze or basic online route planners you may use to manage a few deliveries will not help handle hundreds of deliveries.
Vehicle routing software efficiently organizes all the steps to get a package from order to doorstep. It makes last-mile delivery operations efficient and saves time and costs.
Let's learn the several benefits of delivery management software for your business.
Table of Contents
#1 Help Make Data-Driven Decisions
Use delivery scheduling software to measure key metrics in your delivery operations. You can calculate key performance indicators (KPIs) by monitoring progress over time.
Using this software, you can figure out essential strengths and weaknesses in your team and even identify new opportunities to cut down on waste and optimize operations.
For example, with a delivery route planner, you can determine the average delivery cost and identify what process uses most of your resources. You can then make data-driven decisions to make your delivery services cost-efficient.
#2 Reduce Fuel Consumption
The price of fuel is at an all-time high. According to a recent AAA reading, the average gas price hit $5 for the first time in U.S. history.
Your delivery business runs on wheels. And each vehicle in your fleet needs significant fuel to move them. When you grow, the fuel consumption also increases. More orders mean more miles and more fuel consumption which increases expenses.
Delivery scheduling software nullifies this problem by reducing mileage. And as a result, reduce your fuel consumption and carbon emissions.
A route planner enables you to plan well-optimized routes to ensure your drivers spend the least time on the road. That doesn't mean just finding the shortest route from Point A to point B. Google Maps or Apple Maps can do that.
Instead, the route optimization software calculates the routes based on several factors such as weather, traffic, sunrise and sunset times, roadblocks, and more, which significantly cut down the distance and drive time to location.
You can also leverage the software to identify when you need to tune up your vehicles to ensure they are in top shape and do not consume much fuel.
 #3 Help Meet On-Demand Delivery Requirements
Customers no longer want standard delivery. They want same-day or even same-hour delivery.
Most of the time, customers don't want to pay any additional fee for faster deliveries. Therefore, your operation costs shoot up. Plus, managing on-demand delivery comes with a lot of challenges.
However, delivery scheduling software can help you here. It helps improve your drivers' performance and make them more efficient.
As a result, your drivers can make more deliveries, your delivery costs go down, and you would be able to absorb more needed expenses if you want to offer free delivery.
When you can manage on-demand deliveries seamlessly without spending much money, you can raise order volumes. That means you can increase your revenue, despite lowering your margins per delivery.
Want To See For Yourself How Route4Me Can Make Your Delivery Operations Efficient and Boost Profit?
Whether you want to reduce fuel costs, track your delivery vehicles in real-time, increase the number of stops your drivers can make, or keep your customers satisfied knowing that your drivers show up on time… Route4Me helps you achieve that!
#4 Track Vehicles in Real-time
Assigning the best routes to your drivers cannot guarantee that they will make on-time deliveries. You also need to ensure they follow the routes as instructed and do not face any hassles on the road.
Traditionally, you may need to call the driver asking for their location, which can significantly risk their safety.
The best route planners make keeping track of drivers easier once your drivers set off on their routes.
They come with a GPS tracking feature that helps you track vehicle movements on the road in real-time on a map. Such visibility provides you complete control over each driver, so you are always on top of their activities.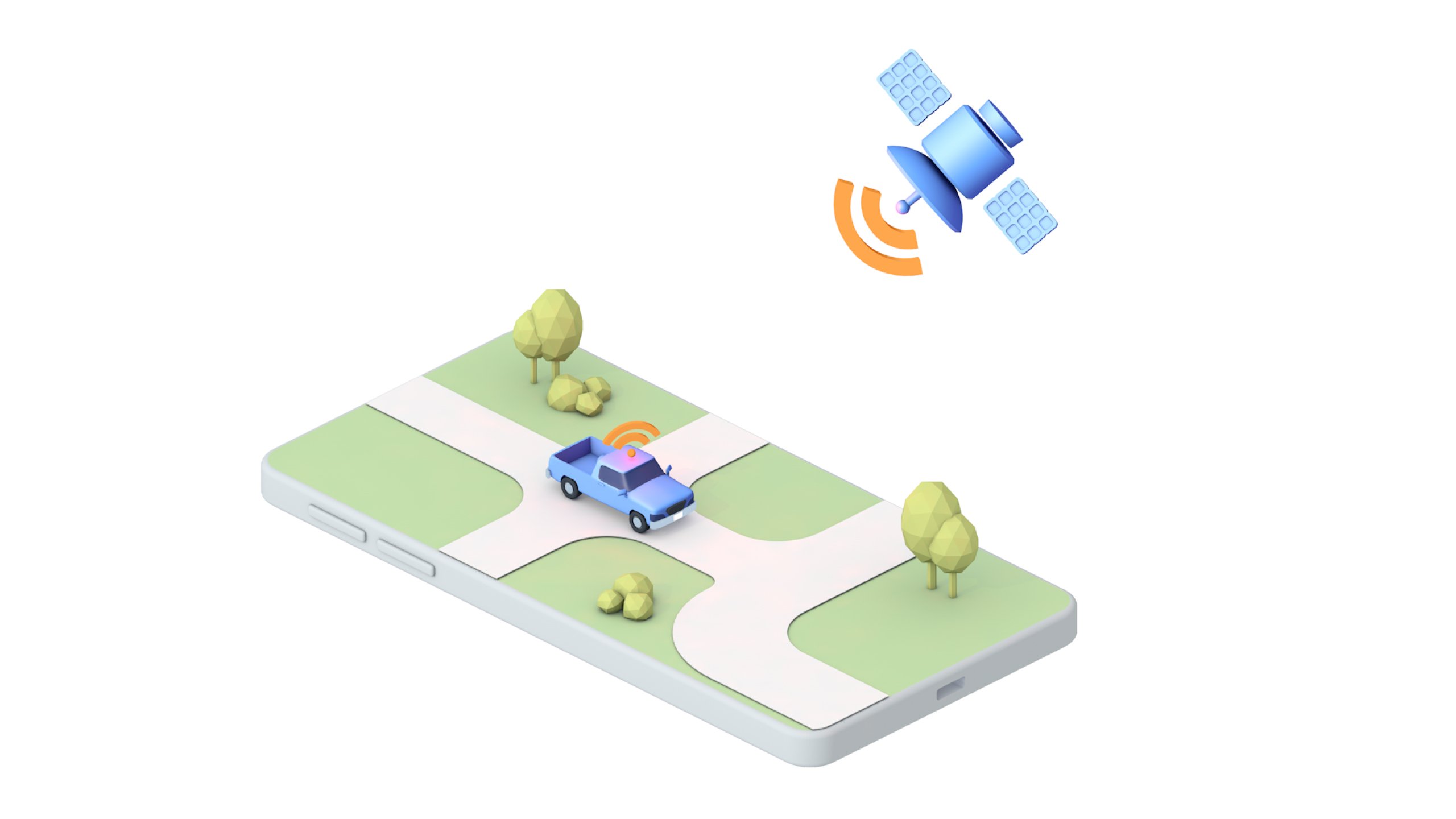 So, if a driver engages in reckless driving, makes unplanned stops, takes longer breaks, or deviates from the routes, you would know immediately and take necessary actions to make the drivers stay on schedule.
A vehicle tracking system helps you ensure driver safety. For example, if a vehicle breaks down on the road in the middle of nowhere, you can send roadside assistance immediately.
Learn the top ten benefits of GPS tracking.
#5 Improve Customer Experience
Vehicle routing software ensures your drivers can make deliveries on time. A sophisticated delivery scheduling software like Route4Me comes with a customer alerting and notification feature that helps notify customers when their package is out for delivery or near their location.
Route4Me route planner even comes with a customer portal feature that lets your customers track their orders on the map and get accurate ETAs.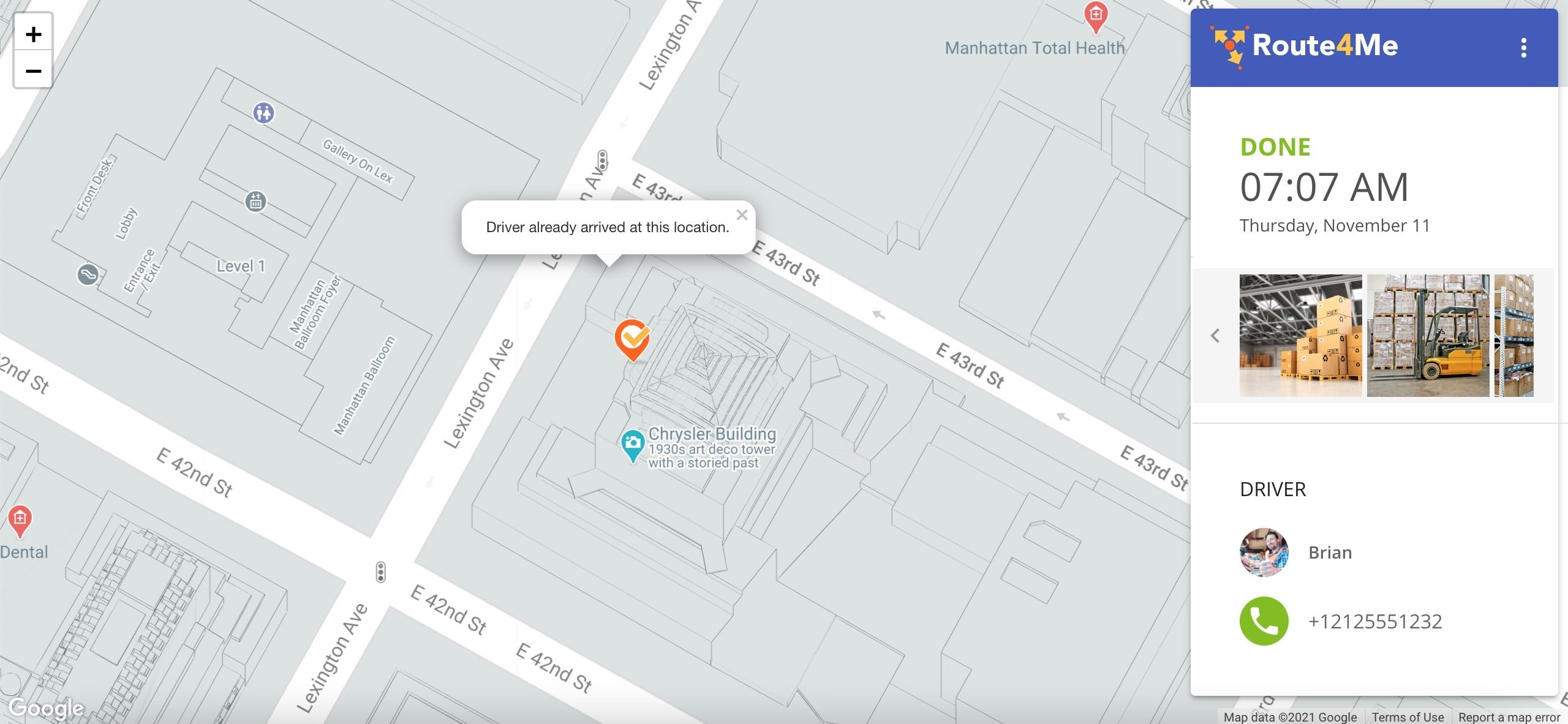 Maintaining such transparency makes customers feel important and your business trustworthy.
Route4Me even has an eSignature feature to facilitate digital proof of delivery, limiting customer friction.
Learn in detail how to improve the delivery experience.
#6 Delivery Scheduling Software Increase Route Density
Route density is the distance between the several drop-off points on each route. A multi-stop route planner raises route density and reduces the number of miles drivers have to travel to deliver each order.
Such a higher density route lowers the costs of fulfilling orders. And when the delivery costs go down, your profit margin goes up. It improves the cost-effectiveness of your delivery.
#7 Centralize Delivery Operations Management
One of the most significant advantages of delivery scheduling software is the fact that it is a centralized system. So, you don't need to download and depend on a host of different apps. You just need cloud-based delivery management software, that's all.
For example, when you sign up for the Route4Me route planner, your account becomes the main dashboard. You can access it anywhere, anytime, and on any device. You simply need a typical internal browser like Chrome, Safari, or Firefox and log-in credentials. Route4Me even offers dedicated mobile apps for Android and iOS devices.
You can even integrate the route optimizer with several other apps using APIs (Application Programming Interface).
Let's say you have an eCommerce website built on Magento to manage orders. You can connect Magento's order management system via an API.
It allows you to get orders directly to your account while the software optimizes the routes.
Learn why you need a centralized transportation management system.
#8 Delivery Scheduling Software is Inexpensive and Flexible
The best route planners are cloud-based. You don't need to sign any long-term agreement. Instead, you need to pay a subscription fee monthly or annually and can stop using it whenever you want.
Unlike on-premise technology solutions, you don't need to pay any upfront fee. Instead, you can choose from several subscription options depending on the size of your business and requirements. It works well for both small businesses and enterprises.
Cloud-based route planners can easily support small fleets of 4-5 vehicles as with hundreds of vehicles. And you can use the software to assign thousands of deliveries every month or just 10-20 deliveries per day.
Therefore, when you need to scale your operations, you can easily upgrade your account, and the software will take care of your growing requirements.
Here are four reasons why you should adopt a SaaS route planning software.
Final Thoughts about Delivery Scheduling Software
Routing software can reduce transportation costs, make drivers productive and safe, and increase sales. You must use a route optimizer if you plan multi-stop routes for multiple drivers.
Go for a cloud-based route planner to plan routes and monitor progress while on the go. There are many software providers available. So you should test the software before paying the subscription fee and see if it works for you.
The best way to do this is to opt for a route planner like Route4Me, which comes with a 7-day free trial with zero obligations.
So, start saving money and time with Route4Me today!
Want To See For Yourself How Route4Me Can Make Your Delivery Operations Efficient and Boost Profit?
Whether you want to reduce fuel costs, track your delivery vehicles in real-time, increase the number of stops your drivers can make, or keep your customers satisfied knowing that your drivers show up on time… Route4Me helps you achieve that!