Delivery Routing – Can You Plan A Route With Google Maps?
Yes. If you're looking for a delivery route planner, then look no further than Google Maps. It works great for basic delivery routes.
It's a great choice if you don't mind spending time manually optimizing your route. However, if you need to optimize more than 10 stops then you might want to look at a route optimization app like Route4Me.
Table of Contents
Google Maps is is trusted by billions of people around the globe. But, is the Google Maps delivery route planner good for commercial delivery and service purposes?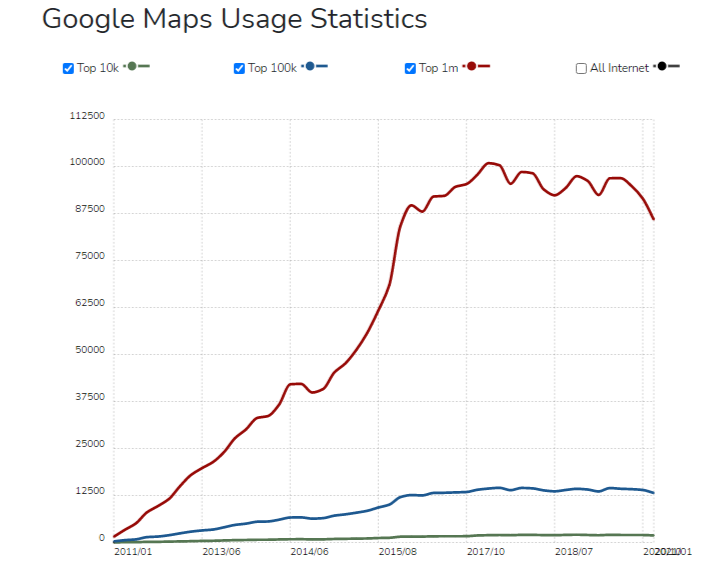 Image credit: BuiltWith
Last-mile delivery business managers or dispatchers need to plot routes that require each driver to make anything between 150 and 200 stops per day.
So, is it practical for you to plan a route with Google Maps?
This article aims to explore whether Google Maps trip planner really offers the best solution for final-mile delivery businesses.
Can Google Maps Plan and Optimize a Route?
Yes. Above all, if you plan a route with Google Maps you're using one of the best tools for basic route mapping.
You just need to enter the starting point and the destination location. Google Maps will then route you to your destination. It even offers a street view. This makes it easier to find the exact location on the route planner.
The Google Maps route planner for deliveries offers a few alternative routes to the destinations (in the order they were entered), including the shortest and the fastest path to each.
In addition, when you plan a route with Google Maps you get free driving directions, an easy-to-use platform, and turn-by-turn assistance.
Another plus is that can optimize single-driver route planning for up to 24 stops.
Having said that, is it the best route planning app for all businesses, big and small?
Let's find out.
Is Google Maps the Best Route Planner App for Delivery Businesses?
Not really. Medium-sized or large-scale field service and last-mile delivery businesses should not plan a route with Google Maps. There are multiple reasons for this.
Firstly, it can get extremely expensive once your usage volume increases.
The free version only allows you to plot 10 stops. To plot up to 25 destinations, you need to get the paid version, which is not cheap.
The amount of money you have to spend depends on your usage.
Now, would you want to keep calculating how much you're spending on Google Maps, while your business is scaling up? Probably not!
Secondly, it may not have all the features your business really needs
However, the biggest reason for it being unsuitable for growing businesses is not the cost, but the fact that Google Maps is not cut-out to optimize a route.
If you're wondering why route optimization is a bigger deal than the high cost, here's your answer.
What Is Route Optimization?
Consider the following scenario: You need to get from point A to point B. What would you do?
You would usually find the fastest route as well as the shortest one. However, this gets a little more complicated when you have multiple places to go, say, to points B and C from point A.
An optimized route is not just the shortest and fastest route, it is also the most efficient.
That means you don't just go to point B and then to point C, following the fastest and the shortest route.
If point C comes before point B, you should follow this route instead, since it will save fuel, time, and effort.
This is the gist of route optimization. To learn more about it, you can read our comprehensive article on route optimization.
Optimal route planning is crucial for all field service and last-mile businesses because it increases profitability. When a single driver is able to make more stops, it reduces the fuel and labor costs.
When optimizing a route you need to take into account more advanced constraints
Google Maps is unable to optimize a route with advanced constraints and will merely show you the fastest and shortest route to the destinations, according to the sequence in which they were entered.
This means you have to manually plot the optimal stop sequence on the map and enter the destinations accordingly.
This can still be done when your drivers are making, say, 10 stops a day.
But, it becomes extremely cumbersome when the number of stops is 150 to 200, which is normal for medium and large field service and delivery businesses.
The Pros and Cons of using Google Maps
Now that you understand what route optimization is and why medium and large field service and delivery businesses would not want to plan a route with Google Maps, let's get into the overall pros and cons of using a free route planner like Google Maps to plan delivery routes.
The Pros
Google Maps is the most powerful web mapping service provider in the world. Driven by GPS traffic data, it runs on billions of phones of people from all around the globe.
The estimated time of arrival given by Google Maps is highly accurate, seeing how it will plot a route based on real-time traffic data.
The Cons
The Google Maps delivery route planning app is not integrated at all with any other system that is essential for field service and delivery businesses.
It is a stand-alone app. Hence, you need to invest in other tools to implement the other necessary technology you need, such as GPS tracking to know exactly where your drivers are.
There is no integrated way to plan and share routes from a central place. This means that the managers and supervisors can't update the stops, if and when needed.
You can't save routes on Google Maps. You have to plot a route on Google Maps even if it is the same one your drivers have traveled before.
So, what is a better option than Google Maps?
The answer is route optimization software.
What Is a Route Planner App and Is it Better Than Planning A Route With Google Maps?
A map route planner is a tool that offers route optimization, along with other features that are crucial, especially for delivery businesses.
How does it fare against Google Maps?
A route planner maps Google Maps directions. And here's a list of the most important features of the tool and you can decide for yourself:
A free route planner unlimited stops factors in multiple constraints, such as time windows, sunrise and sunset times, load, weight, height, left turns, one-ways, avoidance zones, traffic, and weather conditions, to optimize a route.
What Should the Best Delivery Route Planner Have?
A pick-up and drop-off route optimization feature that helps you plan and optimize routes with hundreds of thousands of pick-up and drop-off address pairs, where the pick-up address from each address pair will always be visited first and its corresponding drop-off address will always be visited second.
Delivery Route Planner Apps Should Have Tracking and Customer Alerting via Email or SMS Text Notifications
Unlike Google Maps, the multiple stop route planner supports commercial vehicle and truck GPS, which is essential for field service and delivery businesses.
Another important feature that comes with a multi-stop route planner, but which is not available with Google Maps, is comprehensive reporting and analytics. This data shows you how much fuel you have used, how much distance your drivers have traveled, how many stops your drivers have made, and so on. Such information is vital to make better business decisions for increased profitability.
A route app also comes with a few integrated features that make your job easier and more profitable. Some of these features are:
Digital proof-of-delivery – Your drivers can collect them as pictures or e-signatures.
Customer alerting and notifications – Customers will automatically receive notifications via email or SMS about their delivery status. Additionally, the frequency and the timing of the notifications can be set by you.
Customer portal – Customers can log in to view the status of their deliveries by themselves. This reduces the need for interaction with customer care service.
In conclusion, do you have any questions about planning a route with Google Maps?