A few years ago, customers were patient. When they ordered an item, they didn't expect it to arrive immediately. They were willing to wait.
Times have changed. Customers want their orders delivered faster. They expect delivery services and courier companies to offer next-day or even same-day delivery.
In fact, same-day delivery is one of the most requested e-commerce services in the US. According to Statista, the market is estimated to be a whopping $9.6 billion by 2022.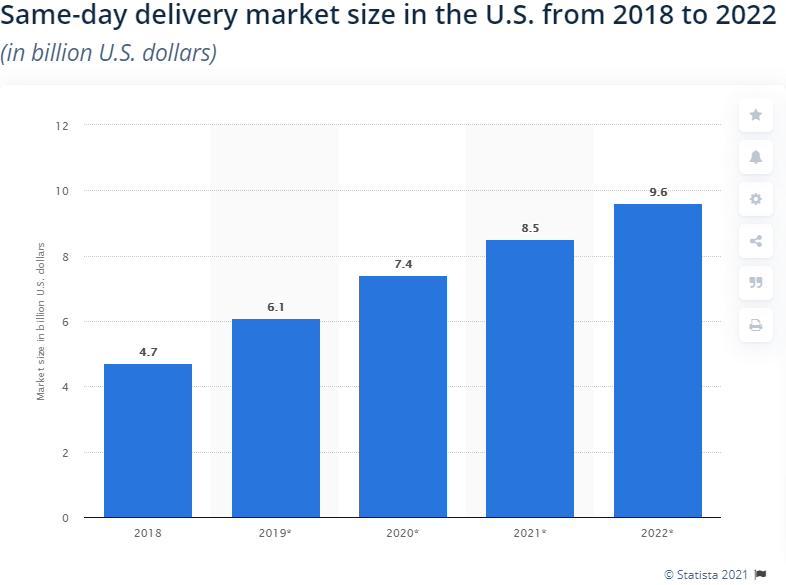 Your business must be incredibly efficient to be able to receive an order, prepare it, and deliver it on the same day.
Same-day delivery software makes this possible.
Give Your Customers What They Want
The internet, of course, has changed the world.
Before, people had to actually drive to a store and look around to find what they wanted to buy.
Now, customers can browse inventories and make purchases from the comfort of their own couch.
Customers have all the power. The internet has given them more options than ever before, which makes them have higher expectations than ever before. You need to do everything you can to stand out.
An Accenture study found that 64% of consumers say delivery speed is important to them. Many people are willing to pay up to $10 more per order for faster delivery, and yet only 15% of retailers offer same-day shipping. According to a PwC survey, 61% of consumers say the ability to get same-day delivery would influence their decision to make a purchase.
A route planner makes same-day deliveries seamless. Such software helps you plan well-optimized routes with accurate directions to work within 30 seconds.
It factors in multiple constraints, such as weather conditions, traffic, sunrise and sunset times, one-ways, under-construction roads, avoidance zones, weight, height, and time windows while planning routes. So, you never need to worry about making on-time same-day deliveries.
Learn how to plan a route with multiple stops for same-day deliveries within a minute.
Want To See For Yourself How Route4Me Can Boost Your Profits?
Whether you want to slash the time it takes you to plan routes for your drivers, increase the number of stops they can make, or keep your customers satisfied knowing that your drivers show up on time… Route4Me helps you achieve that!
It All Starts In The Warehouse
To make your deliveries more efficient, you need to make your warehouse more efficient. And a multi-stop route planner helps you make that possible by optimizing the pick-and-pack routes in your warehouse.
One cause of unnecessary movement within a warehouse is locating orders. To increase efficiency, you have to optimize the number of employee trips in the warehouse.
An advanced same-day delivery software, such as Route4Me, comes with dynamic route optimization technology that easily optimizes pick-and-pack routes inside warehouses and yards for robotic and human operators.
Route4Me even creates a map of your warehouse or yard and a road network inside your warehouse. The route optimization algorithm then uses that mapping data to build highly efficient routes.
Learn how route planning can help automate warehouse operations.
You should switch from barcodes to RFID tags as well.
Unlike barcodes, you don't need to use a scanner to read RFID tags one at a time. You can read a bunch of them at once. Your drivers can scan-out items as they deliver them to customers at a faster rate. And RFID tags are easier than barcodes to track, which will make your delivery process more reliable.
A Look At The Future: Big-Box Retailers Will Become Last-Mile Delivery Depots
Retail stores have been hit hard by the eCommerce boom. Foot traffic is down, and many of the people who do come in just want to see a product in real life before they shop around to find the best price for it online.
As in-store shopping becomes obsolete, retailers are finding new ways to benefit from their brick-and-mortar stores.
Some are transitioning stores into last-mile fulfillment depots for delivery vehicles. Others are setting up "click and collect" shopping models that allow customers to purchase an item online and then pick it up at the store to avoid shipping fees.
3D Printing Will Upend The Supply Chain
3D printers are no longer science fiction. Even complex items like electronics can be printed out now.
With 3D printers, businesses can expand manufacturing capabilities to more facilities. That means the supply chain will be shorter for many orders, making same-day deliveries much easier to pull off.
More People Are Leaving The Country And Moving To The City
Cities are growing while rural populations are shrinking. This is good news for the shipping industry, as it's easier to make all your deliveries on time when customers are grouped closely together.
Deliveries can be made even more efficient when businesses use route optimization software to plan routes that avoid left turns.
UPS saves hundreds of millions of dollars every year by avoiding left turns. Think about it: when your driver goes to take a left turn, they don't have the right of way. They need to wait for traffic to clear before they can take the turn. All that idling wastes a lot of time and gas. The key to good route planning is avoiding time-wasting, gas-guzzling obstacles like this. And a route planner can help you here as well.
We have already shared that a map route planner factors in multiple constraints and left-turns is one of them. It means the same-day delivery software will plan and schedule routes that are free from left-turns. Such software also helps you factor in right- and U-turns while planning routes.
The best part is Route4Me's advanced delivery route planner comes with Shopify, Magento, and WooCommerce plugin route optimization enables you to make timely eCommerce deliveries in the most efficient way to help you grow your business.
Learn in detail about the Route4Me plugin for the Shopify e-commerce platform.
Learn how Route4Me's route optimization plugin for WooCommerce allows you to make deliveries from WooCommerce with just a few clicks.
And here's our article on how Route4Me's Magento route planner plugin for route optimization allows you to route local deliveries from Magento with just a few clicks.
Amazon Dangles The Carrot
Amazon is encouraging retailers that use their service to ship items faster. Third-party retailers on Amazon can either ship items themselves or opt for FBA (Fulfillment By Amazon), which guarantees delivery within two days.
Those who choose FBA get a number of perks, such as higher listings on Amazon search results. They're also able to make their customers happier by delivering orders more quickly. Improved customer satisfaction is the greatest perk of all.
So, do you have any questions about same-day delivery software? Do you understand how optimized routes will improve your business? Let us know in the comments section below. 
Want To See For Yourself How Route4Me Can Boost Your Profits?
Whether you want to slash the time it takes you to plan routes for your drivers, increase the number of stops they can make, or keep your customers satisfied knowing that your drivers show up on time… Route4Me helps you achieve that!