Getting new delivery contracts is difficult because you have to compete with delivery service behemoths like FedEx and DHL, and beating them is nearly impossible.
In addition, you can't subcontract your services to larger couriers because that restricts your growth.
That means you have to solely rely on the larger courier companies' surplus.
Luckily, there are several ways to get last-mile delivery contracts, such as:
Bidding for delivery work via third-party listing websites
Developing a new website or optimizing your existing one to attract your target customers
Reaching out to local businesses – we will explain filtering out the right local businesses to contact later in this article.
However, getting new logistics delivery contracts is only half the battle of growing your delivery business.
You also need to reduce your expenses, improve your productivity, and ensure you have a steady pool of loyal customers.
All of this is only possible if you give your drivers well-optimized routes to help them make on-time deliveries.
Such on-time deliveries will increase your business's performance, proving to your target customers that you're the right fit for their requirements.
Optimized routes with accurate turn-by-turn directions also mean you'll make more money per delivery and won't lose courier contracts.
Learn in detail why on-time delivery is important for your business.
So, in this article, we look at how to get contracts for delivery and how to get courier contracts.
We thus discuss five ways to get new last-mile contracts, whether you are a new or existing player.
We also look at how delivery businesses of all sizes use the Route4Me route planner for route optimization, driver management, and ensuring fast and efficient last-mile delivery services.
Table of Contents
#1 Define Your Niche to Get New Delivery Contracts
You need the basics right before you can win any new delivery contracts. That means first defining your niche.
For example, do you want to win medical delivery contracts, or are you looking for furniture store delivery contracts?
By figuring out your business niche, you can better target your marketing efforts.
You can also offer better clarity as to the scope of your services to your target customers.
After all, if you specialize in moving pianos, you wouldn't want to create an impression that you're a general moving company that will cart belongings from one state to the next, would you?
Also, the type of vehicle and equipment you need should be specific to your delivery service offerings.
For example, if you run a food delivery business, you need to have temperature-controlled vehicles.
And, if you're a piano mover, then you need the necessary ropes, pulleys, and hand trucks to effectively and safely move a piano.
Similarly, if you're into medical transportation, you need proper medical-grade protective gear, such as gloves and suits.
You even need to pay close attention to the fuel efficiency of the vehicle you plan to purchase.
You wouldn't want to spend all of your profits on gas, right?
So, when you have the necessary equipment and the right vehicle, you can easily win new courier business contracts.
Furthermore, you don't need to spend money borrowing or leasing equipment or subcontracting with another company.
Want To See For Yourself How Route4Me Can Boost Your Profits?
Whether you want to slash the time it takes you to plan routes for your drivers, increase the number of stops they can make, or keep your customers satisfied knowing that your drivers show up on time… Route4Me helps you achieve that!
#2 Check the Listing Sites to Bid for Courier Work
Many websites list delivery services requirements. You can go through such sites to find courier contracts.
Such websites could be a great resource if you have extra room in your vehicle, as you can then maximize your profits by filling it up with products before making a trip.
For example, a site called Shiply connects delivery companies with potential customers who are looking for delivery services. The best part is that you don't need to spend any money to register on the site.
However, they do charge you for organizing the communication when you finalize a quote with a customer. So, do not forget to consider this cost when you prepare your quotes.
Another popular site is FindRFP which has many delivery contracts available.
For example, many government logistics contracts are available here. It would help you win contracts for couriers from local, state, and federal governments.
However, unlike Shiply, FindRFP has a subscription fee.
They offer a regional plan that costs $19.95 per month to get job notifications from up to four US states.
There is also a national plan which costs $29.95 per month and covers all of North America.
However, you'll get a discount if you opt for an annual payment.
#3 Develop a New Website or Optimize Your Existing One
Your website is your gateway to a new world of opportunities.
You can use website builders like Wix, Weebly, or Squarespace, all of which come with all the bells and whistles you need to get started.
You can also use a popular content management system (CMS) like WordPress, which is extremely easy to use and operate.
However, just having a site is not enough. You need to optimize your website to attract potential customers and drive conversions.
Below are some tips on website optimization to win new delivery contracts or independent courier contracts.
Use the Right Keywords to Win New Delivery Contracts
Your site should have the right keywords that your target audience will use on the search engines to find the delivery services you offer in your city.
For example, if you offer flower delivery services in Manhattan, your site should pop up on Google whenever someone types in "flower delivery services in Manhattan" or "best flower delivery services in Manhattan."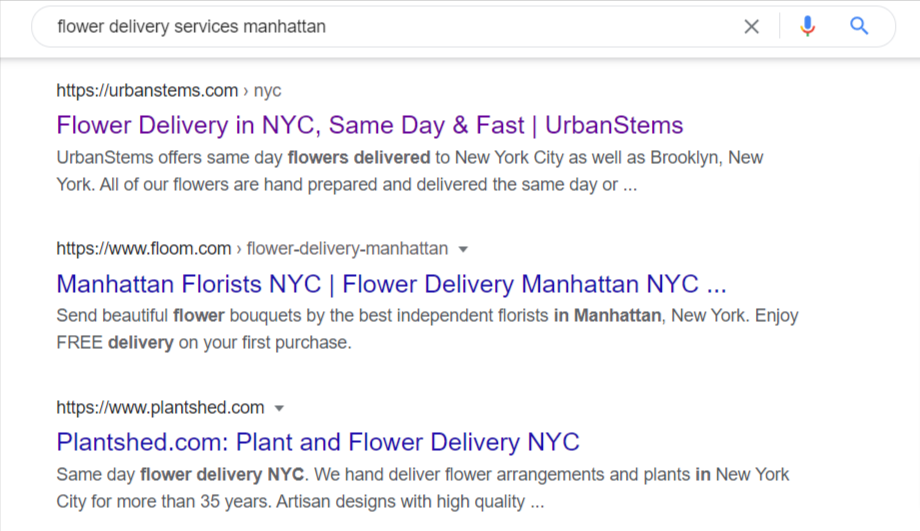 Do not use generic industry keywords unless you offer all sorts of delivery services. Instead, be as specific as possible to attract the right customers.
For example, optimizing your website with the "delivery services in Manhattan" keyword would bring all kinds of people looking for delivery services in your area, which won't do you any good if you specialize only in grocery delivery.
So, you need to optimize your site for "grocery delivery services in Manhattan." You can use this template: "best [your service offering] in [city/state/county/borough]."
Below are some links to a few valuable resources to help you learn more about keyword research and usage:
Provide the Right Information
Getting the right traffic to your site won't help you get parcel delivery contracts unless it turns into conversions.
That's possible when your site visitors can find the information they need. So, ensure your website is easy to navigate.
You can hire a freelancer or work with an agency to perfect your site's user interface and experience.
There are many sites, such as Toptal and Upwork, where you can find good freelancers. You can also search on Google and go with an agency with high ratings and reviews.
Your site should also provide details about your service offerings and the benefits you offer.
For example, if you offer same-day delivery services, your website should reflect that.
Finally, your site should list clientele and testimonials, including how you helped them.
Add a Lead Capture or Contact Form
What if your target audience visited your website and found the information they were looking for but still want more information before hiring your services?
Or, what if they want to hire your services directly?
How do you communicate beyond your website?
You should list your sales team's contact details or integrate a lead capture form on your website for these reasons.
Also, ask as many questions as you need to know everything about your potential customer's requirements and increase your chances of getting new contracts for couriers.
Some popular lead capture tools you can use are Instapage, ConvertKit, and Typeform.
#4 Run Google Ads
According to Statista, Google's ad revenue has increased from $28.24 billion in 2010 to $146.92 billion in 2020. That's with good reason.
Google Ads increases your business exposure by pushing your site to the top of search engine results pages (SERPs) for your target keywords. The increased relevant visibility means more delivery contracts.
Of course, Google Ads costs money to run, but Google only charges when someone clicks on your ad.
You can even set a maximum daily budget to limit your investment.
Your ad's pricing depends on several factors, including your competitor's bid for the same keyword you're using and whether you want to run an ad during peak hours or holidays.
Here's an article on how much Google Ads costs and how to calculate the costs.
Also, below are some links to a few informative resources to help you set up Google Ads properly and increase your return on investment (ROI):
#5 Pitch Local and Hyperlocal Businesses for Contract Delivery Jobs
You're not alone. Local businesses are also competing against large retailers like Amazon and Walmart to keep the lights on.
By offering local delivery, you can help those small businesses level the playing field and ensure an improved customer experience for their clientele.
Many local or hyperlocal restaurants, breweries, florists, and bakeries have started their own delivery services.
They did need a local courier but had to start on their own because they had no other options.
You can target those untapped markets and pitch such small businesses which seek assistance by providing their customers' local deliveries.
Route4Me delivery route planner can help here. It comes with an interactive map screen feature that shows you the untapped areas.
The route optimizer also allows you to form a plan based on real-time data, showing you where you should focus your efforts or send your best people to close the deal and win delivery contracts.
Learn how delivery optimization software can help increase profits without hiring more drivers.
Introducing Route4Me: Delivery Scheduling Software for Delivery Businesses
Getting new delivery contracts is the first step to make your business successful and profitable.
But, you also need to focus on customer retention and grow the delivery numbers your existing client base requires from you.
That's why you need delivery scheduling software that helps you optimize your last-mile delivery process to deliver packages with your car securely, efficiently, and on time.
Route4Me's delivery management software is an easy-to-use route optimization software for delivery businesses like yours to help improve the last-mile delivery process from route planning and scheduling to job execution.
Customer Success Story: One of our customers is a flower delivery driver who finished his morning and afternoon deliveries in record time by optimizing his routes with Route4Me.
Below are a few of Route4Me's features that make delivery management seamless.
Dynamic Route Optimization™
Route4Me comes with Dynamic Route Optimization™ technology that helps you plan well-optimized routes with driving directions from one place to another within a minute.
The route planner even factors in weather conditions, traffic, one-ways, sunrise and sunset times, avoidance zones, left turns and U-turns, and other constraints to ensure on-time deliveries.
You can also customize routes depending on your delivery requirements, such as specific time windows or setting a priority stop.
These features play a crucial role in getting food delivery service contracts or any other delivery contracts because it helps you offer more customized delivery options.
Moreover, when your drivers get the most efficient routes, they can deliver more packages in less time – freeing up your team to take on more orders.
Learn how to plan a route with multiple stops in 30 seconds.
In-App Voice-Guided Navigation
Route4Me offers Android and iOS route planners to help your delivery drivers access their assigned routes on the go.
These route planner apps also come with an in-app voice-guided navigation feature, so your drivers don't have to use one app for route planning and another app for navigation.
GPS Tracking
Route4Me's multi-stop route planner comes with a GPS tracking feature that helps you monitor your drivers on the road. For example, you can see what stops they completed and where they are heading to next.
The vehicle tracking feature helps you ensure that your drivers follow the routes as instructed and drive safely.
Customer Portal
Route4Me also offers a customer portal feature that helps you share real-time delivery statuses with your clients or customers. Hence, they'll know when to expect their deliveries.
This helps you increase customer satisfaction as your customers don't have to wait or call to get order statuses. And happy customers mean renewed delivery contracts and more referrals.
But that's not all Route4Me has to offer. Here are more benefits of Route4Me's delivery management software.
Frequently Asked Questions (FAQs) about Delivery Contracts
What Are Delivery Contracts?
A delivery contract, also known as a delivery order contract, is an agreement that provides the issuance of orders for the delivery of property during the contract period.
Delivery contracts don't specify a definitive quantity of property outside of a minimum or maximum amount.
How Do Companies Get Delivery Contracts?
The top three ways in which delivery business owners get new delivery contracts are:
1. Using a route planner to bring referrals and locate the untapped markets or areas
2. Using third-party websites to bid for parcel delivery and
3. Optimizing websites for the target audience
So, do you still have any questions about how to get courier service contracts?
Want To See For Yourself How Route4Me Can Boost Your Profits?
Whether you want to slash the time it takes you to plan routes for your drivers, increase the number of stops they can make, or keep your customers satisfied knowing that your drivers show up on time… Route4Me helps you achieve that!