Delivery experience is the key to success for every transportation and logistics business.
Imagine you have had a recent online shopping spree and are eagerly waiting for the packages to arrive.
You get an update that it is due to arrive today, and you wait the whole day, staring at the door, only to be informed that the delivery has been canceled because the "recipient is not at home."
Sounds familiar?
Well, you will find such stories of delivery disappointments galore on  Twitter.
When companies spend millions on maximizing a positive user experience in this age and era, you cannot take your consumers for granted.
If you run a last-mile delivery business, you have to buckle up and enhance the delivery experience.
This article will help you figure out how to achieve that, with five strategies for offering a great experience to your customers in 2023.
Table of Contents
#1 Communicate the Estimated Delivery Date as Precisely as Possible
Gone are the days when you could offer a delivery window range of say three to four days.
Customers get frustrated when you mention "to" because they don't know precisely when to expect the order to arrive. Add to it the number of days it takes to deliver.
Customer expectations have changed over the years, thanks to Amazon.
Nowadays, you need to provide a specific delivery date, either three days, four days, or even a shorter time window. Or you stand to lose your customers.
According to a study by KPMG, 43% of customers prefer next-day delivery options. And, in 2023, you cannot expect customers to wait around forever for their packages when they are demanding same-day delivery.

Instead, you should provide your customers as close to the estimated delivery date as possible, depending on their location. Then, try to stick to that date as much as possible to ensure a positive delivery experience. Furthermore, you must offer an estimated time of delivery (ETD).
Don't confuse ETD with ETA. Learn the crucial difference between ETA and ETD.
Exceeding the delivery date or time window even by a single day or hour can cost you the trust of your customers.
So, make sure you provide a feasible delivery date and time window by considering any incidents or accidents that might disrupt it. But, once you give a date, stick to it come what may.
How Can You Provide Accurate ETD?
Manually analyzing the availability and capability of existing resources while factoring in constraints would be challenging. So, use a delivery route planner that will make the task easier.
For example, Route4Me route planner comes with a delivery time window constraint that automatically factors any specification you input while planning routes.
The route planner app then provides you with well-optimized routes quickly. Therefore, you never need to worry about calculating or meeting the time windows again.
We discuss the other capabilities of Route4Me's delivery scheduling software that could enhance the delivery experience later in this article.
Want To See For Yourself How Route4Me Can Boost Your Profits?
Whether you want to slash the time it takes you to plan routes for your drivers, increase the number of stops they can make, or keep your customers satisfied knowing that your drivers show up on time… Route4Me helps you achieve that!
#2 Keep Your Customers Informed
On-time delivery and fast delivery are crucial, but keeping your customers informed about their orders is even more critical.
Implement a system that would notify customers about their delivery status. They should get updated every time the order shipment status changes.
You can also build a technology solution that would let your customers track their order delivery statuses on their own. We know that sounds like a costly affair. So, instead, you could use Route4Me's map route planner.
Route4Me's multi-stop route planner offers a customer alerting and notification feature and a customer portal.
The customer alerting and notification feature automatically alerts your customers through SMS or email when they are the next stop to be visited on an active route.
You can inform customers the day before a route with an approximate arrival time of up to five-minute accuracy.
Alternatively, you can send a notification when drivers begin approaching specific customers and are thus within 5 miles, 5 minutes, or 5 kilometers of their locations.
That means your customers are always in the loop, and your customer service team won't be distracted by low-value activities.
The customer portal feature helps your customers track their order statuses on their own. They can log in to Route4Me's delivery route planner, using a tracking number or their Account ID to monitor the status of their inbound visits.
The customer portal shows them as much (or as little) information as you want to reveal about the visits. For example, you can show them estimated arrival times, the drivers' identities, and custom fields.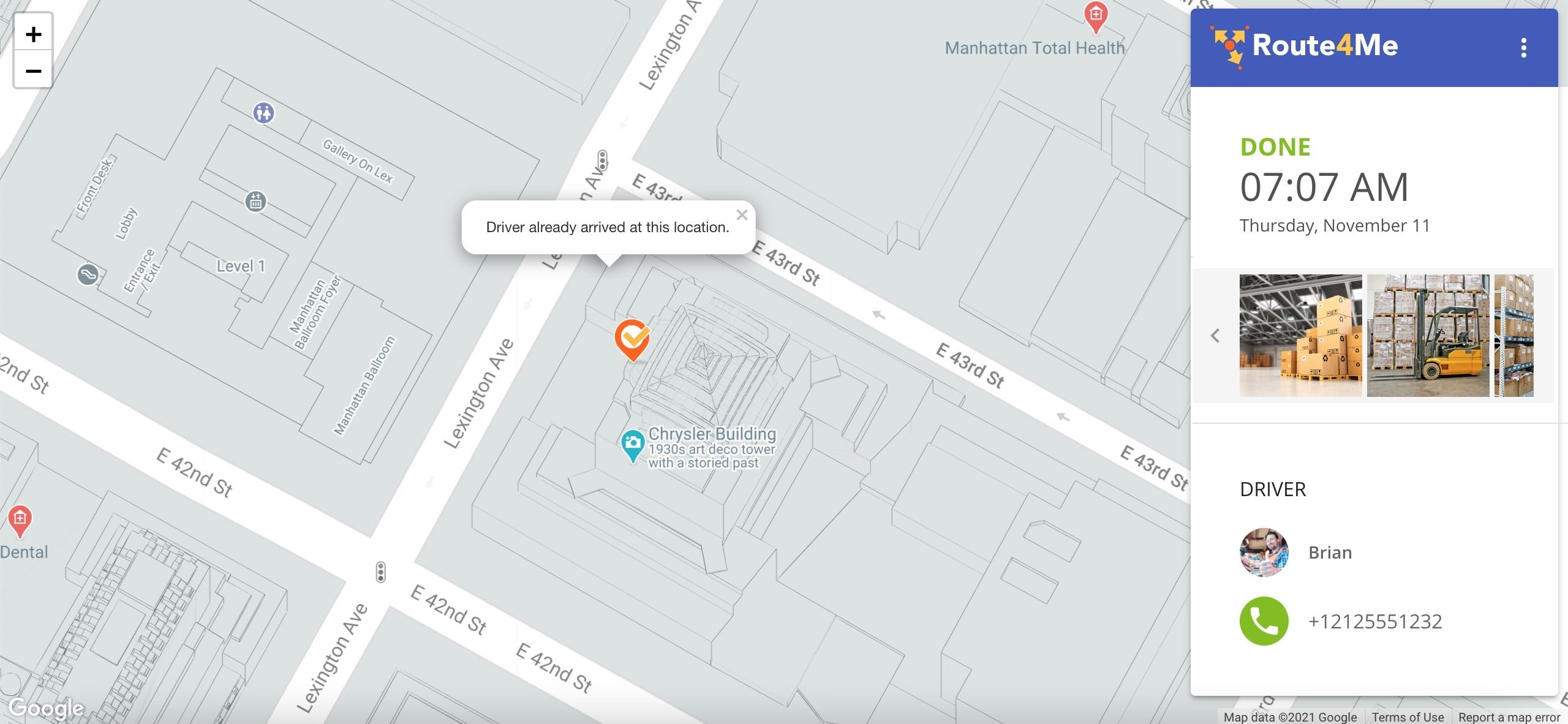 #3 Plan Well-Optimized Routes to Improve Delivery Experience
Customers want on-time delivery, which is only possible if you plan well-optimized routes.
Using pen and paper won't cut it as there's too much guesswork, and you can't consider all the nitty-gritty details, such as traffic and one-ways, which could put all your efforts in vain.
The route planning and scheduling process will be even more challenging if you have many deliveries to make. But Route4Me makes the job seamless.
It considers multiple constraints, such as traffic, weather conditions, sunrise and sunset times, one-ways, left turns, roadblocks, and time windows (as mentioned earlier) while planning routes.
You have to upload the list of customer addresses into the system and set some parameters.
The route planner app will do the rest to provide fuel-efficient routes within a minute.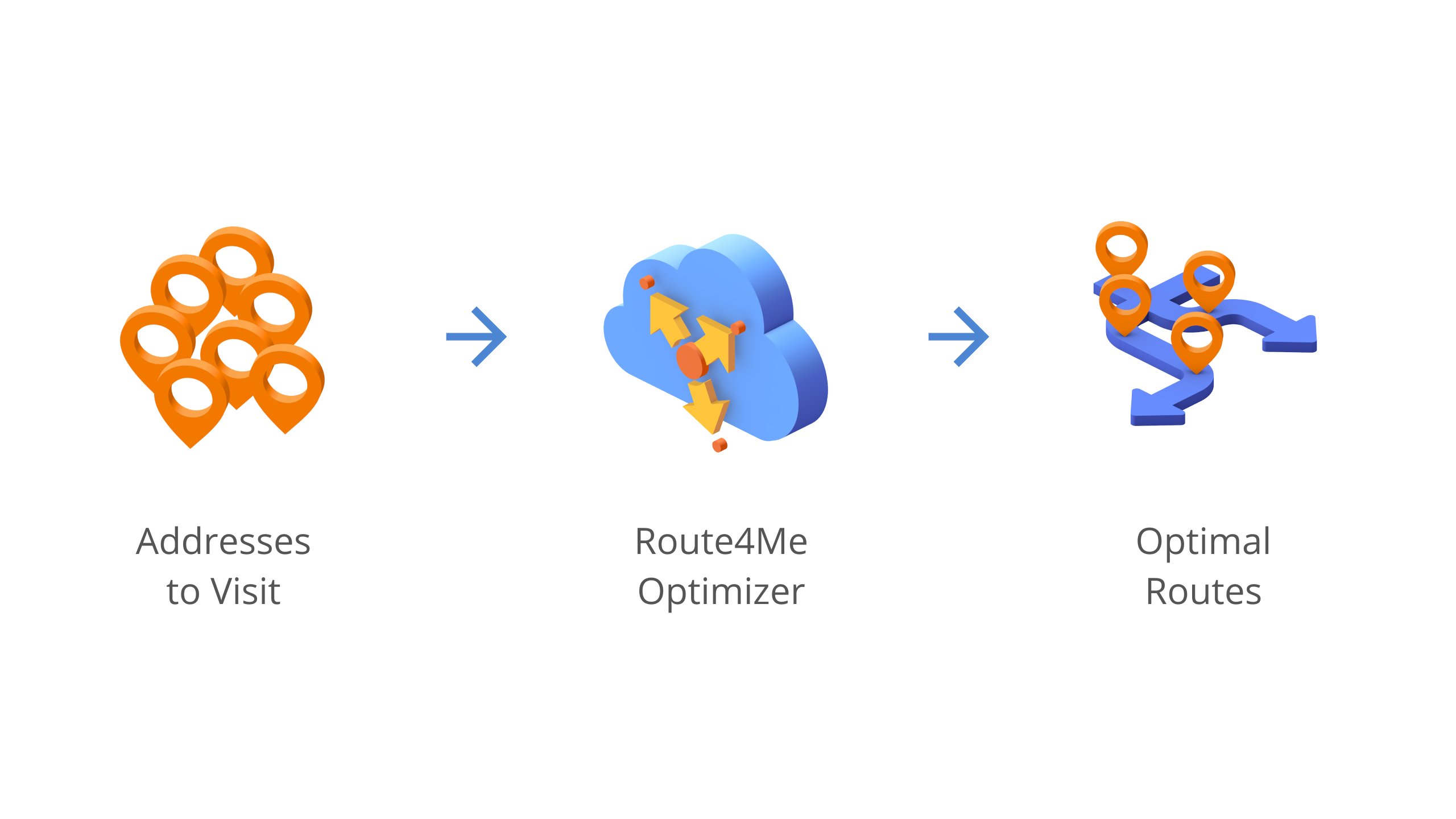 You don't need to worry about accuracy. And suppose anything happens while the drivers are on the road, such as meeting a road mishap or having a vehicle breakdown. In that case, you can immediately re-optimize the affected route to still meet the delivery deadline.
Learn how to plan a route with multiple stops in 30 seconds.
#4 Monitor Your Vehicles to Improve Customer Experience
Route optimization isn't enough. You also must ensure your drivers follow the instructions and drive safely.
That's why you need to track your vehicles on the road. A GPS tracking app can help you here. It helps track your vehicles on the road in real-time.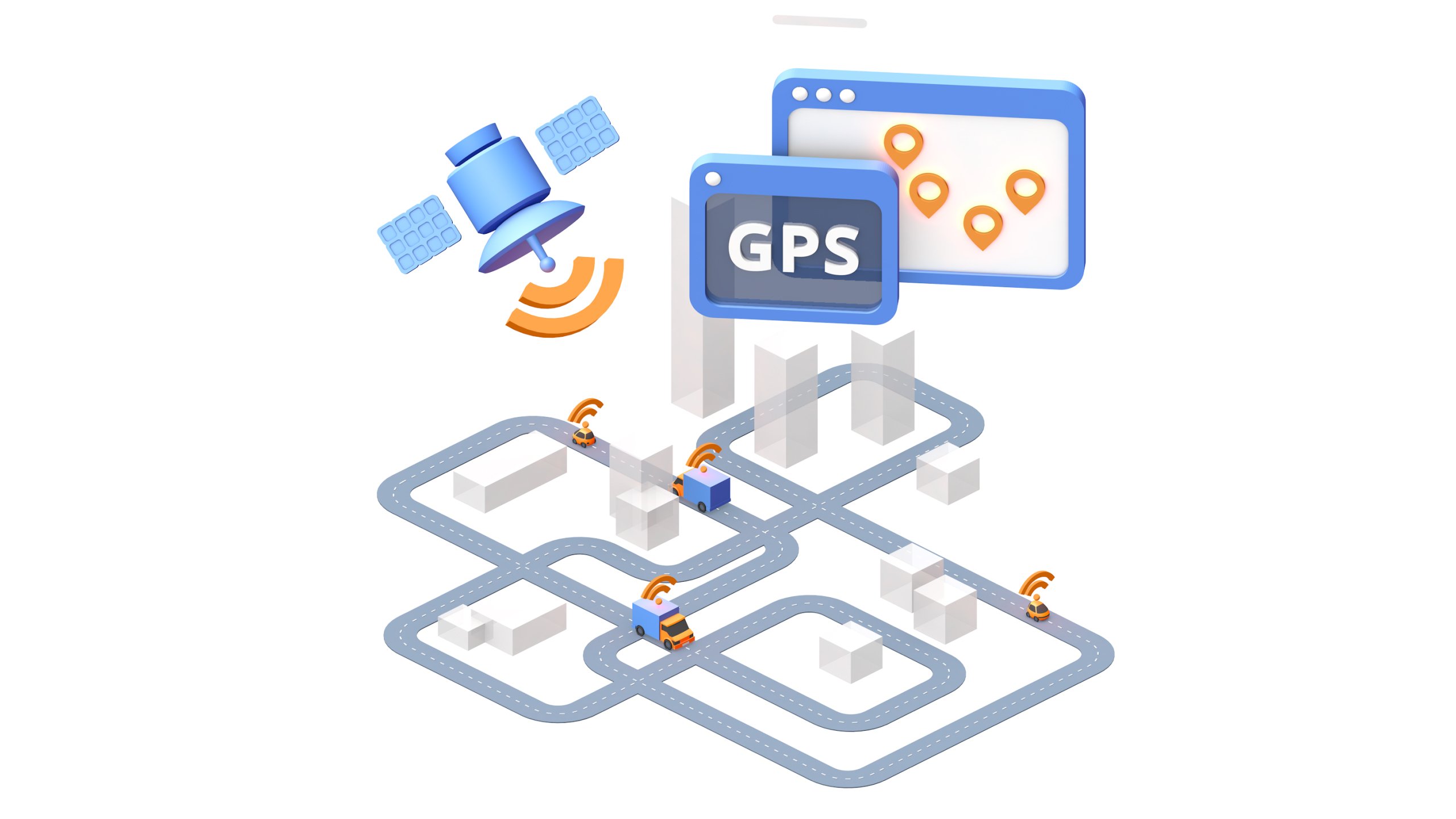 If your drivers deviate from the routes shared, make personal stops, speed up, or drive aggressively, you'll immediately know about it and can take steps to rectify their behavior. This way, you can always ensure on-time deliveries and make your customers happy.
Also, when the drivers know they are being tracked, they are more likely to take their jobs seriously, which would ultimately benefit you and your drivers.
Learn the top ten benefits of GPS tracking.
#5 Request Feedback from Your Customers to Improve Delivery Experience
The best way to improve your delivery service is by asking for feedback from the people who matter – your customers.
Route4Me comes with a Driver Rating feature that automatically sends an email/SMS asking customers for feedback on the delivery experience after completing an order. You can even customize the survey as per your requirements.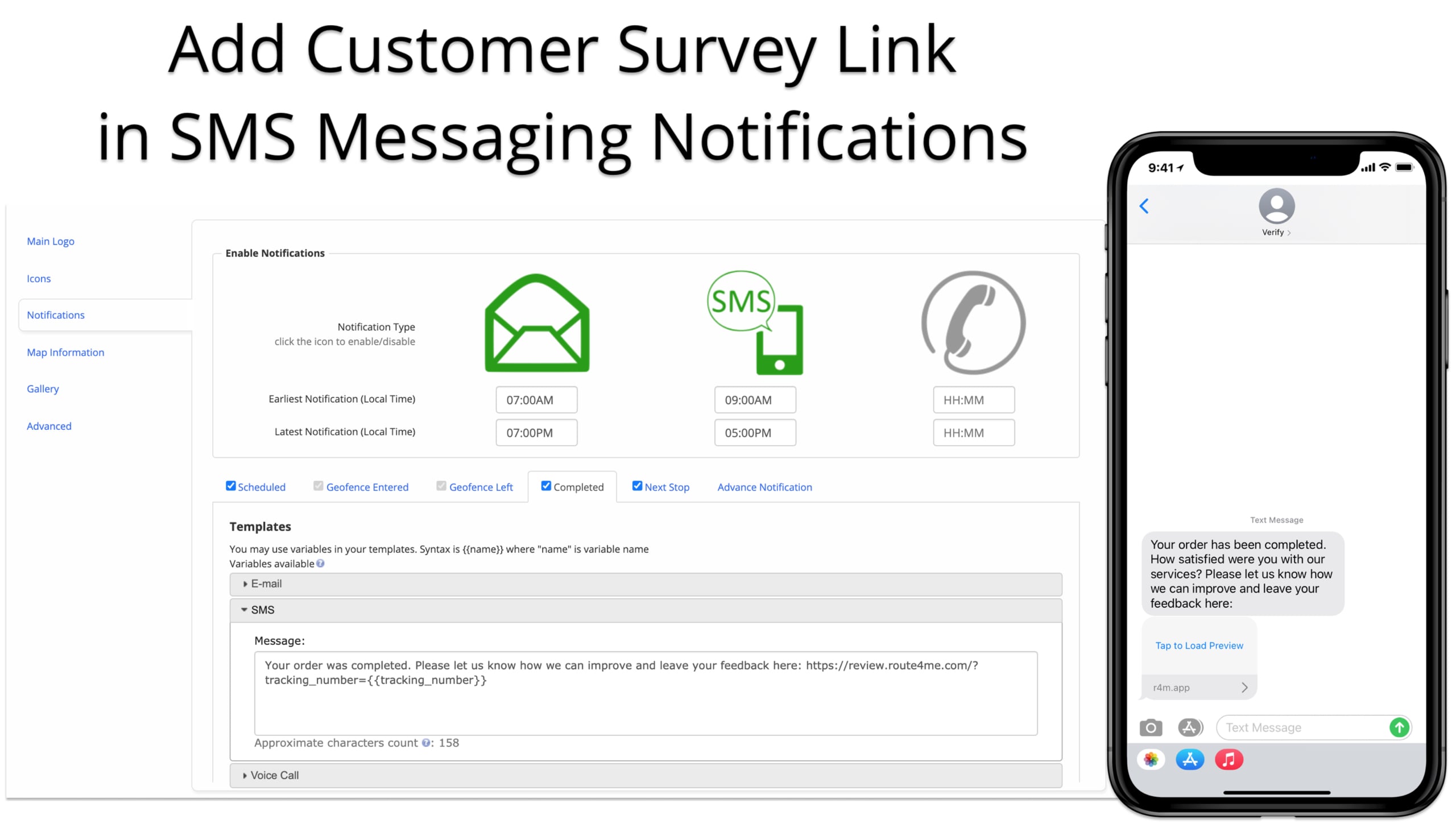 The important thing is to work on the feedback you receive. Striving to improve your customers' delivery experience is the first step toward implementing it.
Customers have become more demanding and insist on receiving better services. And, with so much competition around, you can only survive by focusing more on the customers and offering high-quality delivery experiences.
Incorporate the five strategies mentioned above and use Route4Me to up your game in 2023.
Want To See For Yourself How Route4Me Can Boost Your Profits?
Whether you want to slash the time it takes you to plan routes for your drivers, increase the number of stops they can make, or keep your customers satisfied knowing that your drivers show up on time… Route4Me helps you achieve that!