Sales route planning is crucial for your field sales strategy and, if done right, can increase your company's bottom line simply by connecting field sales reps to high-value opportunities at the right time.
But, this isn't a walk in the park. Luckily, you can get the most out of the field daily with the right tools and strategy. So, below we explain how a sales route planner can help you.
First, let's get the basics right.
Table of Contents
What Is Sales Route Planning?
Sales route planning is the process of finding the most efficient routes for your field sales reps. In other words, it's the process of finding the most efficient way for your sales reps to get from Point A to Point B and determining the order in which they should head to these specific locations.
When done right, field sales route planning can play a significant role in determining how quickly a salesperson can move from one prospect to the next.
Why Is Sales Route Planning Important?
As you perform your daily tasks, you face challenges, such as finding a way to not miss out on opportunities, maximizing your time, and market dynamics. All these may result in a poor understanding of your routes. Once this happens, you may find yourself overlooking a whole lot of opportunities.
Routing in sales planning with the help of a sales route planner can get all these challenges out of the way. Below is a quick rundown of the advantages of sales route planning.
Frees you from wasteful trips and expenses.
Improves customer service and makes customers happier.
Improves productivity.
Gives you complete visibility of your field activities.
Makes sure you don't miss out on essential details.
When Is Sales Route Planning Absolutely Necessary?
Answering the following questions will help you determine whether you should put money and time into planning a sales trip route:
Are you missing sales goals because you don't have complete insight into your territories, market dynamics, or customer data?
Is your team missing out on opportunities because they are not meeting the right customers?
Does your team struggle with long delays and lots of unplanned downtimes?
Are your field sales reps struggling to make data-driven decisions on the field?
If your answer to any of the four questions above is YES, you ABSOLUTELY need a sales route planning tool.
Three Ways to Optimize Routes for Sales
#1 Manual Approach
The manual approach involves planning a sales trip route using pen and paper or spreadsheets.
The problem with this is that it's very tedious and could take hours. Also, you cant' pinpoint the most efficient routes, nor can you prioritize high-value leads during likely hours.
In addition, you would not be able to plan sales visits for the future (say next month). You'll also have a tough time rescheduling your customer's meeting.
Clearly, using the manual approach is a colossal waste of time, resources, and money.
So, what can you use if the manual approach doesn't work? Will Google Maps cut it?
#2 Google Maps
Google Maps is convenient for finding the best routes, and it's undoubtedly one of the best navigation apps out there.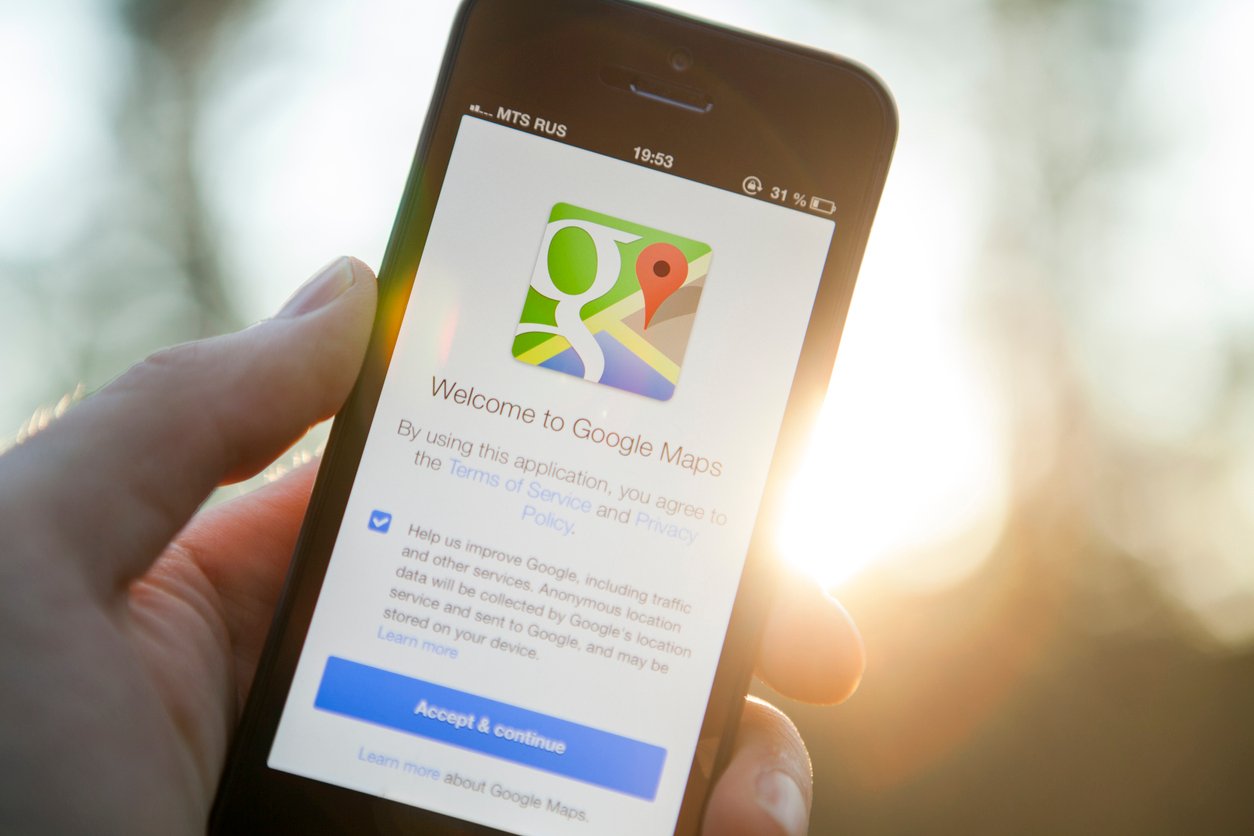 But, while Google Maps route planner can help sales reps get from one point to another, it's not suitable if you need to plan routes for many field sales reps for the following reasons:
You can't modify your routes automatically – If a customer reschedules a visitation location, you can't modify the location asynchronously. Also, once your field sales reps are on the road, any last-minute change in visitation times would disrupt the order of visitation for the day, and it would be difficult to advise the field sales reps on the new prospects.
You can't track your field sales reps in real-time – If you can't track them, how would you make sure no one's slacking and going to grab a McDonald's at the expense of the prospect?
You can't schedule multi-stop routes in advance – Because of this, your field sales reps might end up confused as to which client or prospect should be visited first. It also wastes your valuable time.
It only allows for 10 possible stops – Google Maps doesn't allow you to plot more than 10 stops at a time on a route. So, if you need to plan more than 10 stops, Google Maps is not the right tool for your sales route planning.
You can't upload many addresses at once – Which means that you'll have to input every address manually. Imagine inputting the addresses of 100 customers; that'll be really stressful.
Clearly, using Google Maps for sales route planning isn't as effective as you might have earlier thought. So, what is effective?
#3 Sales Route Planner
A sales route planner optimizes your routes in minutes.
The best app for sales route planning can help you prioritize clients based on importance or availability time constraints and optimize the entire route for maximum efficiency.
Remember the long process you had to go through when planning the sales routes manually?
Well, you don't need all that when using sales rep route planning software. You can find the fastest routes in just minutes, minimize travel time and distance, and optimize schedules with customer data.
Want To See For Yourself How Route4Me Can Boost Your Profits?
Whether you want to slash the time it takes you to plan routes for your drivers, increase the number of stops they can make, or keep your customers satisfied knowing that your drivers show up on time… Route4Me helps you achieve that!
How Route4Me's Sales Route Planner Can Help
If, like millions of companies in the US, your company's fate is largely dependent on your field sales reps' performance, you should invest in making your field sales reps more productive.
Using a sales route planner like Route4Me is the easiest way to ensure your field sales reps are very efficient.
Here's how Route4Me's sales route planning software can help your field sales reps close more deals:
Plan Well-Optimized Routes
Route4Me comes with Dynamic Route Optimization™ technology that helps you plan a sales route with accurate directions for your team.
You just need to input the list of addresses (via a spreadsheet, a scanned copy, cloud storage, or even manually) and create a route in 30 seconds.
The software even considers weather, traffic, roadblocks, avoidance zones, and more while planning routes. This ensures your field sales reps never get stuck on the road and always show up on time.
Learn how to plan a route with multiple stops in 30 seconds.
Optimize Territories to Maximize Sales
It's challenging to design sales territories most efficiently manually, and you'll find out that your field sales reps all cover the same regions most times.
Route4Me offers a territory management feature that enables you to draw and name territories, color them for display on a map, save the regions as groups, and plan the routes according to the territories. There isn't even a limit to the number of territories you can add.
In addition, you can customize the territories. For example, you can assign VIP clients to certain territories and the rest of your clients to other territories.
Learn why every sales manager needs sales territory mapping software.
Track Your Field Sales Reps
Route4Me's sales route planner helps you see if your field sales reps are sticking to their routes and staying on schedule.
This is possible with GPS tracking which allows you to see, in real-time, the speed and location of your field sales rep. That way, you can ensure that no one's slacking.
Learn the top ten benefits of GPS tracking.
Prioritize Leads
You should focus more on the leads that are likely to close faster. Route4Me offers a color-coding feature that helps you color your leads and set your priorities right.
For example, you can use green to mark hot leads and orange for cold leads. Such visualization will help you figure out where you should focus more.
Robust Performance Management System
We all love recognition; we love to feel important and rewarded for our work. So, if you can reward your team members for their work, you're incentivizing them to do more. But, on what basis would you reward your team members and how would you make it transparent?
Route4Me offers a reporting and analytics feature that gives you data about how many stops or prospects are visited in a day, the time is taken at each stop and more.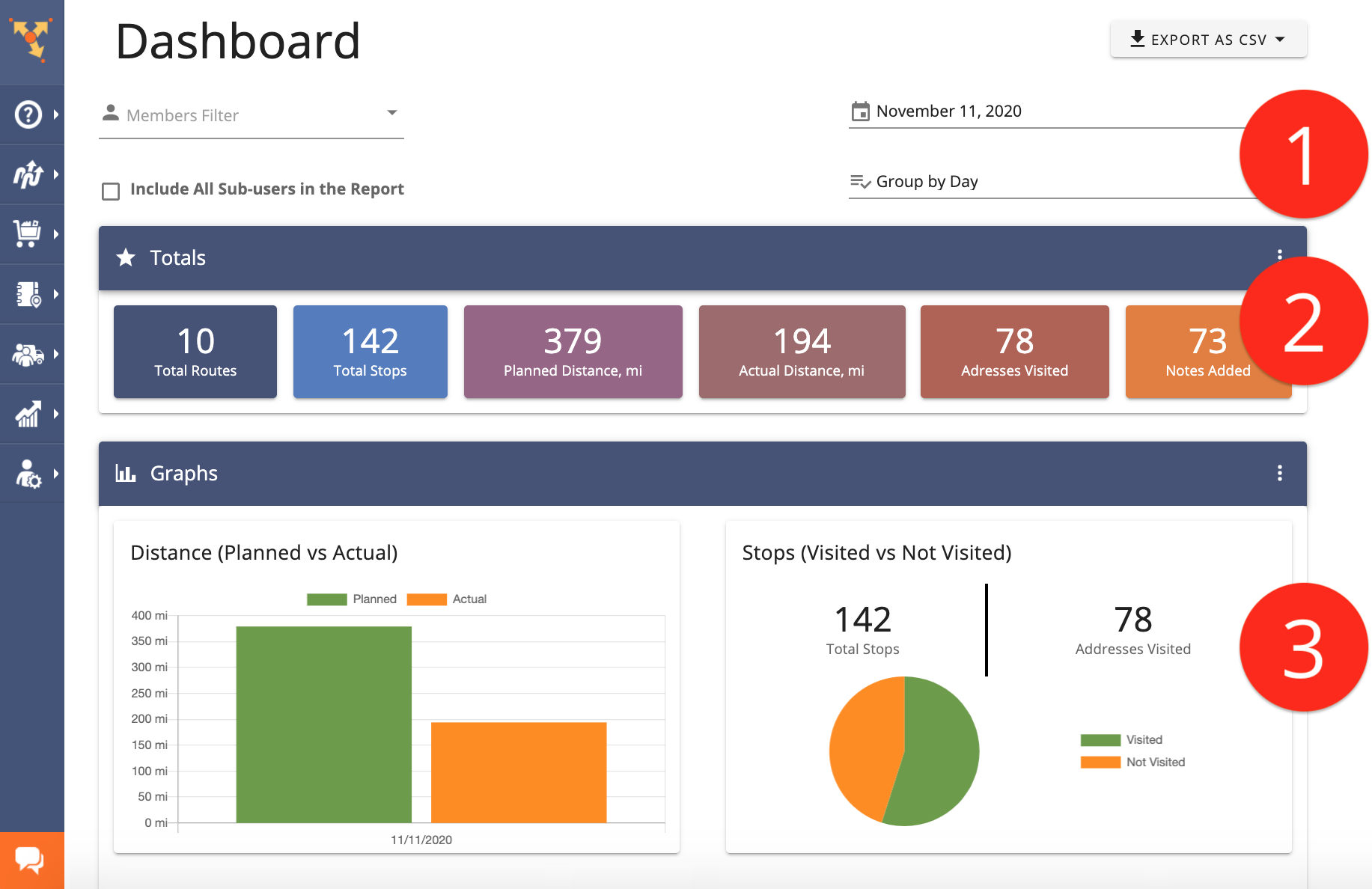 You can use such data to identify the top performers and reward them accordingly. This would somewhat level the playing field for your team members and give them the notion that you genuinely care about their personal growth.
Store Critical Information
Route4Me comes with an 'Add Note' feature that enables your salespersons to include crucial information about a client in the form of text, images, and audio/video to a route from their smartphones. This comes in handy when making future visits to the same client.
Other Benefits
There are many other advantages of using Route4Me for sales route planning, such as:
Improves collaboration as the software is cloud-based and can be accessed from anywhere at anytime
Improves sales forecasting
Balances your territories nicely
Makes region management seamless
How to Use Route4Me for Sales Route Planning
Planning a multi-stop route with Route4Me is pretty straightforward. Here's a step-by-step guide on how to plan a sales route with Route4Me.
So, are you ready to boost your sales reps' efficiency and improve your bottom line? Use our seven-day free trial and see how Route4Me can make your field sales planning and management a breeze.
Want To See For Yourself How Route4Me Can Boost Your Profits?
Whether you want to slash the time it takes you to plan routes for your drivers, increase the number of stops they can make, or keep your customers satisfied knowing that your drivers show up on time… Route4Me helps you achieve that!