Rising on-demand deliveries have made real-time visibility crucial for every delivery business.
According to a report by Statista, 15.05 billion deliveries took place in 2020. And Fairfield Market Research forecasts the last-mile delivery market will expand by over 16% by 2025.
That sounds like a great time ahead, but the challenges will also increase. On-time deliveries are imperative, but simultaneously, you must improve productivity, reduce costs, and keep your drivers safe. This is where you need a real-time visibility platform.
We explain the benefits of last-mile visibility in detail below.
Table of Contents
What Is Real-Time Visibility?
Real-time visibility refers to the ability to accurately trace and track assets, status, and location in real-time.
Benefits of Real-time Visibility
Below are several advantages of last-mile visibility.
1. Improves Customer Experience
According to a study by DigitalCommerce360, 93% of consumers want to stay informed of progress throughout the delivery process. And 47% of consumers won't order again from a brand with poor delivery visibility. This shows the importance of last-mile visibility to improve customer experience and retention.
Providing customers with detailed and accurate information regarding the delivery process maintains brand loyalty and prevents cancellations.
Manually, it's hard to let your customers track the status unless you have an advanced tool in place, and this is where a route optimizer like Route4Me can help.
Route4Me route planner offers a customer portal feature that lets your customers track their order status on their own.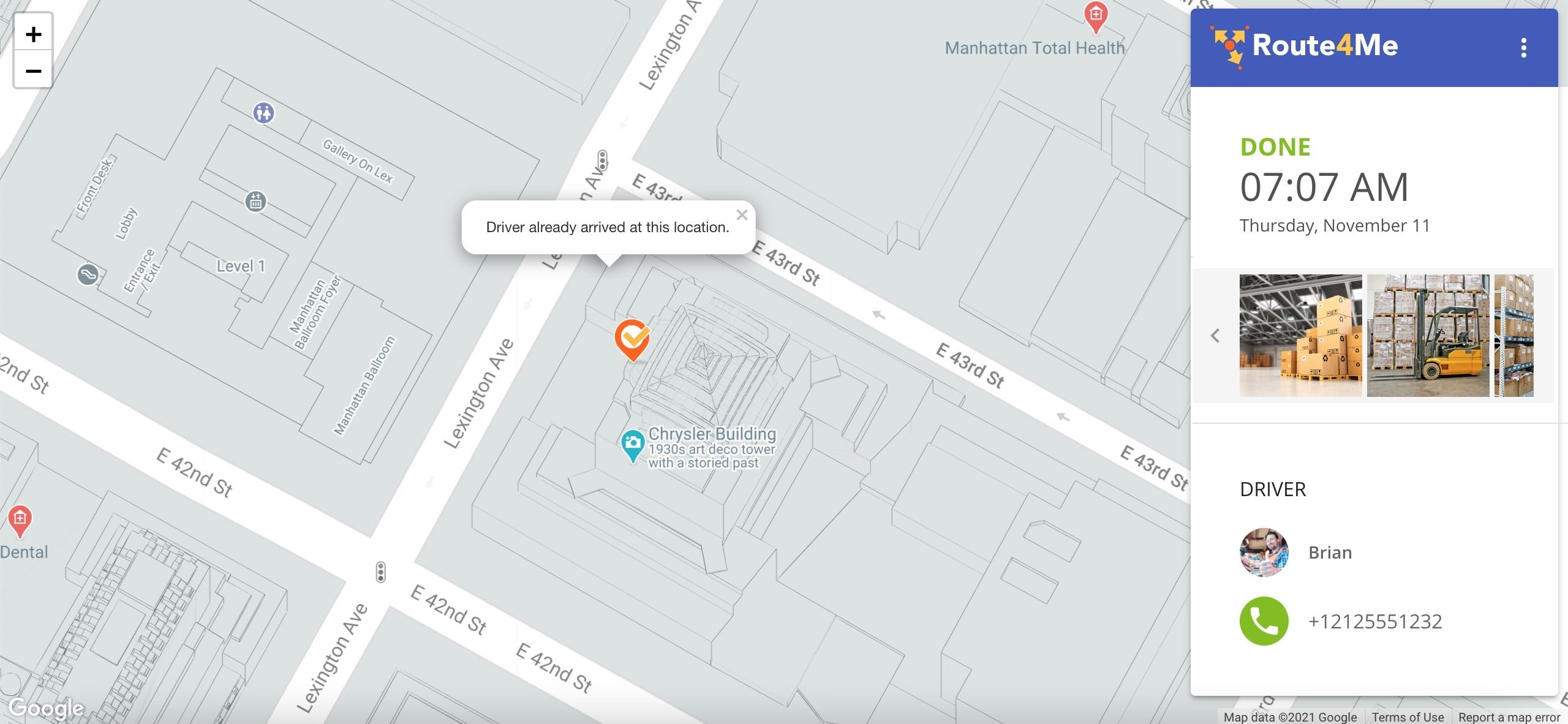 Plus, Route4Me's route optimization software offers a customer alerting and notification feature that allows you to send notifications thru email or SMS to your customers whenever their order is out for delivery or near their location.
Therefore, customers won't be left waiting for deliveries, and you can improve the first-time door opens in last-mile delivery.
Want To See For Yourself How Route4Me Can Provide Last-Mile Visibility?
Whether you want to monitor driver performance, improve productivity, minimize downtime, or keep your customers satisfied knowing that your drivers show up on time… Route4Me helps you achieve that!
2. Real-time Visibility Helps Monitor Driver Performance
With end-to-end real-time visibility, you can make more informed business decisions based on real-time information. You would know which driver performs well, how long a driver takes at a stop, and more. You can then train or reward and assign jobs accordingly.
An advanced delivery scheduling software like Route4Me comes with a reporting and analytics feature that helps you track all the nitty-gritty details about your delivery operation.
You can see total fuel costs, average service time, and carbon emissions. All this information helps you monitor performance and expenses to improve efficiency and profits.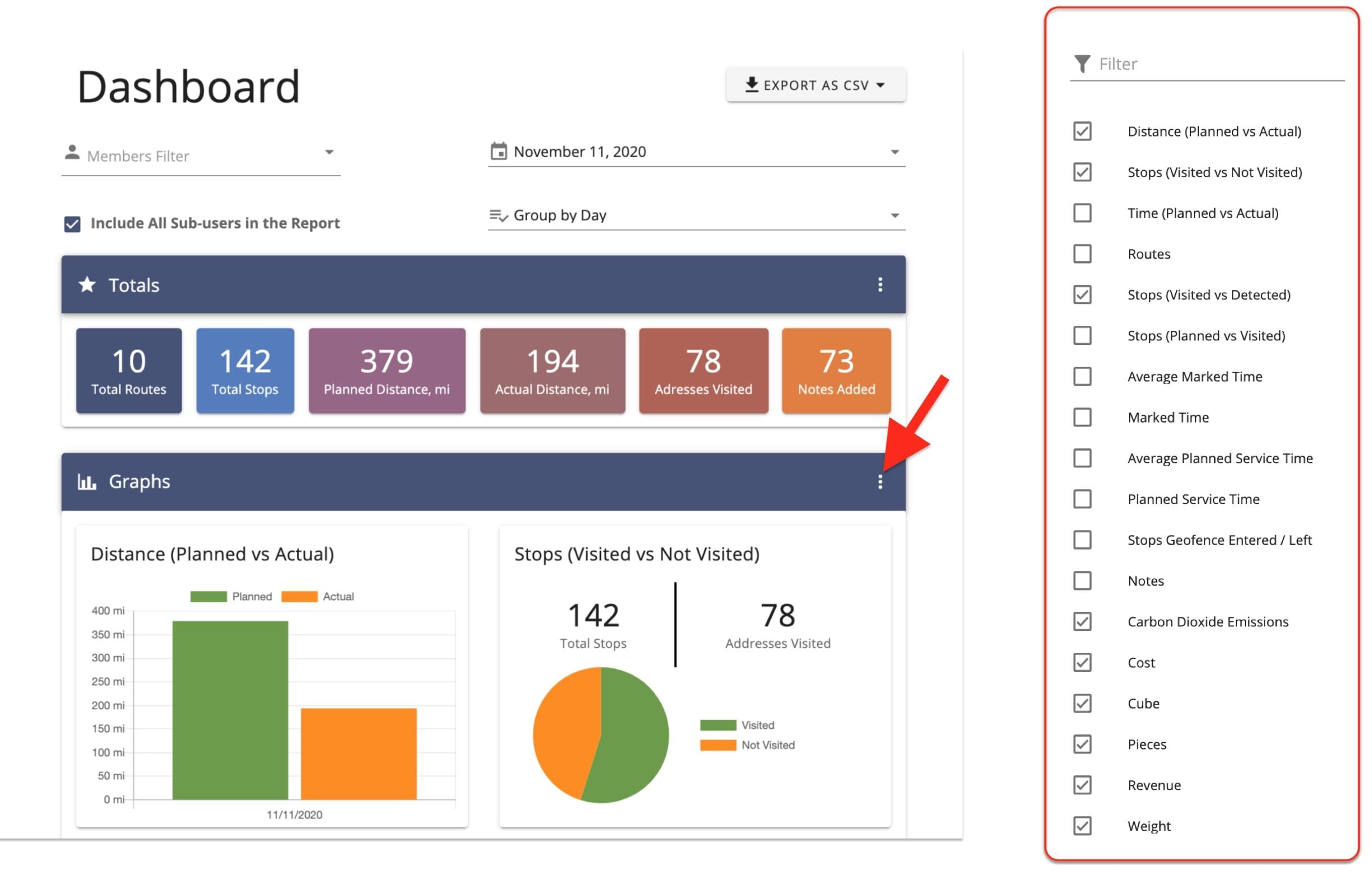 3. Makes It Easy to Manage Real-Time Issues
Without real-time transportation visibility, you can only deal with issues that cause delay after the incident has already happened. By this time, the consumer is already annoyed.
Dealing with potential issues before they happen will enable you to effectively deal with them and notify your consumer of the delay.
There could be several reasons behind delays, and not necessarily a driver would be at fault. For example, a vehicle could break down in the middle of nowhere or face an accident.
A multi-stop route planner like Route4Me has a vehicle tracking feature that helps you monitor such instances as soon as it happens so that you can communicate to the customers about any delays accordingly.
Plus, a delivery route planner helps you re-optimize a route and ensure the affected deliveries are still made on time.
4. Eliminate or Minimize Downtime
Many factors can lead to a vehicle's downtime, which results in unnecessary delays. A few of these include:
– Route diversions due to unknown road works
– Unprecedented or unauthorized stoppages
– Delays due to incorrect delivery address/instructions
– Unplanned roadblocks
Modern delivery scheduling software like Route4Me provides micro- and macro-level visibility over your entire operations and helps you prevent common delivery problems.
Route4Me's vehicle routing software considers roadblocks, one-ways, avoidance zones, turn restrictions, and more to plan well-optimized routes and ensure your drivers do not get stuck on the road. Plus, it comes with a bulk geocoder to identify and autocorrect any wrong addresses entered into the system.
5. Last-Mile Visibility Improves Productivity
Last-mile visibility helps you stay proactive, manage last-minute customer requests efficiently and communicate delivery progress or updates to customers as needed. And all these translate into improved overall productivity.
Plus, drivers will be focused on their work when they know they're being watched. And you'll get more bang for your buck from your payroll dollars.
6. Facilitate Accurate KPI Benchmarking
Real-time visibility in logistics helps you facilitate accurate KPI benchmarking. With a cutting-edge real-time transportation visibility platform, you will have zero trouble staying abreast of necessary KPI factors such as:
Driver productivity
Journey delays
First-attempt success rates
On-time deliveries
ETA goals, and
unsuccessful deliveries.
Furthermore, by eliminating unnecessary delays like route diversions and unprecedented stoppages, clear visibility into your delivery operations improves delivery turn-around time and helps you stick to ETAs.
There are many other benefits of real-time visibility platforms, such as:
Reduces insurance premium
Avoid reckless driving
Improves employee retention
Avoid customer disputes
Learn in detail the benefits of GPS tracking.
Final Thoughts about Real-time Visibility
Real-time visibility is crucial for long-term business success. In addition to improving productivity and reducing costs, last-mile visibility will enhance customer experience and loyalty and help you stay ahead of your competitors.
Therefore, be proactive rather than reactive, and use a real-time transportation visibility platform to give your final mile delivery process the edge it needs!
Want To See For Yourself How Route4Me Can Provide Last-Mile Visibility?
Whether you want to monitor driver performance, improve productivity, minimize downtime, or keep your customers satisfied knowing that your drivers show up on time… Route4Me helps you achieve that!