These days, GPS technology is everywhere. From laptops to phones to cars, just about everything you can own is trackable. You may have very well tracked your own vehicle using your mobile's GPS feature but if you're out seeking more about how does GPS tracking work, you're in for a treat.
In the business world, GPS technology is especially important. It allows managers of field operations to make sure their assets are where they're supposed to be.
But what is GPS (Global Positioning System), exactly? And how does it work?
What Is GPS?
GPS is a radio-navigation system developed by the U.S. Department of Defense and is currently managed by the U.S. Air Force. While it was originally developed exclusively for the military, it is now available to everyone.
Although GPS has been around since 1973, the technology has only become common in the last few years with the use of cell phones and tablets that are integrated with GPS tracking systems.
Want To See For Yourself How Route4Me Can Boost Your Profits?
Whether you want to slash the time it takes you to plan routes for your drivers, increase the number of stops they can make, or keep your customers satisfied knowing that your drivers show up on time… Route4Me helps you achieve that!
How Does the Global Positioning System (GPS) Tracking Work?
GPS uses the Global Navigation Satellite System (GNSS) network to connect with dozens of satellites and their ground stations to provide the location of a GPS receiver. Each GPS satellite continually transmits a signal and GPS receivers on the earth use satellite signals to determine their locations, directions, and speeds. The GPS receiver must have a line of sight with at least four satellites from which it is receiving signals to calculate its exact position. The distances between the GPS receiver and the satellites and the distances between each satellite are used to calculate the GPS receiver's location.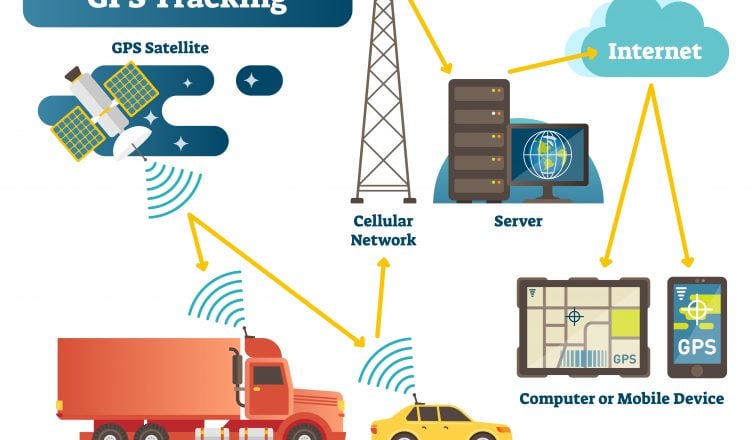 Field service businesses use this simple and reliable technology to identify the locations of their vehicles via web-based GPS fleet tracking software solutions. GPS devices work in tandem with fleet tracking software to give fleets real-time alerts, based on location data sent from the vehicle to the software operator.
A GPS tracking device installed in the vehicle will collect signals from the satellites, calculate the GPS location, and transmit the coordinates to a central station via the cellular network. This data will then be available to the field service manager through a web interface or an app installed on his or her cell phone and provide details about the location and usage of the vehicle.
How GPS Tracking Can Benefit Your Business
Courier services, lawn care companies, and all other businesses that depend on field employees face the same problem: how do you know your field employees are doing what you want them to do?
When you're in the office and they're on the road, you can't see what your field employees are doing. They might be working hard, or they might be taking unsanctioned breaks and running personal errands on company time. Without the right tools, there's no way to know.
That's why you need a delivery route planner with a GPS tracking feature. Such software shows you the locations of your field employees in real-time. You'll always have the ability to confirm that your team members are sticking to their routes and staying on schedule.
Think of a GPS tracking device as a virtual riding partner to your drivers. So, instead of making one of your employees sit in the passenger seat to monitor your vehicles' locations and your drivers' activities, you can use vehicle tracking software to keep an eye on everything. Using GPS tracking software, your managers can get real-time updates and alerts on everything from asset tracking to vehicle tracking with little effort and time.
Integrating a GPS tracking system into your route optimization software brings a lot of benefits. In addition to showing you the locations of your field employees, GPS tracking also shows you their speed. You'll be able to see if anyone is breaking the speed limit, accelerating too fast, braking too fast, or taking turns too fast. If you see that kind of aggressive driving behavior, you can contact them immediately and tell them to cut it out right away. This will help you prevent costly collisions.
Monitoring your drivers' behavior will also help lower insurance costs by reducing their Compliance, Safety, and Accountability score. When a driver gets stuck in traffic or gets lost on the way to a customer's location, a GPS tracker will help him or her find the optimized route. It will also ensure that the driver stays away from congestion, constructions, and accidents.
GPS tracking solutions can help you save money in other ways as well. It gives you a more detailed understanding of your team's driving and fuel consumption habits. Fuel is the most significant saving your business will notice after installing a GPS tracking system. Factors like optimized routes, less idling, improved driver behavior, and vehicles' proper utilization will contribute to fuel savings.
You'll have a better idea of when your vehicles need maintenance, and when you try out different fuel efficiency techniques, you can easily tell if they're working or not.
Another popular feature of GPS tracking software is geofencing. This feature works by creating a virtual boundary on a map and assigning vehicles to a specific area. The system will also send you an alert every time a vehicle 'enters' and 'leaves' an area. GPS tracking software with the geofencing feature can help prevent fuel theft, reduce vehicle damage, and eliminate the use of manual time logs.
A GPS tracking device in your vehicle can also help save the environment. It will guide drivers to follow optimized routes, resulting in fewer carbon emissions and lowering your company's carbon footprint.
Look for fleet management software that comes with mobile route planning apps your field employees can download on their personal mobile devices. That way, you won't need to buy telematics solutions for fleet tracking.
Having vehicle tracking software in your fleet will not only give you peace of mind, it will also help you monitor your vehicles and drivers more efficiently, without having to micromanage.
What are some other uses you can think of for GPS tracking? Do you have any questions about this article? Please let us know in the comments section below.
Finally, answering these three questions correctly will confirm that you understand how GPS tracking works:
What is GPS?
How does GPS tracking work?
Why is it important for route planning software to have a mobile app?
Want To See For Yourself How Route4Me Can Boost Your Profits?
Whether you want to slash the time it takes you to plan routes for your drivers, increase the number of stops they can make, or keep your customers satisfied knowing that your drivers show up on time… Route4Me helps you achieve that!