If the idea of getting your online purchase delivered by a drone makes you uneasy, how about a robot greeting at your door that just arrived in a driverless vehicle?
Several e-commerce companies and retail giants are running successful tests to prove that drone deliveries and autonomous vehicle deliveries are capable of delivering groceries and other goods safely under controlled conditions. The goal is to handle the last mile challenge while cost-effectively delivering everything from toothpaste to a pizza within minutes of receiving an order.
Amazon is working on Prime Air, a futuristic drone delivery system that is designed to get packages to customers in less than 30 minutes. Although Prime Air is not ready to launch yet, this service will change the face of the global logistics industry. Amazon is also testing "Scout," its own delivery robot. United Parcel Service (UPS) is not testing delivery robots, but like Amazon and FedEx, it is experimenting with delivery drones.
If, when, and how the technology will be deployed on a worldwide commercial scale will depend on overcoming legal and technical challenges associated with drones and fully autonomous vehicles. As every new system or technology will have some pros and cons, autonomous vehicles and drones for delivery also have their fair share.
Delivery Drones: Pros and Cons
First, let us look at the positives. The basic technology is already here, and it seems there are plenty of takers wanting to sign up.
If Amazon's initiatives go as planned, commercial drone deliveries will be better for the environment. When it comes to fuel emission and energy efficiency, a single, battery-powered drone delivering your orders compared to a big emissions-spewing delivery truck is a huge improvement. And, if many people are receiving deliveries via drones, the delivery trucks on the road will travel fewer miles with less weight, which means a far less impact on infrastructure.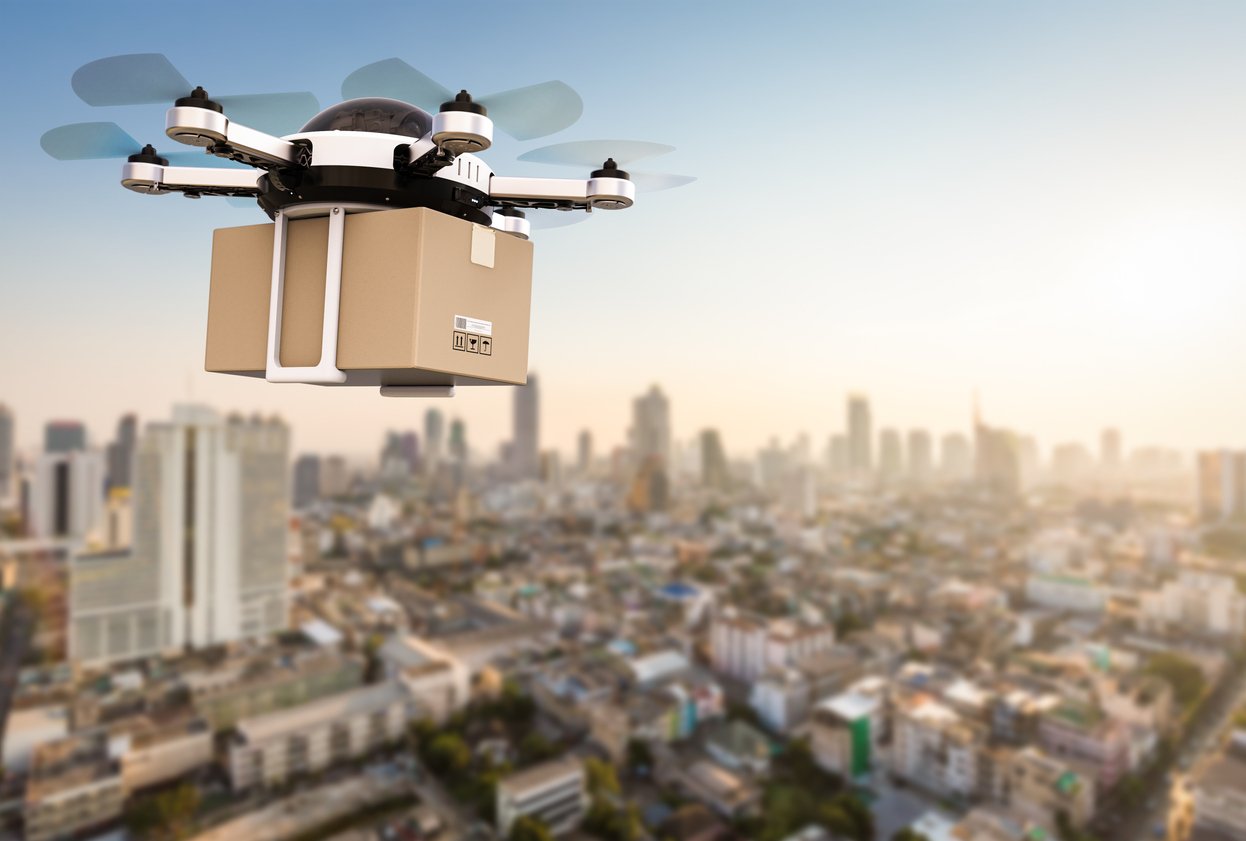 Drone deliveries will be faster than ground deliveries as there will be no traffic to negotiate. A typical drone can travel up to 100 mph, which means more deliveries can be made per hour. However, the drawback is that drones are limited to only handling up to five pounds in weight as per current regulations for unmanned aerial vehicles (UAVs).
By-passing ground transportation will allow for greater route flexibility that can facilitate faster delivery for same-day orders, or more efficient delivery to inaccessible areas. Similarly, delivery addresses will become less rigid due to literal "anytime, anywhere" delivery.
However, people are divided on the issue.
According to a survey, only 47 percent of Americans are interested in having their online orders delivered by drones. This significantly high number is nearly half the potential customers consider the concept to be unappealing.
This diverse opinion is understandable.
There are totally legitimate concerns over safety and privacy. While the convenience of faster online deliveries is a tempting prospect, the idea of drones flying over playgrounds, houses, and schools at any time of day is certainly not. The drones will use GPS to find your delivery location and will have a camera to safely land and navigate their surroundings.
Next hurdle might be the logistics of using drones to deliver to different types of addresses, such as homes, apartment buildings, and commercial properties. Each address type will have its own set of problems to solve for successful drone delivery using reasonably new and vulnerable technology.  Also, drones flying over a highly populated area must avoid birds and trees.
To help the drones fly safely, NASA and FAA (Federal Aviation Administration) are working on a drone air traffic control system. After NASA completes its research for such a system, the FAA can work on implementation. So far, testing is in the early stages.
The cost of including drones to a company's delivery services will require a significant investment. This is the reason only a few large brands are considering or testing this technology. The average price of a single drone that is capable of making an accurate delivery can be up to $500. Smaller drones may be available in the $50 price range, but to turn this idea into reality, a company like Amazon will require thousands of them as well as hiring staff to manage and control them.
Companies that are testing drone deliveries claim to deliver packages in 30 minutes or less. One of the reasons this quick delivery time is essential is because of its current battery technology. The battery of an average delivery drone could use all of its power in less than 20 minutes and may not provide enough flying time to deliver the package to the intended destination.
Also, the limited flight range and capability of drones mean that drone-deliveries will require a complex network of new warehouses – the construction, and operation of which will put an extra burden of energy consumption and gas emissions.
Contrary to what retailers and e-commerce companies are claiming, drone deliveries might make the delivery costs increase. The cost of standard drone delivery service is likely to be similar to express deliveries.
There are unanswered questions about the future of drone delivery. For example, what will happen if the drone with your order is stolen? What if your order is damaged upon delivery? What will be the return process for drone-delivered orders? Will unpredictable weather conditions impact the reliability of drones as carriers? And perhaps, the most crucial question is dropping off the order. Forget the "last mile," it will now be the "last 30 feet".
While the answers remain to be found, you can brush up on your consumer rights so that when delivery drones take to the skies, you will be prepared.
Autonomous delivery vehicles: The Good, The Bad, and The Unknown
A report by Mckinsey indicated that we would soon live in a world where 80 percent of all online orders will be delivered by autonomous vehicles (AVs).
With companies like Ford pouring money into developing autonomous delivery systems, this is not hard to believe. Kroger, a grocery delivery company, is competing with brands like Amazon and Walmart to attract customers who want fast deliveries without hassles. Kroger is running a pilot program using unmanned autonomous vehicles to deliver groceries in Arizona. This program is in partnership with Nuro, a Silicon Valley startup that offers a self-driving service.
AVs enable a cleaner, safer, and more efficient supply chain. This is because they use less gas, drive extended hours, engage in fewer accidents, and maintain brakes and engines better. Because these vehicles are lighter and smaller in size compared to typical delivery trucks, they can move parcels faster.
Let's look into the good, the bad, and the unknowns of autonomous vehicle deliveries.
With an autonomous vehicle delivery, customers will schedule their delivery at a time of their choice. When the autonomous vehicle arrives, customers will receive a message alert with a unique code, which they can use to collect their orders from the vehicle's locker. Exact delivery time and a few minutes of the delivery window would help customers schedule days accordingly. This can be done using a route planner too with the current human-driven vehicles.
Want To See For Yourself How Route4Me Can Boost Your Profits?
Whether you want to slash the time it takes you to plan routes for your drivers, increase the number of stops they can make, or keep your customers satisfied knowing that your drivers show up on time… Route4Me helps you achieve that!
Improved customer service will be another advantage of autonomous delivery vehicles. In a world where customers want everything quickly and safely, the ability to match order delivery time to a customer's schedule could be a real benefit.
Another benefit is a significant reduction in traffic-related accidents and injuries because autonomous delivery vehicles will always follow traffic rules and observe speed limits. Technology improves exponentially every couple of years, so by the time autonomous delivery vehicles are on the road, they should be as good as their human counterparts.
Last, but not least, autonomous delivery vehicles will be more environmentally-friendly than the traditional delivery trucks, simply because, according to reports, they will be mostly electric. The fact that these electric vehicles accelerate efficiently, drive within speed limits, and adapt to road conditions can reduce emissions by up to 60 percent.
Just because autonomous vehicles will deliver goods faster, safer, and cheaper, does not mean there are no hurdles in this paradise.
The key problem facing autonomous delivery vehicles is safety. At least for the next decade, every road accident involving a self-driven delivery vehicle will be scrutinized differently than a usual crash.
Contrary to the tall claims made by tech companies and auto-manufacturers that autonomous vehicles will reduce traffic woes and eliminate parking problems, a study suggests that autonomous vehicles might make traffic even worse. This is because, according to reports, cruising at a slower speed on city streets in typical traffic conditions would cost car-owners nearly 50 cents per hour, which is cheaper than paying for parking. Unfortunately, these cruising vehicles will increase traffic congestion.
Most autonomous vehicles, in the initial stages, may not be programmed to change lanes, look for pedestrians, detect blind spots, identify traffic cones, and make left turns safely. Rain and snow will also contribute to challenges as they cause reflections that decrease the effectiveness of lidar equipment and cameras. Vehicle's cameras will not perform effectively during precipitation or in a heavy fog.
With every computer-related operation being hacked at some point in time, the chances are high that autonomous vehicles will be hacked as well. The complex network and algorithms of these vehicles will possibly create vulnerabilities. A hacked AV has the potential to become a remotely controlled weapon.
Until AVs reach maturity, they might be annoying in traffic because they will be slow because they are programmed to adhere to traffic rules. That's not how delivery trucks move. So, until they learn to move faster, they might create a bit of a nuisance in the traffic.
Undoubtedly, autonomous delivery vehicles will be the system of the future. But for now, they appear to be just a marginal improvement over traditional delivery trucks.
Conclusion
Will you soon see roads filled with autonomous delivery vehicles and your skies congested with drones? Not quite yet.
Regulatory barriers and technical issues may not allow mass adoption to happen until 2020. But after that, things are likely to ramp up quickly. As forecasted by McKinsey, automated deliveries will make up 85 percent of all last-mile deliveries by 2025.
With giants like Amazon backing this technology, you can certainly expect more action and innovation in this sector in the years to come.
Want To See For Yourself How Route4Me Can Boost Your Profits?
Whether you want to slash the time it takes you to plan routes for your drivers, increase the number of stops they can make, or keep your customers satisfied knowing that your drivers show up on time… Route4Me helps you achieve that!