Ecommerce is already poised to become worth $632 billion this year, according to BI Intelligence. The new normal of social distancing is only fueling the growth much further.
According to ACI Worldwide Research, global eCommerce sales were up by 209% in April 2020 compared to April 2019. There has also been a 110% year-on-year increase in pure eCommerce orders in the US alone, according to the COVID-19 Commerce Insight dashboard.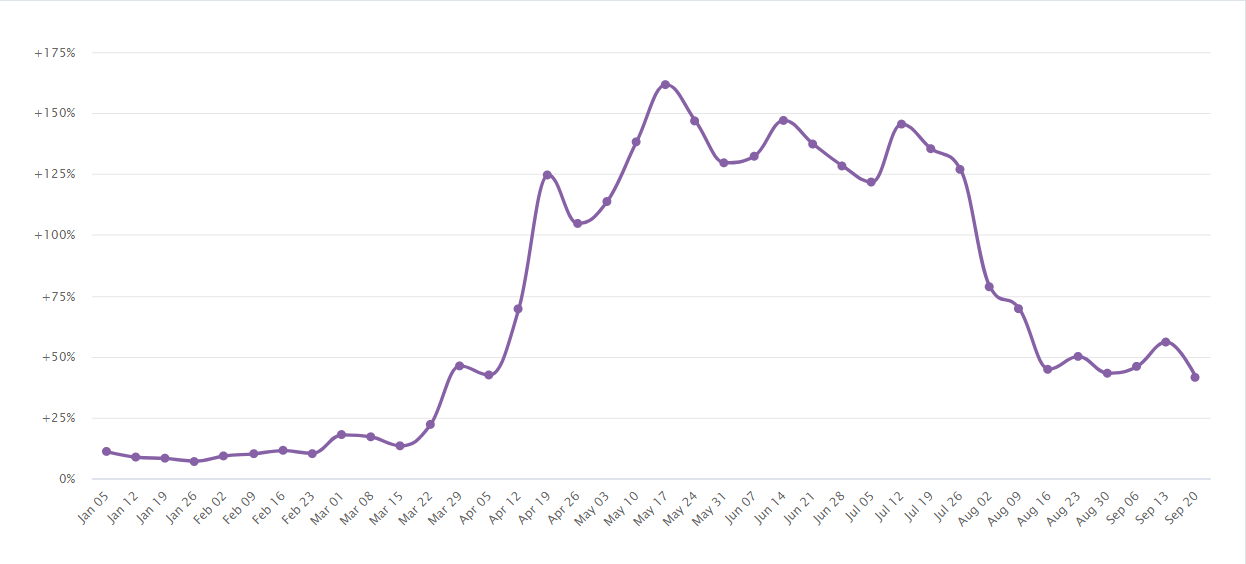 And, as per Klount's latest eCommerce trends, Spring 2020 report, same day or next day delivery was up by a whopping 305% in late April 2020 compared to the same week in 2019.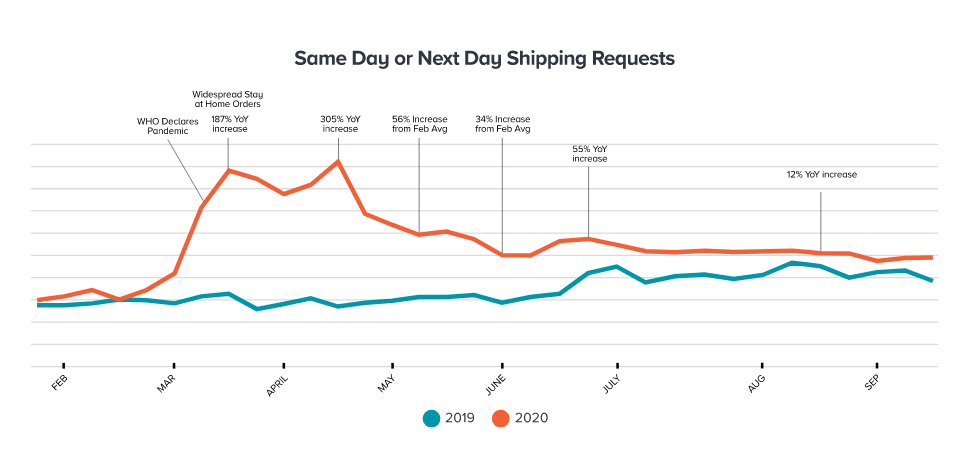 Precisely due to the massive growth in online shopping, delivery scams are on the rise. Already back in 2017, eCommerce scams in the US grew by 30% compared to 2016, while eCommerce purchases grew by nearly 16% for the same time period, according to an Experian report.
Now, according to a recent report, monthly fraudulent activities are up by 37.1%. These activities are hitting the mid-to-large US online retailers the most.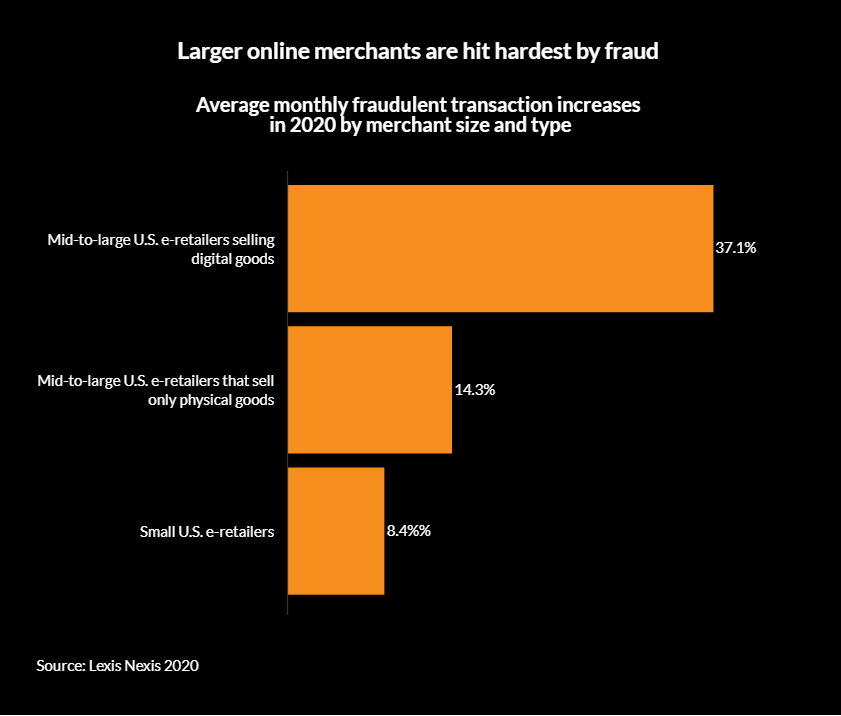 The scammers are coming up with various ways to ensure they get your products, without having to actually pay for them. And, it's not just to any specific product, type, or industry.
Meat home delivery scams, gift delivery scams, flower delivery scams, food delivery scams – you will literally find all types of package delivery scams. And, every fraudulent activity means losses for you on different fronts – excess delivery fees, lost products, and more.
Below are some of the parcel delivery service scams that could potentially bring down your business, along with the necessary precautions that you need to take to avoid them.
Package Rerouting Delivery Scam
This type of fraud is carried out by making payments, using a stolen credit card.
The transaction on the eCommerce portal gets cleared against the valid address of the cardholder. Then, as soon as the order is shipped, the original address is modified so that the scammer can receive the product.
Alternatively, the scammer does not provide the card holder's address and instead provides an invalid address.
After monitoring the order online and receiving notification from the shipping company that the order is undeliverable to that address, the scammer calls the company to provide the right address where he or she can collect the order.
In both these methods, the scammer can receive the product by using someone else's money (with a credit card, in this case), while you (the merchant) stand the risk of having to pay for additional charges for the rerouting of the order package.
Precautions to Take
It is vital for you to have well-explained shipping terms and conditions, clearly indicating that there is zero tolerance for any kind of order rerouting after the item has been shipped. You can state that the item will be delivered only to the original address once shipped.
Additionally, offer your customers appropriate tracking capability to ensure they can track their order deliveries end-to-end. You can use an advanced multi-stop route planner that comes with a customer portal feature and allows your customers to track delivery statuses, estimated arrival times, and locations of drivers by simply using the order numbers.
Ensure you validate the pin code and address, before the actual shipping of the product. An advanced delivery route planner can automate the address verification process with 100% accuracy. The best route planners come with geocoding technology that automatically flags and rectifies any wrong address entered into the system while planning routes.
Want To See For Yourself How Route4Me Can Boost Your Profits?
Whether you want to slash the time it takes you to plan routes for your drivers, increase the number of stops they can make, or keep your customers satisfied knowing that your drivers show up on time… Route4Me helps you achieve that!
Chargeback Scam
This type of fraud involves the scammer placing an order for a highly expensive item or a set of items. As soon as the order package is shipped, the scammer cancels the payment.
How do they manage this?
By simply calling their credit card company and complaining about identity theft. In this way, they can cancel the charges levied against the order, while still receiving the product, without having to pay for it.
Alternatively, the scammer denies getting any delivery. This fraud technique is quite easy to execute as the fraudster simply has to make an Item Not Received (INR) claim.
With your merchant reputation on the line, you'll obviously send out another delivery (duplicate of the earlier order) against payment for just one order. That's a clear loss to you.
And, you'll find it difficult to distinguish between a genuine claim for INR and a fraudulent one. Also, as soon as the word goes out that you are accepting such INR claims, there will likely be a rise in these types of package delivery scams.
Precautions to Take
Be very clear about the delivery (shipping) and return policy of your products.
Allow yourself enough time to challenge INR claims made by scammers so that you can provide the product delivery acceptance signature or a photo of the customer with your product as proof of delivery. This is easy with a route planner that comes with an eSignature feature to help you collect and store customer signatures on the delivery route planner app to use as proof of delivery.
An easy-to-understand product return policy will ensure that none of your customers will attempt to place an INR claim just because he or she found your product return policy to be quite cumbersome.
Shipping Account Hijacking Scam
If credit card details can be stolen, so too can your shipping account details. And, once your shipping account details fall into the wrong hands, they can be misused to cause damage beyond imagination to your company.
Large shipments can be made, personal packages can be shipped, and the wrong set of products can be shipped, using the stolen shipping account number. To make matters worse, it can be difficult to track this down.
Precautions to Take
Share your shipping account details with only a limited number of employees, preferably only the completely trustworthy ones.
Ensure an effective tracking and reporting system for every shipment that goes out from your company and regularly monitor it for appropriate scheduled pickups and order tracking. You can use a commercial GPS tracker to monitor drivers and vehicles in real-time. Also, use the reporting and analytics feature of a delivery scheduling software for more granular data-driven monitoring.
Final Thoughts
There is no such thing as "this can't happen to me." At the rate at which these delivery scams or similar eCommerce shipping scams are happening, you may not even realize you're a victim until it's too late. And, you are not alone.
Just google Amazon delivery scam or Amazon package delivery scam, FedEx delivery scam, and UPS delivery scam and see how package delivery scams are affecting everyone.
You need to be alert at all times and take the necessary precautions listed in this article.
It's not rocket science – just have your policies clearly laid out, have an effective reporting and tracking system in place, and be aware of the scenarios which are common to the above-discussed frauds.
So, have you ever faced any delivery scams? Do you have any questions about package delivery scams? Please feel free to leave your comments below.
Want To See For Yourself How Route4Me Can Boost Your Profits?
Whether you want to slash the time it takes you to plan routes for your drivers, increase the number of stops they can make, or keep your customers satisfied knowing that your drivers show up on time… Route4Me helps you achieve that!