Every abandoned online shopping cart makes a small dent in your business. On average, a typical customer leaves their cart behind around 80% of the time. That means you might lose 80% of potential income.
Of course, you can't control your customers' decisions. But, following a few key steps can help you improve their experience with your ecommerce interface, decreasing cart abandonment rates.
So, let's see why customers might abandon their carts – and what you can do about it.
#1: Your Transaction Form Looks Dodgy
Making sure your transaction form is short and simple is crucial to the purchasing process. Bogging down your customers with an excess of questions won't do the transaction any good. When processing their payments, request only the essential information.
Put yourself in their shoes – you're essentially asking them to trust you with their most valuable personal and financial details. It's sensitive information that anyone would be reluctant to share. Ease their involvement; don't give them a reason to distrust your platform.
And be sure to include prominent security logos on your website's transaction form. Over 75% of customers cancel midway during purchase due to unrecognizable trust logos on websites.
#2: You Don't Offer Delivery Options
In a survey conducted by Econsultancy, 50% of respondents had abandoned a purchase online due to a lack of delivery options. Half of all potential buyers are abandoning purchases – doesn't that sound deadly to a business?
Avoid making the same mistake by giving your customers the option to select their preferred date for delivery. You can also offer a same-day or next-day delivery option or two-hour delivery slot.
Living up to your promise is the most important part – not doing so will damage your brand reputation. Using an advanced technological solution, such as a route planner, enables drivers to make their deliveries on time.
Want To See For Yourself How Route4Me Can Boost Your Profits?
Whether you want to slash the time it takes you to plan routes for your drivers, increase the number of stops they can make, or keep your customers satisfied knowing that your drivers show up on time… Route4Me helps you achieve that!
Fleet management software can help you plan a well-optimized route free from traffic, bad weather, areas under construction and left or U-turns – in only 30 seconds. The software distributes the workload equally, so none of your field reps will be overworked. Your drivers will be using better routes, increasing their chances to reach destinations on time.
A driving route planner comes with a GPS tracking feature that lets you track your drivers' activities on the road in the real-time. So, if a driver is slacking off, making personal stops or driving off the route, you would be able to communicate with them immediately to avoid any delays.
A route planner also features a re-optimization option that helps you manage dynamic customer requirements. For example, if a customer suddenly cancels an order or make any changes to their delivery address, you can then re-optimize the routes accordingly.
The best route planners even come with a dedicated ecommerce plugin that automates data transfers from your ecommerce platform to a route planner. The plugin also automates the planning of orders. Whenever an order is received, the data is saved in the software, which results in a much faster planning process.
Finally, the software equips you with a geocoding and autocorrect feature that flags any wrong address and corrects it. This ensures that your drivers never get delayed due to wrong addresses.
Combined, these features allow for timely delivery on a consistent basis. Moreover, they enable you to provide customers with an accurate estimated time of arrival. This keeps them happy and more likely to continue purchasing from your site.
#3: You Offer Limited Options for Payment
If your customers don't like their payment options, you're placing additional hurdles to a potential conversion. What if your customer is already raring to buy, but can't find their preferred payment option on your website? It's likely that they'll shift to a competitor in no time at all.
Of course, offering different credit card payments (Mastercard, Visa, Amex) is mandatory. But you can optimize your ecommerce logistics by going the extra mile.
Make sure you have PayPal, Google Wallet, and Apple Pay. Although the latter two are less popular than PayPal, they do convert, especially if your market is relatively young.
Having more payment options could mean more work and higher costs due to merchant service charges. However, additional charges from financial organizations are more than offset by the new ease with which your customers will transact. When you offer several payment options, you mitigate the hurdle of customer cart abandonment.
#4: You're Unclear about Your Costs
When shopping online, there's nothing more irritating than hidden charges. They have a special impact when discovered during the checkout process, like in the shipping costs.
Based on research from UPS on ecommerce logistics, customers don't like shipping costs. In fact, they're among the top reasons for customers ultimately abandoning their carts.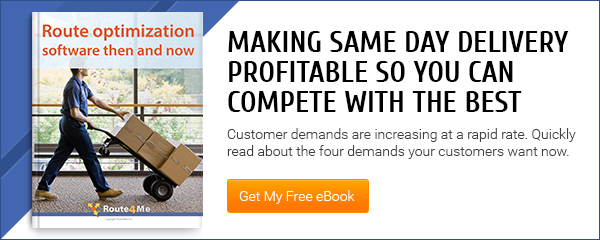 Customers especially don't like running into surprise shipping costs during the purchase. That's why it's important to be as transparent as possible about these charges.
It isn't worth presenting them at the very end of the transaction – your customers will be irritated by the deception. Respect their right to know everything about what they purchase.
So, how do you ensure customers don't abandon their online carts? Do you have any questions? Please feel free to leave your comments below.
Also, here are three quick questions to recap on why customers abandon their carts and what you can do about it.
Why should you showcase delivery options on your site?
How can a route planner help you make deliveries on time?
Why should you offer multiple options for payment?
Want To See For Yourself How Route4Me Can Boost Your Profits?
Whether you want to slash the time it takes you to plan routes for your drivers, increase the number of stops they can make, or keep your customers satisfied knowing that your drivers show up on time… Route4Me helps you achieve that!