A typical field service business handles hundreds of parcels each day using multiple drivers. As a delivery manager, how do you know if drivers are delivering the right package at the right time to the right person? Or, how do you settle customer disputes without proof of delivery, or if the only evidence you had has been lost or damaged? To make sure your parcels are delivered safety, one thing you will need is proof of delivery.
What is Proof of Delivery?
It is an essential step in the logistics business as it serves as an acknowledgment that the package has been delivered in the right condition to the intended recipient.
Traditionally, proof of delivery, such as the name and signature of the person who received the parcel, was mailed back to the field service business or the sender. Some companies still follow the traditional system of signing and sending paper receipts.
However, as field service businesses struggle to track deliveries and returns, traditional paper-based proof of delivery processes simply can't keep up. As a result, carriers are turning to electronic proof of delivery apps to provide instant proof of the transportation of goods. These apps present an efficient and modern approach to the delivery process that allows logistics companies to provide superior customer service throughout the supply chain.
Using the electronic proof of delivery system, drivers can capture the recipient's signature, name, photo, and text notes in the proof of delivery app. This information will sync with the order number, making it easy for your team to gather and store the data. With quick access to proof of delivery information, managers can resolve customer disputes and stay organized.
Importance of Proof of Delivery
The advanced proof of delivery systems can help you save time, improve customer experience, prevent delivery-related disputes with customers, and give you real-time, door-to-door visibility on the delivery of parcels and returnable assets.
Here are some more benefits:
Increases Driver Productivity
Expecting drivers and customers to fill out paper forms can make the proof of delivery process longer and make your company look old-school. Replacing annoying paperwork with the electronic process will create a more professional image, improve your driver's productivity, reduce operating costs, and increase the efficiency of data collection.
Want To See For Yourself How Route4Me Can Boost Your Profits?
Whether you want to slash the time it takes you to plan routes for your drivers, increase the number of stops they can make, or keep your customers satisfied knowing that your drivers show up on time… Route4Me helps you achieve that!
Using the electronic proof of delivery app, your drivers can check deliveries against order records at any location, and can deal with updated delivery schedules, product returns, and requests for print invoices. The electronic proof of delivery app will guide your driver through on-site workflow so that the customer service is consistent throughout.
When using Route4me's proof of delivery app, delivery orders are synced with the system as well as with your drivers' smartphones. This will enable your drivers to see the number of stops they need to make before they even start their day.
Enhances Customers' Delivery Experience
Customers' delivery expectations have changed. The majority of customers expect packages in less than 24 hours. Some customers ask for same-day delivery, while others give a specific delivery time window. Drivers can use the electronic system to record customers' delivery preferences to provide personalized service for future shipments. Key details such as the preferred time of delivery are updated in the system and can then be followed by any driver in your team. Also, drivers can record problems at the time of delivery, enabling the operations team to handle customer complaints effectively.
By replacing traditional paper-based proof of delivery with electronic proof, field service businesses can ensure efficient deliveries, communicate effectively with drivers, and update customers about the estimated date and time of parcel delivery.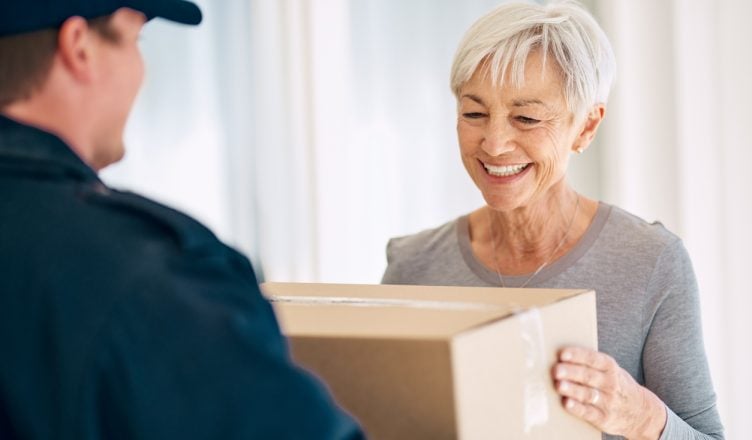 Eliminates Risks and Expenses Associated with Paperwork
The electronic signature capturing system removes the hassle of physically gathering and storing bulky paperwork. Because it eliminates the paperwork, it also removes the expenses associated with paperwork, including paper and printer costs. Route4Me's eSignature allows the digital archival of the customer signatures. This means you no longer need to store and retrieve the signed paper forms, which could be expensive.
The electronic proof of delivery system also negates the risk of signed receipts being damaged or lost. For instance, Route4Me has an eSignature feature that allows customers to sign for deliveries directly on the driver's mobile device. This way, you will never lose a signature again. Also, information is stored in a central repository that accesses the database and prints a copy when you need it. Most of the electronic proof of delivery apps are simple to use and prompt the user with instructions to guide them through predefined workflows. Because these apps are easy to learn, your drivers will quickly become used to the new workflow and will be less likely to make errors on forms.
Facilitates Monitoring of Drivers
Monitoring delivery execution is critical to provide outstanding customer service. And, when your drivers are out in the field, you need to ensure both quality and economy. Route4Me's proof of delivery software keeps track of your drivers' on-road activities in the event there is a dispute, and you need to show that your driver stopped to make the delivery. Route4Me also has GPS tracking capabilities that allow you to track each driver's location in real-time, optimize fuel and mileage, plan efficient routes, and maximize revenue.
Conclusion
Proof of delivery software providers not only offer the ability to capture the recipient's name, signature, email address, and photo, but also record reasons for failed delivery, customer comments, and many more customizable options to cater to the rising customer expectations for transparency and accountability. If you have a reputed electronic proof of delivery system in place, customers frantically calling your customer care team to check the status of their shipment can be a thing of the past. Your customers can view, download, and print their proofs, and check exactly where their parcels are – all in real-time.
Want To See For Yourself How Route4Me Can Boost Your Profits?
Whether you want to slash the time it takes you to plan routes for your drivers, increase the number of stops they can make, or keep your customers satisfied knowing that your drivers show up on time… Route4Me helps you achieve that!