Your consumers can make or break your company.
According to a report by the Capgemini Research Institute, three-quarters of people are willing to spend more if they are satisfied with the delivery services.
The report also states that 55% of consumers will switch to a competitor if it offers a faster delivery service. The same report also shows that 82% of satisfied customers shared positive delivery experiences with their friends and family.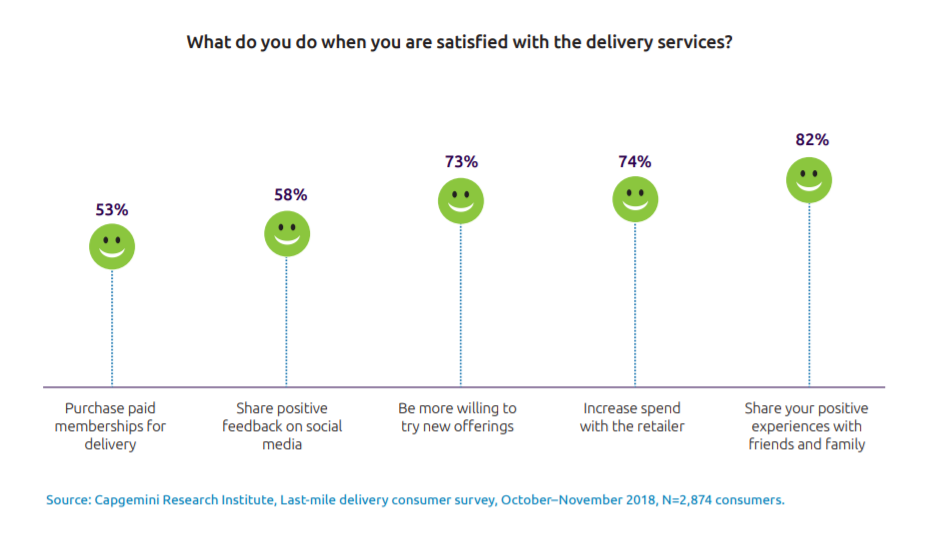 Clearly, your in-home delivery services need to be more consumer-driven.
You need to provide fast delivery, offer same-day delivery options, and let your customer track their orders online.
Ultimately, if your in-home deliveries delight your customers, you will attract and retain more customers. Just imagine how a single happy customer can help maximize your reach and increase your sales.
Just look at the big boys like Amazon and Walmart; they are setting examples of how to prioritize customer convenience.
Last year, Walmart launched a pilot of its in-home grocery delivery service. The service promises to deliver food directly to customers' homes whether or not they are there.
This is possible as Walmart installs a smart lock on the customer's door or garage. Walmart associates can then have electronic access and enter and unload the groceries.
The entire process is live-streamed to the customer through an app.
Amazon key offers similar services as it allows authorized shippers to get access to an Amazon Prime customer's home during specified times.
Also, realizing that drone delivery is the need of the hour due to Covid-19, Amazon had also piloted it.
Learn how Amazon buying whole foods affects the delivery industry.
Read on to find out how you can offer the same excellent services as the big guys.
Automate Warehouse Operations
Warehouse operations form an integral part of the delivery chain. How fast you are able to sort the items and prepare them for delivery will make a difference in the delivery time.
So, mismanagement can increase costs, fulfillment errors, and order-to-dispatch times. Unfortunately, the pick-and-pack process becomes increasingly challenging as the volume of your orders grows.
This is where an automated technology solution, such as a route planner, can help.
It'll help your employees locate orders more easily, no matter where they are in the warehouse.
Basically, you'll just need to enter information about the number of items and item types that are located in each part of your warehouse and the delivery route planner app will route the robotic loader or human operator to the nearest inventory pick location.
Want To See For Yourself How Route4Me Can Boost Your Profits?
Whether you want to slash the time it takes you to plan routes for your drivers, increase the number of stops they can make, or keep your customers satisfied knowing that your drivers show up on time… Route4Me helps you achieve that!
Optimize Your Routes
You'll also need to give your drivers the best routes, else your deliveries may be delayed which may lead to unhappy customers and loss of business.
Accurate routes will allow your drivers to make more in-home deliveries in the stipulated time. You'll also make the best use of your available resources to ensure fuel efficiency.
In addition, because of the pandemic, you need to plan your routes in such a way that you reduce your drivers' exposure to potential infection. Here are some tips for keeping your drivers safe during the Covid-19 pandemic.
Using a pen and paper to plan your routes won't cut it. There are simply too many dynamic elements to consider, including weather conditions, traffic congestion, and one-ways.
Also, a customer may cancel an order or request a change of delivery destination at the last minute.
A multi-stop route planner can help you with vehicle routing and scheduling without any hassles.
You just need to upload the list of customer addresses and set parameters, such as the delivery timeframes. Thereafter, the routes will be ready in less than a minute.
And, if you need to make last-minute changes, while your drivers are on the road, you can re-optimize the routes. The new routes will automatically reflect on each driver's smartphone through the route planner app.
Track Your Drivers
So, as a home delivery service, you have assigned the best routes to your drivers. Now what?
Are your drivers slacking off, taking unwanted breaks or running personal errands on company time?
Time wasted here and there can add up and result in delayed deliveries.
You need to track your vehicles to avoid such delays. Tracking your vehicles will mean that your drivers will be on their guard and follow the assigned routes.
The best route planners come equipped with a GPS tracking feature that helps you track your vehicles in real-time. Vehicle tracking helps in other ways too.
For example, if a vehicle breaks down in the middle of the road, the commercial GPS tracker will let you know the location of the vehicle and you can send help quickly. Also, it enables you to inform your customers if there are any unforeseen delays.
In addition, you'll know if your drivers are driving safely. If they are speeding, braking harshly, or turning more quickly than they should, you can communicate with them immediately to ensure they are following safety processes.
Keep Your Customers Updated About the Delivery Status
You can no longer tell your customer that his or her delivery will be made sometime between 12:00 and 20:00. Customers hate waiting and you cannot expect them to be ready for hours to receive their deliveries.
Also, if a customer is unavailable when his or her delivery is being made or is late in accepting the delivery, your delivery operations will go haywire.
You will either need to make the delivery again, which will cost you more money and time, or, if the customer is late accepting the delivery, you'll have to wait and mess up all your other delivery timelines.
Luckily, the best route planners come with a customer alerting and notification feature that lets you inform your customers through an email or SMS notification when a delivery vehicle is nearby. If there are any delays with shipping and delivery, you can notify them about that too.
An advanced delivery scheduling software also offers a customer portal that allows your customers to track the status of their own deliveries online.
Customers simply need to log in to the platform to track their package delivery status in real-time. This ensures that your customers will mostly be available to receive deliveries and there will be no unnecessary delays.
There are many other benefits of adopting a route optimization software. Read about the nine benefits of investing in dynamic routing technology.
Conclusion
If your in-home delivery process can delight your customers, it will automatically ensure business growth. The key is to exceed your customers' expectations by embracing technology and providing better customer service.
So, how do you make your in-home delivery services more consumer-focused?
Want To See For Yourself How Route4Me Can Boost Your Profits?
Whether you want to slash the time it takes you to plan routes for your drivers, increase the number of stops they can make, or keep your customers satisfied knowing that your drivers show up on time… Route4Me helps you achieve that!