Coca-Cola is almost everywhere. Name a country, and you will find them there. Market.us says over 10,000 Coca-Cola soft drinks are consumed globally per second. That's incredible!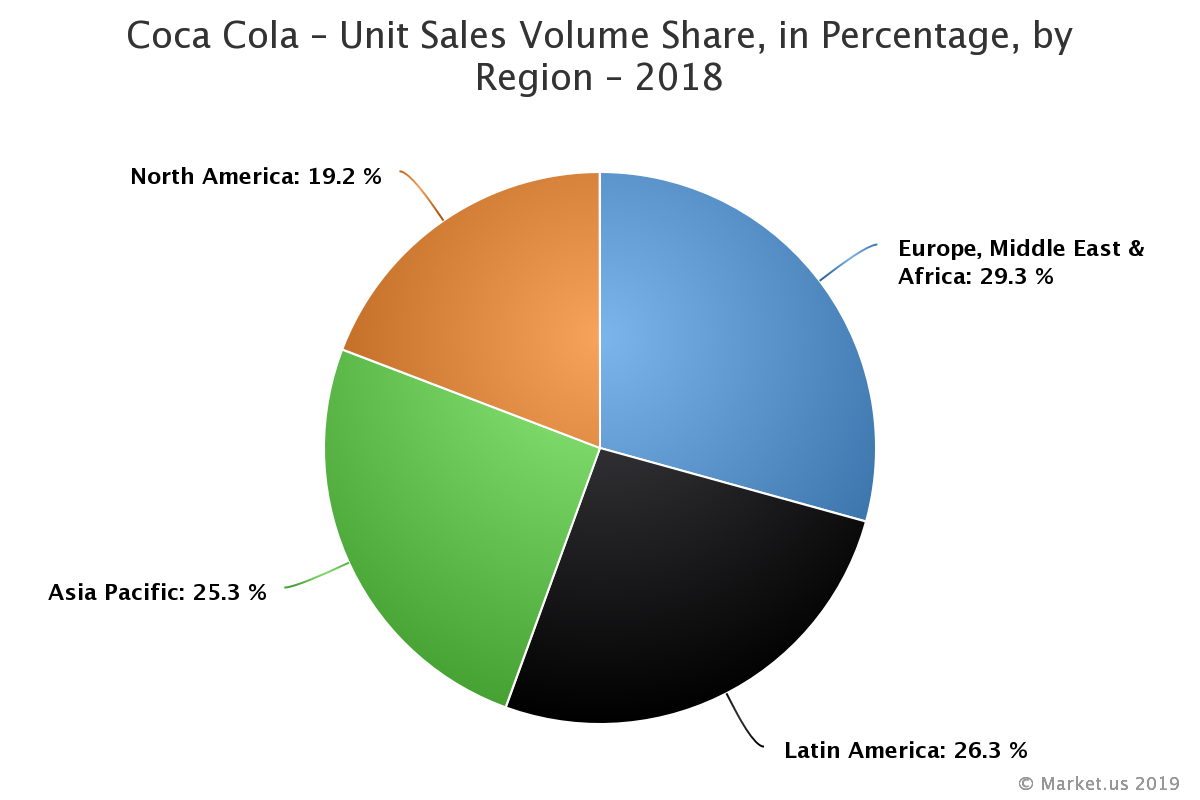 Also, the company tops the chart of the world's most chosen consumer brands, according to a report by Kantar, a leading data, insights, and consulting company.
The credit for their success goes to the mammoth supply chain network of Coca-Cola and its logistics process. In fact, Coca-Cola's supply chain management system is one of the world's widest and most seamless operations.
But, how did they build such a powerful system?
What lies behind the supply chain of Coca-Cola?
What technologies do they use?
What's their supply chain strategy?
Below, we answer all these questions. Read on.
Focus on Local Sourcing
Coca-Cola operates at a local level. According to the company's website, they have 225 bottling partners worldwide.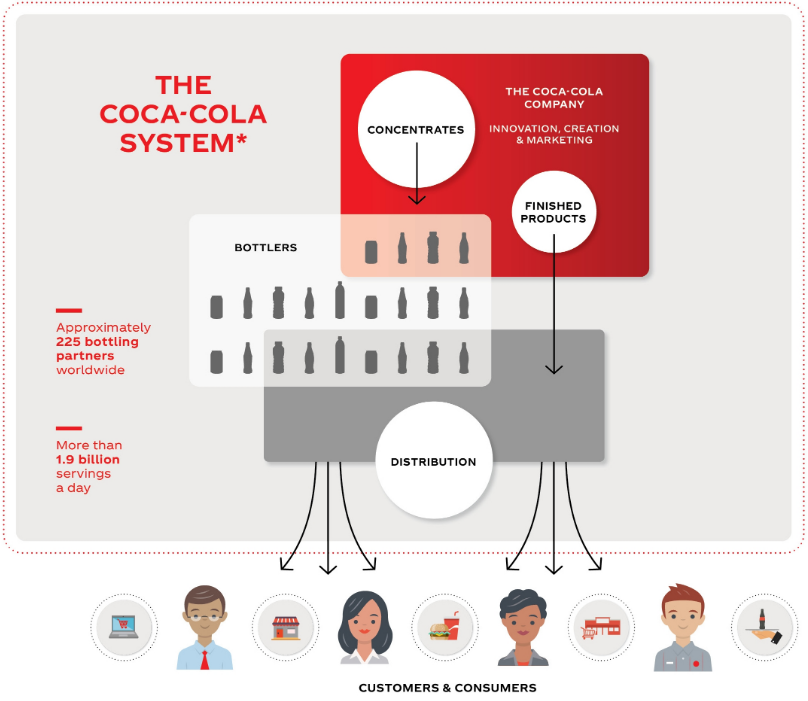 [Image source: Coca-Cola]
So, the Coca-Cola drink arrives at these partner plants in the form of a concentrate. The soft drink is then prepared at the partner bottling plant by turning the concentrate into syrup and then turning that into the product by mixing it with water, carbon dioxide, and sugar, all of which are sourced locally.
The local partners can only choose the type of sugar to be used. In America, sugar from corn syrup is used. In Europe, mainly beet sugar is used. In Asia, cane sugar is used.
After all the local processes are finished, the finished product is packaged and delivered to customer outlets.
Coca-Cola mainly sources locally because it optimizes the supply chain, with the company needing to set up manufacturing plants close to where the sugar is grown. The less time it takes for sugar to be delivered to the processing plants, the fewer risks persist throughout the supply chain.
Another reason is that Coca-Cola wants to contribute to the socio-economic development in the countries where they conduct business.
Since the company places great importance on forming partnerships with suppliers, the Coca-Cola supplier network is very strong. This allows Coca-Cola to deliver products faster to local stores.
Want To See For Yourself How Route4Me Can Boost Your Profits?
Whether you want to slash the time it takes you to plan routes for your drivers, increase the number of stops they can make, or keep your customers satisfied knowing that your drivers show up on time… Route4Me helps you achieve that!
Real-Time Visibility
The management at Coca-Cola Consolidated, headquartered in Charlotte and the largest Coca-Cola bottler in the US, realized that real-time visibility could improve the distribution process.
The challenge was that products needed to be moved from the many manufacturing units and be on store shelves within 48 hours. Often, it happened that the unloading crew at the distribution center would be sent home when inbound trucks to the warehouse were within an hour of arriving because the warehouses had no idea where the delivery trucks were.
So, the company partnered with a leading real-time visibility solution provider to integrate GPS-enabled logging devices into the delivery trucks. With this solution, Coca-Cola Consolidated can empower its warehouses, planning department, and production functions to operate with better information. They can also improve execution with better coordination.
This is because Coca-Cola Consolidated now has better visibility into its own operations. They can use reliable data to communicate better with key partners, which include transportation companies in charge of the deliveries. This would not have been possible without GPS tracking.
There are also many other benefits of adopting a commercial GPS tracker. For example, you can ensure driver safety, manage drivers efficiently, cut down unnecessary transportation expenses, and save on insurance premiums. Find out how GPS tracking benefits your competitors and why you should use one.
Route Optimization Technology
Coca-Cola Enterprises (CCE) is the world's largest producer and distributor of Coca-Cola products. It distributes Coca-Cola concentrate to some of the bottling plants. It also distributes the bottled and canned beverages from the bottling plants to the distribution centers and from the distribution centers to the final retail outlets.
It's such a big distributor that its fleet in the US is the second-largest, after the US Postal Service's fleet.
CCE faced numerous challenges. Certain orders and outlets required specific vehicle types and equipment. For example, military bases required certain vehicles, while the centers in large cities required the use of small truck types.
Many outlets also require CCE to deliver products before or after they open. So, the time windows for delivery are really compressed. At the same time, a driver's working hours and start time must conform to the Department of Transportation (DOT) rules about service hours. Moreover, traffic patterns in certain areas, such as city centers during rush hours, needed to be avoided.
They thus needed to assign all the delivery orders in the correct trip sequence so that they are carried out by available vehicles and at a minimum cost while respecting all the constraints. CCE sought a solution that would fulfill this objective.
The answer was route optimization technology. So, CCE implemented a route optimization model that assigned all retail outlets to trips (including their sequence of visiting) and assigned all trips to existing truck fleets and available drivers in a way that allowed CCE to minimize the overall cost while satisfying all the constraints.
The results were outstanding.
CCE had a flexible planning process that was responsive to changes in customer demand. The efficient routes also meant that there were fewer miles driven, less fuel consumed, and less carbon dioxide emissions.
Also, deliveries were made on time. Because of all this, they managed annual cost savings of $45 million and improved customer service.
And it's not just Coca-Cola. Route optimization software is a must-have for every field service business or independent courier to plan accurate and fuel-efficient routes.
The best route planners only require you to input customer addresses into the system and set some parameters. That's it.
The delivery scheduling software will then provide you with well-optimized routes while factoring in weather, traffic, sunrise and sunset times, weight, load, height capacity, avoidance zones, left turns, and more. And, it does all this in just 30 seconds.
Also, an advanced route planner comes with a geocoding feature that automatically rectifies any wrong customer addresses entered into the system to ensure zero failed deliveries.
But, that's not all a delivery route planner has to offer. Read the nine benefits of investing in dynamic routing technology.
Direct to Store Delivery (DSD)
Direct to Store Delivery (DSD) allows Coca-Cola Refreshments and other Coca-Cola bottlers to deliver directly to convenience retail stores from their production facilities, without going through a regional distributor.
Generally, an account manager visits the store to discuss business-building opportunities, checks the in-outlet presentation of products, and writes an order for product replenishment. The order is then delivered to the store typically within 48 hours. The driver stocks the shelves with new stock, rotates the product items, and fills the coolers. This process usually happens once a week, but can be more or less frequent, depending on demand.
DSD ensures that Coca-Cola products are in stock and properly displayed to drive sales. Convenience retail store owners also get the support of professionals who are dedicated to serving small format outlet owners.
Also, by cutting out secondary or tertiary distribution centers, the items spend more time on the store shelves, which minimizes the possibility of damage, since the items are touched by fewer intermediaries.
You too can do DSD with the help of an advanced delivery route planner app like Route4Me.
Route4Me receives the orders directly from your order management or point-of-sale system and optimizes the routes to your direct retail locations.
Our route optimization engine takes over 20 other constraints into account, including road restrictions, weight, and the receiving store's loading dock time windows.
It also considers volume, so you won't cube out your vehicles. Plus, our tracking capabilities permit staff at each receiving retail locations to see where the inbound vehicles are located in real-time. This reduces dwell time at the retail locations.
Warehouse Automation
CCE uses an Automated Storage and Retrieval System (ASRS) in many of its factories.
In this way, the facilities are designed to hold and automatically move nearly 30,000 pallets through the warehouse. This doubles the site's storage capacity and allows all manufactured products to be delivered to the customers directly.
ASRS also addresses the inadequacies of traditional warehouse systems and equips facilities to seamlessly handle finished products and track them with detailed precision everywhere from the moment they are created to delivery at the designated outlet.
In addition to automating its warehouses, Coca-Cola is using robotics and automation to overhaul its supply chain and logistics. They had integrated standardized automation into their production lines long ago.
Automation aims to deliver an expanded and automated operational structure with larger capacities, lower operation costs, and reduced materials handling.
You can also automate your warehouse operations by switching from barcodes to RFID tags and optimizing pick-and-pack routes. Learn how a multi-stop route planner can help automate your warehouse operations.
Performance Monitoring
A wholly-owned subsidiary of Coca-Cola Consolidated, Red Classic, which is also its transportation provider, developed a system whereby weekly Sales and Operations Execution (S&OE) calls engaged teams in reviewing past performance and addressing weekly demand and supply fluctuations.
With greater awareness of critical performance data, the teams could make timely inventory and transport adjustments based on real-time data. This made the Coca-Cola supply chain management lean and more efficient.
Fortunately, a route optimizer comes with a reporting and analytics feature that gives you all the critical data you need to monitor your team's performance and improve your operations. The collected data include:
Distance (Planned vs. Actual)
Stops (Planned vs. Visited)
Time (Planned vs. Actual)
Routes per Day
Average Time on Site vs. Allocated Service Time
Stops per Day (Planned vs. Visited)
Total Gas Cost
Average Trip Gas Cost
Average Gas Price
Other Reasons
There are other things that contribute to making the Coca-Cola supply chain management system great.
Focus on Innovation
The Coca-Cola Company is always ready to adopt emerging technologies. CCE  seamlessly integrates modern innovative technologies into its supply chain. For example, it uses 3D printing to manufacture bottles and cans for its drinks.
Long-Term Relationships with Retail Partners
Coca-Cola has proven itself to be one of its retail partners' most valuable and reliable suppliers. For example, the company has been growing together with McDonald's since 1955.
Close Collaboration with Bottlers
The Coca-Cola Company provides a standard set of guidelines for all of its bottling partners. As a result, most of the strategic decisions are centralized.
Global Supply Chain Council
One reason why the supply chain of Coca-Cola is so efficient is that there is a Global Supply Chain Council that focuses on adhering to Coca-Cola's supply chain strategies.
Quality Control
Coca-Cola has strict quality requirements when it comes to manufacturing practices. For example, Coca-Cola HBC, a bottling franchise partner of CCE, requires quality, environment, and health safety certifications from its suppliers.
Conclusion
Following Coca-Cola's example, many companies are constantly looking to improve their supply chains. So, they are keeping themselves abreast of the supply chain management trends.
A unique amalgamation of advanced technology and the right strategies make the Coca-Cola supply chain management system one of a kind. This contributes to making the Coca-Cola company the leading soft drink company in the world.
Do you think we have missed anything? Let us know below.
Want To See For Yourself How Route4Me Can Boost Your Profits?
Whether you want to slash the time it takes you to plan routes for your drivers, increase the number of stops they can make, or keep your customers satisfied knowing that your drivers show up on time… Route4Me helps you achieve that!