Table of Contents
US shoppers spent a whopping $861.12 billion in 2020 online. The year saw the highest eCommerce growth in the last two decades due to the deadly pandemic.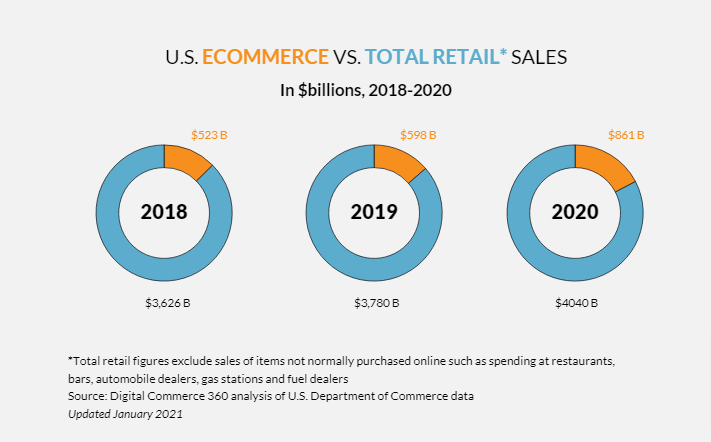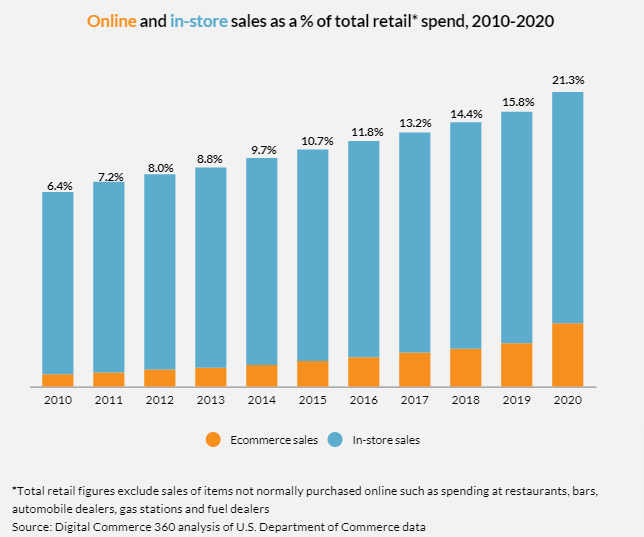 This might seem like good news for any eCommerce business, but it's equally challenging for last mile delivery businesses.
Last-mile delivery costs already constitute 53% of the total cost of shipping. Yet, now customers are also demanding free and faster delivery.
So, how can final mile delivery businesses ensure customer satisfaction, while continuing to make a profit?
Before answering the above question, let us first start with the basics. What last mile delivery is and why is it such an important part of the eCommerce supply chain? Then, we can look at the primary challenges and how such businesses can overcome them.
What Is Last Mile Delivery?
Simply put, last mile delivery is the last leg of the eCommerce supply chain whereby the order is collected from the distribution hub and delivered to the end recipient.
The delivery destination can include any location, for example, a retail store, a personal home or office of an individual, or a supplier if it's part of reverse logistics.
The final mile delivery companies are responsible for delivering the orders of the customers as quickly, efficiently, and smoothly as possible.
The steps of last-mile delivery are as follows:
The ordered items are received at the transportation hub.
The parcels are designated to drivers to be delivered to the end recipients. This is one of the most important steps because it requires careful route planning to maximize order drop-offs while optimizing fuel costs.
The orders are scanned before being loaded onto delivery vehicles.
The items are delivered to the recipients.
Why Is Last Mile Delivery Important?
According to a survey conducted in 2020, 79.8% of consumers said that they shop from Amazon because of their fast and free shipping.
This statistic shows the importance of efficient last mile delivery.
Amazon's last mile delivery is a mark that every last-mile delivery business probably wishes to reach. However, being a market giant, Amazon can discount shipping costs which most small businesses cannot.
This small hurdle can be easily overcome by offering a great final mile delivery experience to customers, minimizing transportation costs, and improving delivery times which should be your aim as the last-mile delivery provider.
To learn how to improve delivery times like Amazon does, read our article on Amazon's Last-Mile Delivery: Steps to Finding Your Key to Improved Delivery Times.
Having said that, there are many challenges that you have to overcome to ensure the level of customer satisfaction that Amazon has achieved.
We discuss some of the biggest challenges faced by last-mile delivery businesses, along with the solutions to the problems.
Want To See For Yourself How Route4Me Can Boost Your Profits?
Whether you want to slash the time it takes you to plan routes for your drivers, increase the number of stops they can make, or keep your customers satisfied knowing that your drivers show up on time… Route4Me helps you achieve that!
What Are Last Mile Delivery Challenges?
We discuss two primary challenges of last mile delivery below.
Challenge 1
One hurdle that has always been there but has become more prominent during the pandemic, with the increase in online orders, is last mile delivery optimization.
Such optimization means planning package drop-offs in such a way that you save fuel while maximizing the number of deliveries. It might seem trivial, but it can greatly impact your delivery efficiency.
When you plan a route with multiple stops, it's not just about finding the directions to a location. There are many other factors involved, such as:
How long on average does a driver stop at a delivery location?
Can your delivery vehicle navigate all the delivery stops on the list? What if the streets are too narrow?
Is there a parking space where your driver can leave their delivery truck idle for a while when they deliver the item?
Other factors include the weather conditions, traffic congestions, U-turns, left turns, and road closures.
These also affect how quickly and efficiently your drivers can get the orders delivered to their destinations.
Clearly, manual route planning is out of the question. So, what is the solution?
The Solution to Challenge 1
Small last mile delivery businesses, with a limited number of deliveries each day, can effectively use a free route planner like Google Maps route planner for deliveries or Waze. However, these apps are not effective for larger businesses because they don't allow plotting more than 10 stops.
So, if you run a last mile delivery business that needs drivers to make more than 10 stops a day, you better invest in route optimization software.
A multi-stop route planner can help you plot an unlimited number of routes while taking into account all the factors mentioned above. With such an app, you can ensure customer satisfaction, save fuel, and get a high return on your investment.
Challenge 2
Another big challenge faced by businesses offering last mile delivery services is tracking orders.
You must ensure that the end customers, as well as your company or the suppliers, can track the orders that you have taken responsibility for delivering.
Transparency in last mile delivery tracking is so important that 47% of consumers said in a survey that they'll never trust a company that offers poor visibility of orders in transit.
So, it is crucial that your last mile delivery company keeps your customers informed about the exact location of their orders. But how do you achieve this?
The Solution to Challenge 2
Technology is the answer here. In fact, if you invest in quality GPS tracking software, it will offer multiple features that'll make the tracking job seamless.
A commercial GPS tracker helps you track drivers in real-time.
If they deviate from your instructions, slack off, make personal stops, speed, or even get stuck somewhere due to a sudden breakdown, you'll know about it as it happens.
You can then take corrective action and put things back on track before it goes out of your control.
However, not all GPS trackers are great. To ensure you choose the right one, look for these seven technical features for last-mile delivery optimization.
You can also get a route planner that is integrated with a vehicle tracking feature. This would help you optimize your routes and monitor your drivers with one app.
Also, a free route planner unlimited stops comes with a customer portal that allows your customers to track their order statuses on their own.
You can even customize how much or how little information about the orders you want to share with your customers.
Moreover, a delivery scheduling software comes with a customer alerting and notifications feature that helps you set up notifications that are sent to the end customers in intervals as you've set it.
For example, you can choose to send a notification through email or SMS when the order has left the transportation hub and when it's near the delivery location.
This also helps you avoid any delays due to failed deliveries. Read the top five ways to improve first-time door opens in last-mile delivery.
Some other benefits that you can reap with route optimization software include:
Collect contactless digital proof of delivery (POD) through the eSignature feature.
Re-optimize routes when they suddenly change.
Access analytics, such as fuel costs in a month and the distance traveled in the same time period. Such information can help you improve your business efficiency and provide a seamless last mile delivery experience to your customers.
The list of last mile delivery challenges and solutions doesn't end here. So, read our article on how to overcome the last mile delivery challenges.
Below are links to more articles on last-mile delivery that will answer all your questions regarding making your last mile delivery more efficient.
Conclusion about Last Mile Delivery
Clearly, a route planner app is an investment that you can't avoid if you want to take advantage of this eCommerce boom that has been rocking the world. It is a blessing for all businesses involved in the eCommerce supply chain. And, by overcoming the challenges with the one-stop solution mentioned above, you can grow your last mile delivery business extensively in a short while.
Want To See For Yourself How Route4Me Can Boost Your Profits?
Whether you want to slash the time it takes you to plan routes for your drivers, increase the number of stops they can make, or keep your customers satisfied knowing that your drivers show up on time… Route4Me helps you achieve that!