Before you start reading about the necessary driving skills, first just go on Twitter or Reddit and search for "bad delivery drivers."
You'll find hundreds of cringe-worthy stories, for example, the story below.
Door Dash @DoorDash @DoorDash_Help – you need to fix your delivery approach! Multiple stops by drivers, slow drivers, etc = Cold & unenjoyable food. Require drivers to have warmers OR stop the delivery pool approach. Bad food experience means I won't use you again!

— Mike Bennett (@TransformPro) December 12, 2020
Depends on where you live. I'm currently in East TX and get really terrible service with @DoorDash. @Grubhub almost never has drivers. @UberEats has horrible delivery rates and tbh I'm worried all the rest are going to be just as bad.

— Anonymous.exe (@_Anonymous__God) December 14, 2020
Delivery drivers may misbehave, not follow instructions, show up late, and so on.
Such actions can seriously tarnish your brand's reputation, no question about it.
But, guess what?
Drivers need more than driving skills to be good delivery drivers.
Other factors, in addition to driving skills, need to be taken into account when hiring drivers for your company.
What are these factors? How can you account for them while assigning the workload? Below, we share some key recommendations.
Driving Credentials
A driver's credentials should be the first factor in your driving skills checklist when hiring a driver for your last-mile delivery business.
Any driver you appoint must have a working and legal driver's permit, preferably with a clean driving record that has no traffic violations.
Want To See For Yourself How Route4Me Can Boost Your Profits?
Whether you want to slash the time it takes you to plan routes for your drivers, increase the number of stops they can make, or keep your customers satisfied knowing that your drivers show up on time… Route4Me helps you achieve that!
Driving Skills
The next requirement you should look for is the driver's driving skills.
You can ask them to take a driving skills test, covering basic driving skills and knowledge. This will help you easily identify a good driver by looking at the scorecard.
It's not always just about new drivers. You also need to ensure that your current drivers have the necessary driving skills or all your efforts will go in vain.
Moreover, as mentioned above, you need to look beyond the driving skills and ensure that they follow traffic rules and regulations. If they don't, your company's reputation will be at stake.
Furthermore, since your delivery drivers will mostly focus on getting things delivered on time, punctuality and maintaining deadlines are extremely necessary as well. They not only need to be good drivers but sincere too.
You can use a commercial GPS tracker to monitor their activities on the road in real-time.
Such software will help you identify whether your drivers are driving aggressively, deviating from the routes provided to them, and more. This can help you make a call if a delivery driver is worth keeping in the team.
Personality
Apart from his or her driving skills, you also need to take into account the driver's personality.
No driving skills academy can train a driver to be pleasant and friendly, yet these are personality traits that you can't overlook when hiring your last-mile delivery drivers.
They must be pleasant and friendly since they'll be interacting with your clients as representatives of your company. And, it goes without saying, the way they handle a situation can potentially win over clients and improve your company's brand equity.
Customer Service Skills
Since your delivery drivers will interact directly with your customers, having good customer skills can go a long way.
Dealing with clients in a professional and friendly way is important. Your customers must feel comfortable with the driver to create a long-lasting positive impact.
Similarly, a bad experience can potentially ruin your company's image. So, they need to keep a cool head to avoid any confrontations and be accommodating of the customers' requests.
Over and above the driving skills, a last-mile delivery driver must have the demeanor required for serving customers.
Focus
Make sure they are up for long journeys to pick up and deliver orders which increase during the festive season.
Working for long stretches of time can be monotonous and boring, no matter how good their driving skills are. Yet, as a delivery driver, they'll have to spend hours on the road every day, mostly commuting along the same route. So, keeping a cool head and focusing won't be easy.
Make sure your drivers don't waste precious time to make personal stops and chit-chat because the time they kill because of boredom can cost you money.
Most importantly, they shouldn't become distracted while driving.
For example, they shouldn't check on their mobiles or text while behind the wheel. This is more common when your drivers need to call or text you or your dispatcher for directions or questions.
It is also crucial that you have enough delivery drivers to handle your regular pick-up and drop-off deliveries so that it doesn't become too much for one driver to handle. One way to ensure this is by adopting a truck routing app.
The best route planner apps for delivery drivers will help you plan and share well-optimized routes with driving directions for deliveries before they hit the road.
This means that your drivers won't have any need to call or text their dispatcher, asking for directions while they're driving, and can carry on with their jobs without any help.
Moreover, a route planner ensures that your drivers have balanced workloads so no one will be overworked or underworked.
But, most importantly, the best route planners come with a GPS tracking feature. So, your dispatchers won't need to call or text your drivers either, as they can check on the vehicles' locations themselves.
Communication
At any point in the job, healthy communication between the drivers and their supervisors is crucial. Not only does it reduce inconveniences, but it also encourages positive cooperation which makes it easier for all parties to work together and share the responsibilities.
Ultimately, hiring drivers who are team players will ensure that all your drivers work in harmony and get work done more efficiently.
So, it may not be directly related to the drivers' driving skills, but, when hiring new drivers, you should consider the communication skills of the aspirants.
Adaptability to Changes
Changes, temporary or permanent, are going to be constant in this profession. This could range from a sudden change in times and schedules to frequent changes in routes and locations.
Not to mention adjusting to the department of transport regulation updates that might affect their driving skills.
There may also be business changes, such as when you implement new software like a delivery route planner app to make deliveries faster and easier.
Delivery drivers have to stay open to frequent changes in their schedules. Thus, flexibility is a prized treasure in delivery drivers.
Are These Driving Skills Enough?
By following the driving skills tips shared above, you would be able to hire the right delivery drivers or train your current drivers efficiently so that they match up to your expectations. But, that won't solve all your delivery problems.
You might hire or have multiple delivery drivers, but that doesn't mean everyone has the same skillsets.
For example, one of your technicians may be an Apple expert, while another may be more experienced with Windows. In this scenario, would it make any sense to treat both employees the same when you assign clients to them?
Of course not, right?
You have to send the Apple specialist to your clients who use iMac or MacBook and the Windows expert to your clients who use Windows computers.
The same holds true for your drivers.
That's why one driver with a specific set of skills may not be able to service all your customers.
Now, imagine you have more than five drivers with different skill sets and more than 100 customers who require different services. This is where you need a delivery scheduling software like Route4Me which can help you with driver skills route optimization.
Route4Me comes with a Driver Skills feature that allows you to compute thousands of addresses with different required skills in seconds.
The software will then automatically match the skills specified in your drivers' profiles to the skills required to service each location and output an optimal number of stops per one or multiple routes for each driver.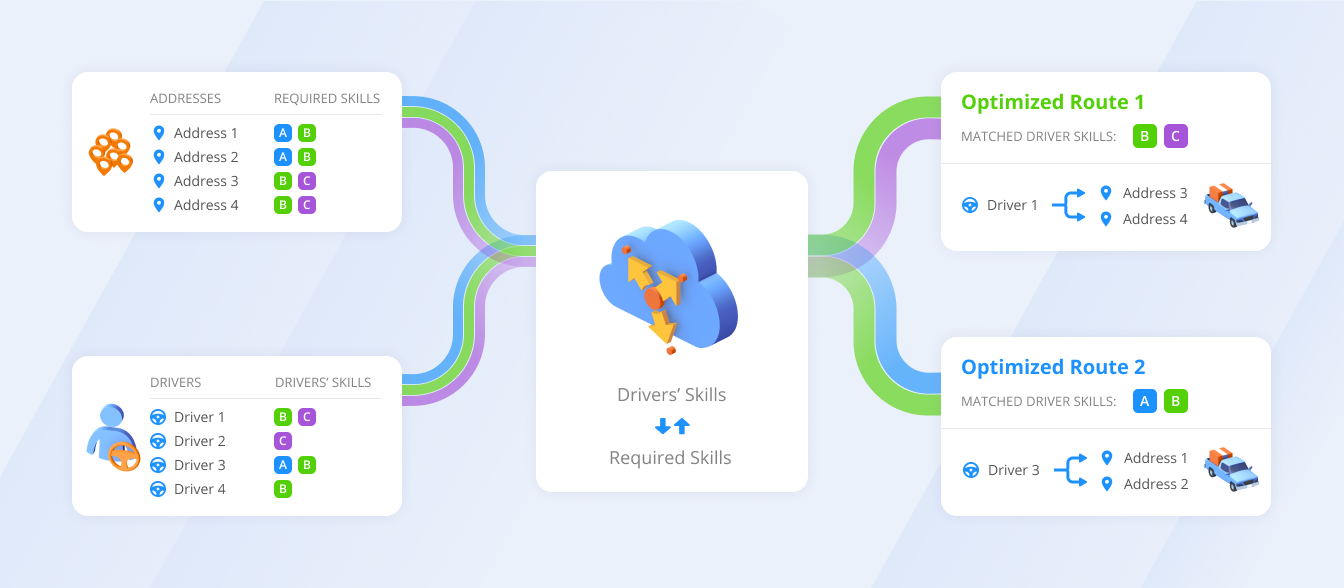 You just need to perform five simple steps:
Add one or multiple driver skills (tags) to a driver's profile.
Specify whether a driver must have all or any of the skills required to service the given addresses.
Upload a spreadsheet with the route addresses and driver skill(s) required to service each address.
Specify the preferred optimization settings and parameters.
Wait for Route4Me to output the most optimal number of optimized routes with automatically assigned drivers that have matching skills.
That's it!
This will make sure that your drivers enjoy their jobs more, your customers get better service, and you improve your business's reputation. Everyone wins.
Learn in detail about our driver skills optimization feature here and please feel free to contact us if you have any questions.
Want To See For Yourself How Route4Me Can Boost Your Profits?
Whether you want to slash the time it takes you to plan routes for your drivers, increase the number of stops they can make, or keep your customers satisfied knowing that your drivers show up on time… Route4Me helps you achieve that!