Micro-fulfillment has become the key to survival for most retailers.
The pandemic has forced many customers to opt for online shopping. Retailers with no online presence paid dearly for it.
Conventional fulfillment centers are not agile enough to meet increasing customer demand. This has led to the rise of micro-fulfillment centers.
Dark stores, click and collect, curbside pickup are forms of micro-fulfillment eCommerce strategy that have grown as trends recently.
Let's learn about the micro-fulfillment systems and how they transform retail operations.
Table of Contents
What Is Micro-fulfillment?
Micro-fulfillment is a strategy to set up small distribution centers closer to the customers in highly populated urban areas to make deliveries efficiently.
The distribution centers are called Micro-fulfillment centers (MFCs), which come with highly-automated systems and can scale rapidly.
MFCs optimize space by strategically stacking products and utilizing robots for picking up items. It reduces labor expenses, delivers orders fast, and reduces last-mile delivery costs. 
Many companies like Amazon, Walmart, and Target have already started implementing MFCs to make micro-mile deliveries.
Retailers are even using MFCs to reduce the physical footprint of their fulfillment centers.
For example, Target uses its stores as micro-fulfillment hubs to provide multiple shopping options such as same-day home delivery, curbside pickup, or click-and-collect.
Trends Driving the Adoption of Micro-fulfillment Centers
#1 High Last-mile Delivery Costs
Last-mile delivery is the most expensive part of the fulfillment chain. According to Statista, the average last-mile cost is $10.1 per package. When retailers need to make last-mile deliveries from traditional warehouses far from customers' locations, the transportation costs go up.
But micro-fulfillment centers are located closer to customers. Therefore, retailers can make deliveries faster and reduce last-mile delivery expenses. And this has fueled the adoption of MFCs.
#2 Increasing Product Variety
The pandemic has forced many companies to deploy e-stores which have significantly increased the variety of products.
Manual order picking isn't viable as the production variety grows. It is suitable for managing a selection of around 100 items but not for thousands or more SKUs. And this is where micro fulfillment solutions can help.
MFCs are well-equipped with AI and robotics to make inventory storage and management seamless.
It can also manage unique assortments in each location. Moreover, fulfillment automation and connected devices help monitor shelf-life and inventory in real-time.
#3 Demand for Faster Deliveries
The rising growth in online shopping fueled the demand for same-day delivery. That's not feasible with conventional distribution, especially in large regions.
But because MFCs are located closer to customers, retailers can seamlessly deliver on the same day.
#4 Increasing Urbanization
According to a report by the United Nations, 56.2% of the global population lives in cities. And the urban population will be 68% by 2050, as per another UN report.
The increasing urbanization makes it difficult for regional distribution centers to fulfill orders fast.
Plus, conventional distribution centers require a lot of space to set up. Finding such spots is difficult in cities like New York and Los Angeles. And the increasing urbanization will make it much more challenging.
This will create an excellent opportunity for micro-fulfillment centers, which require less than ten thousand square feet to deploy.
#5 High Workforce Turnover Rates
Conventional fulfillment centers face high turnover rates and a shortage of qualified staff.
According to a study by DC Velocity, 29% of distribution centers have a turnover rate of 25-100%. Also, the cost of turnover can be as high as $7,000 per employee.
The high turnover rates and costs have fueled the need for a new fulfillment strategy like micro-fulfillment centers. MFCs do not need a large workforce to operate.
Plus, micro-fulfillment technologies reduce employee dependency and thereby the impact of turnover on operations. In other words, micro-fulfillment is an effective option to maximize revenue with a limited workforce.
#6 Replenishment Challenges
Increasing customer demand often causes out-of-stock situations and makes fulfillment a headache for many retailers. And the inadequacies in the replenishment process make customers annoyed.
But micro-fulfillment solutions offer ample time to solve replenishment issues. It helps build efficient, affordable, and sustainable fulfillment processes for micro-mile deliveries.
Are Micro-fulfillment Centers Suitable for All Types of Retailers?
Micro-fulfillment centers may not prove effective for every retailer. Here is a quick list of where MFCs can be implemented:
Dark stores
At the back of retail stores
Sectors with high turnover items such as grocery retail and food stores
For goods with volatile demand. For example,  essential perishable goods, seasonal demand goods, toilet papers, etc.
Retailers located in highly populated areas
Here is a quick rundown of where MFCs cannot be used:
Less populated areas due to high cost and poor returns
Retail outlets with little space to convert for logistics
Retailers selling big-ticket items such as furniture, cars, or TVs
What Are the Benefits of Micro-fulfillment?
The pandemic has made it difficult for retailers to survive. Reduced in-store visits, store closures, and layoffs have forced them to re-strategize customer retention initiatives and go online.
Offering a wider variety of products and fast deliveries at low costs has become crucial for retailers to stay afloat. That's not possible with conventional distribution centers.
But micro-fulfillment centers can help mitigate such challenges easily. Let's learn in detail how micro fulfillment solutions can help.
Helps Project Expected Orders
Micro-fulfillment centers utilize unused space efficiently. It can store more product volume per square ft than conventional stores or warehouses.
Also, MFCs can help fulfill more local orders. And micro-fulfillment technologies allow stock up in-demand items and limit losses.
Retailers can set up micro-fulfillment hubs at the back of a store or a central location. This helps store more products locally and fulfill hyperlocal orders faster.
Retailers can even collect localized customer data, such as brand preferences and past order sizes. They can leverage such data to project expected order volume to improve service to regions where the MFCs are placed.
For example, customers bought more food items than beauty products during the lockdown. Retails could use such data to stock up high-demand products and allocate storage accordingly.
Retailers can also use MFCs as an inventory pool for their other nearby stores. Target uses this strategy to replenish its out-of-stock inventory at Perth Amboy, New Jersey.
Speeds up Order Fulfillment
Manual order picking is complex, inefficient, and time-consuming. Also, it is the most labor-intensive part of warehouse operations.
According to a report by Roodbergen, the picking process accounts for 55% of the warehouse's local burden.
An inefficient picking process means high overhead expenses and poor customer experience. Add to it the chances of human error and increased labor dependency.
Automating order picking methodology can improve the bottom line. MFCs deploy both the human workforce and automation. This helps reduce the time for order picking and packing and increases productivity.
For example, a tech-enabled MFC uses a route planner like Route4Me to locate orders for picking quickly.
The route optimization software factors operator skills, time windows, and vehicle capabilities that affect the pick-and-pack process while planning a route. And then direct the human operator or robotic loader to the nearest inventory pickup location.
Learn how Route4Me helps optimize pick-and-pack routes inside micro-fulfillment centers.
Conventional stores or fulfillment centers require an hour of labor to pick, consolidate, stage, and prepare for delivery. But in micro-fulfillment centers, it can be done in a minute.
Automated micro-fulfillment hubs can also help improve resilience amid the pandemic. An automated order fulfillment strategy can help retailers fulfill online orders seamlessly and reduce the risk to the human workforce.
Want To See For Yourself How Route4Me Can Boost Your Profits?
Whether you want to slash the time it takes you to plan routes for your drivers, increase the number of stops they can make, or keep your customers satisfied knowing that your drivers show up on time… Route4Me helps you achieve that!
Make Faster Last-Mile Deliveries
According to McKinsey's report, businesses spend more than $86 billion on last-mile deliveries globally. And last-mile delivery costs around 28% of the total transportation costs.
Micro-fulfillment centers make last-mile deliveries efficient and reduce expenses. MFCs are located close to customers to ensure faster delivery.
Plus, many micro-fulfillment hubs use delivery scheduling software to plan the fastest and shortest routes and make on-time delivery.
The route optimizer factors traffic congestion, weather, delivery time windows, avoidance zones while planning routes. This helps ensure the deliveries do not get affected due to any external factors and reach destinations on time.
Long story short, in an MFC, every task is automated, from sorting to packing to last-mile delivery. This speeds up the fulfillment process and cuts down expenses.
Easy to Expand
According to real estate firm CBRE, retailers utilize 1.25M sq. ft. warehouse space for every billion dollars in sales. And with the rapid growth of online shopping, retailers face a crucial real estate challenge.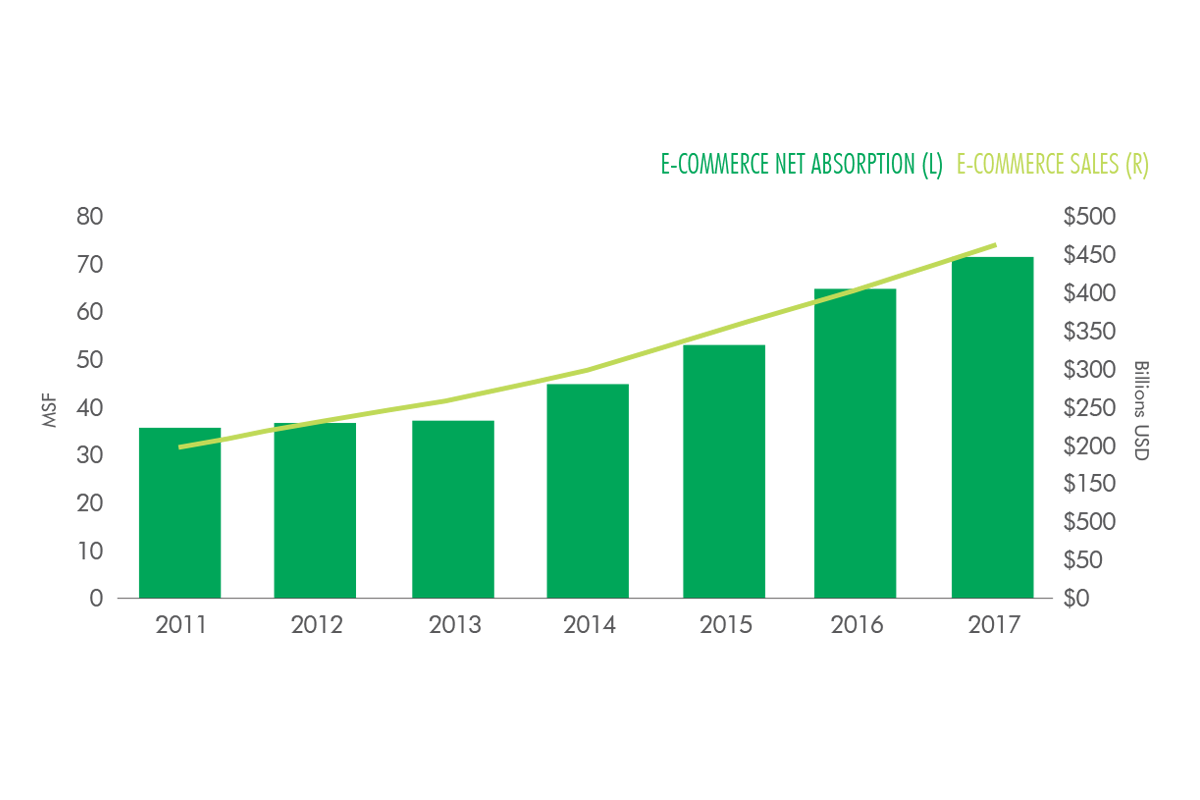 MFCs are smaller and can fit into a wide range of spaces. For example, retailers can easily slot them at the back of their existing stores. So, expanding MFCs to become part of the current operations is more effortless.
Standalone micro-fulfillment centers are also instrumental in highly-populated urban areas, where space comes at a premium price, and the demand for eCommerce services is also much higher.
Micro-fulfillment Centers Are Cheaper than Large Distribution Centers
Unlike large warehouses, micro-fulfillment centers do not require a significant investment to set up and operate. It can be fully functional in a couple of months, whereas a more extensive fulfillment center takes years to set up and become profitable.
You can even save more money by using your existing stores as fulfillment centers because you already own the space.
Plus, MFCs require less human workforce, which reduces labor costs. Add to it the reduced fuel expenses because of automation and closer proximity to customers.
There are many other ways micro-fulfillment can benefit retailers, such as:
Makes last-mile sustainable
Build a positive brand image
Offer competitive advantage
Build customer trust for making on-time undamaged deliveries
The Future of Micro-fulfillment
The increasing demand for same-day delivery has forced many retailers to set up micro-fulfillment centers. Last year has seen an explosion in popularity for MFCs. According to a report by Research and Markets, the micro-fulfillment market will grow by 10X by 2025 compared to the demand of 2021.
Walmart, Kroger, and many other grocery retailers are assessing the use or implementing micro-fulfillment hubs within their grocery ecosystems. And we could see the fast-growing eCommerce sectors like healthcare and fashion taking the MFC route in the coming years.
Want To See For Yourself How Route4Me Can Boost Your Profits?
Whether you want to slash the time it takes you to plan routes for your drivers, increase the number of stops they can make, or keep your customers satisfied knowing that your drivers show up on time… Route4Me helps you achieve that!