Curbside pickup is gaining ground. According to a report by Incisiv, 85% of shoppers increased curbside pickup orders compared to the pre-pandemic rates.
Interestingly, click and collect or BOPIS (Buy Online, Pick Up In-Store) had already been around. Still, it was generally restricted to larger retailers, such as Walmart, which led the curbside pickup market.
It's only now that many small businesses have also started adopting this convenient and flexible option, especially after the surging needs during the COVID-19 pandemic.
So, if you run a small business and want to learn all the nitty-gritty details about BOPIS, then this guide is for you.
This guide tells you what curbside pickup means, its advantages, and how you can implement it for your business in 2023.
Let's jump right in.
Table of Contents
What Is Curbside Pickup?
Curbside pickup is a service that allows customers to pick up their orders from a convenient location rather than delivering the orders to their homes.
So, your customers can collect their orders from the curb outside your store, warehouse, or anywhere else.
How Does Curbside Pickup Work?
It works similarly as "buy online, pickup in-store" or "click and collect." Let's look at how it works:
Step #1: Order Placement by the Customer
Customer places an order through an eCommerce site or an online store. While ordering, the customer chooses the convenient location and available time slot for pick up.
Step #2: Payment
Almost every eCommerce site offers multiple payment options to the customers, and so the customers can either pay online or choose from the other available numerous payment methods.
Step #3: Order Preparation by the Business
Once the order has been placed, the details are sent to the merchant for preparation. At the preparation stage, the customer can send extra information to the merchant, such as a phone number they can call once they have arrived.
Step #4: Curbside Pickup
You can offer curbside pick up in the following two ways:
The customer pulls up their car to a designated location at a prearranged time. Sometimes, the customer may need to contact the merchant to let them know they have arrived. A delivery person then brings the items to the car. If the customer hasn't made the payment yet, they have to pay. Once the merchant receives compensation, the customer can drive off with the parcel.
Many businesses also offer home delivery to their customers. However, the main difference with click and collect is that the ordered items are left at the house's front door without requiring the customer to sign.
What Are the Benefits of Curbside Pickup?
Quicker Delivery
It is quicker than other deliveries. It can even be faster than 24-hour shipping or same-day delivery.
Guaranteed Delivery
People who live in apartments or work for long hours can easily miss the delivery person or get stuck rearranging shipping. For them, BOPIS ensures guaranteed delivery because they can collect their order according to a time and location convenient for them.
Save Shipping Charges
As the customers collect the order themselves, they can save on shipping and packaging charges.
Convenient
National Retail Federation's Spring 2020 Consumer View survey shows that more than 90% of curbside pickups have been rated by consumers as convenient.
Save, Zero-Contact Service
The click and collect model can minimize person-to-person interactions. Even when the customers opt for the home delivery format, the delivery person still leaves the packages in front of the customers' doors, and no signatures are required. Therefore, the risks of getting infected during delivery are minimized.
Helped Businesses Stay Afloat Even During COVID-19 Social Distancing
While the social distancing mandates are in place during the first and second waves of the COVID-19 pandemic, BOPIS has helped many businesses (especially restaurants and eateries) stay afloat.
Increased Online Sales
It improves conversion rates and customer retention by offering faster shipping, fewer damaged products, and more. This, in turn, increases online sales.
Makes Businesses Sustainable
Curbside pickup helps reduce emissions and makes your business sustainable. For example, it can reduce traffic congestion because public transport commuters can pick up their order to or from work.
Furthermore, vehicles don't cause nearly as much congestion as double-parked delivery trucks, especially in urban areas. Therefore the overall environmental impact is much less, and more importantly, it's cost-effective.
Learn why sustainable logistics should be your top priority in 2023.
How Can Route4Me Help with Curbside Pickup?
Route4Me offers a curbside pickup app that seamlessly integrates with any eCommerce store. Once integrated, you can receive, process, and complete thousands of food pickups, grocery pickups, BOPIS pickups, or any other curbside pickup or in-store pickup orders for multiple pickup locations using only your smartphone.
Below is a quick rundown of the app features you can use to offer seamless curbside pickup in 2023.
Multiple Pickup Stores Management
If required by your specific eCommerce business model, you may offer your customers click and collect services from multiple locations.
You can integrate the curbside pickup app with your online store and sync all pickup locations into the app. This will enable you to see your curbside pickup or in-store pickup orders placed for pickup in each of your stores and manage them all from the one curbside pickup app.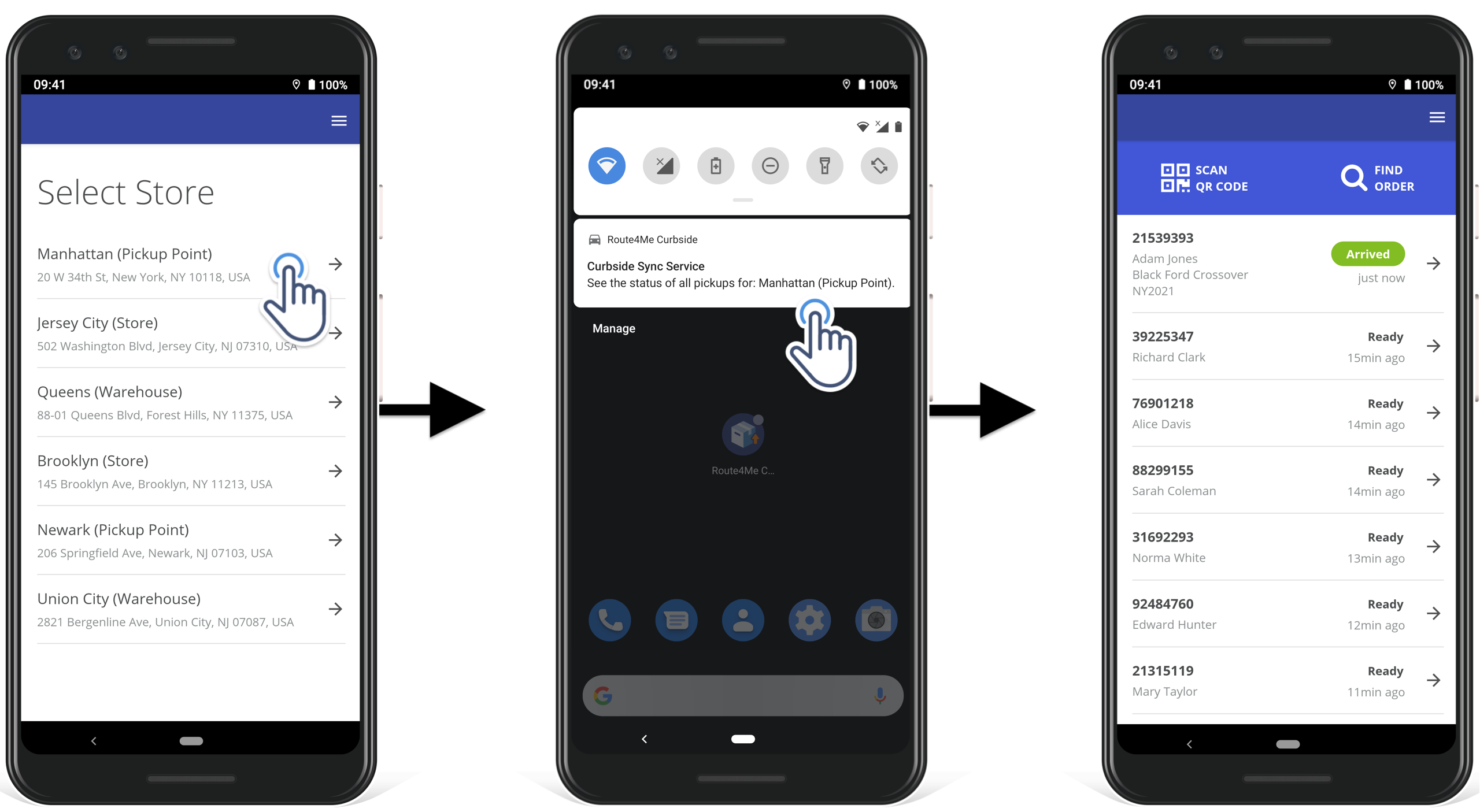 Curbside Pickup Order Management
Whenever a new BOPIS order is placed, you'll instantly be notified through the app. This will help you ensure you never miss customer pickups and prepare customer orders before they arrive.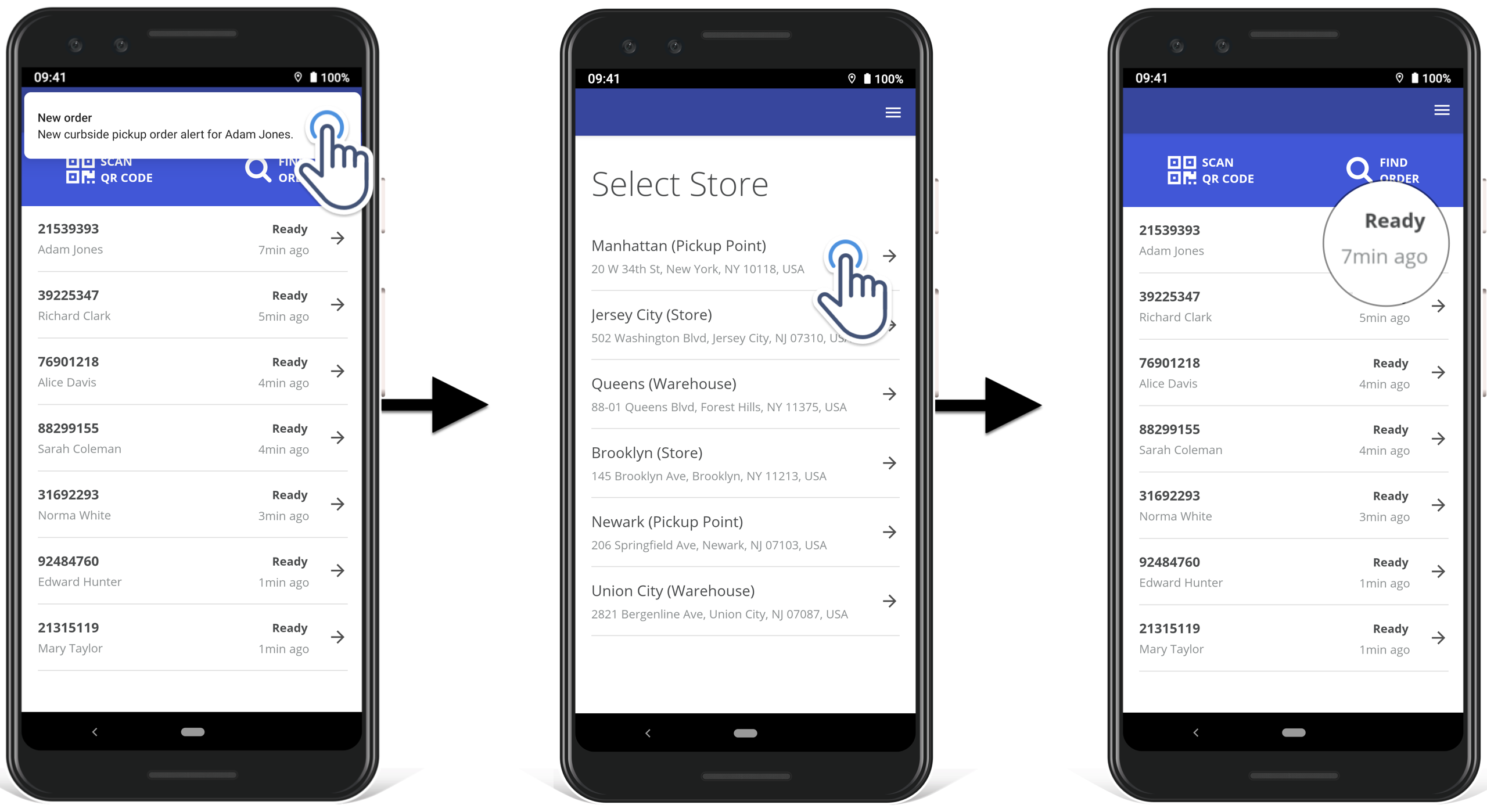 Curbside Pickup Statuses
Dynamic curbside pickup order statuses let you know:
When an order was placed for curbside pickup or in-store pickup
The specific time when a customer will arrive for the pickup order – the time changes dynamically
As soon as the customer arrives at your location for the pickup
For how long the customer has been waiting to pick up the order
When the pickup has been completed
Furthermore, the order details of your pickups can contain security codes, customer notes, and more helpful information.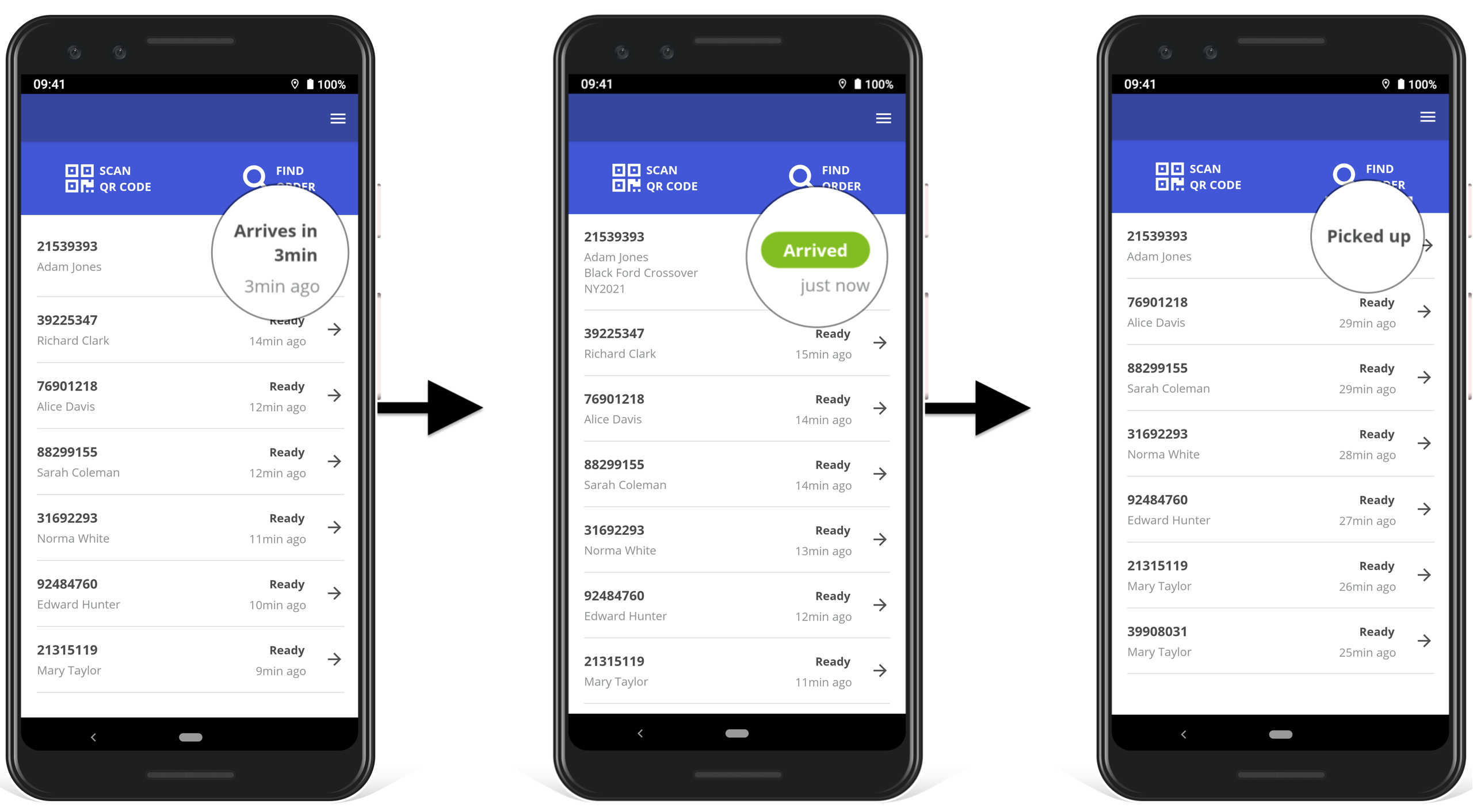 QR Code and Pickup Confirmation
To quickly and securely match the customers to their orders, customers can show their QR codes for their pickups. You can scan the QR codes, and the app will automatically match the codes to the correct orders. The curbside pickup app order confirmation will also help you save time on order matching and make sure that you always give the correct order to the right customer.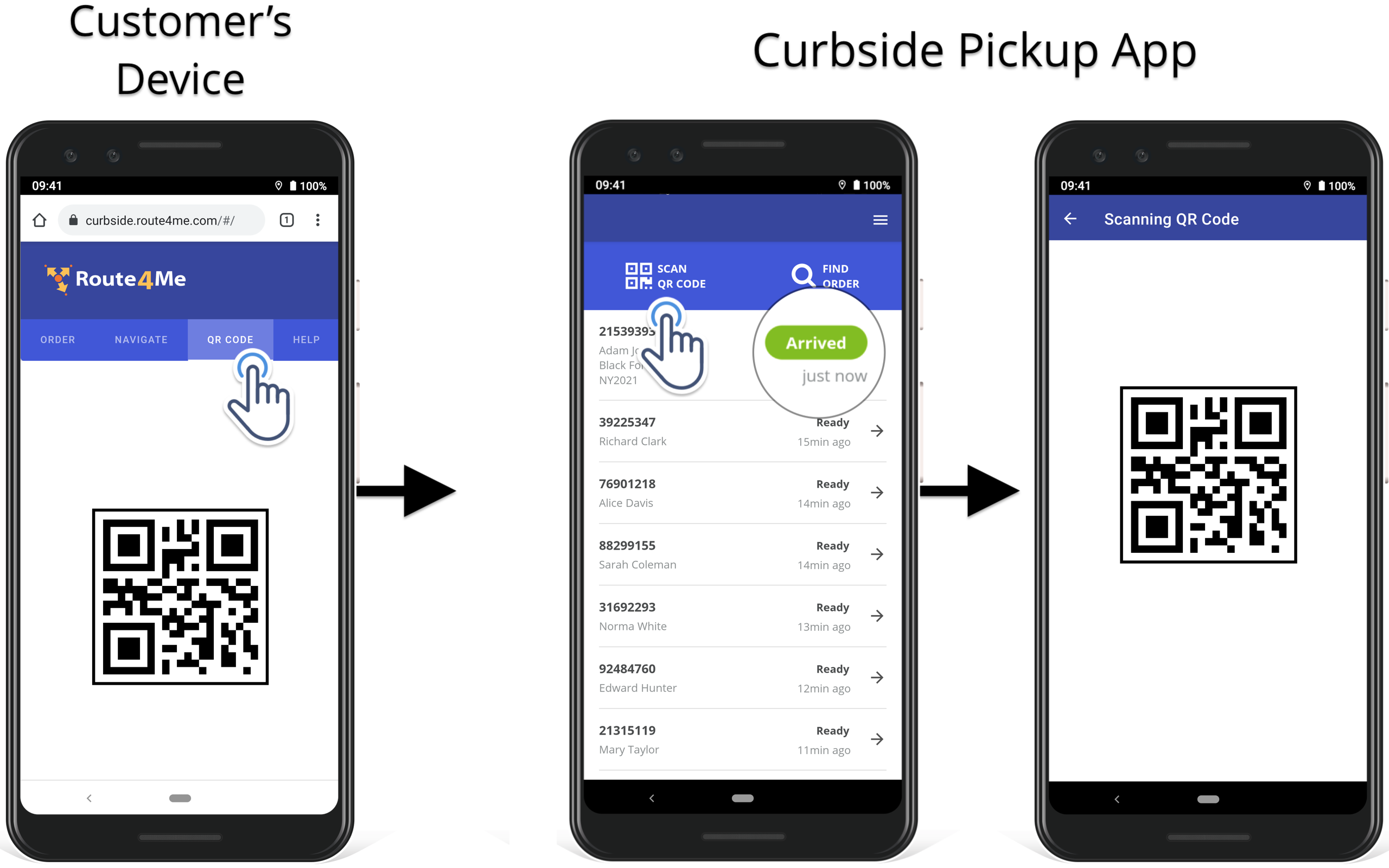 Customer Tracking Portal
To help you save money and your team's time on customer support, Route4Me offers a dedicated customer portal for click and collect and in-store pickup. The Curbside Pickup Tracking Page allows customers to do the following:
Check their BOPIS order status, order details, estimated order total, security code, and more.
See the location of the pickup points on a map.
Check the pickup points' working hours.
See the estimated driving times and distances from their current locations to the pickup locations.
Navigate from their current locations to the pickup points using Google Maps.
Open a secure curbside order pickup QR code that will help you match the customers to the correct orders.
Provide vehicle details so that it's easier for you to find them when they arrive at the pickup spots.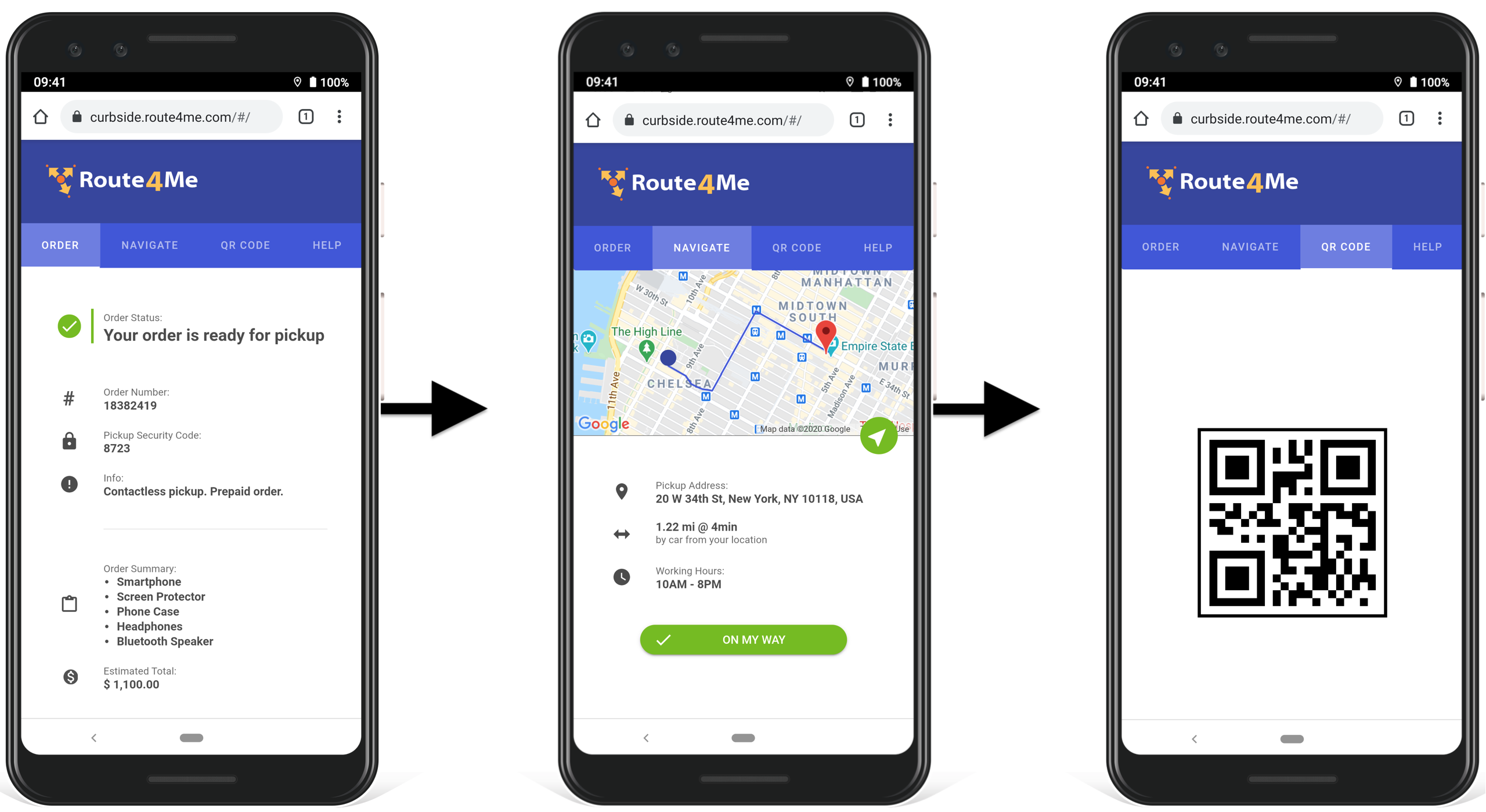 Read our curbside pickup app FAQ to find some of the most commonly asked questions about Route4Me's curbside pickup app.