Food trucks are hot. According to Emergent Research, food trucks will generate $2.7 billion in revenue this year. This is a whopping four-fold increase from the 2012 food truck revenue estimate of $650 million provided by the National Restaurant Association. This in itself is proof that there's a bright future ahead if you're in the food truck business.
However, as a food truck operator, you have a lot of tasks, responsibilities and challenges, which will only escalate as you grow. That's why it's so important to get yourself organized from the very start by implementing tools, such as a GPS tracker for cars, a route planner, and finance management software, which will help you run your food truck business more efficiently. Here are five such apps which can help streamline key areas of your business.
Beyond the fast-paced task of making dishes for orders, you also need to ensure that your trucks reach their designated locations on time in order to serve more customers. This is where Route4Me's route planner software can help. The fleet mapping software will help you plan the most efficient routes possible in just 30 seconds and ensure your truck drivers reach the assigned stops on time, without getting stuck in traffic jams, experiencing bad weather conditions, or having to wait to make left turns.
But that's not all. Here is a list of some of the important features offered by Route4Me's route optimization software that can transform the way you operate your business.
Add Notes
If you have a habit of making notes in multiple places, the multiple destination route planner included in Route4Me has got you covered. The routing software comes with an "add note" feature that allows you to add statuses, text, signatures or images to each of the stops on a route from the software's mobile app itself. All the notes are then centralized, so you and your team can see them at any time from anywhere. Your notes can also be automatically tagged with the exact coordinates of where they were created.
Want To See For Yourself How Route4Me Can Boost Your Profits?
Whether you want to slash the time it takes you to plan routes for your drivers, increase the number of stops they can make, or keep your customers satisfied knowing that your drivers show up on time… Route4Me helps you achieve that!
Interactive Map Screen
The interactive map screen is a powerful feature offered by Route4Me's dispatch software that helps you visualize, on map, where you're doing business, where you're not, and how much it would cost to expand into the untapped areas. This will help you make informed decisions for expansion so that you don't regret these choices at a later date.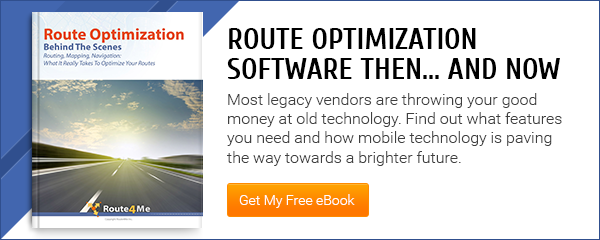 Territory Management
If you have a number of food trucks under your belt then the territory management feature will prove very useful. It helps you draw regions on a map, save regions as groups, and plan routes based on the selected regions. All of which makes your route planning process quicker and more efficient.
Reporting and Analytics
Route4Me's schedule optimization software offers a reporting and analytics feature that helps keep your expenses under control, and enables you identify areas that need improvement. For example, you can see your total gas costs, the average trip gas cost, all the notes added each day, the total distance covered, and the routes per day.
GPS Tracker for Cars
If you operate multiple food trucks then it's necessary to track what your drivers are doing on the road. You need to ensure that they follow your exact instructions and don't waste your resources by making personal stops or taking longer breaks on company time. This is what a GPS tracker for cars makes possible.
A GPS tracker will help you monitor your drivers in real time, with only a 60-second delay. So if a trucker is speeding, or a truck breaks down in the middle of the road, you will immediately know about it, and can take the necessary actions. And if a truck driver's device goes offline, Route4Me's system will automatically upload the GPS trace as soon as it regains internet access.
A GPS tracker for cars also helps protect your business assets. For example, if one of your trucks are vandalized or burglarized at night, you will be notified of it immediately. This is undoubtedly a great improvement from only finding out about such events the morning after. It also helps protect your vehicles from theft.
Mint is a great money management and budgeting tool that can help you stay on top of your finances from your mobile device. Although this app was primarily designed for individuals to manage their personal finances, it works great for businesses as well.
Mint helps you track all your expenses, create savings goals, and plan for the future. The tool also enables you to categorize your purchases and create a budget based on what you've spent in the past. This is a great way to estimate your future costs, and how much you need to set aside for each type of purchase. Another great bonus is that integrating a food truck with a brick and mortar presence is no problem with this app.
Make sure you use Mint to track and manage your personal expenses as well so that both you and your business can harness the full potential of this powerful software.
Shopify POS is a popular payment processor for food trucks. It offers a user-friendly interface that allows you to:
Process transactions and accept payments (including mobile payments, credit or debit card payments, and cash);
Print and email receipts;
Run a customer loyalty program;
Track your trucks' business and financial requirements.
It can also be integrated with other prominent apps, such as Facebook, Mailchimp and Quickbooks.
#4 Truckily
Truckily is a food truck location app that enables you to update your current location with just a click from your Android or iOS smartphone, and share it instantly on popular social media platforms, such as Facebook, Twitter, and Foursquare.
Every time your location changes, Truckily as well as your Facebook, Twitter, and Foursquare accounts are updated automatically with the new location. So your diners can easily find out where you're serving for the day, without scouring the newsfeeds. This saves you a ton of time in keeping your customers informed. The app even sends a push notification to fans who wish to be alerted when you're nearby.
Truckily also allows you to schedule your location in advance, whether it's for a  mere week, or for a year into the future.
Any.do is a task management app that helps you track your to-dos and monitor your schedule. It also keeps all your tasks, lists, and reminders in one place, and they're always synced across all of your devices. The app also comes with an easy-to-use interface and several powerful features, such as:
Timed and location-based reminders;
Smart widgets;
Works with Google Calendar, iCloud, and Exchange;
The ability to capture tasks by voice.
So have you explored any of these apps? Do you have any favorites? Please feel free to leave your comments below.
Also, here are three questions you can ask yourself to ensure that you understood the benefits of a GPS tracker for cars, and the other apps we've outlined in this article:
How does a GPS tracker for cars help you protect your business assets?
Can GPS management software help you rectify driver behavior?
What benefits do GPS programs offer your business?
Want To See For Yourself How Route4Me Can Boost Your Profits?
Whether you want to slash the time it takes you to plan routes for your drivers, increase the number of stops they can make, or keep your customers satisfied knowing that your drivers show up on time… Route4Me helps you achieve that!