The first-time fix rate (FTFR) is crucial in improving the customer experience. You know the first impression is the last impression. If you don't complete jobs successfully the first time, you may lose customers to your competitors.
Of course, you won't want that!
But how can you calculate FTFR?
What is an excellent first-time fix rate? And most importantly, how to improve your FTFR?
We answer all these questions in this article. Below is a quick outline of what you would learn.
Table of Contents
What is First-Time Fix Rate?
The first-time fix rate is a metric to identify how often your technician successfully completes a job the first and only time they visit a site.
You can measure your field service team's FTFR by including factors such as:
– The experience and skills your field service team has
– The complexity of the service
– Quality of tools used for the job
– The resources available to complete a task
Want To See For Yourself How Route4Me Can Boost Your Profits?
Whether you want to slash the time it takes you to plan routes for your drivers, increase the number of stops they can make, or keep your customers satisfied knowing that your drivers show up on time… Route4Me helps you achieve that!
Why is First-time Fix Rate Important?
A poor first-time fix rate means that your team isn't working efficiently. Below are several reasons FTFR is essential.
Reduce Costs
Regularly visiting a customer to complete a task that could have been done in one visit can increase company costs. You need to pay more for fuel and resources, and your team will have less time to visit other customers.
Completing a job successfully the first time will lower transportation costs and increase your profit margin. Plus, your team will have more time to complete more tasks and increase revenue.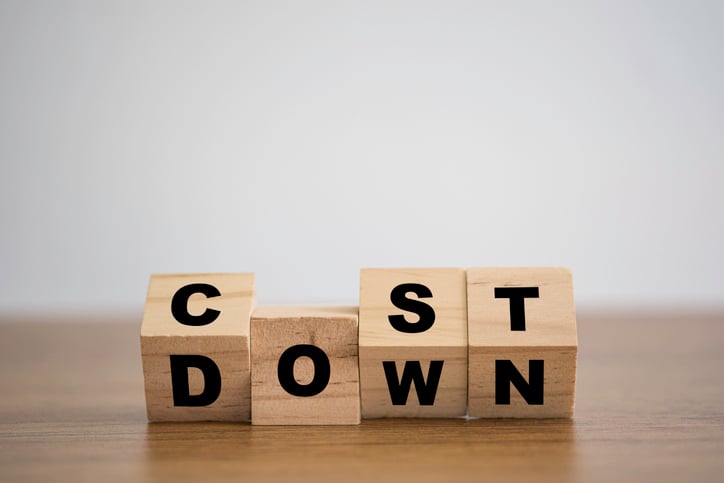 Make Customers Happy
Customers' number one complaint about service field organizations is unfinished projects or tasks.
According to the 2020 ACA report, you could lose 96% of customers due to bad service. Incomplete jobs cause customers to feel stressed because now they have to send emails or phone your company to get your team to finish a job.
When your team completes a job successfully the first time, it will improve customer satisfaction and help you retain them. You also have the potential to attract new customers through good word-of-mouth advertising from happy customers.
Reduce Frustration
When your field service team can't meet customer demands, they have to deal with the frustration of angry customers. Additionally, a poor fix-rate time will slow down productivity, and your team will struggle to meet deadlines.
On the other hand, a high FTFR will improve operational efficiency and productivity.
How to Calculate the First-time Fix Rate (FTFR)?
The first-time fix rate calculation is pretty straightforward. Simply add the total number of service requests resolved on the first visit to a customer and divide it by the total number of service requests resolved in a day.
First-time fix rate = Total service requests resolved on the first visit / total service requests resolved.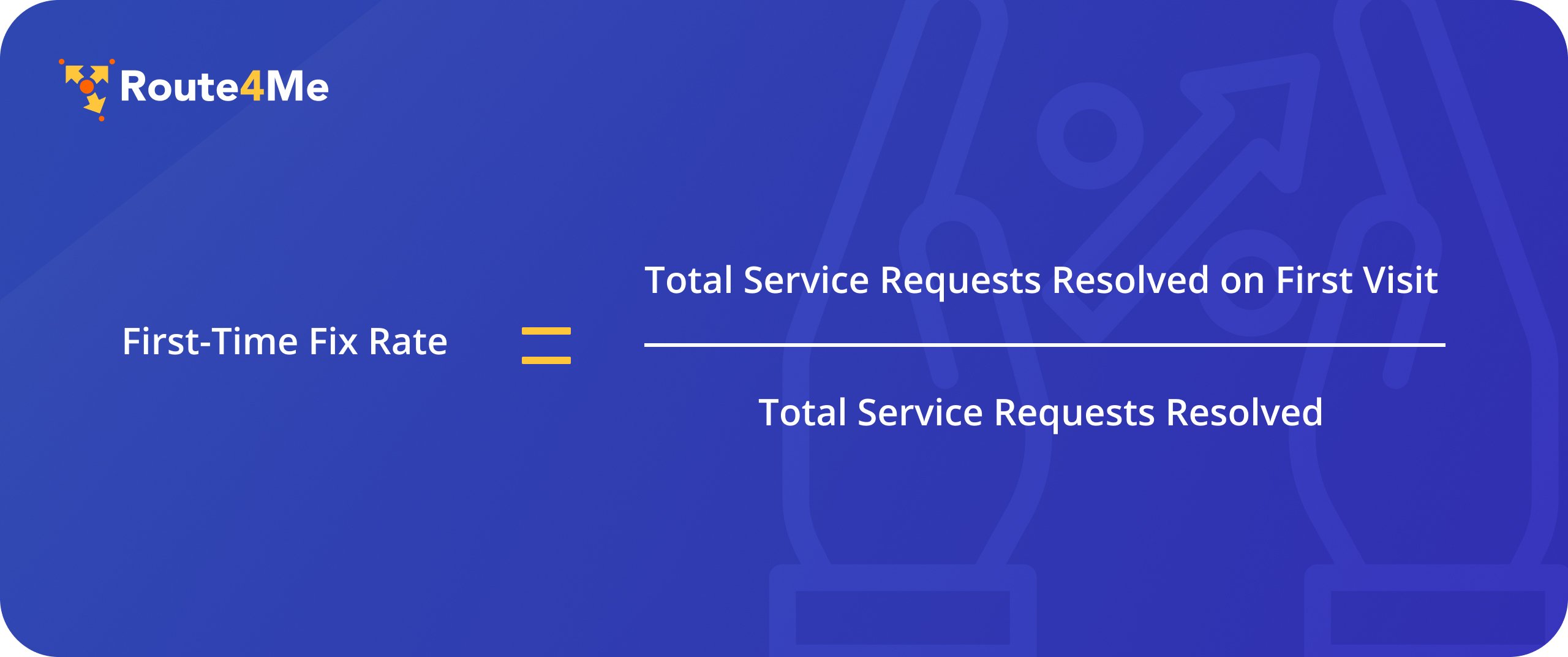 You must constantly adjust your processes to improve your FTFR to meet changing demands and retain your customers.
What is a Good First-Time Fix Rate?
Having a high first-time fix rate is an indication of high-quality services. But a low rate means you are not meeting your targets efficiently, and you may need to restructure your processes. An excellent first-time fix rate is between 79% and 90%.
But, an excellent first-time fix rate will also depend on your industry. For example, a delivery company won't have the same FTFR as a mobile service company because they use different resources and processes.
According to a report by Aberdeen Group, top-performing companies have a first-time fix rate of 89%. Companies that perform poorly have an FTFR of 56% or lower. However, the industry average is around 75%.
Needless to say, you must stay above the first-time fix rate industry standard to be successful.
How to Improve First-Time Fix Rate?
Below are some tips on improving your FTFR to help you stay ahead of your competitors.
Use a Route Planner
An advanced multi-stop route planner like Route4Me can plan well-optimized routes in a minute. The software considers weather, traffic, time windows, roadblocks, and more constraints, so your technicians will always reach their destinations on time.
This is critically important because if your technicians arrive late or stay behind schedule, they would be in a hurry and may not be at their best to complete a job on the first visit, reducing the FTFR.
Plus, the Route4Me route planner helps you save time by automatically planning routes for weeks and months in advance, allowing you to prioritize other jobs that you cannot automate.
Learn many other benefits of delivery scheduling software.
Ensure Your Field Staff Takes Detailed Notes About the Service
The best-performing companies have around a 90% first-time fix rate, not 100%. You could make excellent planning and match technicians with service requests, but your technician may have to plan a return visit for a job at some point. However, you also have to ensure there should be no additional follow-up visits to complete the service.
Therefore, your technician must note down all the crucial details about the service, including reasons for non-completion and things required to finish the job.
Route4Me's route optimization software offers an Add Note feature that includes notes about a job in the system. Dispatchers, managers, and other technicians can use such notes for reference and make sure they don't run into the same issue twice.
Use GPS Tracker for Real-time Monitoring
Unanticipated challenges such as vehicle breakdowns can force schedule changes even if you efficiently distribute workloads to your technicians. And to keep up with customer expectations and maintain a high first-time fix rate, you need to reorganize quickly.
A GPS tracking app helps monitor vehicles and technicians in real-time on a map. So, if a technician gets stuck on the road with a flat tire, you would know their location and the number of remaining jobs. You can then redistribute and schedule those jobs with the skilled technicians nearer to the affected customer and go quickly to finish the task.
Learn the top ten benefits of GPS tracking.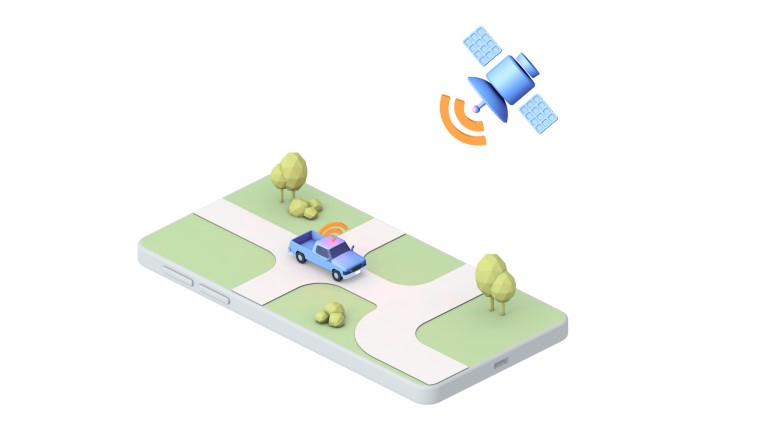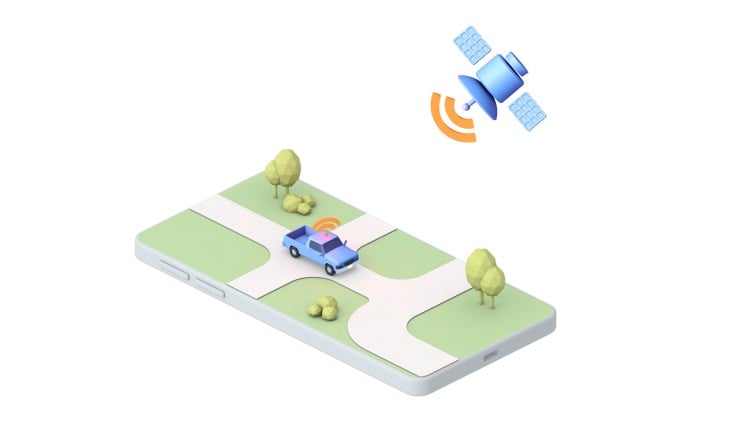 The best route planners like Route4Me come with a GPS tracker so you can track field employees and re-optimize routes in the same software. You don't need to purchase two different software for route optimization and tracking.
Assign Tasks to Your Most Skilled Employees
FTFR decreases when you assign less-experienced field workers to a first-time job. Without adequate training, knowledge, and experience, an employee can increase the risk of not completing an assignment.
To avoid this problem and increase your FTF rate, try assigning first-time tasks to your most skilled employees to get the job done faster and correctly. Once your new employees are trained and have more experience, you can allow them to take on more responsibilities.
Improve Job Planning
Another way your first-time fix rate can decrease is if you don't plan tasks correctly. You must provide enough time to your field workers to complete a job. Furthermore, communicating with clients or customers can improve your planning processes.
Discuss what times are suitable for customers or clients so your team can access their premises to complete jobs. Or you can have an automated system where your customers and team members can see available appointment times.
For example, Route4Me Route Planner comes with a customer notifications and alerts feature that helps you inform customers thru SMS or email when your technician can arrive so that customers are available.
Track Feedback
To improve your first-time fix rate, you must track customer feedback. Ideally, you want to know that your customers are happy with your team's work. Negative feedback allows you to improve your processes and optimize your planning.
Information from your customers can also improve collaborations with your team so you can create strategies to improve services. Try to find out why your team is struggling, and then provide guidance on completing tasks on time.
Without the proper guidance, experience, and knowledge, your team can negatively affect customer experience. To prevent that from happening, use the tips in this article. Improving your first-time fix rate will increase customer satisfaction and boost your profits.
Want To See For Yourself How Route4Me Can Boost Your Profits?
Whether you want to slash the time it takes you to plan routes for your drivers, increase the number of stops they can make, or keep your customers satisfied knowing that your drivers show up on time… Route4Me helps you achieve that!