The field service industry is continually evolving. So the attributes of a successful field service manager in the past will not be sufficient for service leaders in the near future. You not only need to have personal leadership traits, you also need to complement these with business acumen, a thorough understanding of the latest advanced technology solutions (for example, the delivery scheduling system), and strategic planning to round off the ideal skillset that would put you ahead of the pack in future.
Let's learn more about the specific field service management skills you need to acquire in order to stay relevant and ahead of your competitors for the foreseeable future.
#1 Use Advanced Technology
Technology can transform the way you run your field operations. So you should always look out for advanced technology solutions that can be applied and leveraged in service operations to add value to your customers and drive operational efficiency.
There are many innovative technology solutions available for field operations management, such as route planner software, GPS trackers, and telematics. You need to evaluate the merits of each form of technology and identify how to integrate the specific system into your service model.
Want To See For Yourself How Route4Me Can Boost Your Profits?
Whether you want to slash the time it takes you to plan routes for your drivers, increase the number of stops they can make, or keep your customers satisfied knowing that your drivers show up on time… Route4Me helps you achieve that!
However, it's recommended that, rather than opting for multiple items of software, you lookout for a single advanced technology solution that provides all the required elements. Also, make sure you don't need to cope with any hassles to manage such software. This will save you both time and money.
For example, using legacy software requires you to install the software and manage it on your own. So, ideally, you should opt for a web-based delivery scheduling system that comes with vehicle tracking capabilities. This way, you can plan well-optimized and accurate routes within just a minute, and you can use the GPS track to ensure your field reps are following the routes adequately. And all this can be done right inside the software.
Also, cloud-based delivery scheduling systems don't require you to install anything on your computer. You won't have to worry about infrastructure and management and you won't be bound with lengthy contracts. You can even access the delivery scheduling system at any time from anywhere. Won't that simplify your business?!
#2 Take a Data-driven Approach
We're living in a data-driven era, and so you need to use analytics to improve, grow, and control your field operations more efficiently, in order to stay ahead of your competitors.
For example, when you use a route planner for route scheduling, it also offers reporting and analytics features that you should explore in order to learn every minute detail about your field operations. In this way, you can analyze:
What your fuel costs are;
What your average and overall allocated service time is;
How many stops you are making on a daily basis;
How many routes are completed per day.
This will help you control your fuel expenses and enable you to see how your field reps are performing.
You can also leverage the activity feature of a multiple destination route planner so that it displays all activities in your account, including route modifications, note additions, and driver progress. So if you want to stand out from the crowd, move up from a traditional field service manager to a data-focused leader.
#3 Efficient Resource Management Should Be a Top Priority
Employees are the key to the success of any business. But older management techniques to hire, motivate, manage, and retain employees are no longer effective. So you should use the right tools and take the correct approach in order to efficiently manage your resources and make this a top priority.
For example, when you use a multi-stop route planner, it'll help you provide accurate routes to your reps which means that they:
Won't get frustrated by getting stuck in traffic;
Will show up on time;
Will visit more customers per day;
Will ultimately make your company more money.
And this will make your employees happy and will consequently be far more likely to stay with you for longer. This will also strengthen your operation, as you'll always have the best and most experienced drivers on your side, and this will save a lot of money that would have been spent on hiring and training new employees.
You can also use delivery management software for efficient workload assignment. You just need to upload your list of customer addresses into the delivery scheduling system and adjust a few parameters, and the routing and scheduling software will automatically distribute the workload equally among all your field service reps. This will ensure that all of your employees remain productive and are neither overworked nor underworked.
#4 Master Change Management
Change is inevitable, but it also meets with resistance. So you need to master the art of change management to overcome any objections successfully.
For example, if you try to implement GPS tracking in your organization, you may face a lot of internal resistance from your employees. They may think that you're only trying to implement a "Big Brother" culture and that it amounts to an invasion of their privacy.
To get employees on your side, you should show them the big picture and tell them that a GPS tracking app will allow you to make more money and, when your business is doing well there's no reason to let anyone go. In a nutshell, a GPS tracker for the car improves their job security.
Also, a car GPS tracker will help you monitor your drivers' activity on the road. So if a vehicle breaks down in the middle of the road, you can send immediate roadside assistance. This applies even when your field employees get lost, travel in unsafe areas or drive late at night. You can even send help in case of emergencies due to road accidents.
Long story short, by having a GPS tracker for the car, you can convey a message that you're serious about your employees' safety and, when your employees realize that you're serious about their safety, they'll most likely support last mile tracking.
Here are more benefits of vehicle route tracking that you can use to convince your field reps to accept its adoption:
Improved driver behavior and protection from legal hassles or road accidents
More incentives being earned
Protection of the drivers' reputations
Transparency between management and employees
#5 Focus on Improving Customer Experience
Today, customers want more advanced services. So you should use a method known as "journey mapping" to single out all the touchpoints your company has with customers. The data derived from this exercise can be used to streamline every interaction to improve the overall customer experience.
Also, you need to identify the driving forces and tools that you can use to make your service delivery model and customer service more dynamic.
For example, a last mile delivery app like Route4Me comes with a dedicated customer portal to help your customers track the status of their inbound visits. With this customer portal, customers can log in to Route4Me, using their Account ID or tracking number, to monitor the status of their inbound visit.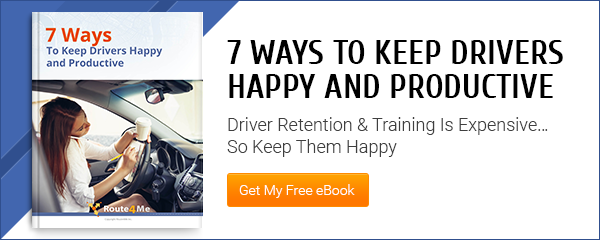 Also, the customer portal shows them as much (or as little) information as you wish to reveal to them about the visit; for example, custom fields, driver identity, and estimated arrival times.
This sends your customers the message that you are transparent with them, and they'll then most likely pay for your services again.
Being a field service manager, you're ultimately responsible for customer satisfaction and loyalty; so, you should be the key executive and driver of any corporate customer experience program.
#6 Any Development Should Be Strategic
Strategic planning is an absolute must, whether you want to improve your field operations, fix loopholes, or grow your business further.
For example, before expanding into a new area, you must first identify whether you have the capability or bandwidth to manage the new customers. So first evaluate all the angles, and only then go for the expansion:
Can you serve them with your existing number of field reps?
Do you need to hire more employees and buy new vehicles to cover the new areas?
Are the new customers worth the investment or will you have peanut profits?
Yet manually doing this may prove difficult. This is where routing system software can help. The best route planners offer you the ability to create mock routes and add the relevant constraints (for example, the hourly wages of the field service reps and the current gas prices) for all the new destinations.
In this way, you'll know how long it will take for your field service reps to show up, how many field technicians you'll need, and how much each route will cost. Access to such information will help you be much better prepared for expansions.
So how do you plan to make your business futureproof? Do you have any points to add or any questions? Please feel free to leave your comments below.
Also, here are three quick questions you should ask yourself to check if you understood the tools you need to stay relevant in the future:
How can a delivery scheduling system help you grow your business?
How can a delivery scheduling system help you improve your customer experience?
How can you encourage your field reps to accept GPS tracking?
Want To See For Yourself How Route4Me Can Boost Your Profits?
Whether you want to slash the time it takes you to plan routes for your drivers, increase the number of stops they can make, or keep your customers satisfied knowing that your drivers show up on time… Route4Me helps you achieve that!