Are administrative tasks slowing you down?
One of the most frustrating parts of being a boss is all the paperwork. Every minute spent filling out forms is a minute that could have been spent directing employees, meeting with clients, etc.
By adopting route optimization software, you'll be able to streamline your admin process. This will give you more time to do everything else you need to do to make your business successful. The best part is that you never need to worry about the vehicle route problem and traveling salesman problem.
Shave Hours Down To Seconds
Route planning is complicated.
In addition to figuring out which roads your drivers must take to reach your customers, you also need to account for traffic, weather, construction, customer availability, weight/volume constraints, and other factors.
There are additional factors you may need to consider as well, depending on your industry. For example, if you transport flammable materials, there are roads you won't be permitted to use.
When you plan routes by yourself, taking all of these factors into account can take hours.
But when you have route optimization software, planning routes only takes 30 seconds. You just need to plug in the addresses of your customers, customize the settings to fit your specific situation, and then you're good to go.
See What Your Drivers Are Up To With GPS Tracking
Another benefit to using a routing program like Route4Me route planner is that it allows you to provide your drivers with more efficient routes. That will help them show up on time more often.
But optimized routes won't do you any good if your drivers don't actually follow the routes you give them.
That's why you must make sure that the multi-stop route planner you invest in has a vehicle tracking feature.
How does GPS tracking work?
GPS tracking helps you visualize your drivers' activities on a map in real time so that you can immediately know if a field rep or driver makes an unauthorized stop or takes longer than planned at a specific destination.
With GPS tracking, you can see how fast your drivers are going in real-time. Whenever you want, you can check in on a driver to confirm that they're sticking to their route and staying on schedule.
Automate The Check-In/Check-Out Process
Geofencing technology is another feature you'll want your route planner to have.
Geofencing involves drawing custom borders over a real-world map. After you've drawn your borders, you can set it up so that certain actions are triggered when your drivers cross through them.
For example, you can use geofences to automate the check-in/check-out process. Your drivers will save 10 seconds or so at each stop. 10 seconds per stop doesn't seem like much, but consider how many stops your drivers make over the course of a week, a month, a year. It adds up over time.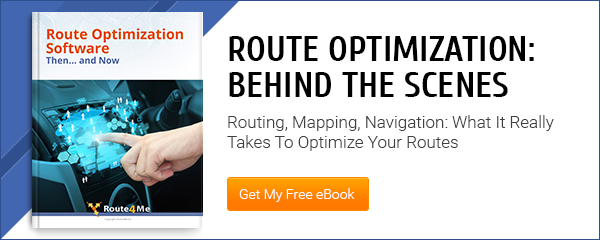 Settle Disputes With eSignature Software
The problem with using pen and paper to collect delivery confirmation signatures is that paper slips are easy to lose.
What would you do if a customer claims their package was never delivered, your driver says they did deliver it, and then it turns out that you've lost the confirmation slip?
In that situation, you could either trust your driver and alienate the customer or trust the customer and alienate your driver. There's no good option.
But when your road trip planner with multiple stops has an eSignature feature, your customers can sign for deliveries directly on your driver's smartphone. You'll never lose a confirmation again. Whenever there's a dispute, you'll know exactly what went down. 
An eCommerce Plug-In Eliminates Mistakes
We'll leave you with one last feature the best multi-stop route planners have: an eCommerce plug-in.
This feature allows you to transfer contact information directly from your eCommerce platform (Shopify, WooCommerce, etc.) to your map route planner, which saves time and minimizes the risk of data entry errors.
So, do you have questions about route optimization software? Let us know in the comments section below.
Also, we have some questions for you! Answering the following questions correctly will confirm that you understand the points we've laid out in this article:
1. What are the benefits of route optimization software?
2. About how much time per stop do your drivers save when you automate the check-in/check-out process?
3. What does an eCommerce plug-in allow you to do?