The global outlook for the logistics industry looks promising, having been valued at about $4,730 billion in 2018 and expected to reach $6,300 billion by 2024. However, getting a significant share of the pie is not easy for logistics providers. Why? Because they are still battling to resolve logistics management issues, such as reverse logistics, costs, delivery schedules, and last-mile delivery.
But, what exactly is logistics management and why is a smooth logistics management process necessary?
Logistics is all about the movement of goods and everything from inventory management to driver schedules, package shipment, and customer notification management falls under logistics management. Ensuring an efficient logistics process is critical because it impacts the internal operations of a company as well as customer relations.
Just imagine how you'll ensure timely delivery if you don't even know if the product is available in your warehouse? Also, how will you update the customer about the expected time of package delivery if you don't have the tools to monitor the shipment?
In both cases, the ultimate result will be the cancelation of the order, poor customer service, and bad word of mouth. Logistical efficiency is the only way for providers to improve customer experience and revenue.
Challenges for Logistics Providers in 2020
Logistics providers will struggle to provide outstanding customer service, while controlling costs, due to the following top challenges in 2020:
Timely Deliveries
The 'Amazon effect' has an impact on the entire logistics industry. Providers now compete based on their ability to deliver quickly. Yet, managing timely deliveries and adhering to specific delivery windows is no walk in the park, especially with customers demanding same-day deliveries, higher levels of transparency, and greater flexibility. Without an advanced route planning software, it will be even more challenging to deliver on these expectations and fight the competition.
Even for delivery drivers, executing a successful delivery means more than just picking up and dropping off a package. A series of events must go according to the plan to ensure a pleasant customer experience.
This is the reason why savvy businesses are using advanced logistics management systems powered by disruptive technologies, such as artificial intelligence and machine learning, to build efficient operations. However, those businesses that are reluctant to embrace modern technologies might find themselves losing a competitive edge and getting trapped in sky-rocketing costs and poor customer service.
Want To See For Yourself How Route4Me Can Boost Your Profits?
Whether you want to slash the time it takes you to plan routes for your drivers, increase the number of stops they can make, or keep your customers satisfied knowing that your drivers show up on time… Route4Me helps you achieve that!
Transportation Costs
Keeping your customers happy is essential, but so too is controlling your costs. According to a recent study, skyrocketing transportation costs will continue to be the biggest challenge faced by logistics companies in 2020. In addition to fuel costs, poor visibility of field staff also results in increased costs in the form of damaged goods, reduced productivity, delayed deliveries, and increased fuel consumption.
Businesses that are looking to improve operational efficiencies use route optimization software to plan efficient delivery routes, reduce fuel consumption, and ensure real-time visibility of delivery processes. This is because most advanced route planners offer features like GPS tracking and customer notifications that help in proactive transportation management, resulting in improved driver productivity and enhanced customer experience.
Inventory Management
Inventory management sounds straightforward; you store products in a warehouse, deliver them to your customers, and restock as needed. However, if you look closer, you'll realize that it is anything but easy. In fact, it can be totally daunting in an environment where both retailers and customers expect same-day or next-day deliveries. These expectations are only going to increase, which will mean new challenges for logistics providers who have to ensure faster deliveries and adhere to delivery time window requests while controlling costs.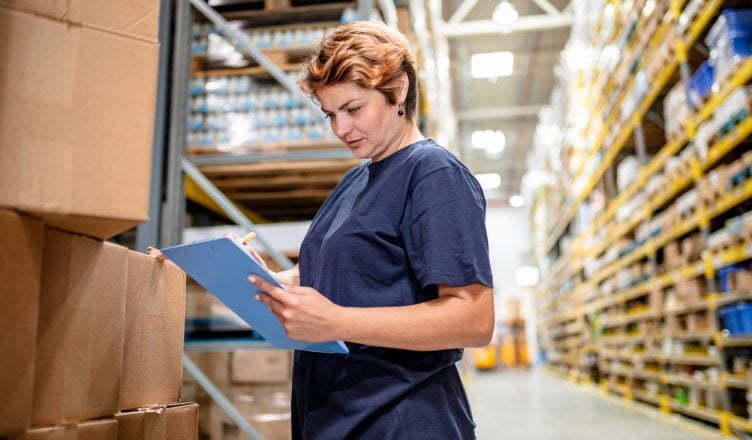 Some providers will try to tackle the cost-related problems by leasing warehouses closer to cities, stocking up on inventory, and automating their logistics activities. Also, by using tools for barcode scanning, inventory optimization, returns handling, stock notifications, and multi-warehouse management, providers will be able to control their inventory management processes better while saving on costs and reducing product stocking needs.
Driver Shortage
According to a study by the American Trucking Associations (ATA), the US trucking industry was short by roughly 60,800 drivers in 2018 and this commercial driver shortage will likely swell to 160,000 by 2028. Increasing salaries is unlikely to help attract more people to this profession which means logistics providers will have to look for a more sustainable solution to attract and retain qualified drivers.
Technology will come to the providers' rescue here. Logistics companies should focus more on route optimization so fewer drivers are needed. So, instead of using manual route planning, which takes hours and does not even guarantee the accuracy, companies should use a route planner.
A delivery route planner app creates a faster, optimized route with the best driving directions within 30 seconds and gives you real-time updates regarding your drivers' locations. You can also contact your drivers if you learn that they are taking detours or prolonged breaks. Ultimately, with a route optimizer, rather than paying your drivers larger salaries, you can offer performance-based incentives for making timely deliveries, serving more customers, and practicing fuel-saving driving habits.
Last-Mile Delivery Optimization
For logistics providers, ensuring a smooth last-mile delivery will be more significant than ever. According to one report, customers are willing to spend more for fast delivery as a value-added service. The same report also highlighted that 55% of customers would switch to a competing provider if it offers a quicker delivery service.
So, providers must ditch the traditional last-mile delivery methods and invest in an advanced multi-stop route planner to ensure faster deliveries at lower costs. A driving route planner also helps you address operational risks or inefficiencies by offering features like dynamic route planning, proof of delivery, and weather updates.
Reverse Logistics
Returns put a lot of pressure on your warehouse management because reverse logistics is unpredictable and muddles warehousing by making standard item-handling processes challenging to implement. This leads to rising per-product processing costs which significantly impacts your bottom line. According to a report, return deliveries will cost the US eCommerce market $550 billion by 2020 and this figure doesn't even include inventory losses or restocking expenses.
Thanks to the advancements in logistics technologies, businesses can solve this logistics problem. Some advanced route planners offer features like customer alerts and notifications which help the providers communicate with the customers to schedule product pickups. This streamlines the returns process and ensures that the customers do not wait endlessly for the replaced products, thereby ensuring superior customer experience.
Conclusion
Fuel costs are not coming down anytime soon, customers won't stop returning items, and it's unlikely that the driver shortage will end in 2020. Volatility will be the new normal for logistics providers globally. The best strategy is to diversify your assets, adopt the latest technologies, and improve your customer experience to counter the challenges and combat the risks in 2020 and beyond.
Want To See For Yourself How Route4Me Can Boost Your Profits?
Whether you want to slash the time it takes you to plan routes for your drivers, increase the number of stops they can make, or keep your customers satisfied knowing that your drivers show up on time… Route4Me helps you achieve that!