Heavy machinery plays an important part in many industries, including the construction industry. For example, heavy mobile vehicles and machinery significantly decrease building time by increasing the laborers' productivity.
However, despite the gains in productivity, working around heavy equipment poses an inherent risk. In fact, heavy equipment crashes are among the most frequent causes of injuries on construction sites. The Bureau of Labor Statistics also regularly releases a list of the most dangerous jobs and construction work frequently appears in the top 10, with one of the most hazardous aspects of construction-related jobs being heavy equipment which is said to cause hundreds of fatalities and injuries each year.
Also, consider the following statistics:
Heavy equipment crashes caused more than 7,600 deaths between 1992 and 2010 at a rate of almost 404 deaths per year. (Source: Center for Construction Research and Training)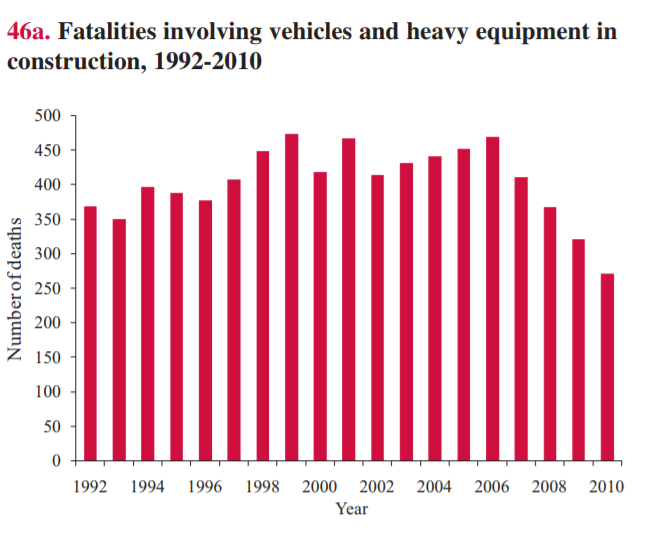 As of March 2017, the construction industry employs 4% of the total employment in the U.S. but is responsible for more than 21% of all worker deaths. (Source: Bureau of Labor Statistics)
In New York City alone, construction workers account for 27% of work-related deaths. (Source: Federal Bureau of Labor Statistics)
The construction worker fatality rate in New York City is higher than the national construction worker fatality rate. (Source: Federal Bureau of Labor Statistics)
Common Heavy Equipment Crashes
Construction equipment accidents can happen due to several reasons. And, while some disasters cannot be averted, most occur because of the workers' carelessness or negligence.
As per a report by the Occupational Safety & Health Administration (OSHA), out of 4,674 worker fatalities in the private industry in 2017, more than 20% were in the construction industry. This equates to one in five worker deaths in 2017.
The leading causes of these accidents include falls, being struck by an object, electrocution, and being caught in or between heavy equipment. These "Fatal Four" causes were responsible for almost 60% of the construction worker deaths in 2017, as reported by the Bureau of Labor Statistics. So, eliminating the "Fatal Four" would help save 582 American workers' lives every year.
The worst heavy equipment accidents can cause potentially fatal injuries to the spinal cord, head, and neck, such as concussions, broken bones, and amputations. In addition to the trauma of the injuries, the wounded workers also face additional troubles in the form of high medical costs and lost wages due to the absence from work. These factors make the process of recovery even more difficult.
Safety Tips for Workers and Heavy Equipment Operators
Despite the number of fatalities as a result of heavy equipment crashes around the world, there are specific safety measures that workers should follow to avoid serious injuries. Below are six safety tips for heavy equipment operators.
1. Do not Mix Mobile Phones and Heavy Equipment
Did you know that the risk of using a mobile phone while operating heavy equipment can be six times worse than the risk of operating the same equipment while intoxicated?
Using a cell phone while operating heavy equipment will cause you to take your mind off the equipment, your hands off the wheel, and your eyes off the road. No call or text is worth risking your life in such a way. Also, distracted heavy equipment operators are not only a risk to themselves, but they also pose a risk to the equipment and the other workers around them. A construction site has its own risks, but a distracted operator does not have to be one of them.
Want To See For Yourself How Route4Me Can Boost Your Profits?
Whether you want to slash the time it takes you to plan routes for your drivers, increase the number of stops they can make, or keep your customers satisfied knowing that your drivers show up on time… Route4Me helps you achieve that!
2. Ensure Workers' Safety with GPS Tracking Software
Not following road safety norms and the speed limit can be dangerous when operating heavy equipment. It does not even take a second's distraction for a crash to occur. Fortunately, one of the benefits of GPS tracking software is that you can keep heavy equipment operators accountable for their driving habits. In fact, you can encourage a safety-first culture just by having a GPS tracker in place as it helps you monitor your heavy equipment operators in real time.
Workers can also be assured that their managers are there to watch their back. So, if they get stuck somewhere or have an emergency, their managers will immediately know about it because of the GPS tracking software and can send assistance in no time.
However, you should go for an advanced route planner like Route4Me which comes with a GPS tracking feature to get the best of both worlds. Such a route planner will help you plan well-optimized routes to get the most out of your equipment, while the GPS tracking feature will help you track the operators and keep them safe.
Want to learn more about Route4Me? Read how Route4Me can benefit construction companies and heavy equipment operators.
3. Communicate Effectively, Especially Near Blind Spots
Heavy equipment operators have to be 100% sure that no one is in their blind spots when they are moving. The best practice is, therefore, to have a spotter stand in a safe and visible position to guide and direct an operator if his or her vision is limited. Using a two-way radio or hand signals are the best forms of communication for this.
This means that you should train both the spotter and the operator to be in constant communication with each other and the workers around them. Also, make sure that all your workers wear high visibility vests at all times.
4. Wear Proper Safety Gear
We all know the importance of wearing a seat belt when driving a car. The same rule applies to using heavy equipment. The operators should always wear a seat belt, even if they are operating the machinery for only a few minutes. This is because heavy equipment crashes can happen in seconds and workers must ensure that they do not get thrown off the machinery during an accident.
In addition to the seat belt, all the workers should be wearing the required safety equipment when they are on site. The law requires that construction workers keep their hard hat and boots on when they are operating machinery or even when they are near machinery. Taking the safety gear off for even a second could put them at serious risk of injury.
5. Be Cautious while Mounting and Dismounting
Falling while stepping on and off machinery is one of the biggest causes of injuries on work sites. So, operators should be careful while entering and exiting a machine. A good rule of thumb is to always maintain a three-point contact when getting on or off a machine. So, workers must maintain at least three points of contact with the vehicle at all times, either both feet and one hand or two hands and one foot. If steps or handholds are damaged, they should be replaced.
6. Do Not Operate Machinery Unless Trained
Operating crazy heavy equipment is a demanding job, even for seasoned workers. Regardless of the instructions, workers must never put themselves in an unsafe situation. Instead, they should get out and look for help if they are unsure about working around specific equipment. Workers should also only operate equipment that they are trained to operate. The correct use of machinery requires specialized training by experts and there are training courses available to stay up to date on the latest machinery and their safety protocols.
Conclusion
While construction sites may not be one of the safest places to work,  it is safe to say that many heavy equipment crashes can be avoided with common sense and protective measures. Prevention begins with awareness and properly maintained equipment that is safe and secure.
So, what precautions and measures do you take to ensure that safety is a priority when operating heavy equipment?
Want To See For Yourself How Route4Me Can Boost Your Profits?
Whether you want to slash the time it takes you to plan routes for your drivers, increase the number of stops they can make, or keep your customers satisfied knowing that your drivers show up on time… Route4Me helps you achieve that!