What are the required driving tools for plumbers? Like everyone who travels to their customers, plumbers must prepare for whatever comes. Arriving late to appointments or becoming stranded on the side of the road doesn't just mean lost time – it loses you money and can negatively impact your business.
Thankfully, there are plenty of tools and options to ensure you can perform your work where it matters.
To help you decide what you need, we've crafted a list of the top 10 driving tools for plumbers. We carefully selected each choice, considering size, cost, and applications.
Here are ten tools to ensure your plumbing vehicle gets you to your clients as safely and efficiently as possible.
Table of Contents
1. Route Optimization Software
This tool doesn't help you get back on the road, but it does boost your efficiency. A route planner saves you time and handles the parts of the business you probably don't enjoy. These apps and services can help you plan out routes to customers, manage your workload, send reminder texts, and more.
There are several great route planners out there at different price points. We recommend creating a list of essential features for your business. Every plumber is unique, but software can always smooth out operations.
One essential feature you'll notice is scheduling and route planning. Automating schedules (especially if you manage other plumbers) and routes will save you time, money, and mileage.
The other key feature you'll want is client management. Good client software helps you track customers, what work they need doing and when, and their contact information. There are plenty of options; we recommend researching customer reviews and establishing a budget.
It's best to have access to your truck's plumbing software through your phone or tablet. Checking your schedule between clients will help you adjust to new information like an emergency call or a customer cancellation. This at-hand access is vital if you run a fleet of vehicles.
Want To See For Yourself How Route4Me Can Make Your Business Efficient and Boost Profits?
Whether you want to plan routes, reduce driving time, or keep your customers satisfied knowing that you will show up on time… Route4Me helps you achieve that!
2. A Roadside Assistance Kit
A roadside assistance kit helps if you get stranded, have a medical emergency, need to help another person, and more. Once assembled, it should have a permanent home and never leave the vehicle.
Grab or make a versatile kit that includes the essentials:
Emergency reflectors
Flares
Flashlights
A first aid kit
Strong tape
This kit is handy in any roadside emergency. Remember, your roadside assistance kit will be separate from the tools needed to repair the vehicle issue that got you stranded in the first place; those tools focus on the car, but the roadside assistance kit focuses on you and your safety.
First aid is the most crucial part of your roadside assistance kit. Plumbing is rarely dangerous, but heavy items and sharp tools are involved. Be prepared in case something goes wrong with the basics. Include bandages, gauze, and antiseptic wound wash.
3. A Toolbox with Road Repair Essentials
We know what you're thinking; I've already got everything I'll need to repair my vehicle. While that may be true, separating repair tools into a specific box is always a good idea. This way, you'll avoid searching high and low during a breakdown. It also ensures that everything is organized even after the most chaotic work days.
The toolbox doesn't have to be large, just grab something and fill it with tools exclusively for fixing your vehicle. If you use a truck bed or van to access your tools from the outside, we recommend grabbing a locking toolbox for extra security.
Make sure it includes the basics like:
A wrench set
A socket set
A screwdriver set
Gloves
Flashlights
A rubber mallet
Keep the toolbox in a singular location. Don't take it into your workshop or garage. It's a roadside assistance toolbox and should never need to leave – there are few feelings worse than preparing a box just to leave it behind when you need it most.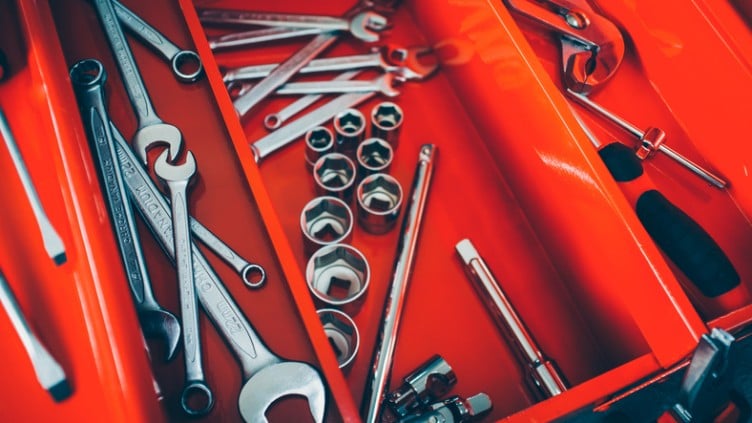 4. A Dash Cam and Security Cameras
Plumbing equipment is expensive, especially if you've been in the business a while. Even if you have a locking van instead of an open truck bed, prioritizing security is best. Cameras on the doors, rear view, and windshield can significantly improve security and deter theft.
Extra cameras and sensors work in tandem with your car's security system. Neither should replace the other, but they can cover weaknesses. Additional visible cameras deter thieves, and car alarms are great when someone tries to break in haphazardly.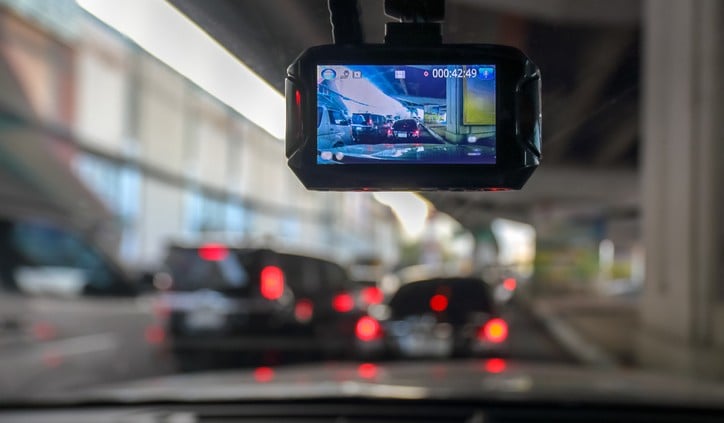 Dash cams serve another yet equally important service: insurance protection. Dash cams can be just the proof you need if someone causes an accident with you, and some insurance companies even offer discounts to customers who have them installed. They are widely available and relatively cheap for the peace of mind they bring.
5. Jumper Cables
Jumper cables are one of the essential driving tools for plumbers. This is needed to get your vehicle back up and running after battery problems. Whether it's a faulty connection point or someone left the lights on, you'll likely need a jump at some point. Grab a small pair that fits cleanly with your other car tools, and it should be enough to get you rolling again.
As a service professional, you often may not have another car nearby to provide the juice you need. Grabbing an external battery charger can help fix this. They hook up directly to your cables for a full charge. If you have a separate generator in your truck, using it may be another option.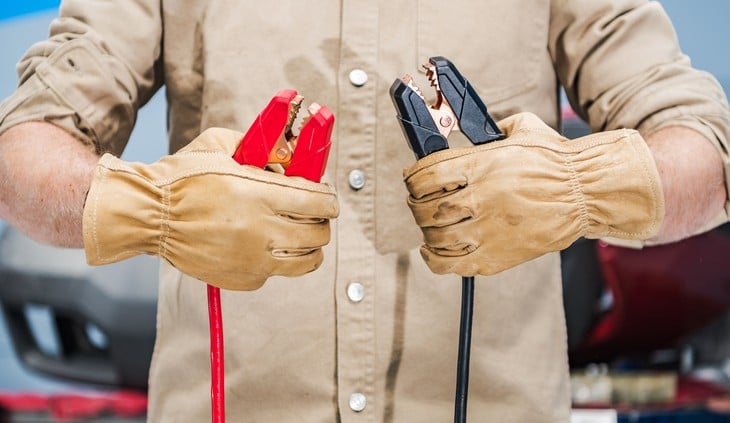 6. Anti-Slip Flooring
Anti-slip flooring helps protect your plumbing tools, you, and your vehicle. It may seem like extra work, but taking the time to place anti-slip mats throughout the back of the vehicle will help secure tools and shelving. It also prevents slipping, which can be a lifesaver when holding dangerous equipment.
While driving, anti-slip flooring helps prevent items on the floor from moving around. Not only does this protect your tools, saving you time and money, but it can also help prevent accidents. Sudden, dangerous turns are always unexpected. It's best if you don't need to worry about where your gear is going when they happen.
While parked, anti-slip flooring helps you easily move around. Many anti-slip mats are also weather-proof, so you don't need to worry about rain or snow causing you to slip and fall. Padded mats are also available, which help protect your tools and supplies if something falls out of place.
7. Storage Organization & Security
Properly organizing and securing your plumbing tools takes time, but it's well worth the effort. Endless benefits come with maintenance and organization. You'll consistently know what parts you have, what needs to be ordered, and the condition of everything you use for your job.
Vehical organization also helps lockdown and secure your tools while in motion. A well-organized and secured system should never tip or lose a tool while driving. Luckily, there are plenty of options out there. We recommend customizing a solution to your needs, but there are a few simple tips to get you started:
Use your vertical space
Store heavy items on the floor
Make room for flexibility
Keep it easy to clean
Maintain inventory management
Prioritize safety
Vertical space is key to accessing everything you need in such a small space. There are plenty of locking doors and secure shelves that increase storage space. If you're custom-building a solution, we recommend measuring out space for your heaviest items, such as generators or large power tools. Building around these makes moving and storing things much more manageable.
Prioritize safety above everything else. Make sure that all the shelving and bins you put into your vehicle securely fit so they can handle the movement of the road. Create a partition between you and the tools so that, if something suddenly does happen, you don't need to worry about a flying wrench making things worse.
8. A Winter Survival Kit
Everyone who drives in inclement weather knows the dangers and frustrations that come with it. All cars on the road should come prepared with a winter survival kit — especially work vehicles. Consider putting a winter survival kit in your plumbing vehicle if you operate anywhere where inclement weather is a concern.
In the worst cases, the kit can help save lives. At the best of times, the tools can help you get back on the road and to your paying customers quicker. Consider creating a kit with the following items:
Ice scrapers
Snow brushes
Tire chains
Sand or cat litter
Alter these items depending on what weather is most likely to cause problems for your plumbing business. For example, consider including windshield wiper replacements and woolen blankets to dry off if you operate in a high-rain area.
Take stock whenever the season changes and consider what to include to get back on the road.
9. Duct Tape & Tie-Downs
If your storage system is perfect, you may never need tie-downs. Unfortunately, no storage system ever is, and having some extra options to secure pipes is always a good thing. Tie-downs come in many forms; choose whatever one best fits your vehicle. The most common options are:
Tow straps
Bungee cords
Rope
Duct tape
Duct tape is the most compact of these items and the most versatile. We recommend keeping a roll around anyway due to its many uses. Whether quickly securing a falling fender or wrapping up some pipes, duct tape can save the day.
10. Jack Stands and a Lift
A jack and stands are the two essential tools you'll need to replace a blown tire or get under your vehicle. While the stands can take up quite a bit of room, there are some smaller options on the market. Just make sure they can support the weight of your vehicle fully loaded before purchase. If you're getting creative with your vertical space, you may even be able to store two.
The chances are that your vehicle came with a jack, but you should check to make sure. It's likely near your spare tire for easy replacements. Every so often, test the jack and ensure it functions correctly.
Conclusion: Driving Tools for Plumbers
There are plenty of things to store in your vehicle, and we know space is always a concern. This list doesn't cover everything but should be enough to keep you on the road and earning money.
Before altering what you carry, consider the purpose the item serves. For the sake of space, grab things that are multi-use whenever possible. If the item can't get you back on the road quickly or earn money more efficiently, it may not be worth the cost.
What do you think of these driving tools for plumbers?
Want To See For Yourself How Route4Me Can Make Your Business Efficient and Boost Profits?
Whether you want to plan routes, reduce driving time, or keep your customers satisfied knowing that you will show up on time… Route4Me helps you achieve that!