The best proof of delivery app is out there.
Table of Contents
If you still use paper for proof of delivery then it's time to start using an app.
The Covid-19 pandemic has raged worldwide. Contactless technology has become more popular. Simply put, you need to invest in an electronic proof of delivery app.
But there are so many apps out there! How can you choose? What features do you need?
This article helps you to make a well-informed decision and choose the right proof of delivery app for your business. So let's jump straight to it.
What kind of things should you look for in a Proof of Delivery app?
Proof of delivery apps have many features. To clarify, we list four below that are very important.
1. e-Signature
The first important feature of a proof delivery app is an e-signature. This allows the end customer to sign electronically on their phone or tablet. The signature is then saved as proof that the person received their package.
2. Barcode Scanning
A bar code scanning feature can help with your deliveries. For instance, a driver can quickly pick up an item, scan the e-ink barcodes and then quickly scan it when it's delivered. This is good for your work order entries and record keeping. It also helps to avoid mistakes in deliveries that might happen because of not being able to see the items well enough or forgetting what was delivered before or after.
3. Real-Time Tracking
Real-time GPS tracking helps you with tracking field personnel while also ensuring that the package is delivered at the correct address.
You can track and manage your entire fleet in real-time.  You can get updates without calling the drivers. So this means that you don't have to worry about drivers dropping off your packages at the wrong place or mismanaging your fleet. This will help you save time and money.
4. Image Capture and Storage
When you are delivering something, your delivery drivers can take a photo of what they have delivered and where. This is useful when people aren't home to get their packages so the drivers can take them to somewhere else.
This is one of the best features of proof that you delivered an item. You can contact the person without them having to answer their phone or come to your house. It's also good in pandemic and post-pandemic situations because it is easy for people who are sick and have trouble going places.
Types of Proof of Delivery Apps
There are many different kinds of proof of delivery apps. For the most part, they can mainly be divided into two categories. We discuss these two below.
1. Standalone POD Apps
Standalone electronic proof of delivery softwares are designed to help you manage your proofs of deliveries. Therefore, you can install them on different devices and they make it easier to do paperless data capture.
This lets you control the doors to your business. As a result, you can see who is coming in and going out.
However, standalone proof of delivery apps have a limited set of features. Therefore, they need to be integrated with other software, like Google Cloud, for a great user experience.
2. Route Optimization Software
You can use a route planner app to plan a fuel-efficient route. The best route planner app for delivery drivers are often used by delivery drivers because they help them make deliveries faster. This lets them plan routes that have multiple stops, track their deliveries in real time, and collect signatures to prove when they have made the delivery.
With eSignatures, customers can sign on the screen of their phone. They can use a stylus pen or their fingers.
Should You Go for a Standalone Proof of Delivery App?
There are some good things about standalone proof of delivery apps, however there are also some bad things to them. These include:
These apps only offer proof of delivery features. In short, you'll have to use other software to fulfill your other business requirements.
As a direct consequence of using multiple software, you'll be paying more.
Handling delivery information across multiple platforms also increases the risk of creating confusion among delivery drivers and other concerned staff. in conclusion, this might lead to a higher margin of errors.
For example, imagine you get a call from a customer asking about his or her package.
Now you need to track the delivery using two different softwares. One is for routing optimization and one is for sending a proof of delivery. As a result, you have two different systems to confirm the order has not yet been delivered. So, it can create unnecessary delays in locating the order. This leads to customer dissatisfaction.
Should You Opt for a Map Route Planner?
The one-stop solution to all the above-mentioned problems is using a map route planner that offers a built-in proof of delivery feature. Such an app can serve as a stellar replacement for standalone proof of delivery apps because it combines other crucial features with the eSignature feature within one app. Thus, it is the best proof of delivery app you can have.
Some of its undeniable benefits are as follows:
Route4Me is an all-in-one integrated platform that offers several features essential for last-mile delivery businesses, including proof of delivery and route optimization.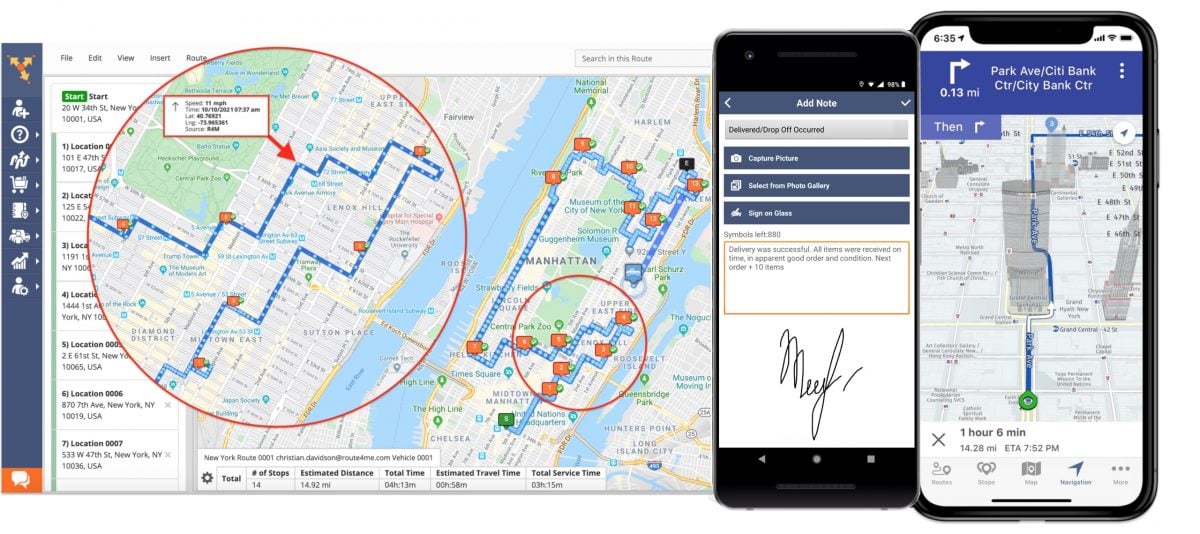 Consequently lower the margin for erroneous delivery with all delivery-related information is consolidated on a single platform.
It is time-saving, which certainly means a higher number of deliveries within a single day.
Get real-time final mile delivery tracking. Therefore, there's a smaller chance of delivery discrepancies.
As a result, you'll achieve higher standards of customer service.
Improves fleet utilization and the management of drivers and deliveries.
Since these tools offer so many valuable features, they are obviously better alternatives to standalone proof of delivery software.
Final Thoughts about Choosing the Best Proof of Delivery App
Firstly, just by using a simple proof of delivery app built-in within your route planning software, you can improve on-time delivery and ensure customer satisfaction.
Secondly, a route planner app will help reduce potential friction between companies and consumers. In addition it will help to increase driver accountability.
Thirdly, investing in a technology solution will ultimately translate to easier and better working conditions for your employees which in turn means happier customers.
In summary, make the smart choice and see a world of difference.