Trim The Fat From Your Food Delivery Logistics Business
Food delivery logistics needs are growing. The food delivery industry has seen a meteoric rise over the past couple of years, further fueled by the COVID-19 pandemic.
In fact, according to McKinsey, the food delivery market doubled in the US during the pandemic.
Even in the pre-pandemic era, the US restaurant industry grew 3% to 4% per year. Delivery sales were increasing at roughly twice that pace (7% to 8%). But the growing food delivery industry has only reached new heights since the lockdowns started in March 2020.
According to Statista, the online food delivery sector's share of the restaurant market was predicted to be 13% in 2020; before the pandemic, this figure was forecast at 9%. The post-coronavirus market share is expected to rise as much as 21% in 2025.
Yet, food delivery is complicated and comes with a lot of delivery problems. And the rapid growth increases the complexity further.
Therefore, to meet this growing demand and mitigate the challenges, you need to make your logistics of food delivery or even contactless food delivery more agile and responsive.
How can you make that happen? Below are the top five delivery logistics hacks you can use.
Table of Contents
1. Increase Food Delivery Logistics Profits With Curbside Pickup
Curbside pickup enables customers to pick up their food from a convenient location rather than delivering the order to their homes.
The concept is not new, though. It was generally restricted to larger retailers, such as Walmart, which led the market. But this trend is gaining traction.
In fact, according to a study by the consumer insights firm Incisiv, 85% of consumers said they have significantly increased curbside pickup orders compared to pre-pandemic times. So, it helped many businesses to stay afloat during the pandemic.
Convenience-store chains, including Casey's General Stores, Ankeny, Iowa; Cumberland Farms, Westborough, Massachusetts; QuickChek, Whitehouse Station, New York; and Wawa, Wawa, Pennsylvania, have launched curbside pickup in response to the pandemic.
The reasons for this are simple. It's convenient, saves on shipping costs, ensures guaranteed delivery, increases sales, and helps make deliveries without making any contact.
Here's a quick guide to curbside pickup.
However, offering curbside pickup may not be feasible if you don't have the right tools in place. You need a system that can automate the process and management.
For example, Route4Me offers a curbside pickup app that helps receive, process, and complete thousands of food pickups for multiple locations by using only your smartphone.
You can manage multiple pickup stores seamlessly, never miss any customer pickups, save time on order matching, and keep your customers informed about the statuses of their orders.
2. Preplanned Food Delivery Is Super Profitable
Food delivery logistics is challenging. You have a high number of food deliveries. You also have to manage last-minute orders.
Orders can easily slip through the cracks. One mistake can be disastrous for your business. Mistakes lead to lost customers, poor reputation, and decreased profits.
If plan and optimize routes ahead of time you'll regain control over your logistics for food delivery. You'll reduce missed deadlines while saving time and money on unforeseen costs. If you use your resources efficiently, the deliveries will go flawlessly.
All this will translate into improved profitability. So, don't plan your routes at the last minute. You'll only be rushed and might forget about something.
Also, don't plan routes in an old-fashioned, inefficient, erroneous, and time-consuming way. Time is money, right?
Instead, use a route planner like Route4Me, which helps you plan fuel-efficient routes and gives you accurate directions from one place to another in less than a minute.
You can also make a quick change to an existing route and re-optimize it in less than a minute.
3. Make Sure Your Software Is Easy to Use
Whatever route optimization software you use, ensure that it's easy to use for your drivers. The software won't do you any good for your food delivery logistics if your drivers can't figure out how to use it, and it'll sit on the shelf.
The whole point of giving your drivers optimized routes is to save them time, but if your software has a complex interface, it'll end up slowing them down.
They might get the hang of it after some training, but protracted training sessions will cost you a fortune. After all, you're buying the delivery scheduling software to grow your business and not damage it, right?
Route4Me's route planner app is pretty user-friendly, which is why over 32,000 customers use our software and our apps have over 2 million downloads.
With Route4Me's vehicle routing software, you can distribute route details directly to your drivers' smartphones – all they have to do is follow the instructions. If your drivers know how to use a GPS, then they'll know how to use Route4Me. It's that simple.
In fact, it's even easier than that, as Route4Me's delivery route planner app comes with in-app voice-guided navigation; so, your drivers never have to look at their phones for instructions. This means that drivers can easily follow the instructions and make deliveries and get home early with a smile on their faces.
Remember, any routing software provider can make tall claims about how user-friendly their software is, but it's better to see for yourself before spending all your money.
If the software provider isn't confident enough in their product to let you try it out for free, they're not worth your time. Move on to the next option.
Route4Me is committed to making everyone's job easy. We even offer a seven-day free trial so you can see for yourself how easy it is to use our software.
4. Notifications To Delight Customers and Reduce Customer Services Requirements
In any food delivery logistics business one saying is true. Customers love transparency. According to research from Natural Products Insider, 94% of consumers are more likely to be loyal to a brand that offers complete supply-chain transparency.
So, by keeping your customers informed, you'll show them that you value them as a customer and do what it takes to keep them with your business. It'll make them feel special, and they'll reward you by keeping ordering from you.
Keeping your customers informed also helps you avoid failed deliveries and the expenses associated with them. It even reduces the number of calls to your customer service team asking for status updates on deliveries.
Long story short, notifying your customers will do three good things which are critical for your business – improve customer loyalty and retention rate, increase sales, and reduce unnecessary expenses.
However, manually keeping your customers informed about their order statuses may not be feasible. This is where Route4Me's route planner can help.
Route4Me comes with a customer alerting and notification feature that helps you notify your customers through email, SMS, or voice calls when their orders are out for delivery or near their location. You can even notify customers who'll be visited next by your delivery drivers.
You can also set the alerting rules as per your preference. For example, you can notify customers the day before a route with the approximate arrival time of a driver with up to five-minute accuracy. Alternatively, you can notify when the driver is within five miles or five minutes of their location.
Route4Me route planner also comes with a customer portal that enables your customers to track the statuses of their orders on their own. However, the amount of information they can see will be up to you. You can show them estimated arrival times, driver identities, custom fields, and much more.
5. Collecting Driver Feedback Can Help You Spot Problems Before They Snowball
Drivers are the face of your company. If they do something wrong, your reputation will go for a toss. Customers can simply go online and leave a bad review, and you'll get less new business.
So, you need to have proper measures in place for your food delivery logistics to ensure drivers are doing what they're supposed to and don't annoy your customers.
One of the best ways to ensure that the drivers are doing the right thing is by collecting customer feedback. This way, you'll have better control over your image, brand, and reputation and can prevent bad reviews before they happen.
Plus, you can ensure drivers perform to the optimum and gain insights into what your customers want. In fact, according to a Microsoft survey, 78% of customers have a more favorable view of brands that ask for and accept customer feedback.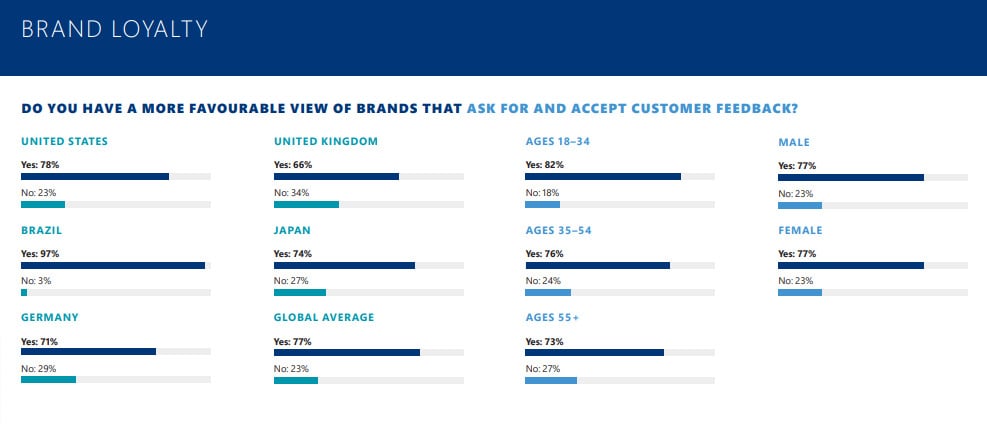 Image credit: Microsoft
Route4Me's delivery route planner app comes with a Driver Rating feature that makes collecting driver feedback easy. Most importantly, it helps you understand your customers' requirements and the quality of services offered by your drivers.
Whenever a customer's order is delivered or completed, you can send them a link to complete a survey that you can customize to fit your company branding.
You can also set up the notification rules as per your preference. Route4Me will then automatically collect such actionable intelligence as customer satisfaction and service quality information from all your customers. This lets you see all the collected service quality and driver performance surveys on the easy-to-use dashboard with flexible filters.
Food delivery logistics is complicated, and it can make or break your business. Use these five hacks and a route planner and see the transformation on your own.
Want To See For Yourself How Route4Me Can Boost Your Profits?
Whether you want to slash the time it takes you to plan routes for your drivers, increase the number of stops they can make, or keep your customers satisfied knowing that your drivers show up on time… Route4Me helps you achieve that!