Table of Contents
Delivery logistics trends have changed a lot since 2020. It was the strangest year that has turned the world upside down, especially changing people's purchasing habits.
According to the U.S. Department of Commerce's report, Americans spent a whopping $791.7 billion online last year, up 32.14% from 2019.
This was all due to the pandemic and the subsequent lockdowns that pushed shoppers to rely on digital retailers more to fulfill their requirements.
So, we would like to reflect. From Route4Me's position partnering with all kinds and sizes of retailers and delivery logistics companies, here are the six trends in delivery services we expect in the coming months.
1. Consumers' Covid Era Behavior Will Stay for Some Time
After the first couple of months of 2021, things started going back to normal as Covid figures gradually decreased and the vaccination rate increased.
But to everyone's utter surprise, a new Covid-19 variant (Delta) cropped up and is more contagious than the earlier variants, making it more deadly.
According to the Centers for Disease Control and Prevention (CDC), 51.7% of new COVID cases are estimated to be caused by the Delta strain of the coronavirus.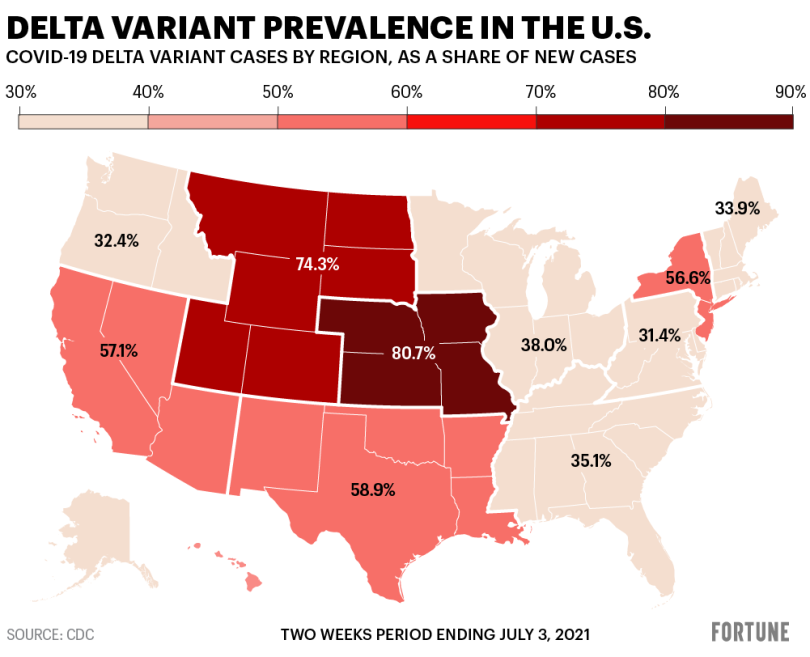 [Image credit: Fortune]
This means that the pandemic will continue for some time, and consumer habits will remain the same as last year.
The pandemic has already accelerated an already-rising digital economy. These changes are marketwide and not temporary. So, we could see more delivery demands and witness permanent "here to stay" behavior.
2. Consumers' Demand for Faster Deliveries Will Increase
As delivery numbers continue to accelerate, so too will consumers' demands for faster deliveries.
According to a report, 24% of U.S. online shoppers opted for same-day delivery for purchases from pure online merchants last year. And, even as early as this year, the percentage has already increased to 36%.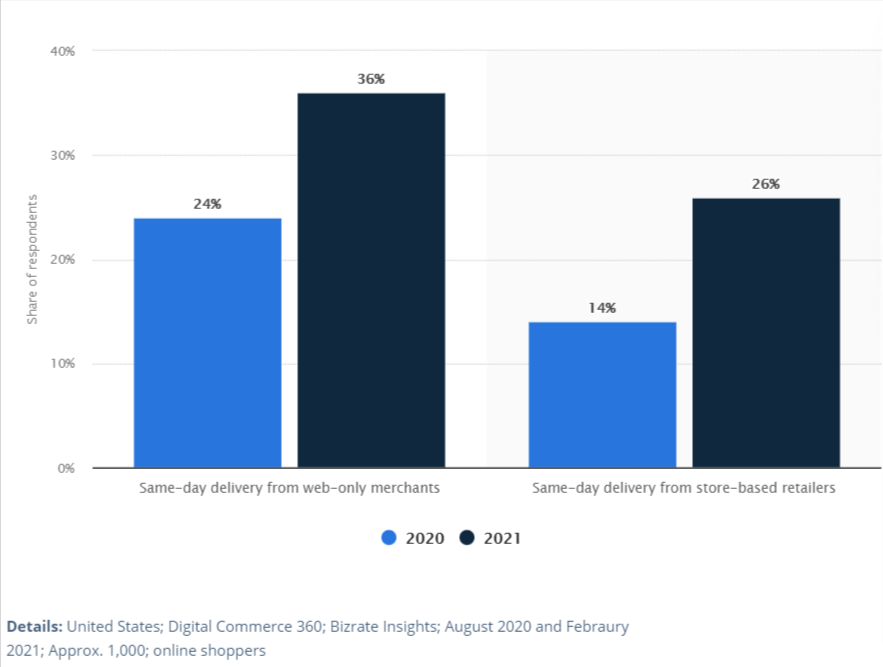 [Image credit: Statista]
So, companies that refuse to offer overnight shipping or same-day delivery will simply lose customers to their competitors.
Therefore, one of the key delivery logistics trends would be for companies to offer multiple delivery options to offer quick deliveries and win their share of customers' spending.
Also, you can expect to see companies taking ownership of their eCommerce and fulfillment, as 82% of customers prefer purchasing from a brand with multiple delivery options.
Want To See For Yourself How Route4Me Can Boost Your Profits?
Whether you want to slash the time it takes you to plan routes for your drivers, increase the number of stops they can make, or keep your customers satisfied knowing that your drivers show up on time… Route4Me helps you achieve that!
3. The Demand for Delivery Automation Systems Will Grow
As the demand for delivery increases, the value of delivery automation will naturally shoot up too.
So, one of the delivery logistics trends we can expect is a growth in the adoption of tools that would make deliveries faster and automate the logistics delivery process.
For example, both home delivery logistics companies and other logistics delivery companies will start adopting logistics delivery management software to automate their route planning and scheduling and plan well-optimized delivery routes with directions to work for last-mile drivers.
Such optimized routes mean more deliveries in less time with zero hassles. This is critical as the delivery demand will keep increasing.
You may also see some exciting developments in self-driving commercial vehicles like Tesla's automated truck.
4. Sharing Economy Will See a Boost in the Delivery Industry
According to a report, the global sharing economy will be worth $335 Billion by 2025.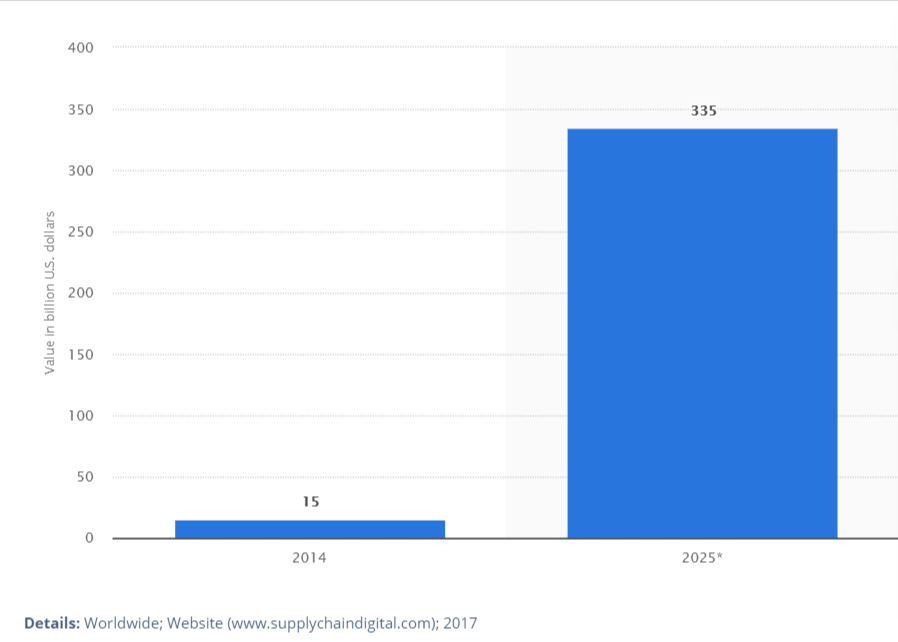 [Image credit: Statista]
It has also already disrupted asset-heavy industries, such as hospitality (Airbnb), and will now disrupt the delivery logistics industry.
The timing is just right for the strategic shift in logistics delivery service providers' operating models as the demand for same-day or quick deliveries are at an all-time high.
According to a survey, 68% of consumers said fast shipping would lead them to place an online order.
In addition, there's currently a critical commercial driver shortage.
The delivery and logistics industry is facing a tremendous uphill battle in attracting and retaining talent. The credit goes to the unprecedented mix of circumstances following the pandemic.
This driver shortage crisis is here to stay. According to the American Trucking Associations (ATA), the industry was short 60,800 drivers late 2018.
If left unchecked, that shortage could increase to over 160,000 drivers nationally by 2028, said Bob Costello, the ATA's chief economist.
So, to cope with the rising driver shortage and meet the demand for faster deliveries, the sharing economy will see unprecedented growth as a delivery logistics trend.
We have already seen how Uber and Doordash set up driver networks to deliver packages to consumers by using their vehicles.
We could expect this to spread to eCommerce companies and retailers as well. For example, store staff may deliver packages to customers while driving home to earn extra cash.
Also, you would see companies sharing their resources and fleets to become more efficient.
For instance, a restaurant fleet with spare time after the lunch rush hour could help a retailer struggling to meet the rising demands during the peak holiday season.
5. Customers Would Demand More Transparency
Gone are the days when you could inform your customers about their scheduled delivery date. They now want to know where precisely their packages are at all times, especially when they're time-sensitive.
We believe such demand for transparency and clarity on their packages' whereabouts will continue to grow this year and in subsequent years.
Route4Me's route planner helps you keep up with the demand for such transparency.
It comes with a customer portal that enables your customers to track their delivery logistics statuses in real-time. A customer just needs to log into Route4Me (using a tracking number or an Account ID) to monitor their inbound visit's status.
Furthermore, it's up to you how much (or little) information you want to reveal about the visit. So, you can show driver identity, customer fields, estimated arrival times, and much more.
Route4Me's map route planner also comes with a customer alerting and notification feature that helps notify your customers whenever their packages are out for delivery or near their location.
You can configure and send an automatic SMS text message and email with a tracking URL so your customers can see where the driver is as they approach.
6. Sustainable Delivery Logistics Will Become More Important
Consumers are becoming increasingly climate-conscious and prefer buying from companies with sustainable, eco-friendly reputations. So, whether it's a company's carbon footprint or packaging, people are turning away from unsustainable brands.
According to a study by DS Smith, 85% of consumers prefer buying products that use eco-friendly packaging materials.
Around 29% of consumers also acknowledged that they have stopped purchasing particular brands because their packaging was not sustainable.
Many companies have even started implementing carbon footprint labels to communicate their environmental impact information to consumers.
Such a paradigm shift towards purchasing environment-friendly brands is happening everywhere.
Even EU consumers are willing to make sustainable choices, according to the European Consumer Organisation.
Looking at the current environmental situation, sustainable delivery logistics will be here for a long time and for a good reason. There's simply no escaping the importance of sustainable logistics.
So, whether it's including electric vehicles in your delivery fleet or using food delivery logistics software to plan fuel-efficient routes, you need to add sustainable delivery logistics to your strategy as soon as possible.
Learn how last-mile delivery companies can reduce their carbon footprint.
Conclusion about Delivery Logistics Trends
This is a golden period for all delivery and logistics service providers to leave an ever-lasting impression on their customers.
The delivery industry is experiencing a surge during a time when most other companies are experiencing mounting losses.
As delivery logistics trends, we'll see more companies offering quick last-mile delivery logistics services at a fraction of the cost with an Uber-like experience in the coming years. To do so, they need to make strategic investment decisions in their technology.
The current trends in delivery services are changing the way we all have traditionally looked at delivery logistics. We now see a data intelligence challenge that needs orchestration.
Route4Me route optimizer can leverage this data to optimize and automate on-demand delivery logistics and fulfillment for maximum operational and logistical efficiency.
Suppose you can offer a hassle-free fulfillment experience that includes live updates and real-time communications. With this, you'll see a boost in loyalty and conversion rates, gaining an advantage in the rest of 2021 and the coming years.
This is your time to become an inseparable part of your customers' lives even after the pandemic by offering world-class delivery services with utmost speed and convenience.
So, are you ready to take your delivery experience to the next level?
Want To See For Yourself How Route4Me Can Boost Your Profits?
Whether you want to slash the time it takes you to plan routes for your drivers, increase the number of stops they can make, or keep your customers satisfied knowing that your drivers show up on time… Route4Me helps you achieve that!