With the turn of the century, the demand for home deliveries is on the rise. Along with this upward trend is the booming industry for delivery drivers. One of the most attractive professions to this end is being an Amazon delivery driver.
Our team researched how much Amazon drivers make and the benefits of working as one.
Table of Contents
How Much Do Amazon Drivers Earn?
On average, the minimum wage for drivers ranges from $9 to $45 per hour. The national average Amazon delivery driver pay is around $16, similar to other drivers from competing delivery service providers.
Amazon also offers good benefits to employees, making the position desirable and lucrative.
What you make as an Amazon delivery driver depends on several factors. The number of years spent in the company, the location, and the nature of your employment.
Amazon delivery drivers typically earn higher salaries than Amazon Flex drivers. There's no set value in how much Amazon employees earn.
Driver Salary Per Country
Amazon is a multinational enterprise which means various offices of Amazon deliver packages even to countries outside the U.S. You can expect varying salaries in different parts of the world (like in the U.S. and Canada). We'll cover three countries below:
United Kingdom
Unfortunately, U.K. Amazon delivery guys earn a bit less than U.S. employees. The average hourly salary for Amazon U.K. delivery drivers is around £13.50, equivalent to about $16.25.
However, similar to the United States, the wage depends on what delivery block you're focused on. For example, pay in Scotland ranges from £15 to £17 per hour, while drivers in Wales earn an hourly wage of about £13 to £15.f
United States
The United States is Amazon's home country. For this reason, Amazon offers better pay per hour for delivery jobs. Amazon driver salary information from Indeed indicates that their hourly salary is roughly $17.60.
This rate applies to exclusive Amazon employees, third-party individuals who signed up for delivery service partnerships, and those who own vehicles using the Amazon Flex app.
Typically, a delivery driver working in cities like California and Big Apple earns higher, being $21.50 to $25 in San Francisco and $18.50 to $22.50 in New York.
Australia
An Amazon delivery driver living in the Land Down Under earns higher than the U.S. and the U.K. According to online resources, the average earnings of an Amazon delivery driver in
Aussie is AUD 28.75 per hour – equivalent to roughly $20 in the U.S.
Like any other country, Amazon delivery drivers earn differently depending on the region. In New South Wales, for example, an Amazon Flex driver makes a minimum of around 27.83 AUD.
Want To See For Yourself How Route4Me Can Help Amazon Drivers Increase Earning?
Whether you want to complete deliveries quickly, make more stops in less time, or deliver on time… Route4Me helps you achieve that!
What are the Benefits?
Family Care
Employees at Amazon have access to a variety of child care and elder care options. For example, employees' parents can receive discounts at certain daycare centers.
Parents of children with developmental disabilities like ADHD and autism also get free resources, all care of Amazon. These are perks you can't easily search for among other companies.
Health Care
Others also covet the health coverage of Amazon. Amazon offers different health insurance plans for employees, including dental insurance, vision, access to prescription drugs, and even health spending packages.
An employee also gets access to Amazon Care which means that workers and their family members get 24/7 service benefits like discounted doctor consultations and free nurse consultations.
Parental Leave
Another reason to get on the next Amazon job listings you see is their parental leave offer for women. Birthing mothers get access to 20 weeks of paid leave, which means you can still earn the same pay even with no deliveries.
Moreover, the "Ramp Back" program also offers parents 8 weeks of the partial and flexible delivery process to slowly reel parents back into the industry.
Paid Time Off
Sick days happen in the workplace, which is perfectly normal, especially for an Amazon driver who works busy days. Amazon is an excellent option for job seekers with their paid time off benefits.
Employees who get sick or take days off for mental and physical reasons are paid their regular salary. Alternatively, you can have those days paid out (or cashed out) if you don't take them.
Retirement
Retirement plans are never off the table if you're an Amazon employee, regardless of location and branch. A full-time delivery driver is eligible for a 401(k) plan and life insurance. They can also receive both short and long-term pay packages for disability.
Financial Support
Of course, employees under Amazon's employ get exclusive gift shopping discount perks for Amazon orders. The annual discounts are significant benefits to consider if you're into online shopping. Moreover, Amazon can assist employees with eligible adoption fees.
How Do Amazon Drivers Get Paid?
Regardless of your role, Amazon workers, including an Amazon driver, are paid through direct deposit. The only difference may be the frequency by which you receive the salary.
Otherwise, those who work for DSP independent contractors are the ones that will pay you.
On the other hand, Flex gig workers will receive the salary in their declared banking information.
How To Get Started As An Amazon Driver
The first step begins with the application for job seekers looking to become Amazon delivery drivers. You'll be asked to fill out a form requesting information like your educational attainment and work experience.
Afterward, you will be required to complete an assessment and provide which shift you like to work in.
The next step is watching a job preview where everything will be explained. Once you complete it, you'll have to agree to a background check. Then you'll cover all other administrative details like salaries, etc.
Note: You don't need a commercial driver's license to work for Amazon!
What is Amazon Flex?
Amazon Flex is a delivery service for an independent contractor. Amazon Flex drivers work limited hours during their free time through the app, just like Lyft drivers. They also get paid by the hour but don't get more deliveries than regular employees.
Amazon doesn't offer car maintenance for Flex workers, but they benefit from car insurance. This car insurance comes at no cost.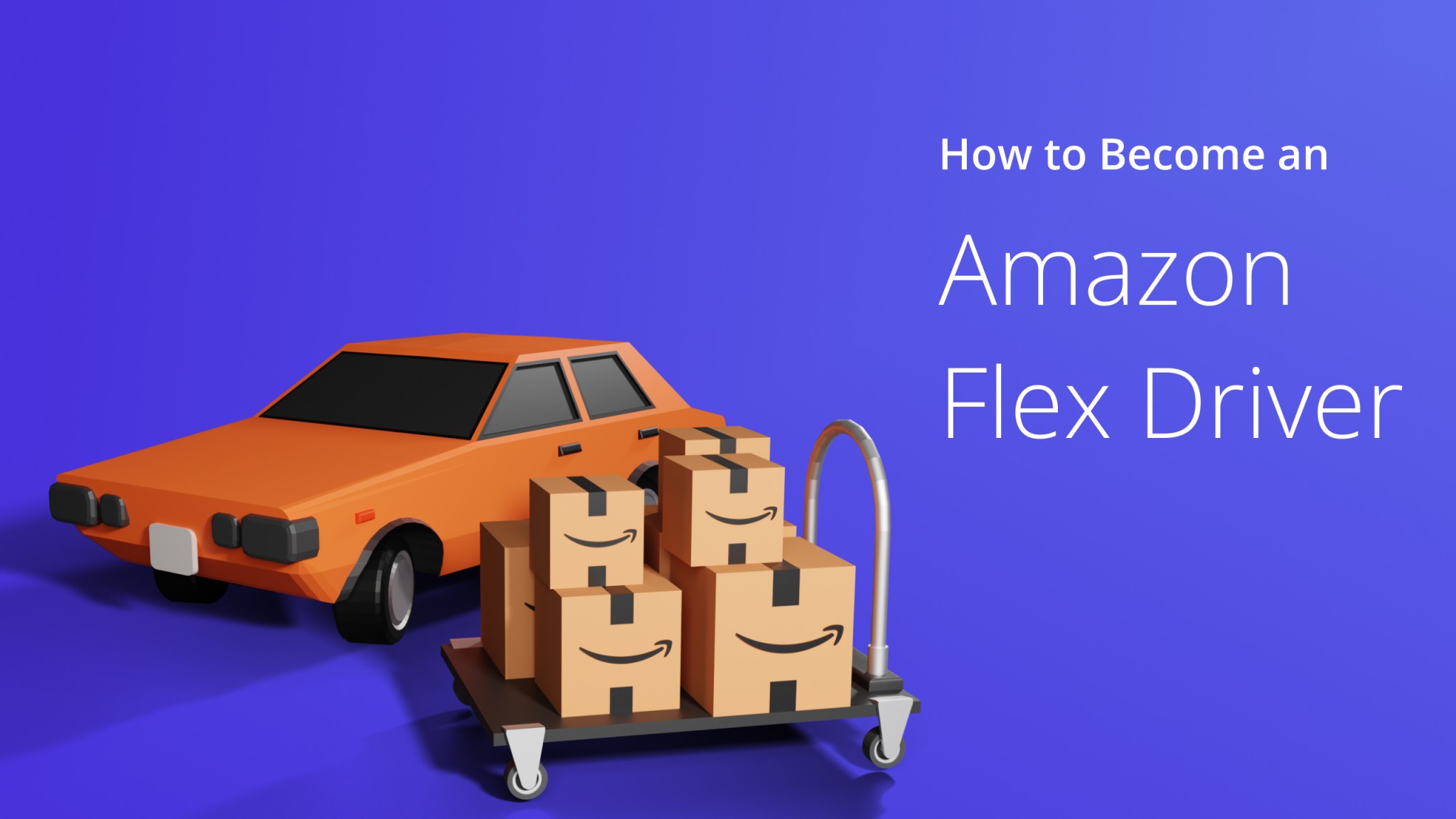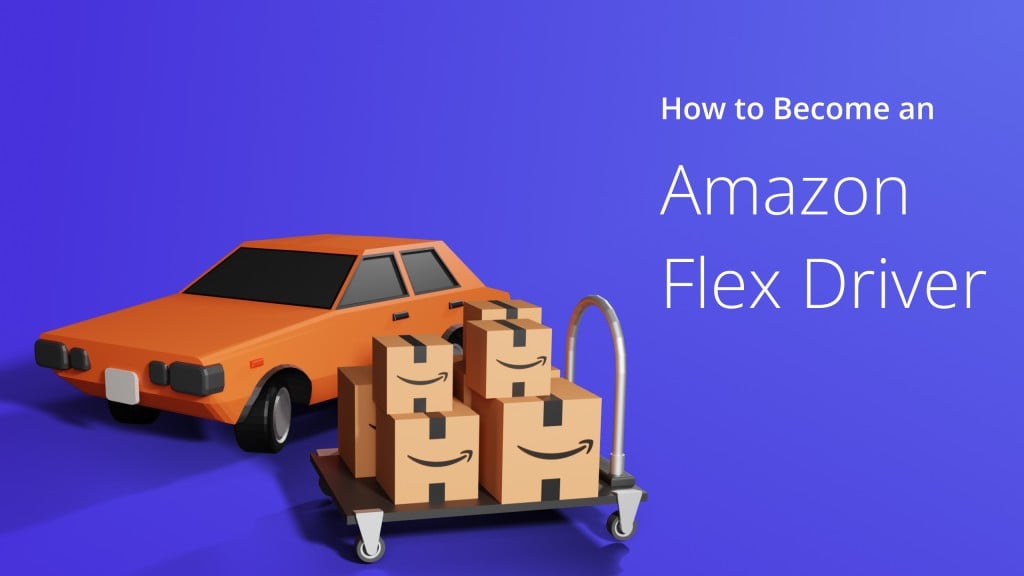 FAQs
Do you need a CDL to drive for Amazon?
A CDL or a Commercial Driver's License is not required to become an Amazon driver. A regular license is all that's needed to pass citations and accident records.
Are Amazon drivers eligible for tips?
The rule of thumb is that if you're happy with the customer service displayed by the driver, you are more than welcome to show your appreciation via tips.
Through this, the drivers are the ones that reap the benefits of their hard work.
How many packages does an Amazon driver deliver a day?
Amazon is known to ship around 1.6 million parcels per day. From an individual driver's perspective, that's equal to 170 to 375 packages daily, not just on the prime week.
Do Amazon drivers pay for fuel?
Yes, Amazon is the one that taps the tank, so drivers don't have to worry about gas prices during their delivery service. With the higher cost of fuel nowadays, it's common to find aspiring drivers asking if Amazon covers fuel costs, so the company provides this for them.
Final Thoughts
If you're looking for a driving job or know someone searching for a delivery position, being an Amazon delivery driver is a lucrative and benefit-packed option.
The pay is good, and there are perks like no other. Just have all the requirements ready, and you can be a full-time employee or a Flex driver that earns handsomely during your spare time.
You can check out Route 4 Me and avail of their 7-day free trial so that you can plan your delivery routes for a more convenient and effective delivery run!
Want To See For Yourself How Route4Me Can Help Amazon Drivers Increase Earning?
Whether you want to complete deliveries quickly, make more stops in less time, or deliver on time… Route4Me helps you achieve that!