Since the coronavirus pandemic, online food delivery apps, including grocery delivery services, have boosted engagement. They provided a safe and convenient service to consumers during the pandemic.
Instacart, a grocery delivery service, saw growth during the pandemic, and it's not slowing down.
Instacart might be a great option if you are searching for a side gig due to its high demand. If you want to know how Instacart works for drivers, keep scrolling.
Table of Contents
How Instacart Driving Works
Customers choose a grocery store, and they order online. They agree to a delivery charge and tip. Once you accept an order, you will drive to the grocery store and shop for the customers.
As an Instacart driver, you deliver groceries to the end customer. Basically, you earn money as a personal grocery shopper.
How Instacart Drivers Make Money
Number Of Items
When a customer orders more items, an Instacart driver is paid more. The average rate is $0.40 per item, but the price varies according to your city.
Customer Tips
Customers give more tips if you provide excellent service and deliver the items quickly.
Per Mile Rate
Your rate depends on the distance you drive from the store to the drop-off location. It's usually $0.60 per mile, but it varies per city.
Peak Boosts
Instacart offers bonuses for Instacart drivers when they work during peak hours and in busy locations.
Want to See For Yourself How RouteMe Can Help You Increase Earning?
Whether you want to plan the best routes, reduce your driving time, or make more stops in less time...Route4Me helps you achieve that!
Is It Worth It To Be An Instacart Driver?
Instacart is worth it if you are looking for a side hustle that lets you make good money. You can work on your own time and earn around $15-$20 per hour.
You don't need any prior experience; there's also a minimum driver and car requirement to be an Instacart driver. You can cash out your earnings daily.
How To Become An Instacart Driver
For the requirements, you need to be 18 years or older. You are required to be eligible to work in the U.S or Canada.
You need a checking account, a valid driver's license, a Social Security Number, a smartphone with Android 5.0 or later, or iOS 9 or later with a data plan. You must also pass the background check.
You can send your application online if you are qualified. You need to complete the paperwork and activate the Instacart payment card.
Things To Consider Before Applying
Shopping Locations
Instacart offers services in cities across the U.S and Canada. Some of the few cities where you can find opportunities to be an Instacart driver are Phoenix, Los Angeles, San Francisco Bay Area, Washington, D.C., Miami, Chicago, Kansas City, Lexington, Boston, Detroit, and New Jersey.
You can check out Instacart's website to see the complete list of cities where they offer grocery delivery.
Salary & Perks
One of the perks of being an Instacart driver is flexible hours. You can also get higher-paying batches and gas and oil discounts with the Cart Star program. The Cart Star Program is a rewards program that celebrates shoppers for constantly delivering outstanding service.
As for the salary, you get paid after each batch you accept and successfully complete. Your compensation depends on the number of orders, per mile rate, peak boosts, and customer tips.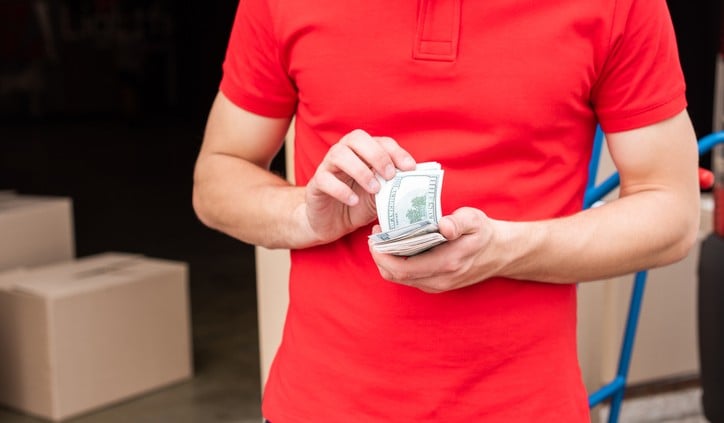 Terms of Payment
In Instacart, there's instant payout. You get paid weekly on Friday, but you can cash out your pay daily.
Insurance
As an Instacart driver, you are required to maintain your own auto insurance. However, Instacart provides liability coverage at particular points during your delivery.
FAQs
How many Instacart batches can drivers do in a day?
Instacart drivers can do two to four batches a day. Batches are different orders from the same store combined in one task. However, more batches are offered first to shoppers with higher ratings. Shoppers with less than 5-star ratings have access to fewer batches.
Can someone ride with you while doing Instacart?
No, someone can't ride with you while doing Instacart. It's against Instacart's terms of service. Instacart shopper accounts are authorized individually, so no one else is allowed to ride with you while doing your job as an Instacart shopper.
Final Thoughts
Instacart offers an opportunity for those looking for a side gig to earn money. There are no complex requirements and the hours are flexible, so it's easier to apply.
As an Instacart driver, you accept orders from customers and go to the grocery stores to shop for them. You then deliver groceries to your customers.
Instacart offers drivers an excellent earning opportunity, earning around $15-$20 per hour depending on the number of items ordered and per mileage rate.
Instacart also offers perks to drivers, such as gas discounts and access to higher-paying batches, given you have a 5-star rating.
Check out Route4Me route planner for more driver tips.
Want to See For Yourself How RouteMe Can Help You Increase Earning?
Whether you want to plan the best routes, reduce your driving time, or make more stops in less time...Route4Me helps you achieve that!