It's time to get rid of static route planning and move to dynamic routing. Static route planning is only satisfactory when stops and volumes are consistent and field reps are able to follow the same fixed routes every day. But such a lack of flexibility is a costly drawback in today's dynamic environment, and thus it is no longer effective.
Volumes vary in real life. So stringent adherence to pre-set routes is inefficient. Routes run over or under capacity, and resources, time, and money are wasted, while competitiveness and profits decline. This is why you need to change your processes and approach from static route planning to dynamic route planning; at least if you want to remain competitive.
Here are more reasons why it's time to revise your old habits, and consider dynamic routing as a smarter way of doing business.
Automated and Accurate Sequencing of Stops
Sequencing plays a critical role in route optimization. If you don't sequence your stops correctly, your field reps may not be able to make the right stops at the right time.
This will become even more evident if you bring in new clients that are located far away from your depot. Making all of your stops on time could become even more challenging if you or your drivers are unfamiliar with new areas, and this could lead to some critical blunders. Also, you could struggle even more if the number of stops your drivers need to cover continually increases infrequent intervals. This is why you need a route planner.
A last mile delivery app ensures automated sequencing that looks at the route's full workload and then optimizes the route. The software does this while also accounting for all possible constraints, such as load and weight capacity, traffic conditions, weather conditions, and left turns, which can be set in the software. You just need to add the customer addresses in the map route planner, and well-optimized routes will be ready for you in just 30 seconds.
Can your static route planning process help you plan routes that quickly, and also without compromising on the quality of routes created?
So with routing and scheduling software, you can transform your outdated route scheduling process, which will lead to fewer driving miles, greater customer satisfaction, happier employees, and, most importantly, improved profits for your business. Isn't that what all business owners strive for?
Want To See For Yourself How Route4Me Can Boost Your Profits?
Whether you want to slash the time it takes you to plan routes for your drivers, increase the number of stops they can make, or keep your customers satisfied knowing that your drivers show up on time… Route4Me helps you achieve that!
More Reliable ETAs
Which home delivery service provider would sound more appealing to your customers? The one that promises delivery between 12:00 and 12.30, or the one that promises delivery between 12:00 and 17:00?
The first one, right? Obviously, your clients have got other things to do and can't spend their entire day waiting for a delivery. And, if you value your customers' time by providing more accurate ETAs or shorter delivery time windows, they'll be happier and more satisfied with your service.
Also, if a customer calls you to ask for an ETA, (s)he will be more satisfied if you can give an accurate estimate. And happy customers will reward you with long-term associations, which mean steady revenue and a profitable business.
Moreover, with accurate ETAs, your customers will most likely be available to receive their packages as required. This will improve first-time delivery rates, saving you money, as well as the hassle involved in scheduling a second visit to the same address. First-time deliveries will also further raise customer satisfaction levels.
This is where routing system software will be of great help. A multiple destination route planner provides you with well-optimized routes, meaning that you know exactly how long it will take to reach a specific customer, even before your drivers hit the road. In this way, you can update them about the ETAs accordingly.
Also, route planner software comes with vehicle tracking capabilities that help you monitor what your drivers are doing on the road in real time. So you will immediately learn if a driver is falling behind schedule and whether (s)he will miss an important delivery window before it's too late. In this way, you'll have time to either reroute another driver or, at the very least, let the client know of the delay ahead of time.
Optimal Resource Utilization and Management
With static route planning, you may need one driver, one vehicle and eight hours to make all the deliveries on a single route. But with dynamic routing, you may eventually find out that you only need 6.5 hours for the same route. So, you'll be able to create an additional 1.5 hours of vehicle and driver capacity. And that's just for one route. Reproducing such results for all your routes can free up weeks or even months of capacity.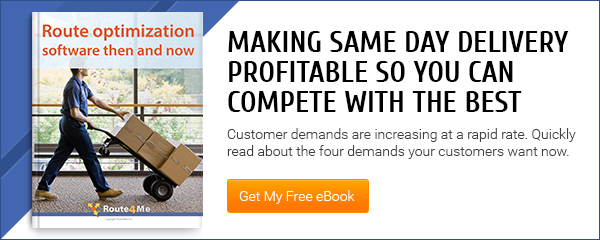 Such increased capacity will help you improve the job allocation process, take on additional deliveries and orders, reduce idle times and overtime (which often happens when you don't assign a balanced workload), and reduce reliance on drivers.
Controlled Consequences of Unexpected Events
Dynamic routing helps you respond quickly and effectively to any disruption that might affect scheduled deliveries or appointments, and which could be fatal to your business.
For example, if a vehicle breaks down in the middle of the road, you can immediately re-optimize the routes with the help of business optimization software to meet all customer deadlines. This can be achieved by assigning the jobs to other available drivers who are close to the affected customers. This reduces the possibility of customer delays.
Also, you can set up speed alerts in delivery management software to immediately learn when any driver exceeds the speed limit. In this way, you can communicate with the driver, in real time, to rectify the behavior. This will reduce your gas expenses, along with the possibilities of any road mishaps. Such incidents could reduce your profits heavily as you'll have additional expenses (in the form of legal costs, medical care, and property damages) as well as reduced income due to the cost of lost productivity.
So would you still prefer to use static route planning? Have you explored route optimization software before? Do you have any questions or comments? Please feel free to leave these below.
Also, here are three quick questions you should ask yourself to ensure that you understand the benefits of dynamic routing:
How can vehicle route tracking help you provide reliable ETAs?
How does dynamic routing help you set the truck directions right?
How can dispatch software help you control aggressive driving behavior?
Want To See For Yourself How Route4Me Can Boost Your Profits?
Whether you want to slash the time it takes you to plan routes for your drivers, increase the number of stops they can make, or keep your customers satisfied knowing that your drivers show up on time… Route4Me helps you achieve that!