What is it that makes FedEx, UPS, and DHL so successful?
Most people believe it's due to their employees. After all, they hire the best people in the world.
Not quite.
It's actually due to their business processes… which help their employees reach the top of their game.
Processes, not employees, allowed them to explode in growth & profit.
Every business goes through the cumbersome tasks of hiring new employees and managing operations. However, being highly dependent on the employees can prove to be a nightmare for any business.
Keep the following list of (sometimes hidden) costs in mind every time a key employee leaves your company.
The Cost of Recruiting
Let's say that you have a Field Sales Manager who has been performing extraordinarily… consistently exceeding the sales targets every month.
Your revenue number looks great, your business is profitable and you are happy.
But he's poached from you by the competition.
What happens to your sales numbers?
Needless to say, you would need to hire a similar competent Field Sales Manager to drive your sales.
But, the cost of finding and hiring the right person can be hefty. There are several potentially high-cost tasks involved in the recruitment process, such as:
Advertisement expenses,
The time cost of internal recruiting,
The time cost of reviewing the resumes, shortlisting the applicants and contacting the candidates,
The time cost involved in conducting the interviews, and various pre-employment assessment tests.
And you're not even guaranteed a perfect fit!
The new Field Sales Manager may prove to be an ineffective replacement.
So you start the entire hiring process all over again.
Can you afford that?
The Cost of Training
Even if you found a perfect replacement after a rigorous recruitment process, the job doesn't end there.
Part one is done.
You still need to ensure that the new employee is trained to do things your way.
"Calculate the cost of both structured training (including materials) and the time of managers and key coworkers to train the new employee to the point of 100% productivity," said entrepreneur and consultant, Scott Allen.
Your business may need to invest 10-20% or more of an employee's compensation in training over the next two to three years.
Don't consider training as a one-time thing.
For your new employee to exceed your expectation, he or she needs continuous training.
Overtime Expenses
While finding your next rock star employee, you may need to pay overtime.
For example, when your top driver leaves, other drivers will need to take on their responsibilities.
More routes and longer days until you find a good replacement.
This may lead to you being required to pay overtime compensation.
Another expense until you find the right replacement.
Want To See For Yourself How Route4Me Can Boost Your Profits?
Whether you want to slash the time it takes you to plan routes for your drivers, increase the number of stops they can make, or keep your customers satisfied knowing that your drivers show up on time… Route4Me helps you achieve that!
Data Security Threat
The threat to data security is crucial. Yet, most businesses fail to consider it.
Not so much a concern with drivers, but something to consider with managers that handle sensitive information.
Your business may be doing well because of your top managers and you should be pretty happy about it.
For example, if your field sales manager has access to your critical data, it goes with them when they leave.
They might join your competitor and share your data with them. Imagine what damage it can cause to your business.
So, you should always have a data access policy in place to ensure that your employees only have access to the information they need… even if they are your top employees.
You might be working hard to build your business and a single breach can damage it at any time.
Can you leave that to chance?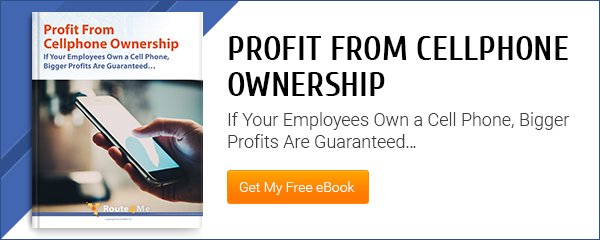 Time to Cover the Costs
You may train your new employee well, but it could take a significant amount of time to get your expenses covered and see a return on your investment.
According to a survey by the Harvard Business School, it takes 6.2 months for a typical mid-level manager to reach their break-even point.
That is alarming!
Also, according to William G. Bliss, a leader in the business advisory services, the first month after training is completed, a new employee functions at about 25% productivity.
This means the expense of productivity loss is 75% of the employee's compensation.
Bliss further mentions that the productivity only goes up by 50% between five and twelve weeks. Only at about the five month mark can a business expect a new hire to be in full swing.
You can imagine the loss you have to bear in these five to six months to get the full productivity of the new employee.
Don't "hope" your new employees will shine… know they will
Enough about problems.
So, the question now is: What solutions are available and how should business leaders handles these issues?
The solution is in proven processes.
…not relying on "hope", that your new hires are going to be great.
As an example, route planning software automates your field tasks.
If you have a logistics company, you won't need to depend on your drivers knowing the time and status of deliveries.
You can visualize every route and determine the time it will take the drivers to drive between each location inside the software.
You can track where your drivers are in real-time and what they are doing, giving you complete control over your driving operations. You can even generate reports and analyze how much you are spending on fuel and driving time.
A user-friendly system removes the need for complex user manuals or lengthy training sessions.
When you can automate and manage all your drivers in such an easy and efficient way… you don't have to worry about recruiting the best drivers or managers.
Imagine if you could leave the training expenses out of your total expenses…
…how much money you could save?
Do you have any processes in place or do you depend on your employees?
Which processes have you found to be instrumental in growing your business?
Want To See For Yourself How Route4Me Can Boost Your Profits?
Whether you want to slash the time it takes you to plan routes for your drivers, increase the number of stops they can make, or keep your customers satisfied knowing that your drivers show up on time… Route4Me helps you achieve that!