What if you didn't need drivers to make deliveries? What if you could use autonomous vehicles to send your client's order right to their doorstep?
This may sounds like some far off in the future, The Jetsons kind of stuff, but in fact autonomous vehicles are already on the streets today. 
In Australia, Domino's has started testing a self-driving pizza delivery vehicle. Stateside, Lyft and GM are working together to bring driverless taxis into their markets before the end of the year.
In 2017, Japan's biggest delivery service Yamato Transport plans to test autonomous vehicles for delivering items that their customers purchase online.
RELATED: Self-Driving Delivery Vehicles Coming to Japan in 2017
The latest big story in the autonomous vehicle industry is the development of shared autonomous vehicles (SAV) for public transportation. Civil engineer research teams in Sweden and Texas have been working together over the past few years to create this product.
These research teams have explored how using a fleet of "moderately sized" SAVs would work on the roads of Austin, Texas. Austin is one of the country's fastest-expanding cities, and traffic congestion is a huge problem there. The researchers estimate that each SAV could take the place of nine conventional vehicles.
That sounds a little high, sure, but think about what your own vehicle is doing while it's at the dispatch office. It's just sitting still, completely unproductive.
Now imagine that it's always out and active, picking up passengers and generating fairs without any breaks. Nine times as productive doesn't sound so crazy anymore, does it? 
The Texas/Sweden research teams estimate that their fleet could make 32,000 trips every day. That's right: 32,000 trips, every day, and that's just from one small fleet.
Want To See For Yourself How Route4Me Can Boost Your Profits?
Whether you want to slash the time it takes you to plan routes for your drivers, increase the number of stops they can make, or keep your customers satisfied knowing that your drivers show up on time… Route4Me helps you achieve that!
Industry analysts project that 10 – 50% of the total vehicles on the road could be replaced with a roving fleet of connected SAVs in the near future. Imagine how strange that would be, to look over at other drivers during your daily commute and see half of them reading the newspaper or watching YouTube instead of paying attention to the road (of course, that's not too different from how it is now in terms of people not paying attention to the road – but at least this new system will be safer). 
In 2014, Fagnant and Kockelman, the team behind Austin Simulations, looked into what a fleet of SAVs would provide as a business investment.
Even with the higher development costs that were present in 2014 (as technology advances, development costs drop) the team found that a SAV fleet would dependably generate at least a 19% return on investment.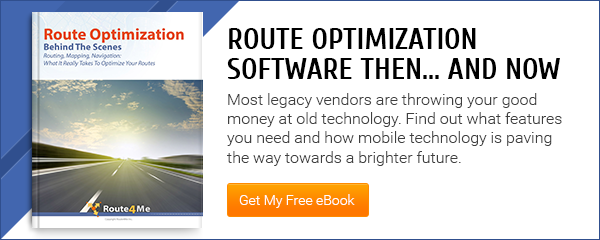 This proof of concept showed that the economic promise of autonomous vehicles should fuel (get it?) considerable interest and investment in the industry.
Seriously, the stock market only  averages about a 6% gain. Operating a SAV fleet promises gains more than three times greater!
Okay, let's take a look into the customer interactions with SAVs.
The typical wait time for an Uber is between one and five minutes. The average cost was $1.00/mile,  $5.64/trip. To put that figure into perspective, it's less than a third of Austin's average taxi fare. It's even less than what you'd pay for most fast food value meals.
With Uber's significantly lower prices and wait times, it's no wonder that taxi companies are pushing back against the app.
SAVs will probably have a similar impact on the busing industry. The only thing in the way is that many people don't trust that autonomous vehicles are safe. If the technology can prove itself over time with a well-documented safety record, though, it should be good to go.
Autonomous Vehicles Promise Significant Savings for Logistics Companies
From a logistics company's perspective, you've probably already done the math on this and figured out what you would save if you didn't have to pay a driver.
Now get this: you might be able to replace your dispatcher, too.
Orchestrating tens of thousands of trips every day is a challenge no matter what measures you have in place. One solution is to take advantage of most Americans' dependence on their smartphones and develop an app that would connect clients directly to the dispatcher.
Since this is already an electronic exchange, why not keep it all electronic and cut out the middleman by incorporating a well-designed dispatching/routing algorithm? This would save you a great deal of time and money. 
As great as this technology sounds, it still needs to overcome the negative associations many people have with autonomous vehicles. Without public buy-in, this will become just another gadget for the wealthy. But with more positive published studies and success stories rolling in, the public will likely grow more confident in this technology.
There's another important benefit to autonomous vehicles that we haven't touched on yet: environmental impact. SAVs will be able to control their fuel consumption to a degree that human beings just aren't capable, and they'll reduce the total number of cars on the road as well.  
Autonomous vehicles have shown every sign of being safer, more economical, and better for the environment than the transportation system we have in place today.
What do you think? When the technology is available, do you see yourself using driverless vehicles for your business? 
Want To See For Yourself How Route4Me Can Boost Your Profits?
Whether you want to slash the time it takes you to plan routes for your drivers, increase the number of stops they can make, or keep your customers satisfied knowing that your drivers show up on time… Route4Me helps you achieve that!