With businesses booming one after another, courier drivers have become one of the most in-demand jobs in the world. If you're in search of additional ways to earn money, a courier job could provide you with a decent salary.
But how much do couriers make? Read on as we share the average salary of courier drivers and answer more questions related to this.
Table of Contents
About Courier Salary Rates
Despite the varying hazards courier drivers face in life, they get paid enough salary for their hard work. In some cases, couriers are paid hourly or based on the successful packages delivered, making it an ideal part-time or full-time job.
Furthermore, courier driver salaries vary depending on the industry, workers' experience, country, or location. These workers can also get better salaries, benefits, and compensation by working at the right companies.
However, an independent contractor or part-time courier driver doesn't normally get benefits.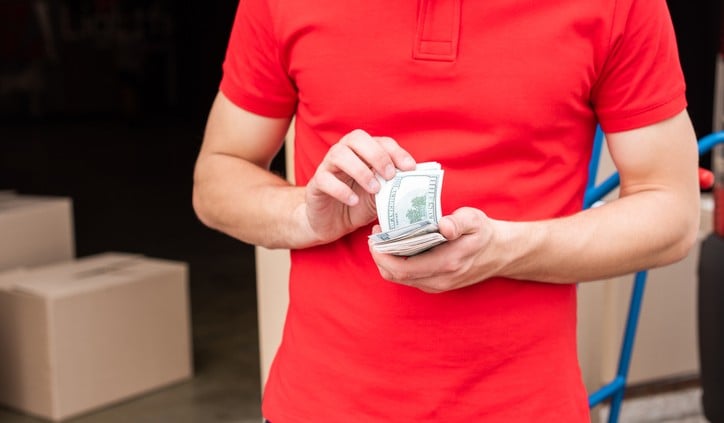 How Much Do They Really Make?
So how much does a courier really make? Excluding the benefits and compensation, courier drivers can expect an average salary of $19.15 per hour in the United States.
In Canada, the average salary for courier drivers is $19.35 per hour – slightly higher than the national average. Meanwhile, the national average salary for courier drivers in California is $20.78 per hour.
Nonetheless, this data are only an estimate of courier drivers' average salaries. The median salary of courier drivers may differ in other areas based on job title. Also, courier driver salary may be lower than this data based on their skills and experience.
Want to See For Yourself How RouteMe Can Help You Increase Earning?
Whether you want to plan well-optimized routes, reduce driving time, or make more stops in less time...Route4Me helps you achieve that!
Courier's Salary Estimates
Per Hour
The salaries per hour of a courier driver range around $17 to $20 on average. However, the hourly rate for courier driver salary can go as high as $30 to $80 in some companies and job-related titles.
Per Week
If in search of a part-time job, working as a courier driver in the highest paying cities allows you to earn around $707 to $855 per week. However, the expected salary for those employed by high-paying companies is over $1,000 weekly.
Per Month
In high-paying cities, the monthly expected courier driver salary is around $3,000 to $3,700. In the right company, the average salaries for couriers are around $4,344 to $4,988.
In addition, the average monthly salary can go higher than that for skilled courier drivers.
Per Year
On the other hand, if you're considering a permanent job as a courier driver, you can earn decent money in this field. The average salaries for couriers are around $36,809 to $44,498 per year, while the salaries of high-paying courier jobs range from around $68,765 to $165,543 annually.
Factors That Affect Their Salary Rates
Location
Similar to any job, location is the top factor that affects couriers' salaries. As seen in the chart below, the salaries of couriers differ in each city, and they may be higher than the national average. If working in a large area or traffic routes, it is also ideal to have a base salary.
Years Of Experience
Another factor that affects couriers' salary is the years of experience in the delivery field. Those with a decade of experience who deliver packages on time can get better salaries and even receive benefits and compensation.
However, good work ethics matters too, so work on them while gaining experience.
Additional Skills
Experience and good work ethics are essential for couriers, but having additional skills (which you could learn for free) gives you more edge in the industry and affects how much money employers are willing to pay.
For instance, couriers who deliver documents and other important stuff should learn route planning so they don't spend hours accomplishing deliveries [2].
Education & Certifications
Although couriers don't require "specific" education for the job, a high school diploma may be necessary. Couriers may require undergoing on-the-job training before being hired full-time.
Couriers should also have a driver's license, a clean driving record, and good recommendations from past employers to get better pay.
10 Cities That Offer The Highest Salary For Courier Jobs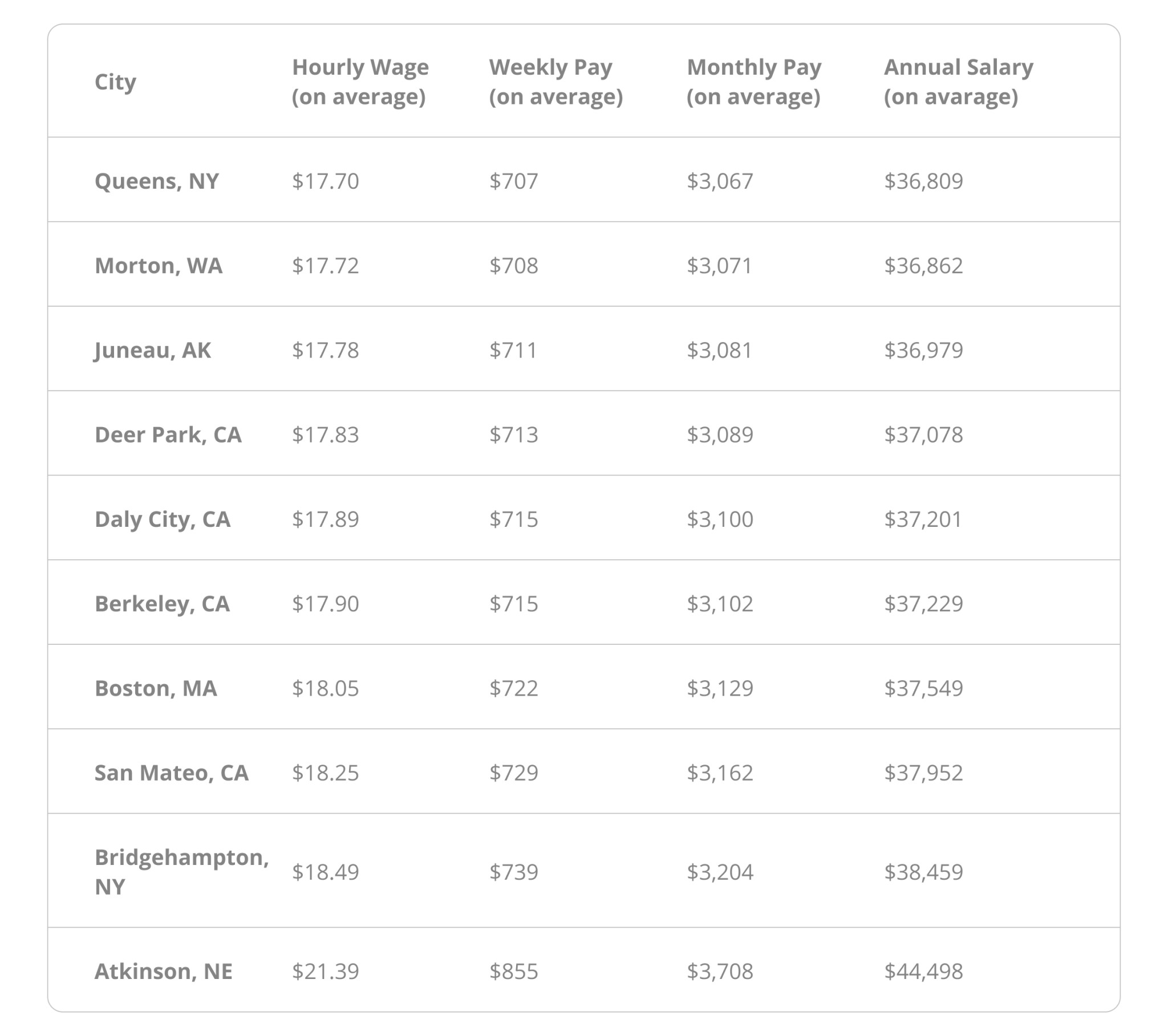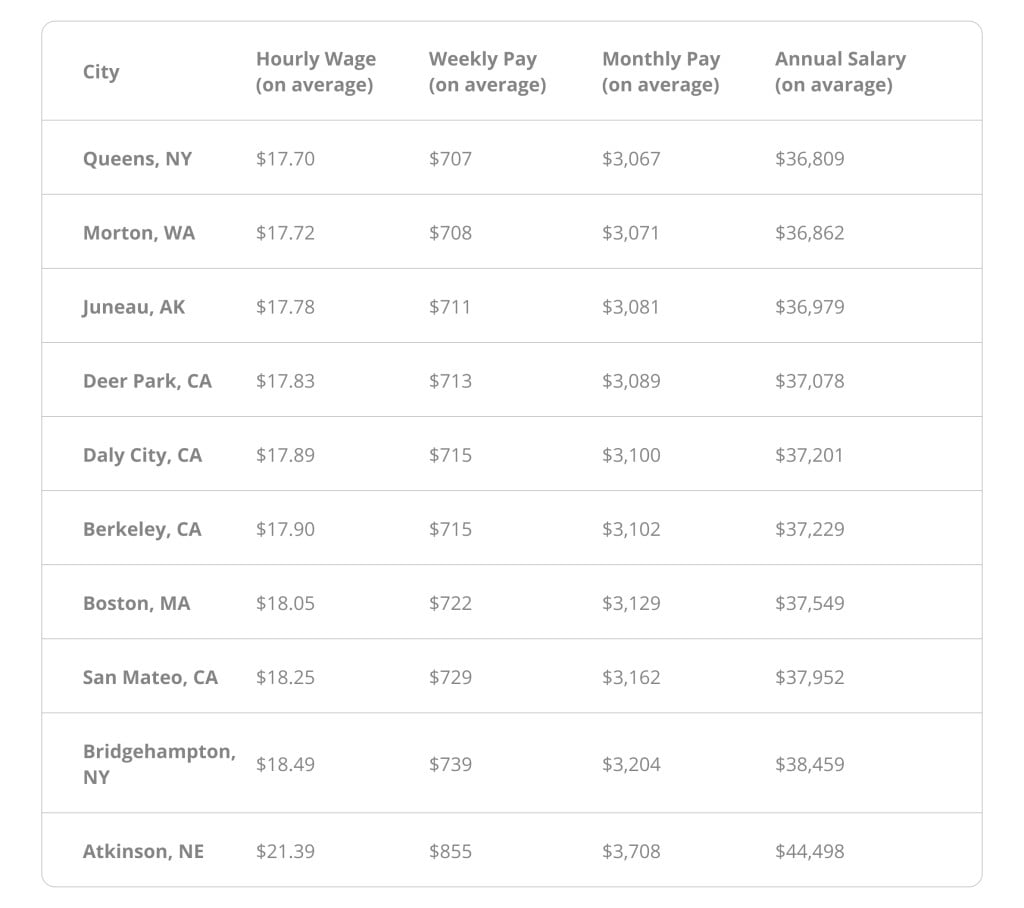 Top 5 Paying Careers Related To Courier Jobs in the U.S.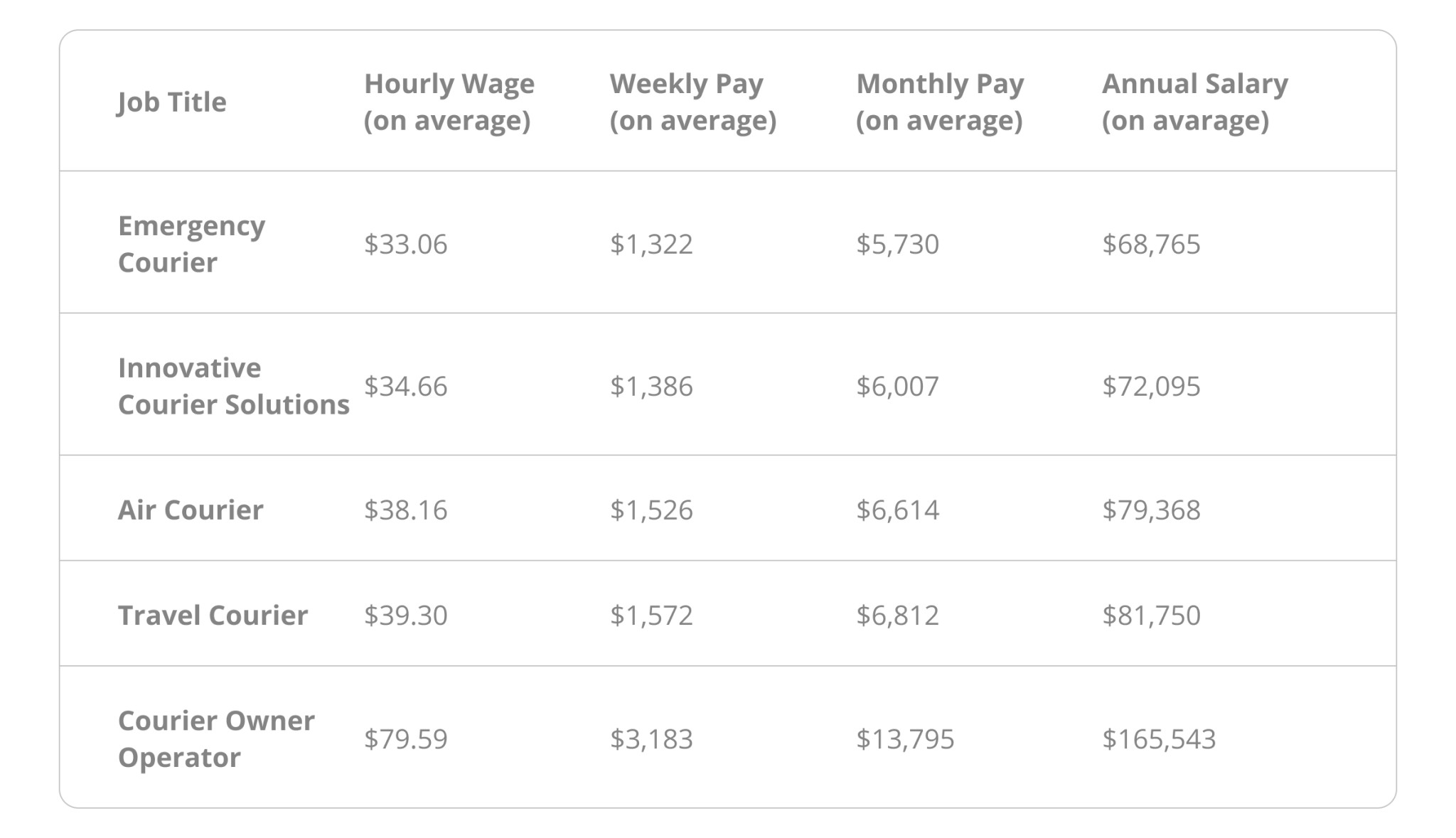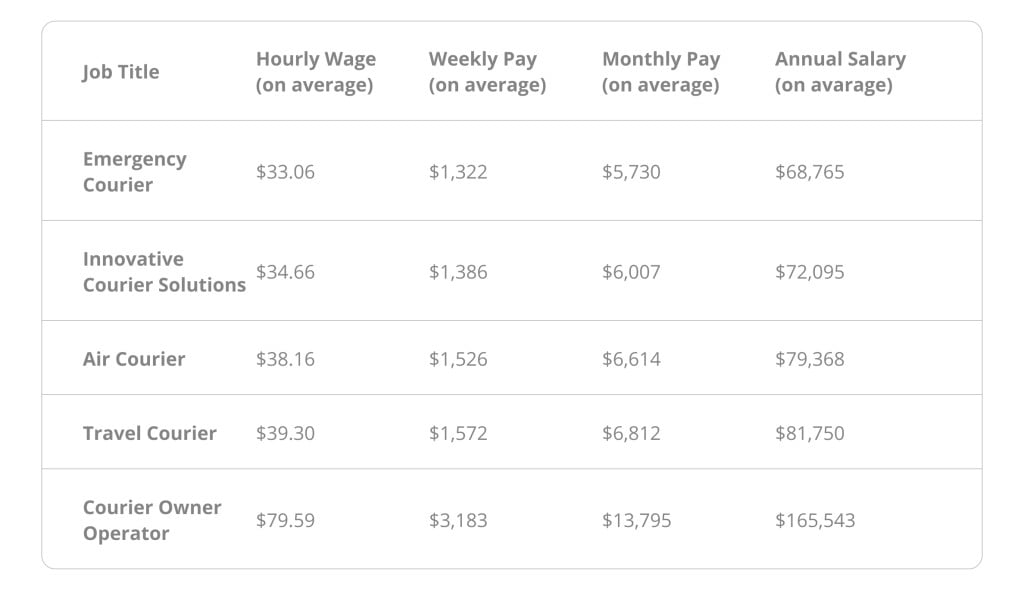 Top 5 High-Paying Companies For Courier Drivers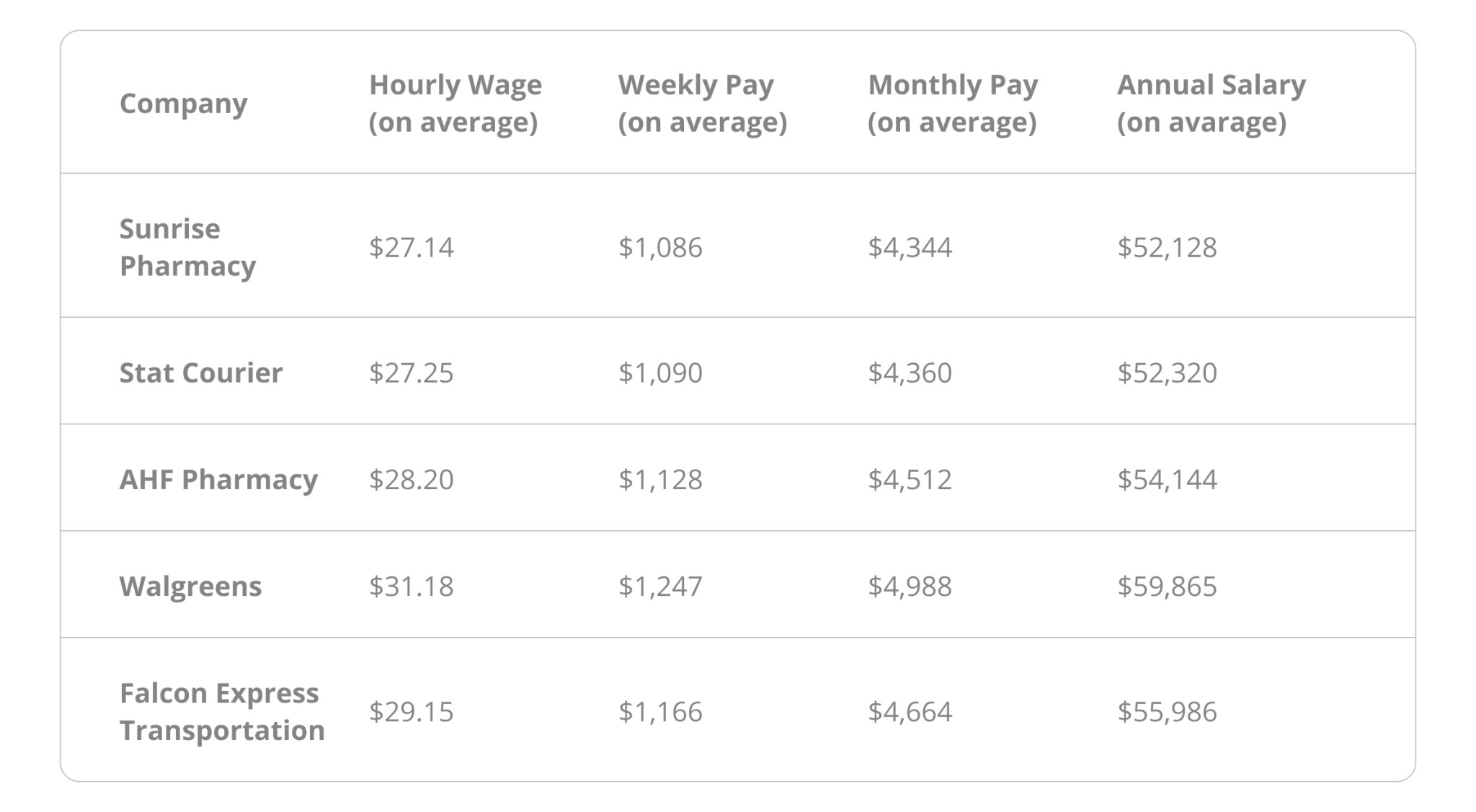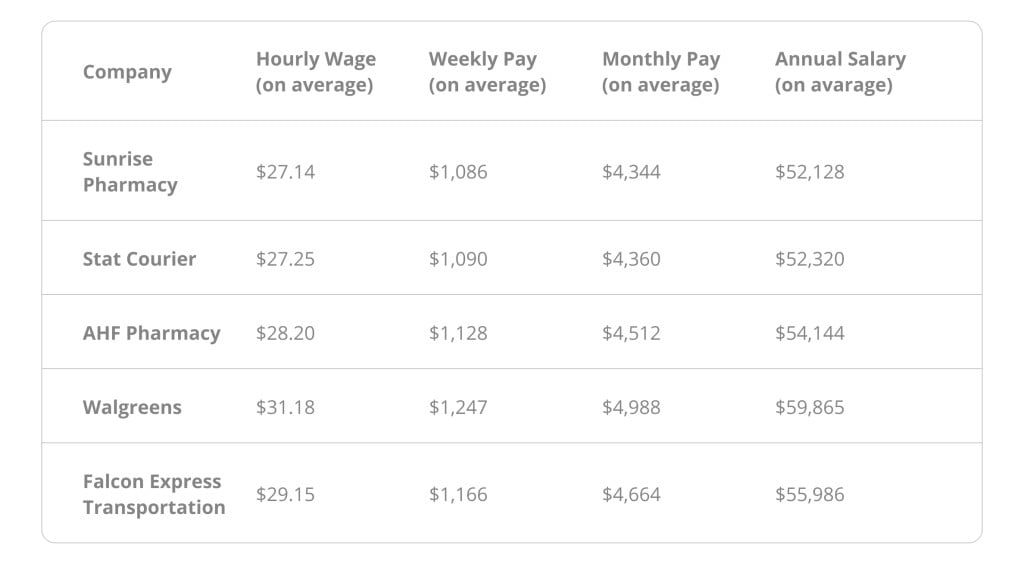 FAQs
What type of courier driver gets paid the most?
A courier owner operator has the highest salaries with related job types as they get paid $79.59 per hour or $165,543 annually.
This courier job involves truck owners who drive trucks and plan their routes to deliver cargo to clients. In short, courier owner-operators are not employees but business owners.
How much do couriers make per delivery?
It depends. While most courier jobs offer an average hourly rate, courier drivers working under food delivery services, such as Grubhub, are paid for every successful delivery.
Grubhub pays around $4 per delivery and may differ based on location, mileage, and how long the delivery takes.
How much do couriers make per mile?
It depends as some service charges per mile, especially for food delivery. For instance, Grubhub charges $0.22 per mile x 2 for food pick up, while $0.22 per mile x 3 for food drop off. Also, a $0.13 per minute x 30 minutes applies for driving and waiting for food.
Is it worth being a courier driver?
Yes, working as a courier driver is worth it since you can earn decent money as long as you work hard. In addition, you should develop skills essential in delivery, such as route planning to maximize your time and accomplish more deliveries.
Final Verdict
With more job openings for courier drivers, as per the U.S. Bureau of Labor Statistics, it is expected to have better job opportunities for these professions in the future.
So whether you're an employee or entrepreneur, courier driving is surely a profitable career or business venture.
And if you're looking for ways to expedite your services, get a route planning management app like Route4Me.
Want to See For Yourself How RouteMe Can Help You Increase Earning?
Whether you want to plan well-optimized routes, reduce driving time, or make more stops in less time...Route4Me helps you achieve that!