Without meeting DOT compliance, you won't be able to manage the safety of your fleet. You'll also face legal action if your transportation company isn't compliant with DOT.  
If you're new to DOT regulations, then this article will be of great value to you. In this post, we've provided explanations on what it means to be compliant with DOT, who needs it,  why it's important and how you can comply with DOT regulations. 
Continue reading so you can ensure your drivers are safe and your company is protected from criminal and civil lawsuits.
Table of Contents
What is DOT Compliance?
DOT compliance is about meeting the regulations set by DOT and FMCSA. DOT stands for The Department of Transportation, and it regulates transportation in the US. The agency has created a series of regulations that all commercial vehicle drivers must abide by.
To maintain a safe transportation fleet, you must be DOT compliant. The DOT guidelines have been designed to ensure that drivers and passengers on the road are protected from potential accidents. 
As a transportation company, you must ensure you meet the standards of each area of DOT compliance. According to federal DOT regulations, your drivers must:
Refrain from using drugs and alcohol

Adhere to maintenance and inspection requirements

Meet general safety requirements

Adhere to rules when carrying hazardous waste

Meet driver qualifications (valid driver's license)
Who Needs to Comply with DOT Rules and Regulations?
To become a DOT compliant, you must register with the DOT to get a USDOT number. The DOT regulations for truck drivers apply to vehicles driving under the following criteria:–         
Drivers who transport more than 15 passengers

          

Drivers who transport more than 8 passengers

          

Drivers who transport hazardous materials

         

A vehicle with a gross weight rating or combination weight rating of 10,001lbs or more

 
Additionally, these regulations apply to any vehicle driven in interstate commerce. Depending on the US state you reside in, you may need to get a USDOT number for your interstate commercial vehicle. Fleet operators need to be DOT compliant for transporting the following items:
Heavy vehicles

Shipping containers

Concrete piping

Gas

Acid

Machinery
Driver Requirements for Dot Compliance
Another vital aspect to remember with DOT rules and regulations is that your drivers meet the following criteria:
Must be 21 years or older

Should have a valid driver's license

Must have completed a road test

Should have a commercial vehicle license
 It's your or your manager's or recruitment department's responsibility to ensure that candidates meet these qualifications before they're hired to become a driver.
Want To See For Yourself How Route4Me Can Boost Your Profits?
Whether you want to slash the time it takes you to plan routes for your drivers, increase the number of stops they can make, or keep your customers satisfied knowing that your drivers show up on time… Route4Me helps you achieve that!
Why is DOT Compliance So Important?
If you don't meet DOT standards, you could face many legal situations that will cost your company thousands of dollars. Here are several other reasons why adhering to DOT compliance is so important.
Protect Reputation
Repeated DOT violations can tarnish your organization's reputation. If customers learn about your violations, they may become concerned about your practices and refrain from opting for your services. 
Additionally, potential candidates may avoid applying for driving positions in your company because they feel you don't care about driver safety. Maintain your upstanding reputation and ensure that you are compliant with all DOT regulations.
Avoid Hefty Fines
You could be issued with expensive fines and other penalties if you're caught violating any area of the DOT rules. There are minor fines that cost a few hundred dollars, but significant charges could cost you over $100,000, especially if you're transporting hazardous materials. 
Here is a list of other common penalties if you fail to meet DOT compliance:
Alcohol violation on the first offense: $2985

Alcohol violation on the second offense: $5970

Non-record keeping: $14,502

Non-record keeping by driver: $3626

Out of service order: $22,587
You can view the complete list of fines on this document. Abide by the DOT law, and you won't have to face expensive penalties.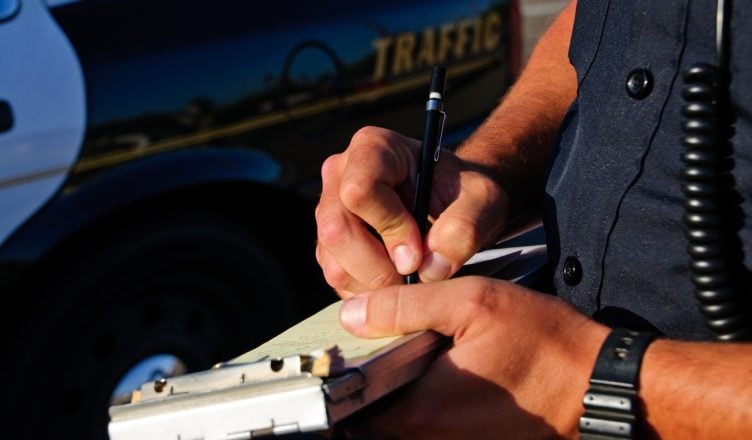 Prevent Injury or Death
The more severe consequences of violating the DOT regulations result in injury or death. If your drivers aren't qualified to drive heavy transportation vehicles, they could cause an accident on the road.
Moreover, drivers who abuse drugs or alcohol could also cause accidents on the road. That's why it's essential to do regular drug and alcohol tests on drivers.
Overview of Important Rules and Regulations to Ensure Dot Compliance
Here is a list of the most critical DOT regulations that your company must adhere to assist you further.
HOS (Hours of Service)
The most critical DOT compliance rule to adhere to is hours of service established in December 2011. It's a way to manage your driver's working hours and is designed to prevent accidents on the road caused by fatigue. The rule provides the consecutive hours a driver can drive on the road before taking mandatory breaks. 
Licenses and Permits
All commercial vehicle drivers must have a valid driver's license and permits to transport cargo. Your drivers may need the following:
Commercial driver's license (CDL)

A motor carrier authority number

Standard carrier alpha codes

Unified carrier registrations
 Transportation companies that violate DOT compliance related to licenses and permits can face suspension or criminal charges.
Vehicle Inspections
Before a driver gets into the vehicle to transport goods, there must be inspections every morning. Inspections on vehicles must be done in the afternoons when drivers return from their travels. Driver vehicle inspection reports (DVIR) must be recorded and kept as proof of inspection. 
If an issue was found on the vehicle during the inspection, it must be fixed before the driver goes back onto the road. Here is a list of components that need to be checked for damage or defects:
Headlights

Indicators

Brakes

Horn

Steering mechanisms

Tires

Axles

Emergency equipment such as fire extinguishers
 The driver must issue a signed report stating that all damaged parts have been fixed for the vehicle to return to service.
Checks on Candidates Before Hiring
Before hiring employees, all drivers must be vetted to ensure they have the correct qualifications. It's your organization's responsibility to obtain the following before hiring a driver:
3 years' worth of motor vehicle records

Conducting a pre-employment drug test

Verifying the candidate has no history of substance abuse or DUIs

Obtaining any accident records
 As part of DOT compliance, motor carriers are implored to use the new Drug and Alcohol Clearinghouse as part of their pre-employment checks.
Transporting Hazardous Materials
Only registered companies are allowed to receive and ship hazardous materials. For the shipment to be 100% valid and meet DOT hazmat regulations, all hazardous materials must be:
Classed

Packaged accordingly

Described
 Failure to comply with these DOT compliance regulations will be subjected to criminal and civil penalties. Additionally, any employee who transports hazardous materials must undergo extensive training.
Record Keeping
Transportation companies must keep a record of the following:
Drug testing

Motor vehicle reports

Proof of insurance

HOS records

Service provider contracts

Vehicle inspections, maintenance, and repairs

Quarterly IFTA reports

Employee training records

Driver rosters and qualifications
How Can You Maintain DOT Compliance?
Ensure that you have a copy of the latest FMCSA regulations in your office so that drivers and managers can regularly refer to the document. You must complete pre and post-trip inspections before a driver enters the vehicle. What's more, you must have a vehicle maintenance program complete with documentation.
Keep a record of any road incidents for each vehicle and make sure the vehicles are marked with their DOT number.
Give each driver a copy of the FMCSA guideline and keep a signed copy from each member. You must keep a record of the qualifications of your drivers along with their safety history. 
Keep a record of hours of service and drug testing. To ensure your drivers adhere to the DOT rules, you must conduct random drug and alcohol testing.
Also, use an advanced route optimization software like Route4Me to comply with DOT rules and regulations. Here are several ways the Route4Me route planner can help you meet DOT guidelines.
Control Aggressive Driving to Avoid DOT Violations
Route4Me's route optimizer comes with a commercial GPS tracker that helps track your vehicles on the road in real-time and see if drivers engage in aggressive driving. 
Plus, it comes with a speed alert that notifies you automatically as soon as your driver crosses the speed limit. You can then immediately contact your drivers to slow down to avoid any penalties for violating the speed limit.
Route4Me's vehicle routing software also offers a playback feature to help you monitor your drivers' previous movements. So, you can provide data-driven feedback to your drivers.
Learn in detail how to control aggressive driving.
Schedule Vehicle Maintenance
A visible defect such as flat tires or fluid leaks can attract the attention of road inspectors. But you can avoid such checks and the associated penalties for the violation if you maintain your vehicles properly. And this is where Route4Me's delivery scheduling software can help.
Route4Me comes with a reporting and analytics feature that helps you track the total miles your drivers covered. This enables you to figure out when to send a vehicle for maintenance. Let's say one of your vehicles travels 120 miles a day and requires maintenance every 12,000 miles.
If you see the vehicle has already traveled 10,000 miles, you can calculate that it requires maintenance in 15-16 days. Therefore, you can schedule the maintenance accordingly and avoid penalties due to visual defects.
Here are six more vehicle maintenance tips you should be following.
Avoid Violation of the HOS Rule to Comply with DOT Regulations
Route4Me comes with several key parameters to help you plan routes as per your requirements. And one of them is route duration.
You can set maximum route duration to ensure your drivers finish work within the total hours of service allowed per day. Plus, you can keep a check on the overtime.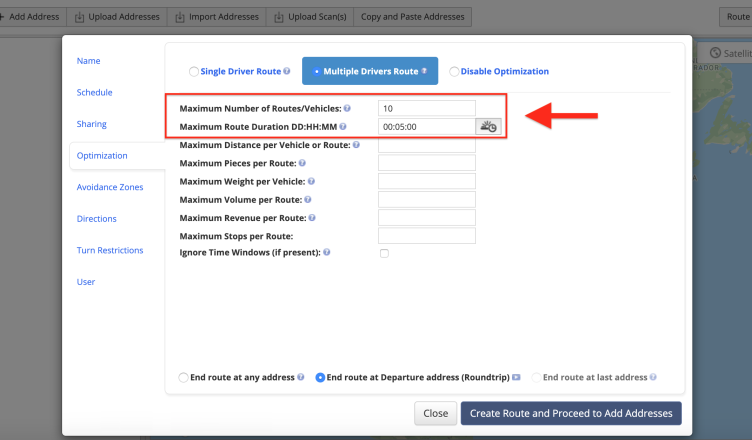 Learn how to plan routes with address service times with Route4Me. Route4Me even allows you to set the maximum weight per vehicle.
With Route4Me route optimization software, you can even set the maximum weight per vehicle. In this way, you can easily avoid inspection due to cargo violations.
Transport Hazardous Materials Safely to Adhere to DOT Compliance
Due to violations, carrying hazardous materials in the wrong or barred areas could lead to mishaps and inspections. For example, a truck carrying radioactive material should avoid densely populated areas and take only back roads.
Planning such a route may not be feasible with pen and paper. You need advanced route optimization software like RouteMe.
In Route4Me, you need to create a vehicle profile and select the types of hazardous goods your drivers will deliver from a drop-down list, as shown below. And the route planner will automatically plan routes that exclude roads restricted to the kind of goods you will ship.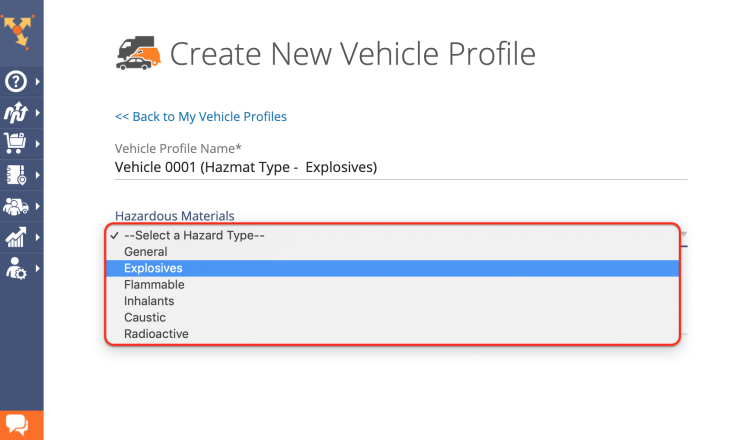 Learn how to create hazmat vehicle routing profiles and optimize routes for transporting hazardous materials.
Final Thoughts about DOT Compliance
Use this guide to DOT compliance to ensure you don't have to pay heft penalities. By adhering to the
DOT rules and regulations, you'll maintain your credibility and ensure the safety of your drivers.
Want To See For Yourself How Route4Me Can Boost Your Profits?
Whether you want to slash the time it takes you to plan routes for your drivers, increase the number of stops they can make, or keep your customers satisfied knowing that your drivers show up on time… Route4Me helps you achieve that!