Shift work scheduling is vital to run uninterrupted field service operations.
It can be challenging to ensure that you have employees working every hour of the day. And making manual shift work schedules can be hectic and challenging.
However, with the right strategies and tools in place, scheduling shifts is a piece of cake.
Table of Contents
What is Shift Work Scheduling?
Shift work scheduling refers to creating schedules to let employees work in timed blocks and ensure they are available whenever a job needs to be done.
To understand the concept in detail, you must realize that employees work in shifts and rotations. Several businesses work round the clock. And to make sure they have employees working every hour, these businesses come with different shift hours as it is evident that one employee cannot work for 24 hours a day for a 5 or 6 day week.
Long story short, they use shift work schedules for 24 /7 coverage.
Businesses offer different shift work schedules to ensure zero hindrance in business operations that allow employees to work comfortably. And companies can continue their production without any issues.
Want To See For Yourself How Route4Me Can Boost Your Profits?
Whether you want to slash the time it takes you to plan routes for your drivers, increase the number of stops they can make, or keep your customers satisfied knowing that your drivers show up on time… Route4Me helps you achieve that!
What are the Different Types of Shift Work Schedules?
Here are the different types of work schedules.
Day Shift
The day shift is when the working day starts in the wee hours of the morning. For instance, the working day can begin at 7 a.m. or 8 a.m. In some companies, the day can also start at 9 a.m. and end at 5 p.m.
The timing for these employees depends on the operations of their company. The day shift is usually an 8-hour shift work schedule. For some, this is the best shift work schedule as it helps them maintain a healthy routine where they can work in the morning and return home by sundown.
Night Shift
For the night shift, workers start working before midnight or at midnight. These shifts can be between 11 p.m. and 8 a.m. Night shifts are a standard option for students looking for part-time jobs to manage their education and make a living.
It is also a standard option for people who have other commitments and cannot make it in the morning.
Second Shift
The second shift comes after the morning and right before the night. This shift usually starts in the afternoon between 1 p.m. and 11 p.m.
These shifts are most commonly seen in businesses that start in the afternoon. For instance, the restaurant business and other retail shops are some examples.
Shift Work Rotational Scheduling
Businesses that offer a 24-hour shift work schedule provide multiple schedules, such as 8-hour rotating shift work schedules and 12-hour rotating shift work schedules. A rotating schedule is when an employee works different schedules for different weeks.
For example, an employee can work for an 8-hour shift work schedule in the day for one week and then perform the same shift at night.
There are multiple rotations used by businesses, and an employee can have rotational schedules for one week and a month. Rotational shifts are a great help to businesses as they can continue running their operations as smoothly as possible.
These shifts are integral for businesses that must continue working without any fail. There are different types of rotational shifts that companies can choose from. Let's look at these options:
DuPont Shift Schedule
The DuPont work schedule is a 2 shift work schedule where employees complete two 12 hours shifts in a week.
Companies need four teams that can perform a 4-week cycle for it to work.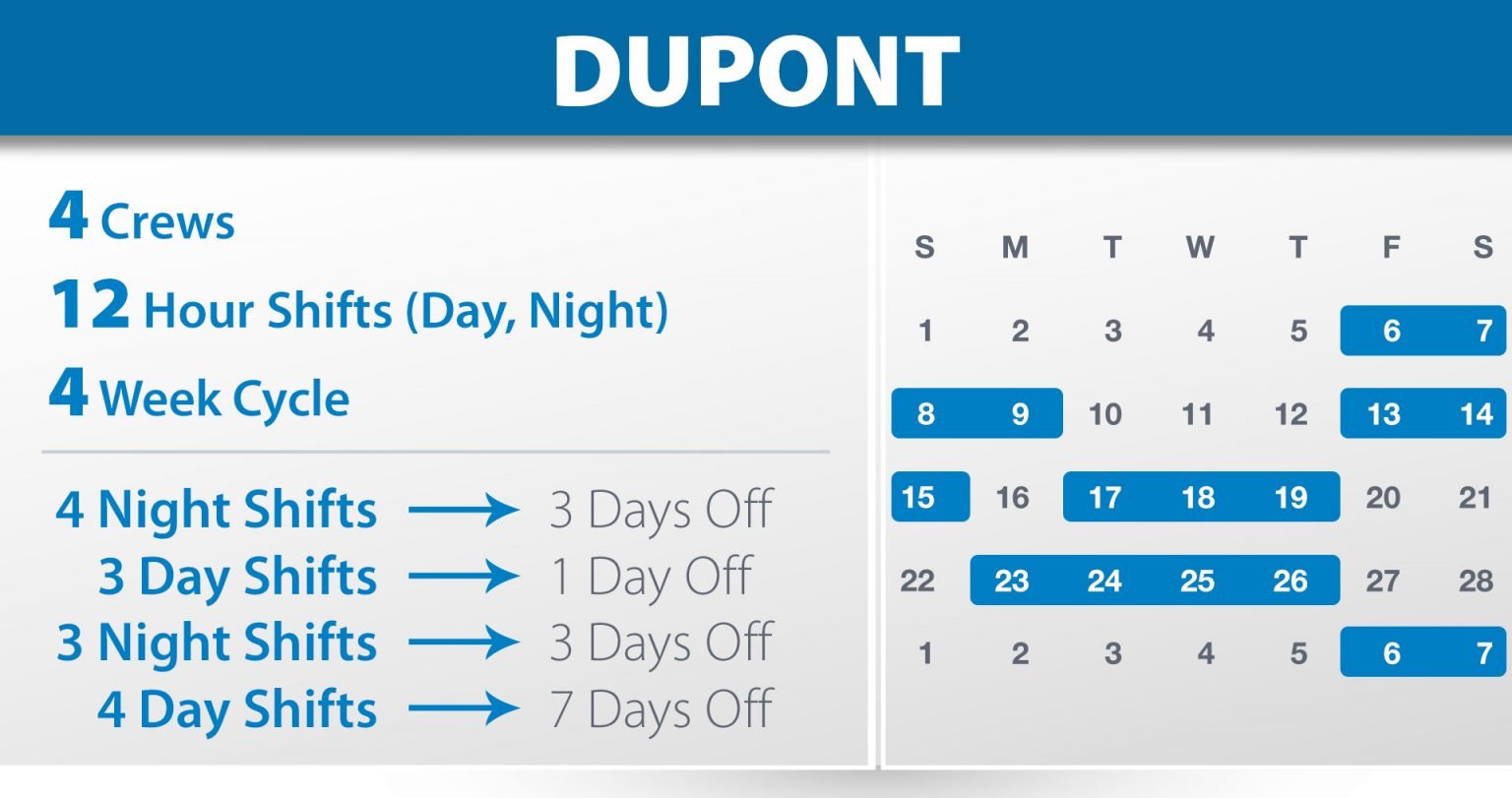 These 12-hour rotating shift work schedules use 4 teams that work two 12-hour shifts every week, so employees are available for the entire week and 24 hours every week.
In a 4 week cycle, these teams complete 4 consecutive night shifts with 3 days off duty and 3 successive day shifts. This is followed by 1 day off duty, 3 consecutive shifts and then 3 days off duty, and finally 4 consecutive day shifts. After this cycle, employees can enjoy a whole week off duty.
Following this shift work schedule, employees can work up to 42 hours a week compared to other employees who work 40 hours a week. This is an excellent opportunity for people who get paid by the hour as they can add more hours to their weekly hours.
This is the ideal schedule for people who want a more extended break, as this can give you a 7-day vacation at the end of the cycle.
Pitman Schedule
The Pitman scheduling is similar to the DuPont schedule. For this schedule, companies have to divide their teams into sub-teams of 4, where they work for two 12-hour shifts to provide round-the-clock coverage. The Pitman schedule is different from the DuPont schedule. This is because it has a shorter work cycle of 2 weeks. And none of the employees work for more than three days in a row.
The teams can all work for two consecutive days and then take two days off. They can work for three straight days and then continue the cycle to follow it up.
Business owners can use more rotational patterns in the rotating shift work schedule template. However, companies must come up with circadian shift work schedules.  And for that, there are many applications and tools they can use.
How to Schedule Shifts for Field Service and Transporation Businesses
If you have many drivers covering multiple stops, you might be worrying about how to schedule shifts at work.
It's not about just time on duty. Dispatchers often only consider time and available staff and overlook crucial factors impacting an employee's shift and productivity.
You need to consider how many stops your field reps or drivers can make. Plus, shift work scheduling is not simply mixing and matching. You must consider mandatory breaks, estimated driving time, and much more.
For instance, according to the HOS regulations, every driver must take a 30-minute break for every 8-hour shift on the road. Learn the new FMCSA HOS rules that came into effect in 2020.
Plus, you need to accurately forecast driving times to offer accurate ETAs to clients. You also need to ensure driver safety while still keeping productivity high.
Considering all such nitty-gritty details while scheduling your shift isn't easy when you do it manually. And this is where you need to take the help of a shift work schedule planner.
How Can Shift Scheduling Software Help Plan Efficient Schedules?
With a shift work schedule route planner like Route4Me, you can plan schedules and routes within 30 seconds.
You just have to add or import the customer addresses into the software. You can manually add the data, upload spreadsheets or scanned copies, or import it from your cloud storage.
Learn how to plan a route with multiple stops in 30 seconds.
Plus, the Route4Me route planner enables you to set the route duration while planning routes. This ensures that your drivers don't violate the total hours of service allowed per day.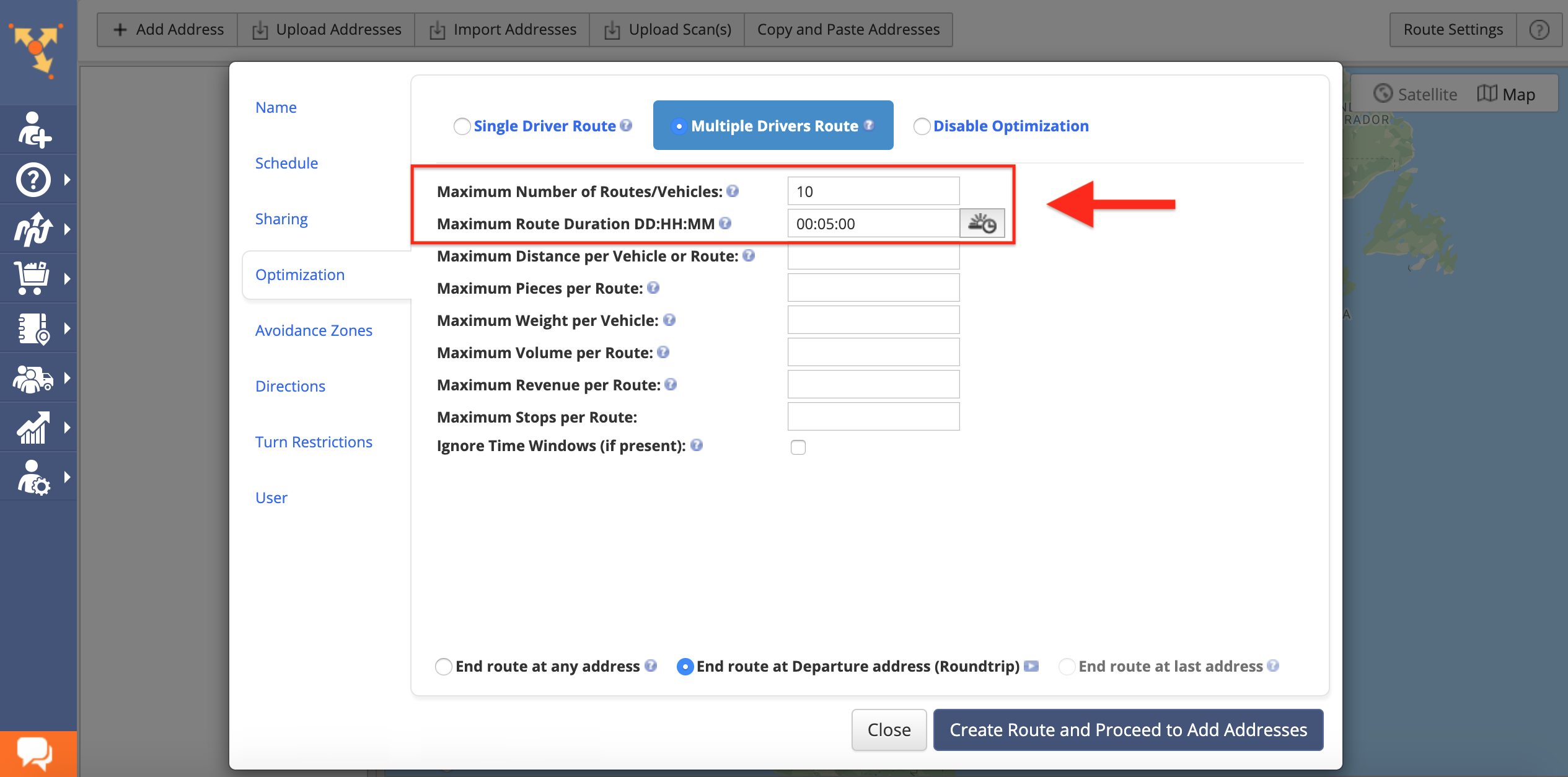 You can manually specify time windows for every location or customer your drivers need to visit.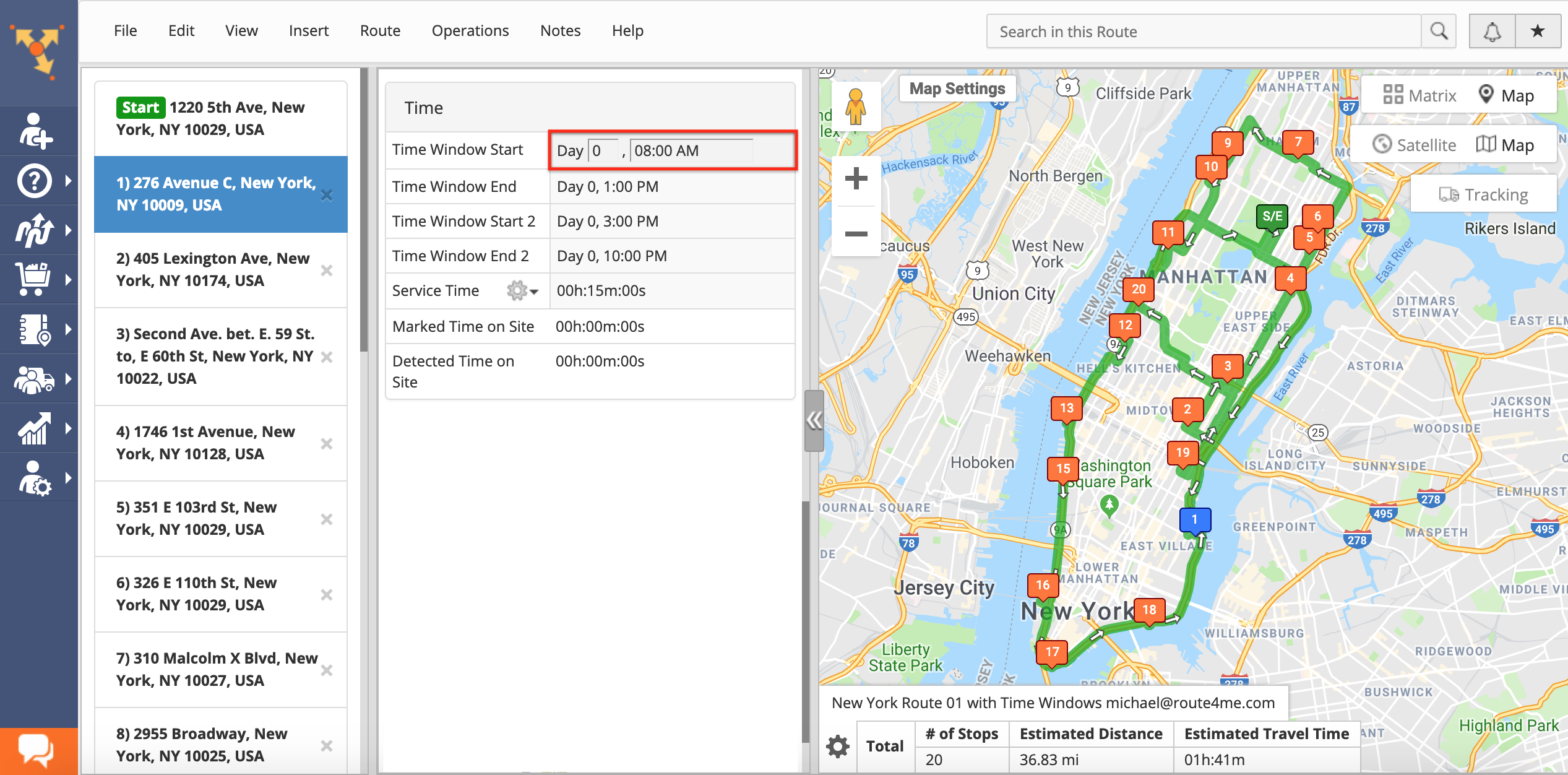 Route4Me's delivery route planner also comes with a Driver Breaks feature that allows you to insert break stops into the already planned routes.
Route4Me's route optimization software automatically selects the most optimal location and stop sequence for insertion and recalculates the route's distance and time accordingly. You can even predefine each break's duration and choose multiple insertion options.
Learn how to use the Driver Breaks feature to insert driver stops into optimized routes.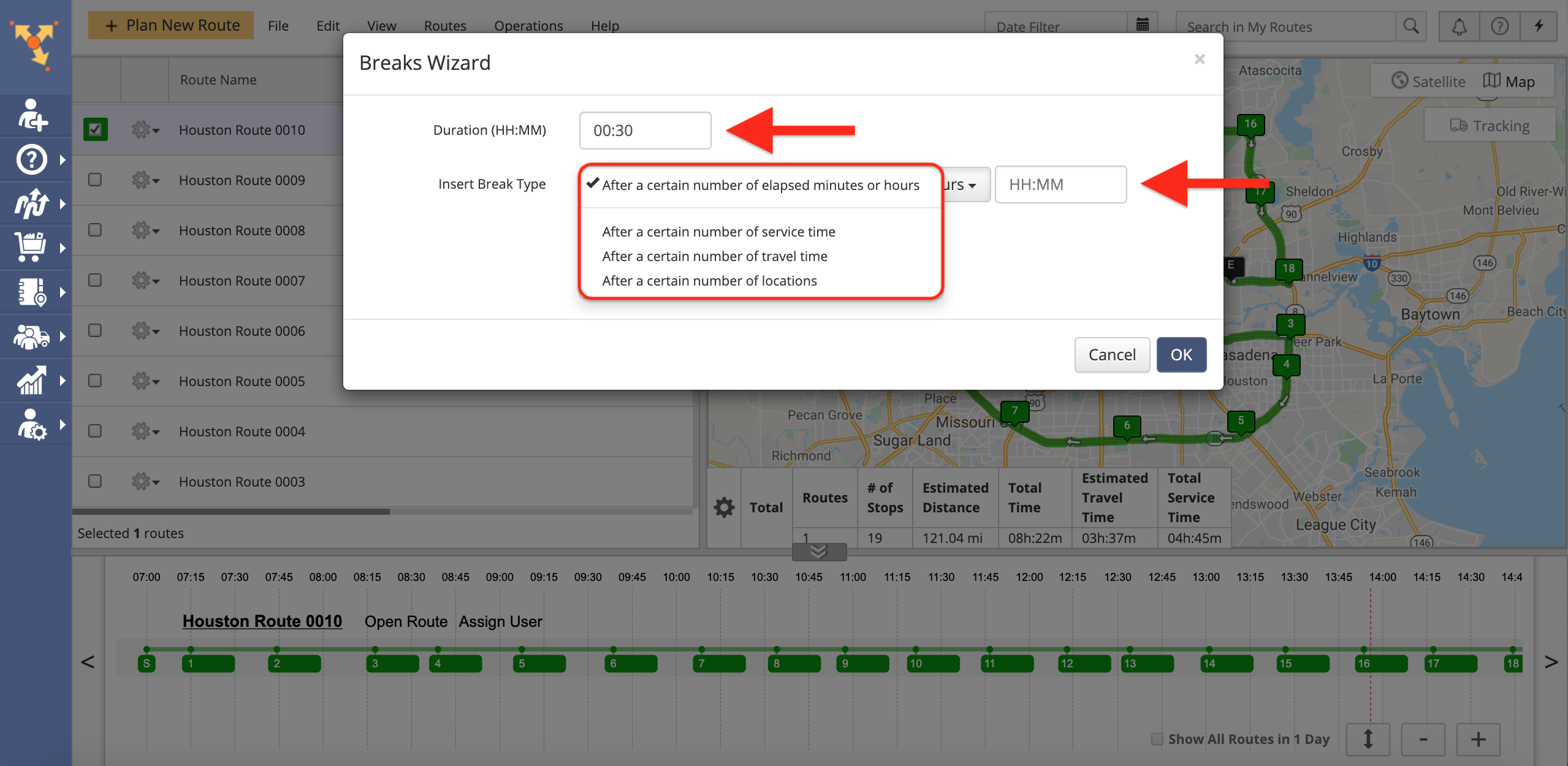 Route4Me's route optimizer automatically estimate driving times based on updated traffic data, breaks, unloading times, and more.
Plus, Route4Me's vehicle routing software automatically distributes the workload (and makes sure it is well-balanced)  and plans efficient schedules and routes considering the shifts of each driver.
Go through our scheduling optimization guide to understand how Route4Me can help with route scheduling. And opt for our 7-day free trial to see how Route4Me can help you create better shift work schedules.
Want To See For Yourself How Route4Me Can Boost Your Profits?
Whether you want to slash the time it takes you to plan routes for your drivers, increase the number of stops they can make, or keep your customers satisfied knowing that your drivers show up on time… Route4Me helps you achieve that!