Warehouse employment is at an all-time high.
According to the Bureau of Labor Statistics, employment in the storage sector and warehouse nearly doubled over the past decade reaching a whopping 1.25 million workers in September. And the unemployment rate has plummeted to 7.9% in September down from 14.7% in April this year.
The credit goes to the labor-intensive processes of picking, packing, and shipping that require supply chains to hire more workers as e-commerce sales reach record levels.
According to the latest Census data, e-commerce sales jumped almost 32% from Q1 to Q2 to reach nearly $212 billion. And the figures are expected to increase even further with the holidays around the corner.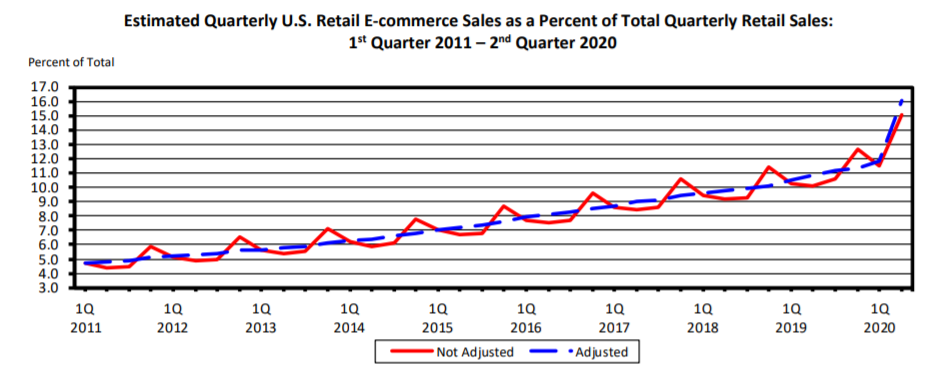 To more effectively manage the current and upcoming demands, logistics companies are hiring seasonal employees for the peak season.
For example, DHL is adding 7,000 seasonal employees to their workforce, while FedEx is adding 70,000. Moreover, UPS and Amazon each plan to add 100,000 employees ahead of the peak season.
However, there is a downside to filling these seasonal positions. Many seasonal employees are of an older age, which puts them at high risk for contracting the coronavirus.
Besides, an increase in employment means an increase in management and operations challenges. And the job would be much harder if you do not have the right tools and strategies in place.
So, how can you ensure seamless warehouse operations and management?
How can you make the jobs easier for your additional warehouse employees?
How can you automate warehouse operations?
We discuss several steps below.
Optimize Pick-and-Pack Routes to Improve Productivity
The pick-and-pack process is extensively laborious if done manually and also becomes increasingly challenging as the volume and traffic in your warehouse grow as your business grows.
So, to increase productivity and efficiency, you have to decrease the number of trips your employees make to your warehouse.
You can use an advanced route planner such as Route4Me which helps workers locate orders more easily, no matter where they are in your warehouse.
It creates a map of your yard or warehouse and designs a road network inside it. Route4Me's advanced warehouse route optimization algorithm then uses the mapping data to create highly efficient routes that the automated equipment and/or employees should take for more efficient mobility.
Route4Me's multi-stop route planner helps create routes by factoring in vehicle capabilities (e.g., the ability to take on a bigger weight capacity), time windows, operator skills, and other required factors that affect the pick-and-pack process.
You just have to describe the number of items and the item types that are located in each part of your warehouse, cabinet, or bin, and Route4Me's warehouse route optimization algorithm will route your robotic loader or human operator to the nearest inventory pick-up location.
Route4Me even comes with a real-time analytics feature that helps you monitor the real-time performance of the operations in each facility.
Here's a quick rundown of several ways in which Route4Me's advanced warehouse route optimization technology can help:
Supports multiple pick-and-pack strategies.
Supports both single-order picking and multi-order batch picking.
Supports order consolidation.
Allows you to mix and match single-line and multi-line orders and optimize routes in waves, sorted by destination geography, priority, destination facility, preferred carriers, delivery-by times, and other variables.
Helps you create avoidance zones in its warehouse route optimization and evaluation stages.
Allows you to integrate with almost any automatic storage and retrieval robotic picking device over a WiFi, cellular, or Bluetooth connection. In fact, this feature is exclusive to Route4Me which is also the only company that has APIs and SDKs in over 13 languages.
Supports mobile and cloud access.
Want To See For Yourself How Route4Me Can Boost Your Profits?
Whether you want to slash the time it takes you to plan routes for your drivers, increase the number of stops they can make, or keep your customers satisfied knowing that your drivers show up on time… Route4Me helps you achieve that!
Utilize RFID Tags to Minimize Item Scanning Time
When itemizing the goods in your warehouse, consider switching from barcodes to radio-frequency identification (RFID) tags.
When you use RFID tags, you won't need to scan each tag (as is required with barcodes) and can instead scan a group of them at the same time. Employees can also scan out the items more quickly as they are delivered to your customers.
Moreover, RFID tags are way simpler to track than barcodes which makes your shipping process more efficient and reliable.
So, from the time the item is en route to your warehouse until it reaches your customer, you can track where your inventory went, when, and at what time.
Engage with Your Warehouse Employees
Communicate and engage with your warehouse workers on a regular basis to get the best out of them and uncover hidden pitfalls that might actually be dragging your business behind.
Below are some steps you can take to initiate that engagement process.
Offer process-oriented training at regular intervals to keep them updated about every nitty-gritty step in the process.
Conduct brainstorming sessions with your warehouse employees to hear their operational ideas and feedback.
Reward exceptional team performance. The work-area safety standards and damaged goods are some metrics common in warehouses that you can use as part of a reward program.
So are you in the process of hiring more warehouse employees? How do you plan to manage them effectively? Do you have any questions? Please feel free to leave your comments below.
Want To See For Yourself How Route4Me Can Boost Your Profits?
Whether you want to slash the time it takes you to plan routes for your drivers, increase the number of stops they can make, or keep your customers satisfied knowing that your drivers show up on time… Route4Me helps you achieve that!