Have you heard of cross-docking?
We understand if you haven't heard of it before; you're not alone.
It's often called the world's most underutilized eCommerce logistics hack. Yet, it could be a game-changer for your eCommerce business.
So, let's discuss everything you need to know about cross docking, why you should consider this logistics procedure, and how you can use it to your advantage.
What Is Cross Docking?
Cross Docking is a logistics procedure that helps reduce warehouse waste by removing the storage link in the supply chain.
It ensures the incoming goods from manufacturers or suppliers are first sorted, processed, and screened at the receiving docks and then quickly moved to the retailers or consumers through outbound transportation.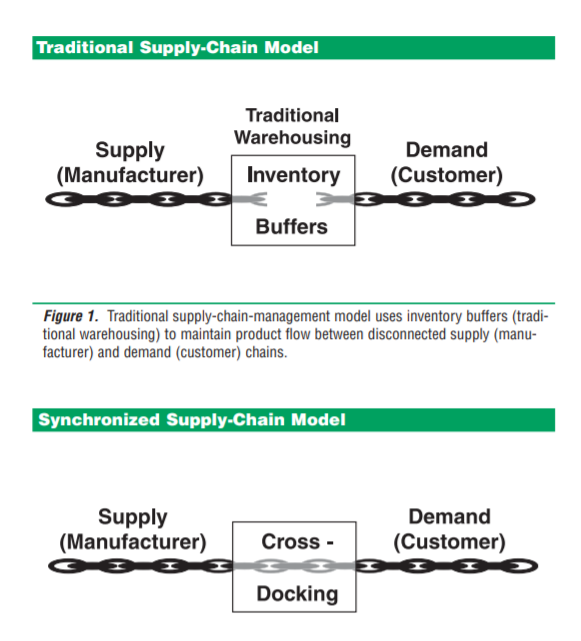 Now, you might understand the cross-docking meaning. But, to understand it even better, let's see how it works.
How Does Cross-Docking Work?
The cross docking logistical procedure works as follows:
The inbound products from the manufacturing plants or suppliers first arrive in a distribution docking terminal through trucks and trailers.
The products are then allocated to a "cross-dock" terminal.
The unloading, sorting, and screening of the products take place at one side of the docking terminal so that their final destinations can be determined. This step involves a three-step process:
To streamline goods movement, employ limited resources, and deftly manage peak flows:
Groups are created through container identification, with pallet exchange relationships; and
Clusters are created within groups for identifying related containers.
This step makes it possible to manage delays or adapt as per real-time changes.
The planning outputs, including groups and clusters, are used as inputs for the scheduling module. Whenever input changes take place, the scheduling tool's re-scheduling module is triggered. This helps to create a more suitable schedule.
Coordination Platform Design
This third step maximizes the throughput, streamlines the operation, and avoids bottlenecks.
There are three main modules of this coordination platform design:
The business application module
The foundation module
The Graphic User Interface (GUI) module
To achieve the objectives, the scenario and related assumptions of master cross-docking are defined and documented. Then, the assignments of the tasks, processes, locations, norms of distance, and specifications of resources are included in the system.
To successfully run a cross docking operation, Warehouse Management Software (WMS) is essential.
The benefits of a cross-docking WMS tool are the transmission of an Electronic Advance Ship Notice (ASN), barcode scanning, parsing ADC devices, incoming freight management, business intelligence, disaster recovery, and workforce planning capabilities.
The sorted products are then moved to the "cross dock" terminal's other end, with the help of transportation such as a conveyor belt, forklift, or pallet truck.
The outbound transportations are loaded and then transported to either the retail stores or the customers.
Want To See For Yourself How Route4Me Can Boost Your Profits?
Whether you want to slash the time it takes you to plan routes for your drivers, increase the number of stops they can make, or keep your customers satisfied knowing that your drivers show up on time… Route4Me helps you achieve that!
What Is the Difference Between Cross Docking and Warehouse Systems?
Cross-docking uses a hub-and-spoke model, where the distribution center or the warehouse works as the "hub".
These hubs receive goods from manufacturers or suppliers, which are then sorted and processed quickly. The products are only then placed on trucks so that they can be transported to different destinations.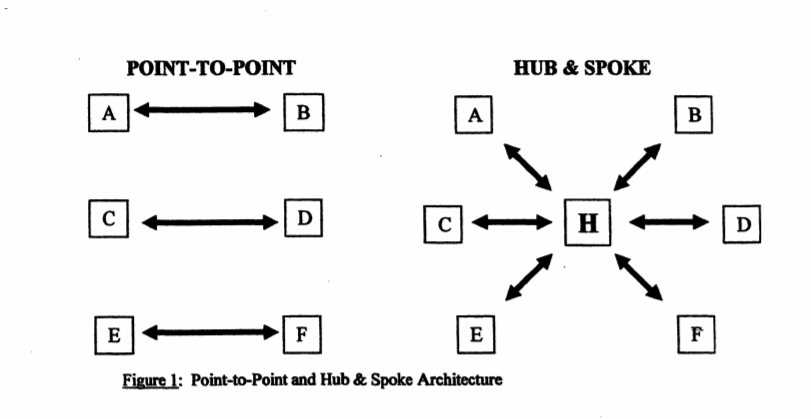 Cross docking ensures that the storage time of the products is either nil or marginal. That's how businesses are reducing both inventory and warehouse material handling effectively with the cross-docking procedure.
Product storage is often a pain for companies because the overall value of the product falls the longer it sits in a warehouse or other storage location. This can happen due to a drop in value, damage/theft, or a change in demand.
The procedure of cross-docking takes place in a distribution docking terminal instead of a warehouse. So, the need for warehousing is either entirely eliminated or drastically reduced by cross-docking. Thus, it improved the cost efficiency of warehouses.
This procedure also streamlines a clunky supply chain of multinational companies and frees money invested in inventory management.
If implemented appropriately, cross-docking can improve both the efficiency and handling times of your business.
Warehouses originated because they were considered an efficient tool to meet the fluctuations in consumer demand. However, with time, the supply chain managers and strategists realized the problems in its management and the burden of costs associated with warehouses.
This is because warehousing comes with increasing costs for storage space, taxes, heating, and lighting required for the spaces, insurance, labor costs, and others. In fact, inventory mismanagement and motion waste of these warehouses are only increasing the burden on businesses.
That's why more businesses are opting for a cross-docking process that doesn't need to stock at all.
Now, let's learn in detail about the importance of cross docking.
Benefits of Cross-Docking
Below are some key advantages of cross-docking which will help you understand why cross docking is used.
Offers Better Control 
With a cross dock facility, companies can direct product levels with more detail. It ensures that the retail outlets get exactly those products that help them meet their customer demands.
Ensures Just-in-Time Manufacturing
This logistics strategy has led to the rise of just-in-time manufacturing, delivering only those products that are needed. It ensures that there is no excess storage.
Reduces Warehouse Costs
Cross docking means less need for warehouse equipment, products, and machinery. It thus saves a lot of money.
Ensures an Organized Supply Line
Cross-docking ensures better-organized supply lines with the proper implementation of this logistical strategy.
Reduces Labor Costs
The labor need for handling storage and warehousing has decreased with the introduction of the cross-docking procedure, thereby decreasing labor costs.
Besides the above benefits, there are many other pros of cross docking. These include:
A reduction in material handling related damages,
An increase in the level of services,
A reduction in the cost of transportation,
A reduction in the overall fixed costs, and
A reduction in the time it takes products to reach the customers.
Disadvantages of Cross Docking
Below are some challenges of cross-docking.
Time Consuming
If the logistics are not planned, scheduled, or executed properly, cross docking can consume a lot of time.
Upfront Capital Investment
It is highly expensive to set up cross-docking terminals. A significantly high upfront capital investment is needed to establish cross docking operations effectively.
Need for a Large Number of Transport Vehicles 
To service inbound and outbound docks, many transport vehicles, especially trucks, are needed.
Supplier Trust Is Required
Supplier trust is needed because the routine failure of suppliers to send the right products can erode the customers' trust. It also wastes time and productivity.
Risk of Shrinkage
If proper procedures are not in place, there could be theft, damage, or other shrinkages.
When to Use Cross Docking?
Cross-docking is most suitable for the automotive, food and beverage, consumer goods, and chemical industries. For example, Walmart, Nestle, McDonald's, and Unilever are just some companies that are using this transformative strategy effectively.
With a cross-dock terminal, companies can bypass storage and deliver directly to the customers. Thus, the time to deliver goods is reduced which gives more room for the limited shelf-time.
So, companies that make time-sensitive deliveries, such as perishable foods and groceries, where drivers need to reach the customers in reasonable remaining shelf-time can also benefit from the cross-docking strategy.
Also, eCommerce companies can use the cross-docking procedure when there is a flash sale, such as Black Friday or Cyber Monday. This procedure would be the most cost-efficient and effective way to deliver products to the customers in such instances.
How Can Route4Me Help You with Cross Docking?
Route4Me's dynamic route optimization software helps streamline the entire supply chain of cross-docking and transloading operations and transactions.
It does this by planning optimized routes to transport goods from multiple warehouses or vendors to a single distribution center as efficiently and quickly as possible.
Once the received goods are assembled into the mixed product pallets, you can plan optimized routes with the most optimal stops sequences to distribute the final pallets to the end customers, different assembly lines, or any other locations you can find on the map.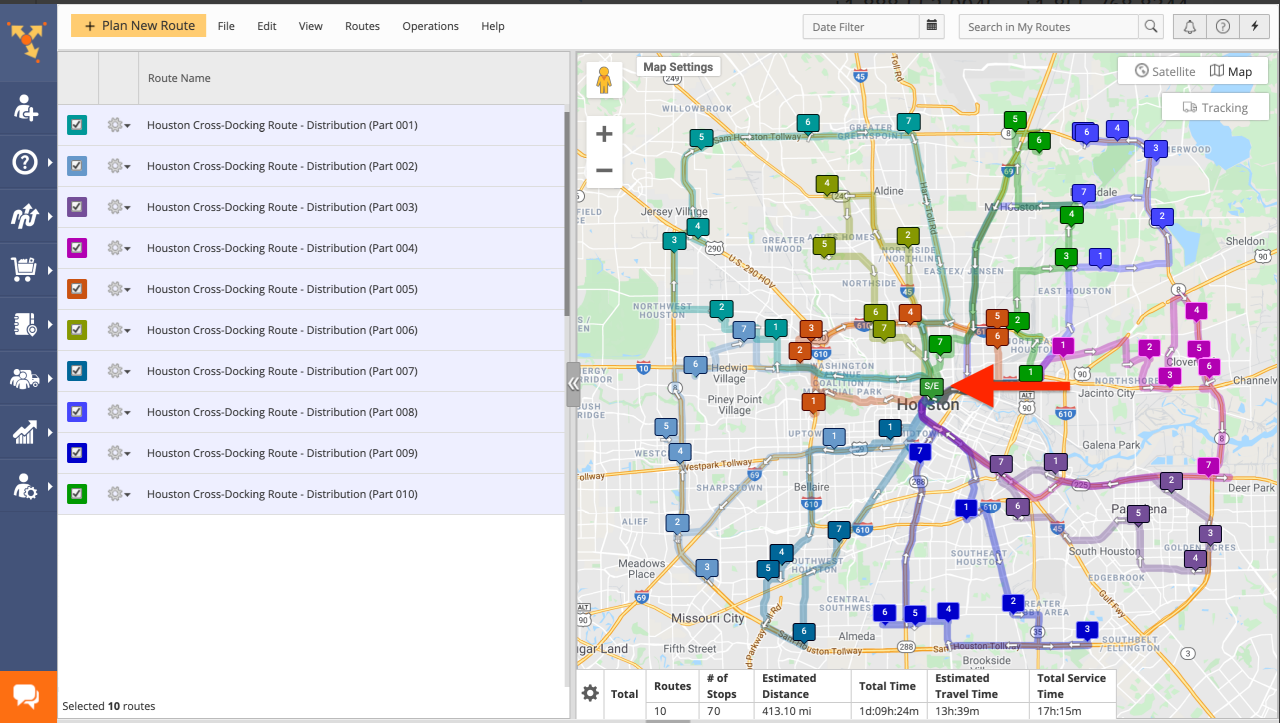 Depending on your business's particular needs or unique business model, you can use Route4Me for the following types of cross-docking:
Manufacturing Cross Docking
This involves a central distribution center receiving the inbound goods and materials that are required to manufacture a particular production order. After that, the central distribution center sorts, configures and assembles the received goods into the products that can then be shipped to the end customers or other locations.
Read our article to learn how to plan manufacturing cross-docking routes with Route4Me.
Distributor Cross Docking
This involves a central distribution center that consolidates the inbound products or goods received from multiple vendors into the outbound mixed product pallets. Thus, once each mixed pallet is assembled from the different received product types, it is delivered to the end customer or other production line.
Read this article to learn how Route4Me can help plan distributor cross docking routes.
Transportation Cross-Docking (TCD)
TCD is used to gain economies of scale by receiving shipments from multiple carriers or suppliers in the less-than-truckload (LTL) and consolidating them into full truckload (FTL) shipments in the distribution center from where they are shipped to the end customers.
Read this article to learn how to plan transportation cross-docking routes with Route4Me.
Do you have any questions about cross-docking? Would you prefer cross docking over warehousing? Please feel free to leave your comments below.
Want To See For Yourself How Route4Me Can Boost Your Profits?
Whether you want to slash the time it takes you to plan routes for your drivers, increase the number of stops they can make, or keep your customers satisfied knowing that your drivers show up on time… Route4Me helps you achieve that!