You can only reduce mileage when you:
Have control over your field operations
Have a foolproof route planning process in place
Use your resources better
Manage complex dynamic requirements
Have every detail about your drivers and field operations at your fingertips
That's a tall order if you don't use an advanced technology solution like a route planner. A road trip planner takes care of everything from route optimization to distribution to management. You'll never need to worry about mileage again. Instead, you can focus on what's most important to you and your business.
How does such software help? Let's find out.
#1 Well-Optimized Routes Have Lower Route Mileage
A route planner gives you 100% accurate and well-optimized routes without you having to do much effort. The software even gives you about five options (from manual entry to uploading an Excel list or scanned copy) to add the customers' addresses into the system. Just select your preferred option, add or upload the addresses, set some parameters as per your preference (such as avoidance zones and left turns) and the software will give you an optimized route with turn-by-turn directions in 30 seconds.
The fleet management software even takes into account factors like bridge height restrictions, driver schedules, hours of service restrictions, loading times, and vehicle capacities. By offering the flexibility to incorporate an unlimited amount of variables, the software creates the most optimal routes that lower fuel usage and reduce mileage.
So, your drivers will get the shortest routes possible and you'll never need to worry about mileage again. Your drivers will also always show up on time at customer locations, make more stops per day, and make more money for themselves and your business.
Also, unlike simple tracking devices, your drivers will never get lost due to poor GPS signals which further leads to increased mileage. The best routing programs even come with a dedicated mobile app which lets your drivers see route details on their smartphones.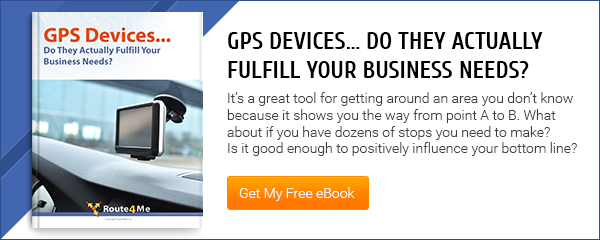 A route planner also comes with a reporting and analytics feature that helps you identify how long it really takes a driver to deliver and/or collect at each customer site. This information helps you refine planning parameters accordingly to reduce mileage.
#2 Easy Territory Management
The best route planners, such as Route4Me, comes with a territory management feature that helps you draw a territory, name the territory, choose a color for its display on a map, save regions as groups, and plan routes based on the selected territory. You can even add an unlimited number of territories by repeating the process. You can also draw overlapping territories and hide or display a specific territory on the map.
This feature is useful for separating your field reps into different regions in such a way that each rep's set of stops is relatively close together. In this way, you can reduce mileage and ensure your field reps visit more clients in the same timeframe.
Want To See For Yourself How Route4Me Can Boost Your Profits?
Whether you want to slash the time it takes you to plan routes for your drivers, increase the number of stops they can make, or keep your customers satisfied knowing that your drivers show up on time… Route4Me helps you achieve that!
#3 Effective Route Optimization
Route4Me's Dynamic Route Optimization™ software goes beyond creating optimized and accurate routes; it also enables you to adapt to real-life occurrences. It's one thing to create a seemingly perfect route manually; it's a whole other thing once you get to the actual implementation.
For example, what if a customer suddenly decides to change his or her drop-off point? What if your driver suddenly gets into an accident? If you're still planning routes manually, such incidences could have a knock-on effect on your drivers' other stops, as you try to create a new route that factors in the unexpected changes.
And, if such instances occur often enough, you might find yourself losing some customers and creating a bad business reputation.
Route4Me's Dynamic Route Optimization™ software lets you re-optimize your routes at any time. Unexpected circumstances will no longer ruin your routes.
For example, if a customer does update the drop-off location, you simply need to input the change into the driving route planner and it'll re-optimize the route in just seconds.
Your driver will then automatically receive a revised route that incorporates the new address on his or her smartphone. Alternatively, the address could be reassigned to another driver who is closer to the new location. In such a case, the original driver and the new driver will both be automatically notified of the route changes.
So, a route planner makes your business adaptable and flexible to change. This is made possible through its innate features that actually reduce mileage.
#4 Track Drivers on the Road
A scheduling app comes with a GPS tracking feature that helps you identify exactly where your vehicles are at any time of the day in real-time. This is critical because, if any unexpected scenarios pop up, you'll know about them immediately.
Vehicle tracking is also a great way to control mileage. When drivers know they are being monitored, they're typically on their best behavior.
#5 Auto-Correct Wrong Addresses
You cannot reduce mileage if your drivers don't have the right addresses. Turning up at the wrong address means the driver will have to drive around to find the right one. This wastes valuable time and mileage and the delays will impact subsequent deliveries.
A trip planner offers a geocoding feature that ensures that your drivers don't show up at the wrong addresses. As you add or upload a list of addresses to the trip planner, the software will immediately flag an incorrect address. Even better, it'll give you automatic suggestions for the correct addresses whenever you input the wrong ones. This decreases the time your drivers spend looking for the right addresses.
#6 Ensures Exact Drop-Off Points
Similar to incorrect addresses, inexact drop-off points waste mileage and will make a driver late for his or her subsequent deliveries.
For example, a driver may need to drop off an order at a big building that has several entrances and floors. Such buildings could even have a particular entrance and floor for drop-offs. If the driver does not know where exactly the drop-off point is, he or she will be going round in circles to find the correct point.
Fortunately, a road trip planner solves this problem. With just a couple of clicks, you can modify a route inside the software and mark which entrance your driver needs to use when delivering to buildings with multiple entrances. In this way, they don't have to circle around, so they can stay on schedule and keep your customers happy.
So, have you ever tried a route planner to reduce mileage? What other approaches do you use to reduce mileage? Do you have any questions? Please feel free to share below.
Also, here are three quick questions to recap how you can reduce mileage with a route planner:
How does a trip planner help you provide your drivers with accurate drop-off points?
How can Route4Me's Dynamic Route Optimization

™

software help you reduce mileage?
How does a route planner ensure every customer address you enter into the system is accurate?
Want To See For Yourself How Route4Me Can Boost Your Profits?
Whether you want to slash the time it takes you to plan routes for your drivers, increase the number of stops they can make, or keep your customers satisfied knowing that your drivers show up on time… Route4Me helps you achieve that!