Manually planned routes are often inaccurate and you cannot ensure the routes are followed by your drivers as instructed. The job could turn out to be even more complex if the number increases.
So, even if you try to make the route planning process efficient, it will still lack effectiveness.
Now, what if there's a solution that is 100% efficient and effective?
If you can prepare accurate, optimized routes, your customers and drivers would be happy. Your drivers won't have terrible routes. And your customers will always get the required service on time.
And that's exactly what route planner helps you achieve.
Such software automates 95% of your route planning tasks. It also helps you plan 100% optimized routes in seconds.
Yes, in seconds. Modern computing power is so advanced… it can make millions of calculations in a few seconds.
This applies even if you have dozens, even hundreds, of vehicles and a large area to cover. Imagine the time and money you can save here!
But, that's not all. Here's a quick rundown of other ways multi stop route planner can help you:
No need to micromanage your drivers or employees.
You can plan routes in advance before the drivers hit the road.
Makes every route planned up to 35% shorter on average.
There's zero paperwork.
Eliminate overtime expenses.
No need to spend hours going over signed papers, scanning them into the system and filing them away.
However, choosing such software is not easy.
Just subscribing for such software won't solve your problem.
Instead, you need to go for the one that offers the required features to simplify your route planning.
Using Google Maps will only get you so far. You need a business-grade route planner app.
You need to go for one that offers the required features for simplifying your route planning.
Also, you should select one that offers advanced features beyond your requirements.
But, how can you find such a road trip planner with multiple stops? What specific features do you need to look for when considering such software?
All these questions will be answered below in this article. So, read on!
Features You Should Look for in a Route Planner
#1 Real-Time Tracking and Projected ETA
How can you make your customers happy? By offering quality services on time… right?
Telling your customers that your driver will show up at 2 pm… and actually being there on time will do wonders for your customer services.
… And, you can only do this when you have real-time information about a driver's location on the road.
This is only possible if you can track a driver or a vehicle in real time. That way, you'll have an idea of whether a driver is falling behind on the schedule.
You'll also know whether a driver will miss an important delivery time window. This will help you inform the customer of any delays ahead of time. Moreover, you can still keep your customers happy by providing an accurate ETA.
So, ensure that the fleet route planning software you choose has a real-time tracking feature to predict the ETA. Also, if it offers a real-time dynamic ETA feature, it would just be a cherry on top.
A real-time tracking feature can also benefit you in the following ways:
Provide roadside assistance as and when required.
Improves productivity and driver's behavior.
Track, analyze, and reduce fuel costs.
Identify underperforming drivers.
Ensure driver safety.
So, can you leave these points out of your checklist?
Want To See For Yourself How Route4Me Can Boost Your Profits?
Whether you want to slash the time it takes you to plan routes for your drivers, increase the number of stops they can make, or keep your customers satisfied knowing that your drivers show up on time… Route4Me helps you achieve that!
#2 Add Time Window Constraints
Let's say that your customer wants a delivery by 2 pm on Tuesday two weeks from now.
Will you give your customer a vague figure, like delivery between 10 am and 5 pm.? Or, will you guarantee a delivery at exactly 2 pm?
Very difficult to do with pen and paper route planning.
So, do you think a route planner help you with this?
Well… the answer could be both yes and no.
An ideal route planner with multiple stops should have an "add constraint" feature. This will help you add specific time windows which it factors in while optimizing a route.
In this way, you can guarantee a delivery time and impress your customers.
But if the fleet route planning software doesn't have such a feature, you cannot guarantee a delivery. You will be back to the same situation while paying more. Can you afford that?
So, look for routing software that allows you to add more constraints, such as:
Specific delivery time windows,
Vehicle hauling capacities,
Distance constraints,
Driver constraints, and
Weight constraints.
That way, you don't need to worry about specific job details as all will be taken care of by the route planner. You can then still maintain a profit margin despite rising customer demands.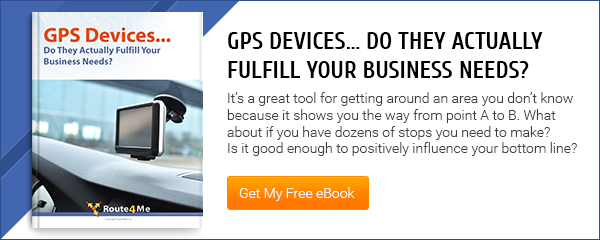 #3 Zero Limitations on Your Growth
Would you like to limit your business growth?
Of course not… right?
Yet, that can happen if you are restricted to planning only a certain maximum number of routes.
When your business grows and covers a larger area… you will need more drivers.
Therefore, you need map route planner that doesn't set any limitations.
Nor should it use "legacy software" tactics and charge you per driver. Here is a dirty little secret from the route planning software industry… unless you have thousands of drivers, you're not taking up much more computing power than if you had only 2-3 drivers.
It should help you plan and/or set:
Unlimited routes,
Unlimited optimizations,
Unlimited stops per routes,
Unlimited addresses to store your entire client address book in one location,
Unlimited planning horizon to optimize long, multi-day routes,
Unlimited saved routes to plan as many fixed routes as you want,
Unlimited notes and uploads for images, videos, and notes you need for each client, and
Unlimited custom data to add.
After all, if the sky is the limit for your business, then why should your route planning process be limited?
# 4 Easy Synchronization and Support All Mobile Devices
Best of all, with a route planning software, you can plan and distribute routes from your smartphone and laptop computer. Your drivers can even access all route details on their smartphone as well.
This nullifies the high expenses associated with:
Buying expensive GPS hardware,
Updating GPS devices manually, and
Doing maintenance.
Because, the key to successful route planning lies in how fast you can plan and share your routes. This is especially true when you need to make sudden changes or add a note to a route.
Would it make sense if you make a change at 12 pm and your driver only knows about it at 4 pm?
So, you should choose a route planner that offers smooth synchronization. It should distribute changes made on your local computer to the drivers' smartphones instantly.
But, choose one that supports all mobile devices and OS. It should thus support iPads, iPhones, and Android phones.
Conclusion
So, simply opting for a route mapping software won't change a lot in your route planning. Instead, you need one that offers dynamic routing.
You should be able to plan, share, and amend routes as and when you need. While you must have the four features above, you should also look for the following:
An interactive team management feature will help you manage unforeseen problems. If such problems arise with one driver, you can schedule another to manage their deliveries.
Dial-a-ride to help you manage last-minute pickup or delivery requests.
Semantic route planning to show the time of the sunset or sunrise to avoid driving in the dark.
So, have you decided to go for a route planner? Which feature do you need the most? Please feel free to leave your comments below and thanks for reading!
Featured image credit : Nick Fox/Shutterstock.com
Want To See For Yourself How Route4Me Can Boost Your Profits?
Whether you want to slash the time it takes you to plan routes for your drivers, increase the number of stops they can make, or keep your customers satisfied knowing that your drivers show up on time… Route4Me helps you achieve that!