What are the required driving tools for landscapers? As a landscaper, one of the job's most important aspects is ensuring you can get to your clients. Otherwise, you won't be able to perform your work and get paid. Putting just a bit more effort into your landscaping truck and understanding available driving tools can ensure smooth operations every day.
Of course, it's hard to decide what tools are necessary without getting in the way. We've crafted a list of the top 10 driving tools landscapers should have, considering size, cost, and practical use. None of these will break the bank, and they should fit nicely alongside all the tools you'll use for landscaping.
Here are ten driving tools for landscapers you need to ensure that you can always get yourself, your workers, and your tools to your clients as safely and efficiently as possible.
Table of Contents
1. A Lockable Toolbox Keeps Everything You Need Organized
The chances are that you've already got a toolbox on your landscaping truck. This one serves a different purpose, however. Grab a separate, small toolbox filled with tools exclusively for the vehicle. The box should include things such as:
Wrench set
Gloves
Flashlights
Screwdriver set
Replacement parts
The key here is that these are not tools you'll use for landscaping. Instead, this box is your savior if you get stranded on the side of the road. It's a roadside assistance toolbox that should never need to leave the truck – it's designed exclusively for getting you back on the road and heading toward your next client quickly.
Luckily, most tools you need for quick fixes are minor, meaning you don't need an enormous box. If you have an open truck bed or can't safely store the toolbox, we strongly recommend a locking one. Even better if you can get one that slots safely into the truck and can't be removed!
2. Route Planning Software Makes You More Efficient
A route planner is one of the key tools to keep your landscaping business running smoothly. While you could just plug every client address into a standard navigation app and hope, it's nowhere near the best option. Dedicated route planning software for landscaping lets you save on gas, time, and money.
Even the most basic route planning software can shorten the mileage driven on your truck and prevent you from returning to the same neighborhood multiple times in one day. Some of the best route planner apps can calculate the most efficient routes to save on gas or even manage your clients.
The good news is that plenty of landscape-specific route planning apps exist. Many even offer free trials or free versions with limited features for companies on a budget. However, if you have a fleet of vehicles that you're managing or want additional features like invoicing or GPS tracking, expect to pay a monthly subscription.
Want To See For Yourself How Route4Me Can Make Your Business Efficient and Boost Profits?
Whether you want to plan routes, reduce driving time and fuel costs, or keep your customers satisfied knowing that you will show up on time… Route4Me helps you achieve that!
3. First Aid Kits Fix Injuries on the Job
A first aid kit should be in any vehicle, but especially one that carries heavy tools with sharp edges. Grab a versatile kit that fits neatly in your landscaping truck. You want to ensure that it's easy to grab and has a permanent location. Searching for a first aid kit in a medical emergency isn't the priority.
There are plenty of options available for first aid kits. You can even build one with basic supplies and a small bag. However, we recommend buying a nice pre-stocked kit as a great first option. One will provide you with a great, organized bag you can refill as necessary. If your business has more than one truck, get an individual kit for each one.
Here's a general guide for what each first aid kit should include:
A variety of adhesive bandages
Gauze pads
Scissors
Tweezers
Instant cold pack
Cotton-tipped applicators (Q-tips)
Vinyl gloves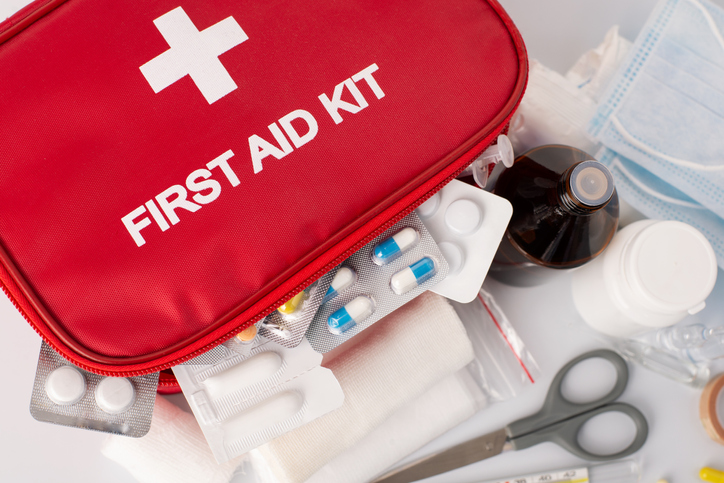 4. Tire Pressure Gauges Help You Stay Safe
While a tire pressure gauge is a simple tool, it's one of the most important. Avoiding a blowout from a low tire or unexpected leak will save you money in the long run and keep the job going. Landscaping trucks often ride on rough and uneven terrain, which can wreak havoc on tires. Sometimes this can cause a leak or just quicken air loss. A tire pressure gauge will help you ensure that all your tires are ready to go at all times. We recommend keeping multiple per truck, one in the glove box and one in your roadside assistance toolbox.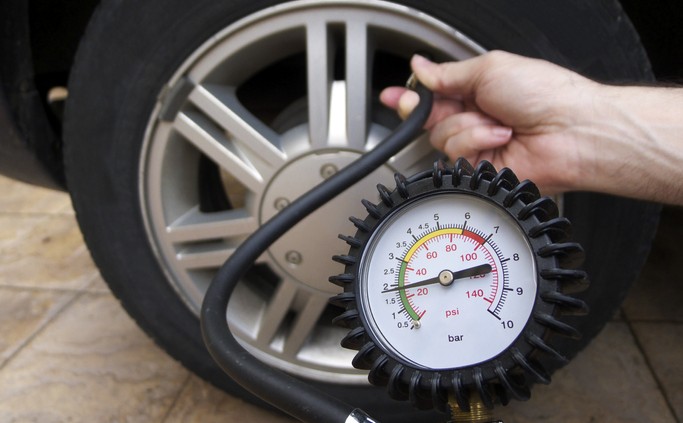 5. Client Management Software to Keep You on Track
Depending on the organization of your landscaping business, you may need access to your client management software in your vehicle. Combined with the route planning software mentioned earlier, these two tools should keep you guided and earning money throughout the day.
Good client software should help you track clients, what work they need and when, and their contact information. Access to the software on a phone or tablet in the car will help you quickly adjust to changes in schedule, like a client canceling for the day.
If you are a part of a fleet of vehicles, everyone having access to the same software becomes even more essential. You can communicate between drivers and assign new lawns as necessary if plans change.
Depending on the software you use, this may integrate directly with your route planning software. These solutions can be prohibitively expensive. However, if they don't fit your business, take a few extra minutes between jobs to ensure everyone is on the same page.
6. Emergency Blankets in the Cold
If you work outside of the summer months or anywhere with harsh autumns and winters, you'll want to keep some emergency blankets in your landscaping truck. These can help save lives and introduce comfort if your vehicle breaks down on the side of the road. While any thick blankets will help, consider splurging for a survival blanket if your active months get cold.
These blankets are crafted from specific materials that retain body heat. If your landscaping business also involves snow removal and winter maintenance, these blankets have the added benefit of helping your workers stay warm on breaks and between jobs.
7. Weather Dependent Tools for the Rough Months
Weather-dependent tools will eventually prove their worth, especially for landscaping companies with three or more seasons. Having some additional options can make or break your timetable on rough days. These include things like:
Ice scrapers
Snow brushes
Tire chains
Sand or cat litter
While most of these are for use in winter and spring, you never know when sweltering heat may become a problem. Stock your landscaping truck with extra water and sun protection in case you get stranded in the beating sun.
We recommend taking stock every season and considering what tools you may need to get back on the road.
8. Jumper Cables in Case of Emergency
A set of jumper cables is one of the essential driving tools for landscapers. If anything happens with your battery, ranging from human error all the way to a faulty connection point, jumper cables can help. Get a small pair that fits cleanly into the truck bed or back seat.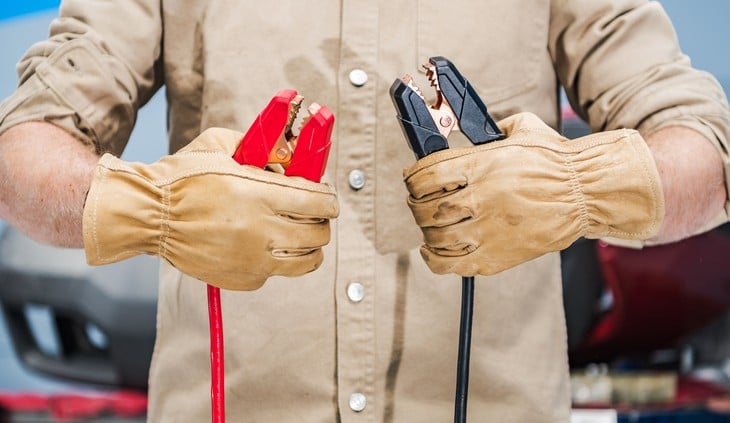 If landscaping often takes you into far lawns or on long trips, consider grabbing an external battery charger. While they're more expensive, they guarantee that you don't need to wait for a nice person to come and help. Having some jumper cables on you can also help others with the unexpected. Wouldn't it be nice to be known as the local landscaping company that helped a future client get back on the road?
9. Bungee Cords & Zip Ties to Organize the Small Stuff
Even in the most organized landscaping truck, there are always things that need to be tied down. Two of the absolute best options for this are bungee cords and zip ties. Having both types of tie-downs available prepares you for almost anything.
Driving around with tools, boxes, and waste carelessly swinging around the trunk bed is just asking for an accident. Keep a few bungee cords of various lengths and a pack of zip ties to gather everything together before setting off on a journey.
As an added benefit, zip ties are also helpful for quick repairs if a tool breaks. They're cheap and easily replaceable. Bungee cords tend to cost a bit more, but they're reusable and highly versatile. While neither is the best option for giant loads (that's the next item), they can be lifesavers for the small stuff.
10. Hooks and Tie-Downs for Everything Else
What if you need to secure something too big and heavy for bungee cords? Enter tie-downs, pulleys, and hooks. Even if you don't change out your standard equipment, you'll need a few of each. They can help secure your lawnmower, weed whacker, and more. Almost any tool you bring to a job site should be tightened up and secured using these options.
The options for tie-downs and pulleys are vast. If your truck has a rail system that allows for additional hookups, you can create specific areas for things like rakes, shovels, and trowels to help with organization. This will also make driving safer, as you don't have to worry about tools flying out of place from a loose fit.
Other Tools for Landscapers
This list of driving tools for landscapers is by no means exhaustive, but it's a great start. If you want to expand or reduce what your truck has, there are some important things to consider. Think about how each tool can help you stay on the road safely, get you back on the road quickly, or make your business easier. If the tool doesn't help, it's probably not worth putting on your truck – save the space for some landscaping tools.
If you're thinking of adding a new digital tool, consider whether it will complicate or simplify your business. Remember that everything here is meant to make landscaping the focus, not take away from it.
Want To See For Yourself How Route4Me Can Make Your Business Efficient and Boost Profits?
Whether you want to plan routes, reduce driving time and fuel costs, or keep your customers satisfied knowing that you will show up on time… Route4Me helps you achieve that!