An American company's standing in the global economy has always depended on supply chain management techniques.
Exciting new advancements in the field of logistics and supply chain management happen every year. Businesses that stay on top of these trends and take advantage of them before others earn a huge advantage over their competitors.
Don't let this potential advantage slip away. You want to do better than your competitors, don't you? Here are six of the most significant trends of the year in supply chain management:
1. Geofencing Technology
Having employees manually check in and check out can take a lot of time.
Geofencing automates this process. It records when a driver enters and leaves a designated area, and it even alerts dispatchers when a driver deviates from their route. If a driver does deviate, a push notification can be sent directly to their smartphone to quickly get them back on track. 
Route4Me estimates that if you have 100 drivers visiting 100 locations in one day, geofencing would save you 55 hours of work. That's equivalent to the cost of paying seven extra drivers every day.  Vehicle route planning software that comes with geofencing will save you a ridiculous amount of money. 
With geofencing, you can also create an application that sends customers real-time notifications for estimated delivery arrivals. This feature usually cost extra, though. A more affordable (but just as effective) alternative solution is routing software. It has a GPS tracking feature that allows you to see your drivers' activities in real-time, so you can predict estimated delivery times accurately.
Making your delivery times more accurate is a great way to improve customer satisfaction, and more satisfied customers means you make more money. 
2. Predictive Maintenance
Bring proactive rather than reactive will save you a lot of time. This involves an increased focus in scheduled maintenance to look for pending equipment failures. Frequent maintenance checks will help you avoid unexpected breakdowns and expensive repairs.
Sometimes, the most expensive aspect of a breakdown is that a custom part is required for the fix, and the supplier is unable to fill the order for this part right away. In this case, you're losing money from all the work you could be doing with the broken-down truck, in addition to all the money you lose from the cost of the fix itself. 
Predictive maintenance prevents such delays. It also increases driver safety, reduces maintenance labor costs, tightens controls on repair part inventories, and makes vehicle lifetimes longer.
3. Mobile-Friendly Workforce
Mobile apps are becoming increasingly easy to create and use. With these apps, the physical boundaries between your drivers and your office is becoming less and less of an issue. 
These apps improve the lives of both fleet managers and customers. Fleet managers can use them to make sure their drivers are performing up to par. Customers can use them to keep track of where their packages are and when they'll arrive.
A mobile-friendly workforce makes the job of being a fleet manager easier, and it makes customers happier. It's no wonder why this one of the biggest trends in supply chain management of 2016.
Want To See For Yourself How Route4Me Can Boost Your Profits?
Whether you want to slash the time it takes you to plan routes for your drivers, increase the number of stops they can make, or keep your customers satisfied knowing that your drivers show up on time… Route4Me helps you achieve that!
RELATED: Why Your Competitors Have No Lazy Employees (and How GPS Tracking Helps Them)
4. Customers Want More
The huge leaps made in logistics technology over the past few years is mostly a blessing, but it's also kind of a curse, too.
Customers are aware that this technology exists. They expect to know exactly where their packages are, every mile of the way.
By keeping up with the latest trends, you're able give your customers what they want. And you better give them what they want, because with the internet and the eCommerce industry as developed as it is today, it's pretty easy for a customer to find and start using one of your competitor's services if they're not happy with you.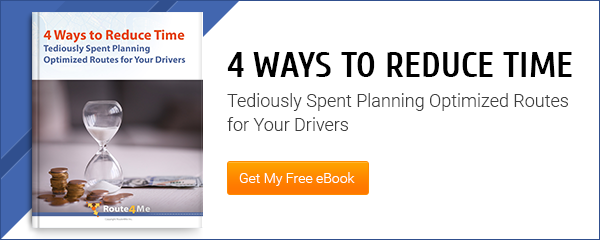 5. Drone Delivery
There has been talk of using drones to deliver goods for years now. Large American corporations, such as FedEx and Amazon, have already tested the idea.
At the moment, Amazon seems the closest at turning this idea into a reality with their Amazon Prime Air project.
RELATED: Delivery Drones Will Now Use the Ground to Transport Goods
The Federal Aviation Administration (FAA) keeps getting in Amazon's way, though, as current regulations would have to change to allow Amazon to fly their drones as high and as far as Amazon wants them to. 
Undaunted, Amazon has announced that they will test the technology in the United Kingdom while they wait for the FAA to (hopefully) rule in their favor. 
6. Centralized Transportation Management
The idea behind centralized transportation management is to provide a company's dispatcher with one dashboard that can give them a comprehensive look at the all the transportation assets they have available at any given time.
The growing trend in customer-centric supply chains is driving the need for these advanced fleet location digital displays. As companies have adopted these dashboards for dispatchers,  route planning has come easier, transportation costs are being reduced, and customers are getting their packages faster. 
What do you think of these six trends? Let us know in the comments section below. 
Want To See For Yourself How Route4Me Can Boost Your Profits?
Whether you want to slash the time it takes you to plan routes for your drivers, increase the number of stops they can make, or keep your customers satisfied knowing that your drivers show up on time… Route4Me helps you achieve that!