When you plan routes on pen and paper, you need to invest significant time to analyze, plan and explain the routes to your drivers.
Even if you use Google maps, you still need to key in every address manually. If you don't do this, you cannot plan the accurate distance of the route drivers should use.
What if I told you that you could plan your routes within 30 seconds?
Yes, you read that right – with driving route planner, you can plan your routes in 30 seconds, no matter how many stops you have to make. 
30 seconds? That's impossible with manual planning. You'll be lucky if you're done in 30 minutes. 
RELATED: Are You Still Planning Driving Routes Without Software?
A route planner speeds up this process, and it also makes your routes more accurate.
Imagine how satisfied your drivers would be if they won't get terrible routes? Their day will be smooth and fast. No more endless phone calls, asking for directions or more details.
They will also reach the customers on time and make them happy as well.
But, how can you plan your routes in record time with a multi stop route planner? What are the steps you need to follow?
How to Plan Routes with Route Planning Software
1. Select a Start Date and Time
As a first step, you need to select the date and time when your driver will start a route. This is crucial for the route planning. That is because it can affect the entire route if you start before, during or after traffic in the morning.
Pro Tip: Plan multiple routes in advance. This should be highly useful if you've got steady routes. If you need to make some last minute changes to any day, you can simply fix it by re-optimizing the route.
2. Select the Driver
The next step involves selecting the drivers who will follow the route. You can do this by keying in the email address or by selecting them from a list. That's it!
In this way, any updates, notes or images added to an account will automatically sync on that account.
Also, the drivers will instantly receive the update on his/her smartphone. This is done through the installed route planner app.
3. Select the Optimization Process for Ending the Route
So, by now you have set which route each driver needs to follow. But, where will the route end?
In the next step, you can set that preference.

For example, ending a route at your home office might be cheaper than ending it at the departure address.  You can thus choose your preferred end destination accordingly. You can also choose any other specific address as per your choice.
This option will determine the ideal, optimized sequence.
Want To See For Yourself How Route4Me Can Boost Your Profits?
Whether you want to slash the time it takes you to plan routes for your drivers, increase the number of stops they can make, or keep your customers satisfied knowing that your drivers show up on time… Route4Me helps you achieve that!
4. Select the Pickup or Delivery Address
Now comes the most important step: selecting the list of addresses that need to be reached.
You can do this in one of the following two ways:
Manually select the addresses from a list.
Select the addresses from the map with all the driving information ready to be used.
Upload a pre-determined csv file with all the addresses for that route into the system.
Pro Tip: You can plan multiple routes in advance as mentioned earlier. You can then make any last minute changes to these routes. You just need to modify the current route with the changes and re-optimize it.
Your drivers will get the notifications immediately. These changes will even be synced with their routes while they are driving.
5. Click the Create Route and Optimize Button
By now you should be done with all the settings. So, you can now just click the "Create Route" button.
The software will then make millions of complex calculations, using advanced algorithms. At the end of these sums, it will provide you with 100% accurate and optimized routes.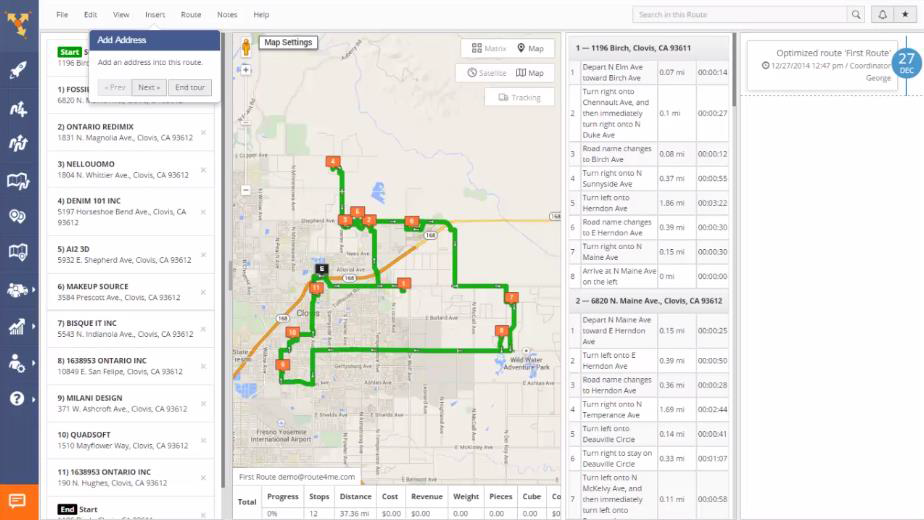 And this entire process takes just 30 seconds! Yes, we timed it.
As soon as the optimization is done, your drivers will see the route details on their smartphones. They can view and access the below details on either Android or iPhone smartphones:
Exact directions,
The best sequence for reaching all of their stops, and
Specific information about each location.
You can then initiate the planning process for your other drivers.
But, wait! There is a simple way to do that as well. You can use the multiple driver route planning method.
You just need to select all your addresses at once and choose the total number of drivers.
The road trip planner with multiple stops will plan and distribute the routes in an optimized way to every driver.

In this way, you don't need to manually select every stop. Also, you don't need to figure out how many drivers you will need.
RELATED: Got dozens of drivers? Here is how Route4Me can help you plan all your routes at once
Bonus
You may have customers who need deliveries at a specific time. A route planner with multiple stops can help you here as well.
For example, a driver may need to make the delivery at a customer's address at 2:00 PM. So, you just need to add that time to the stop.

The optimized route will ensure that the driver has enough time to make the deadline.
Conclusion
You have by now seen how route planning software can save help you reduce the efforts of planning routes. The best part is that the routes are 100% accurate.
You can also import customers' addresses that need to be visited from other apps, such as:
Google Drive,
Box,
Zero, and
Quickbooks.
And, that's not all. Your business will benefit in many other ways, if you adopt such software. The below are some examples of the benefits of a vehicle route planning software:
No need to micromanage your employees.
Reduces fuel usage by up to 59%.
Helps you avoid legal hassles, such as road law violations and reckless driving.
Plans routes at the very last minute.
Tracks your drivers in real time.
So, when you get this many benefits at a fraction of the cost, can you ignore routing software? Make use of delivery route planner to make your route planning process seamless.
Want To See For Yourself How Route4Me Can Boost Your Profits?
Whether you want to slash the time it takes you to plan routes for your drivers, increase the number of stops they can make, or keep your customers satisfied knowing that your drivers show up on time… Route4Me helps you achieve that!